I have a crazy THEORY about DAEMON & LAENA in House of The Dragon | Analysis & Review S01 [ESP-ENG]

Since the World Cup excitement has calmed down a bit for the moment, I'm taking the opportunity to give my review and critique of the first season of House of the Dragon, the prequel to Game of Thrones.
Until not too long ago, I hadn't watched Game of Thrones or had much interest in it. In fact, I only started watching this series on the recommendation of someone when the seventh season was about to premiere. As it is a very good series, I could not miss The House of the Dragon. There are some aspects that I would like to talk about this series in this post.
This post contains some spoilers from the first season of HOTD....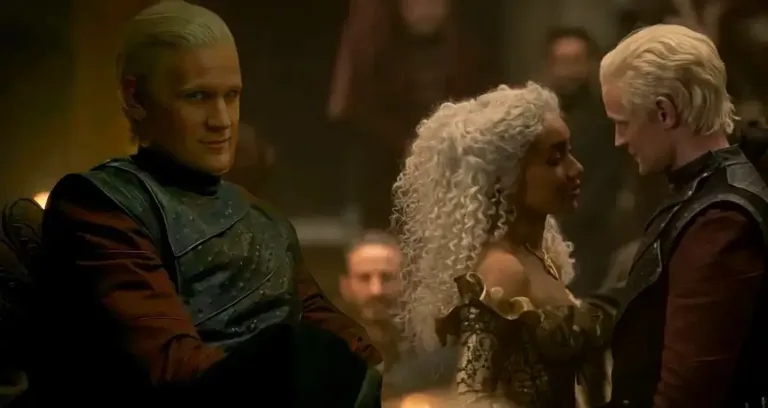 wikiofnerds.com
---
I'm not going to talk about the acting, the quality of the characters and that sort of things because I wouldn't be saying anything new that hasn't been mentioned in many other reviews on Hive and outside of Hive. We all or almost all agree that the best performances were those of King Viserys (Paddy Considine), young Rhaenyra (Milly Alcock), adult Alicent (Olivia Cooke), etc. But that's not what I'm going to focus on.
Time jumps. Hit and miss.
There is something that this series did that was a good decision, although it didn't work out well either. I'm talking about the time jumps. This is something that another series like Vikings did very well. I think something that gave Vikings a lot of success is that they didn't waste a lot of time on storyline, but rather events happened without taking too long to wait. If there was talk of a battle, the battle happened in the same episode or the next episode, and so on. In House of the Dragon, the time jumps gave a lot of freshness to the series, the new characters that were appearing, such as Alicent and Rhaenyra's children, the adult versions of them and Laena, etc., generated a lot of interest in the plot.
But what didn't work out very well for me, and I think you'll probably agree on this, is to have left a lot of plot holes in each time jump. The character of Criston Cole is perhaps the most affected by this, and I don't know if in the books there are also these time jumps, but personally I didn't like what they did with this character, who, by the way, doesn't even change his appearance, he looks the same young throughout the first season, unlike Daemon who did seem to age or mature a little. The fact that they didn't explain how Criston Cole got rid of the consequences of what he did and he was still there as if nothing happened didn't seem right to me in these time jumps, although in general they did add a lot of dynamism to the series because of the new characters.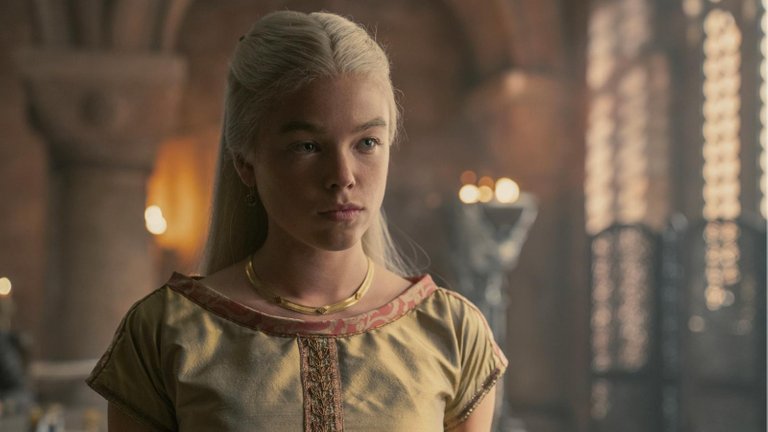 filmaffinity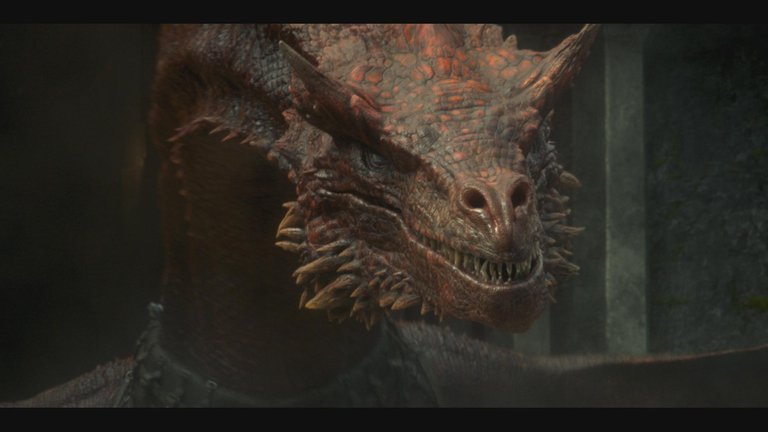 filmaffinity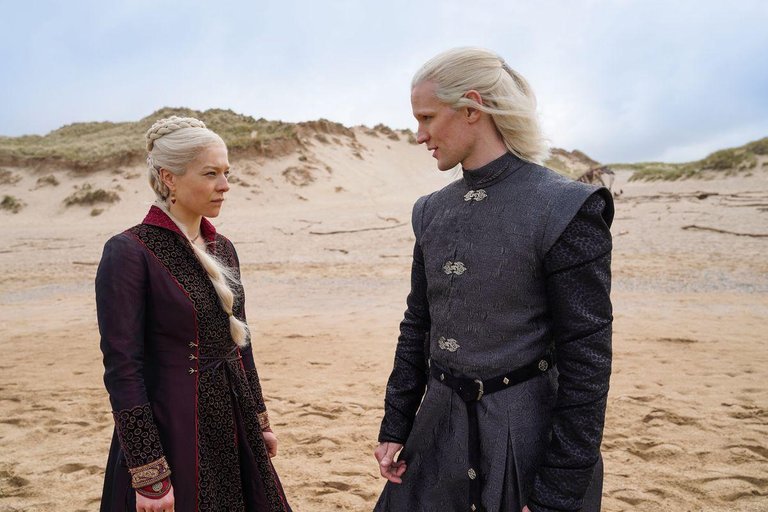 filmaffinity
Personally, I had very low expectations of this series, but little by little it got much better until chapter 10. The first 5 or 6 chapters have a very different essence from Game of Thrones, more peaceful and slower, but still interesting and engaging. I think the handling or design of the script was almost impeccable, the characters and their dialogues kept you attentive to every detail, unlike other series where many dialogues of the characters become "cliché" or artificial. I mean, the narrative quality of Game of Thrones is still there, and I guess it's largely thanks to having the books as support.
Fewer characters than in GOT
Something that really struck me about the first chapter was how few characters there were compared to Game of Thrones. The first thing I wondered was "Where are the other Targaryens? Surely there must be more elsewhere". I assumed so since it was precisely the Targaryen era, but, to my surprise, those were the only ones: Viserys, Daemon, Rhaenyra and Rhaenys. I did some research and it turns out that Viserys was not even the son of the previous king, but his grandson. In a time of peace, many Targaryen, successors to the throne, died in unusual ways. The previous King had many sons, but in the end there were only two choices left to the throne, two grandsons. The only thing that can defeat the Targaryen are themselves.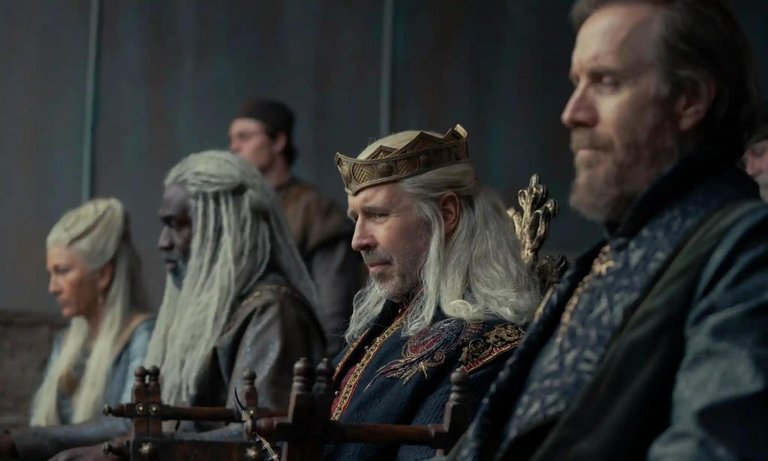 filmaffinity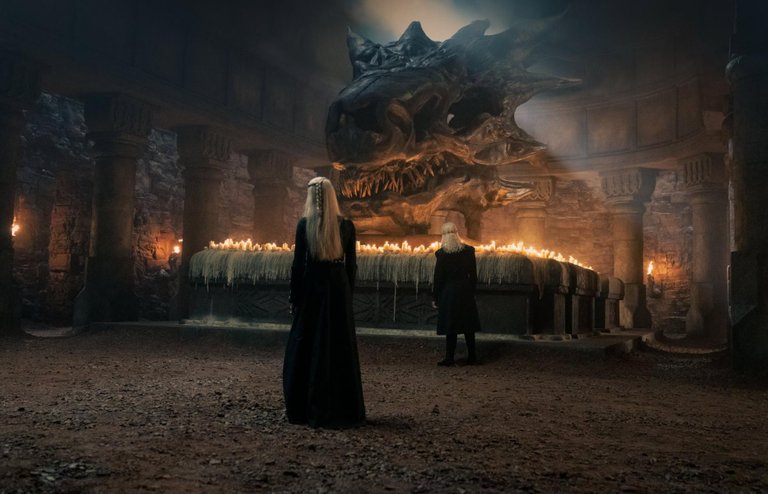 filmaffinity
Criticism of the plot
---
•Viserys. Innocent king or main architect of the civil war (dance of the dragons)?
Speaking of the series itself, there are some things that seemed to me a bit weak from a plot point of view. I haven't read the books and I don't know if they are better explained there, but, for example, although we all saw that King Viserys was very peaceful and permissive, it seemed to me that he made the decision to marry after the death of his wife very lightly. I mean, if you are the King and you have the ultimate power, you can choose not to marry and thus favor your only daughter heir, but it seemed like the King was "forced" to marry, purely for politics, even knowing the problems there would be down the road with a male child.
We know that Viserys had the gift of prophecy, but the series does not explain very well why, knowing that marrying would cause problems and a possible civil war, Viserys still did it. Maybe what they will explain in the next seasons is that the civil war was necessary to fulfill the prophecy of the Song of Ice and Fire, and Viserys knew it, that's why maybe he didn't go out of his way to avoid the future civil war, because it was necessary. This is just a thought I've had, maybe Viserys was simply an innocent and peaceful king. Tell me in the comments what you think of this.
---
•Rhaenys and Meleys at the coronation - Pure Show or will it have a future consequence?
Princess Rhaenys is a very interesting character, I think my favorite in this series. One of those characters who is always low profile and pulls off a strike at any moment. At first I thought she would be an evil character like Cersei, but then she becomes quite a neutral and political character.
Many criticized her appearance with her dragon at the coronation, which doesn't happen in the books, as it seemed like it was just to generate impression on the audience and that's it. But I believe that this was not done by chance, as it will have important repercussions for later on. I think that maybe she, with this that they did in the series, will no longer have the same death as in the books. She will be key later on. With this action she could position herself as a more "neutral" character able to "negotiate" with some of the greens for sparing their lives at the coronation.
I also have the suspicion and hunch that she and Corlys Velaryon appear to be allies of Rhaenyra but deep down they have other intentions, not necessarily bad intentions or betrayal of Rhaenrya but other intentions... What do you think?
Finally, my THEORY about DAEMON TARGARYEN and LAENA VELARYON
---
Recall that, inevitably, Laena was going to die by caesarean section. In the books, Laena dies trying to ride Vhagar for the last time, but in the series she dies after ordering her own dragon to burn her. And this is curious as it gave me ideas regarding something in particular, and that is that I personally have a theory that Daemon and Laena's last child might be alive.
In that same episode, Daemon and Laena are demonstrating with their dragons above the castle. Vhagar spits fire and Daemon along with Caraxes pass through the fire. That is, Daemon would then have fire resistance, something only some Targaryen possess. His brother King Viserys does, and we see it in the first episode when he runs his hand through some candles without getting burned.
If this is so, the baby that was inside Laena could also be fire resistant. Laena's body will have been burned, but not the baby. Daemon was the only one who witnessed the scene, so he could easily have hidden the baby that would have been left there. If this theory I have is true, this child would have been 10-15 years old in the last chapter, and some important role could play, perhaps being a rider of some extra dragon. This is just a crazy theory I have, but remember this post in case it comes to be true.
What do you think about this? Thanks for making it this far. I'll read you in the comments... See you next time!
---
Translated to English language with the help of DeepL.com
---

Dado que el bullicio del mundial de fútbol se ha calmado un poco por el momento, aprovecho para dar mi reseña y crítica de la primera temporada de House of the Dragon, la precuela de Juego de Tronos.
Hasta no hace mucho, no había visto Juego de Tronos ni tenía mucho interés por ello. De hecho, no empecé a ver esta serie sino por recomendación de alguien cuando ya iba a estrenarse la séptima temporada. Como es una serie muy buena pues no podía perderme de La Casa del Dragón. Hay algunos aspectos que me gustaría hablar de esta serie en esta publicación.
Esta publicación contiene algunos Spoilers de la primera temporada de HOTD...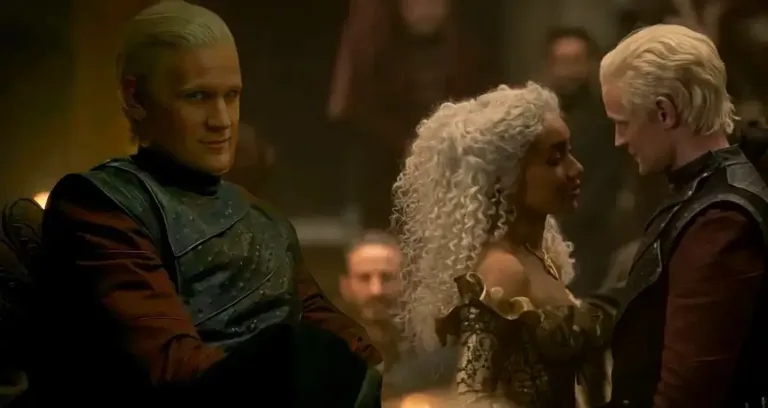 wikiofnerds.com
---
No voy a hablar de la actuación, de la calidad de los personajes y ese tipo de cosas porque no estaría diciendo nada nuevo que no se haya mencionado en muchas otras reseñas en Hive y fuera de Hive. Todos o casi todos estamos de acuerdo en que las mejores interpretaciones fueron las del Rey Viserys (Paddy Considine), Rhaenyra joven (Milly Alcock), Alicent adulta (Olivia Cooke), etc. Pero en eso no me voy a concentrar.
Saltos temporales. Acierto y desacierto.
Hay algo que esta serie hizo y que fue una buena decisión, aunque tampoco les salió del todo bien. Hablo de los saltos temporales. Esto es algo que otra serie como Vikings hizo muy bien. Creo que algo que le dio mucho éxito a Vikings es que no perdían mucho tiempo en la trama, sino que los eventos sucedían sin hacerse esperar mucho. Si se hablaba de una batalla, la batalla sucedía en el mismo episodio o en el siguiente, y así. En House of the Dragon, los saltos temporales le dieron mucha frescura a la serie, los nuevos personajes que iban apareciendo, como lo hijos de Alicent y Rhaenyra, las versiones adultas de ellas y Laena, etc., generaban mucho interés en la trama.
Pero lo que no les salió muy bien para mí y creo que seguramente estará de acuerdo en esto es haber dejado muchos huecos en la trama en cada salto temporal. El personaje de Criston Cole es quizás el más afectado por esto, y no sé si en los libros también se dan estos saltos temporales, pero personalmente no me gustó lo que hicieron con este personaje, el cual, por cierto, ni siquiera cambia de aspecto, se ve igual de joven en toda la primera temporada, a diferencia de Daemon quien si pareciera envejecer o madurar un poco. Que no hayan explicado como Criston Cole se libró de las consecuencias de lo que hizo y siguiera allí como si nada no me pareció del todo bien en estos saltos temporales, aunque en general si añadieron mucho dinamismo en la serie por los nuevos personajes.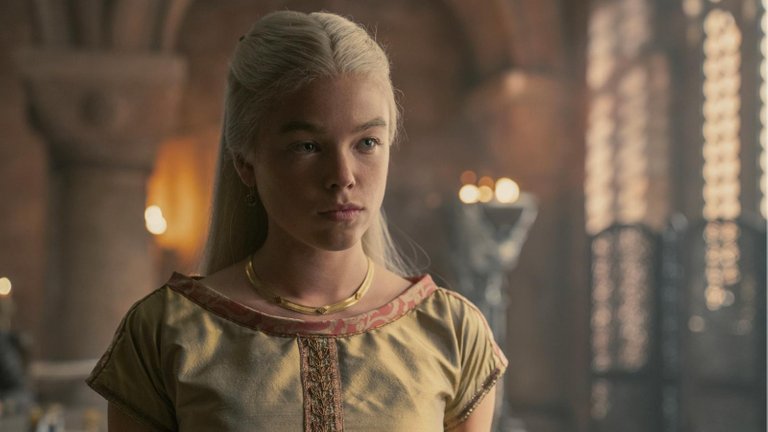 filmaffinity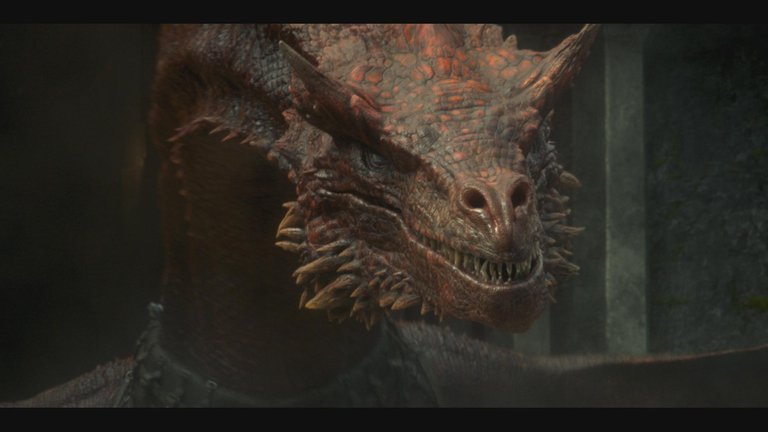 filmaffinity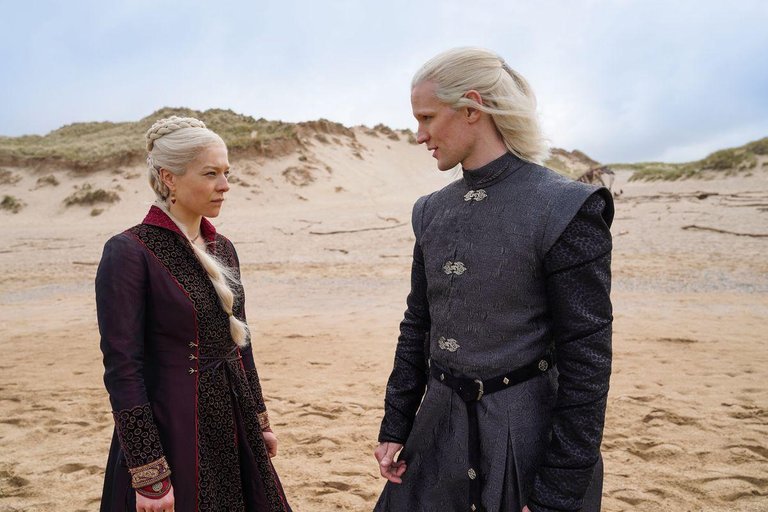 filmaffinity
Personalmente, tenía muy bajas expectativas de esta serie, pero poco a poco fue mejorando mucho hasta el capítulo 10. Los primeros 5 o 6 capítulos tienen como una esencia muy distinta a la de Juego de Tronos, más pacífica y lenta, pero sin dejar de ser interesante y enganchante. Creo que el manejo o diseño del guion fue casi impecable, los personajes y sus diálogos te mantenían atento a cada detalle, a diferencia de otras series en donde muchos diálogos de los personajes se tornan "cliché" o artificiales. Es decir, la calidad narrativa de Juego de Tronos sigue allí, y supongo que en gran medida es gracias a tener los libros como soporte.
Menos personajes que en GOT
Algo que me llamó mucho la atención del primer capítulo fue la poca cantidad de personajes en comparación a Juego de Tronos. Lo primero que me pregunté fue "¿Dónde están los otros Targaryen? Seguro debe haber más en otros lados". Lo supuse al tratarse precisamente de la época Targaryen, pero, para mi sorpresa, esos eran los únicos: Viserys, Daemon, Rhaenyra y Rhaenys. Investigué un poco y resulta que Viserys no era ni siquiera hijo del rey anterior, sino su nieto. En una época de paz, muchos Targaryen, herederos al trono, murieron de maneras insólitas. El anterior Rey tuvo muchos hijos, pero al final solo quedaron dos opciones al trono, dos nietos. Lo único que puede derrotar a los Targaryen son ellos mismos.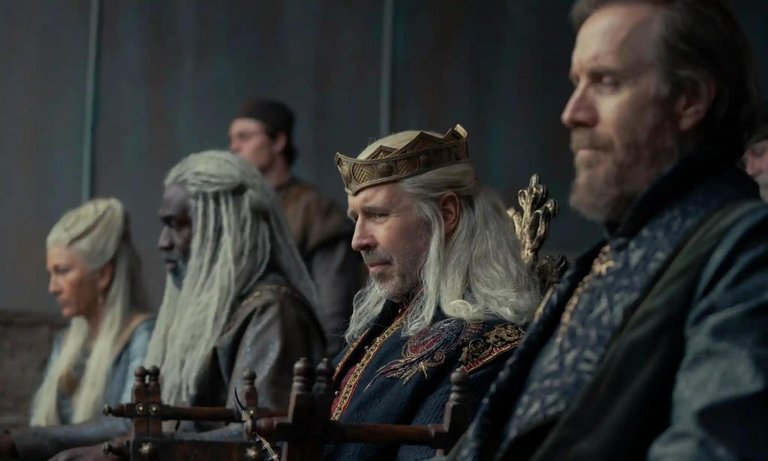 filmaffinity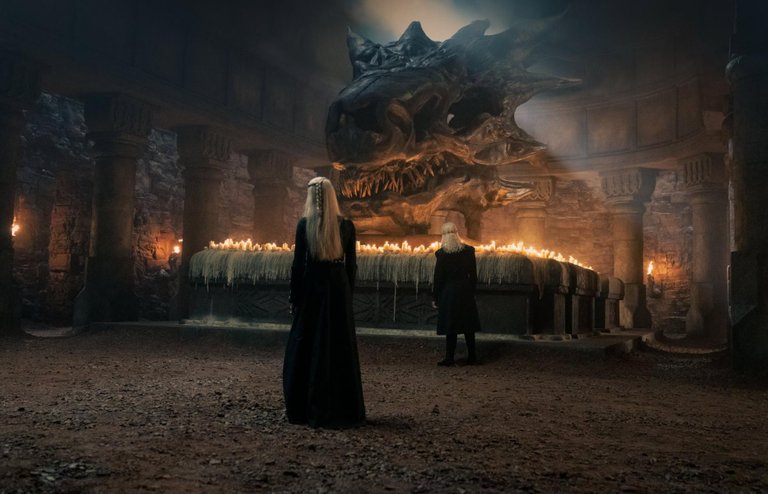 filmaffinity
Críticas a la trama
---
•Viserys ¿Rey inocente o principal artífice de la guerra civil (danza de dragones)?
Hablando de la serie como tal, hay algunas cosas que me parecieron un poco flojas desde el punto de vista argumental. Yo no he leído los libros y no sé si allí se explican mejor, pero, por ejemplo, aunque todos vimos que el Rey Viserys era muy pacífico y permisivo, me pareció que tomó la decisión de casarse luego de la muerte de su esposa muy a la ligera. Es decir, si eres el Rey y tienes el máximo poder, puedes elegir no casarte y así favorecer a tu única hija heredera, pero pareciera que el Rey fue "forzado" a casarse, solamente por política, aun sabiendo los problemas que habría a futuro con un hijo varón.
Sabemos que Viserys tenía el don de la profecía, pero la serie no explica muy bien porqué sabiendo que casarse causaría problemas y una posible guerra civil, aun así, Viserys lo hizo. Quizás lo que explicarán en las próximas temporadas es que la guerra civil era necesaria para cumplirse la profecía de la Canción del Hielo y Fuego, y Viserys lo sabía, por eso quizás él no se esforzó mucho en evitar la futura guerra civil, porque era necesaria. Esto es solo un pensamiento que he tenido, quizás Viserys simplemente era un rey inocente y pacífico. Dime en los comentarios qué opinas de esto.
---
•Rhaenys y Meleys en la coronación ¿Puro Show o tendrá una futura consecuencia?
La princesa Rhaenys es un personaje muy interesante, creo que mi favorito en esta serie. De esos personajes que siempre están bajo perfil y dan un golpe en cualquier momento. Al principio pensé que ella sería un personaje malvado como Cersei, pero luego pasa a ser un personaje bastante neutral y político.
Muchos criticaron su aparición con su dragón en la coronación, cosa que no sucede en los libros, ya que pareció que sólo fue para generar impresión en el público y ya. Pero yo creo que esto no lo hicieron por casualidad, ya que tendrá repercusiones importantes para más adelante. Yo creo que quizás ella, con esto que hicieron en la serie, ya no tendrá la misma muerte que en los libros. Ella será clave más adelante. Con esta acción ella podría situarse como un personaje más "neutral" capaz de "negociar" con alguno de los verdes por haberles perdonado la vida en la coronación.
También tengo la sospecha y presentimiento de que ella y Corlys Velaryon aparentan ser aliados de Rhaenyra pero en el fondo tienen otras intenciones, no necesariamente malas intenciones o de traición a Rhaenrya pero sí otras intenciones… ¿Y tú qué opinas?
Finalmente, mi TEORÍA acerca de DAEMON TARGARYEN y LAENA VELARYON
---
Recordemos que, inevitablemente, Laena iba a morir por cesárea. En los libros, Laena muere tratando de montar a Vhagar por última vez, pero en la serie muere tras ordenar a su propio dragón quemarla. Y esto es curioso ya que me dio ideas respecto a algo en particular, y es que personalmente tengo la teoría de que el último hijo de Daemon y Laena podría estar vivo.
En ese mismo episodio, Daemon y Laena están haciendo demostraciones con sus dragones sobre el castillo. Vhagar escupe fuego y Daemon junto a Caraxes pasan a través del fuego. Es decir, Daemon tendría entonces resistencia al fuego, cosa que solo algunos Targaryen poseen. Su hermano el Rey Viserys sí la tiene, y lo vemos en el primer episodio cuando pasa su mano por unas velas sin quemarse.
Si esto es así, el bebé que estaba adentro de Laena también podría ser resistente al fuego. Se habrá quemado el cuerpo de Laena, pero no el bebe. Daemon era el único que presenció la escena, por lo que fácilmente pudo haber ocultado al bebé que habría quedado allí. Si esta teoría que tengo es cierta, este niño tendría de 10 a 15 años en el último capítulo, y algún papel importante podría jugar, quizás siendo jinete de algún dragón extra. Esto es solo una teoría loca que tengo, pero recuerda este post en caso de que llegue a cumplirse.
¿Qué opinas de esto? Gracias por llegar hasta acá. Te leo en los comentarios… ¡Hasta la próxima!
Redes sociales:
acontblog ➜


Transformando la vida en un blog.

---
---