[ENG/ESP] One of the Best Action/Adventure Movie Review THE BATMAN (2022) | Una de las mejores reseñas de películas de acción/aventuras THE BATMAN (2022)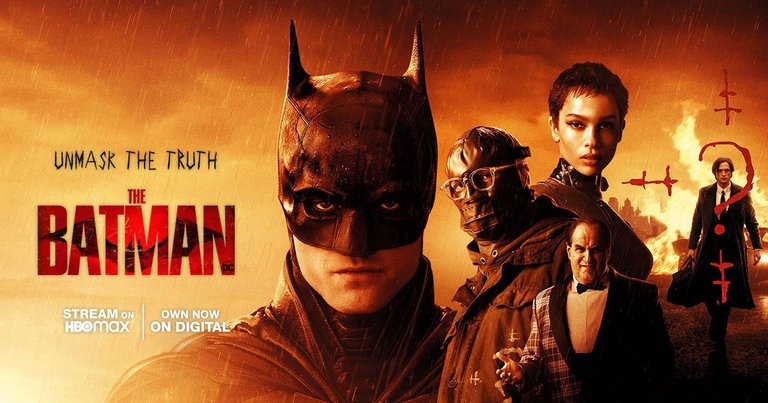 Image Source/Fuente de imagen
Hello Everyone,
Welcome readers to my article. In this article, I'll describe the "
THE BATMAN
" movie, so let's begin and I am positive you revel in it.
Hola a todos,
Bienvenidos lectores a mi artículo. En este artículo, describiré la película "THE BATMAN", así que comencemos y estoy seguro de que te deleitarás con ella.
---
Main Characters
The Batman movie was released in 2022, the movie is Action/Adventure based.
The main character in the movie is Batman (Robert Pattinson), Selina Kyle, Cat Women(Zoe Kravitz), Riddler(Paul Dano), Penguin(Colin Farrel), James Gordon(Jeffrey Wright), Gil Colson(Peter Sarsgaard), Thomas Wayne(Luke Roberts).
Personajes principales


La película de Batman se estrenó en 2022, la película está basada en acción/aventura.
El personaje principal de la película es Batman (Robert Pattinson), Selina Kyle, Cat Women (Zoe Kravitz), Riddler (Paul Dano), Penguin (Colin Farrel), James Gordon (Jeffrey Wright), Gil Colson (Peter Sarsgaard), Thomas Wayne (Luke Roberts).
---
Movie plots
The story begins with the HALOWEEN night of the death of Gotham city mayor who killed his Riddler. Basically, Riddler is a serial killer who murdered rich people in Gotham city. To this he leaves a clue to those he has killed, this clue is for Batman. In this clue is given which Riddler will kill next, if Batman can save that person, he can save him. With the help of Batman's clue, they are able to find out whom they want to kill, so the police find that person. Riddler murdered the man, Batman & the police assisted in the murder because Riddler didn't know where the man was, they found out and took the opportunity to kill Riddler.
This time it is seen that the mayor was beaten and then a finger of his hand was cut off because the mayor of the city was a very bad person. After the mayor's death, Batman and Gordon get a pen drive. After checking the data, the mayor published this video so everyone in the city knew that the mayor was a bad person. In the next scene, Batman arrives at the Iceberg Lounge but gets into a fight with Batman, the Penguin does not let him in. Batman asked the Penguin about Annika but the Penguin doesn't say anything.
Batman sees the Cat woman in the Iceberg Lounge and follows her. Cat woman arrives at Falcone's house to steal some documents. She goes to the mayor's house to look for the documents. She realizes that they are all behind Annika's kidnapping. The Cat woman tells Batman that the two must work together to bring the truth to each other.
Batman gives Cat woman a lens where she can record everything he sees and see Batman. Selina returned to her apartment and found that her entire apartment had been damaged. Selina goes to the Iceberg Lounge to look for her friend Annika and sees in this Lounge the presence of all the different big officers and bad people. Selina then asks Gil Colson to give him all the information about Annika. Gil Colson hits Ridder in his car as he leaves the Iceberg and is taken, prisoner.
tramas de películas


La historia comienza con la noche de HALOWEEN de la muerte del alcalde de la ciudad de Gotham que mató a su Riddler. Básicamente, Riddler es un asesino en serie que asesinó a personas ricas en la ciudad de Gotham. A este le deja una pista a los que ha matado, esta pista es para Batman. En esta pista se da qué Riddler matará a continuación, si Batman puede salvar a esa persona, puede salvarlo. Con la ayuda de la pista de Batman, pueden averiguar a quién quieren matar, por lo que la policía encuentra a esa persona. Riddler asesinó al hombre, Batman y la policía ayudaron en el asesinato porque Riddler no sabía dónde estaba el hombre, lo descubrieron y aprovecharon la oportunidad para matar a Riddler.
Esta vez se ve que el alcalde fue golpeado y luego le cortaron un dedo de la mano porque el alcalde de la ciudad era muy mala persona. Después de la muerte del alcalde, Batman y Gordon obtienen un pen drive. Después de revisar los datos, el alcalde publicó este video para que todos en la ciudad supieran que el alcalde era una mala persona. En la siguiente escena, Batman llega al Iceberg Lounge pero se pelea con Batman, el Pingüino no lo deja entrar. Batman le pregunta al Pingüino sobre Annika pero el Pingüino no dice nada.
Batman ve a la mujer Gato en el Iceberg Lounge y la sigue. La mujer gato llega a la casa de Falcone para robar unos documentos. Ella va a la casa del alcalde a buscar los documentos. Se da cuenta de que todos están detrás del secuestro de Annika. La mujer Gato le dice a Batman que los dos deben trabajar juntos para llevarse la verdad el uno al otro.
Batman le da a Catwoman una lente donde puede grabar todo lo que ve y ver a Batman. Selina regresó a su apartamento y descubrió que todo su apartamento había sido dañado. Selina va al Salón Iceberg a buscar a su amiga Annika y ve en este Salón la presencia de todos los diferentes oficiales grandes y gente mala. Luego, Selina le pide a Gil Colson que le dé toda la información sobre Annika. Gil Colson golpea a Ridder en su auto cuando sale del Iceberg y lo toman prisionero.
---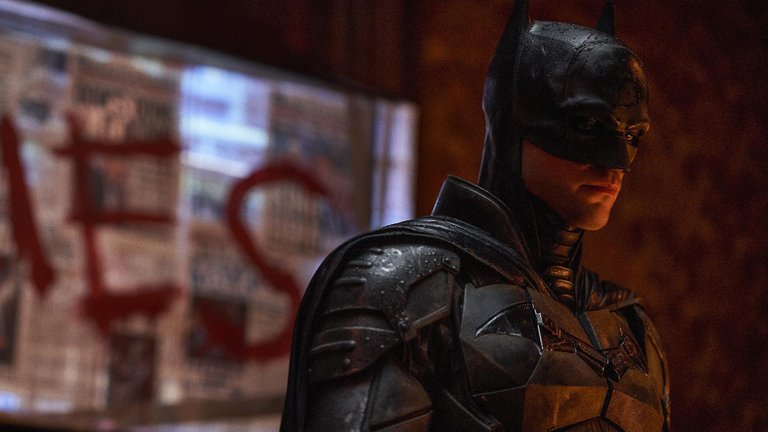 Image Source/Fuente de imagen
---
Batman was present at the Gotham city Mayor's funeral & Penguin and Falcone were also seen. But here's Colson out of a car but his mouth was closed & he had a cell phone in hand, Colson will die there if he gives a wrong answer by calling this phone and telling the riddles, the Batman to solve three riddles. Batman can solve two riddles but not the number three. It was here that the bomb exploded and Gill Colson died. Batman told Gordon that many in their own police department had evidence of this.
When Batman arrives home, he gets the news that the commission has died at the police station. Then Ridder's next target is Batman himself. Selina Annika on the other hand is very sorry to find her body because she wanted to save her best friend. Then it turns out that Batman can find out some of the things involved. Batman's father Thomas Wayne ran a multibillion company for the poor.
He was a good man at heart and could rarely do any harm to anyone because he wanted to be the mayor of Gotham city. Here a news reporter got the news that Thomas's wife was a mental patient. The journalist wanted to bring this news to the forefront. Thomas kills the journalist with the serial killer. Batman is very upset to hear this news. That's why Batman goes to Falcone to find out the real story. Here Falcone states he killed the journalist and that Thomas himself contracted it. When Batman learns of this he gradually becomes depressed.
Batman estuvo presente en el funeral del alcalde de la ciudad de Gotham y también se vio a Penguin y Falcone. Pero aquí está Colson fuera de un auto pero tenía la boca cerrada y tenía un teléfono celular en la mano, Colson morirá allí si da una respuesta incorrecta llamando a este teléfono y contando los acertijos, Batman para resolver tres acertijos. Batman puede resolver dos acertijos pero no el número tres. Fue aquí donde explotó la bomba y murió Gill Colson. Batman le dijo a Gordon que muchos en su propio departamento de policía tenían evidencia de esto.
Cuando Batman llega a casa, recibe la noticia de que la comisión ha muerto en la comisaría. Entonces, el próximo objetivo de Ridder es el mismo Batman. Selina Annika, por otro lado, lamenta mucho encontrar su cuerpo porque quería salvar a su mejor amiga. Entonces resulta que Batman puede descubrir algunas de las cosas involucradas. El padre de Batman, Thomas Wayne, dirigía una empresa multimillonaria para los pobres.
Era un buen hombre de corazón y rara vez podía hacer daño a alguien porque quería ser el alcalde de la ciudad de Gotham. Aquí, un reportero de noticias recibió la noticia de que la esposa de Thomas era una paciente mental. El periodista ha querido traer esta noticia al primer plano. Thomas mata al periodista con el asesino en serie. Batman está muy molesto al escuchar esta noticia. Es por eso que Batman acude a Falcone para averiguar la verdadera historia. Aquí Falcone afirma que mató al periodista y que el mismo Thomas lo contrajo. Cuando Batman se entera de esto, gradualmente se deprime.
---
Image Source/Fuente de imagen
---
Batman's family goes to Alfred Pennyworth to visit the hospitalized & tell him what happened and want to know the real story. Alfred says his father was a good man at heart and could rarely do any harm to anyone. Falcone, his parents killed both for his own interests. Batman arrives in Iceberg after finding out the real truth, Cat woman arrives here to take revenge on Falcone, to avenge his best friend. Someone took this opportunity to kill Ridder Falcone.
Here's a look at some of the information about Ridder's attack on Gotham city but this time Batman & Cat woman comings and saved Gotham city. Batman handed Ridder over to the police and he was taken, prisoner. This is where the movie ENDs.
La familia de Batman acude a Alfred Pennyworth para visitar al hospitalizado y contarle lo que pasó y quiere saber la verdadera historia. Alfred dice que su padre era un buen hombre de corazón y rara vez podía hacer daño a nadie. Falcone, sus padres mataron a ambos por sus propios intereses. Batman llega a Iceberg después de descubrir la verdadera verdad, Cat Woman llega aquí para vengarse de Falcone, para vengar a su mejor amigo. Alguien aprovechó esta oportunidad para matar a Ridder Falcone.
Aquí hay un vistazo a parte de la información sobre el ataque de Ridder a la ciudad de Gotham, pero esta vez vienen Batman y Cat Woman y salvaron la ciudad de Gotham. Batman entregó a Ridder a la policía y lo tomaron prisionero. Aquí es donde termina la película.
---
---
I am sure you liked friends, thanks for giving your precious time to my post, God bless you.
Estoy seguro de que les gustó amigos, gracias por dedicar su valioso tiempo a mi publicación, Dios los bendiga.
---
---