12 hombres sin piedad un clasico extraordinario (opinion y reseña) || 12 Angry Men an extraordinary classic (opinion and review).

Hola queridos amigos reciban un cordial saludo.
Algunas ves nos hemos preguntado:
¿Acaso nuestras decisiones más importantes están basadas en prejuicios pre constituidos?
¿Estamos realmente conscientes de las consecuencias que podrían acarrear nuestra toma de decisiones? Y más aún si son decisiones apresuradas?
¿Constituimos nuestras decisiones basándose en la moral, la ética, la lógica y el sentido común?
Hello dear friends, I send you a cordial greeting.
Have we ever asked ourselves:
Are our most important decisions based on pre-established prejudices?
Are we really aware of the consequences of our decision making? And even more so if they are hasty decisions?
Do we make our decisions based on morals, ethics, logic and common sense?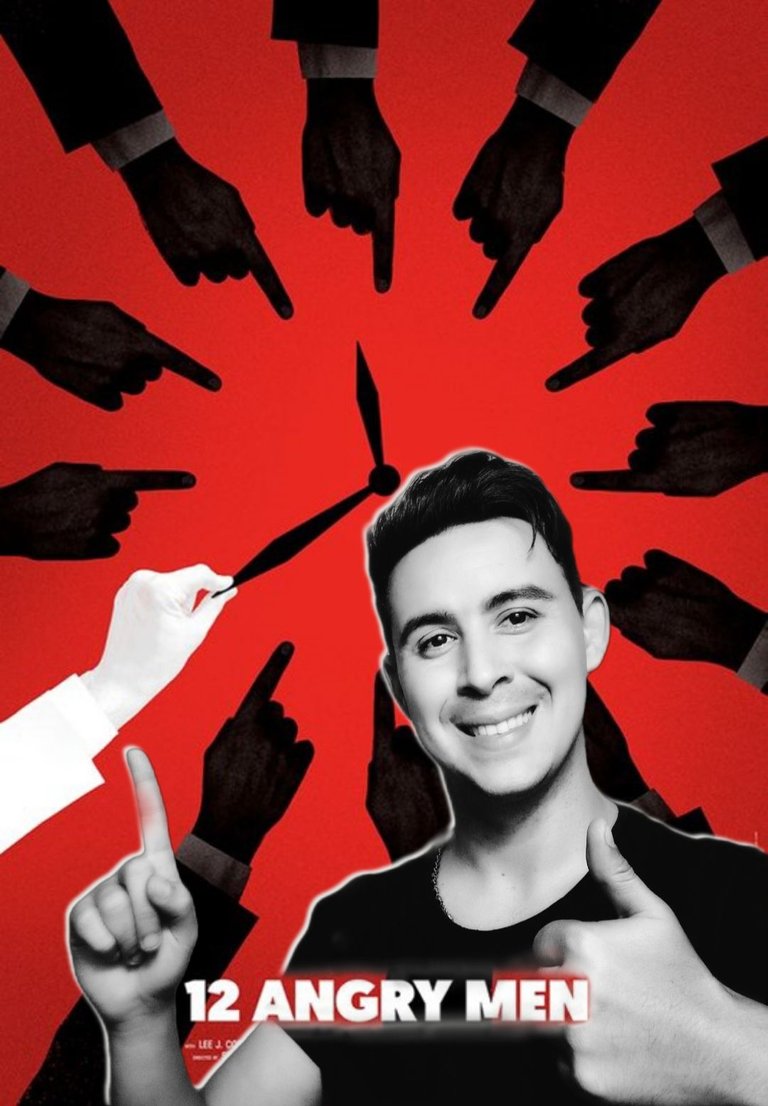 Portada de mi autoria realizaza con Picsart source

-Y si te digo que algunas veces lo que pensamos o creemos no es necesariamente lo que realmente es, y lo que consideramos como real y cierto puede ser solo argumentos pre constituidos por prejuicios y paradigmas sociales?-
-What if I tell you that sometimes what we think or believe is not necessarily what it really is, and what we consider as real and true may be just arguments pre-constituted by prejudices and social paradigms?
Los seres humanos por excelencia estamos acostumbrados a sacar conjeturas y conclusiones de acuerdo a nuestras creencias. De allí derivan en gran parte nuestras decisiones y algunas veces en el peor de los casos nuestras decisiones se ven afectadas por las conclusiones de otra persona, lo cual hace que nuestra decisión sea una decisión inducida o provocada.
Human beings par excellence are used to draw conjectures and conclusions according to our beliefs. From there, our decisions derive to a great extent and sometimes, in the worst cases, our decisions are affected by the conclusions of another person, which makes our decision an induced or provoked decision.
---
Queridos amigos reciban un cordial saludo, el día de hoy vengo a hablarles de una joya del cine clásico, una película sin grandes efectos especiales, en blanco y negro, sin grandes animaciones, sin un gran presupuesto, inclusive centrada en un mismo set de grabación solo con enfoques en primera persona e interiores, pero con un argumento extraordinario, una actuación impecable y sobre todo una historia que puede cambiar tu perspectiva de ver las cosas para convertirte en una persona más racional ayudándote a tomar mejores decisiones basadas en la lógica racional y la sana crítica.
Dear friends, receive a cordial greeting, today I come to talk to you about a jewel of classic cinema, a film without great special effects, in black and white, without great animations, without a big budget, even focused on the same film set only with first person and interior approaches, but with an extraordinary plot, impeccable acting and above all a story that can change your perspective of seeing things to become a more rational person helping you to make better decisions based on rational logic and healthy criticism.

12 Hombres sin Piedad. (12 Angry Men)
12 hombres sin piedad es una película del cine clásico en blanco y negro del director Sidney Lumet del año 1957 y escita por Reginald Rose. Está extraordinaria película del Género, Drama, Drama judicial o drama legal nos muestra claramente como la imaginación de un escritor y la colaboración de un productor pueden convertir una producción cinematográfica en una obra que puede ser considerada como una obra de consulta o de estudio dentro de las facultades de derecho más prestigiosas del mundo.
12 Men Without Mercy. (12 Angry Men)

12 Men Without Pity is a classic black and white film by director Sidney Lumet from 1957 and directed by Reginald Rose. This extraordinary film of the genre, Drama, Judicial Drama or legal drama clearly shows us how the imagination of a writer and the collaboration of a producer can turn a film production into a work that can be considered as a work of reference or study within the most prestigious law schools in the world.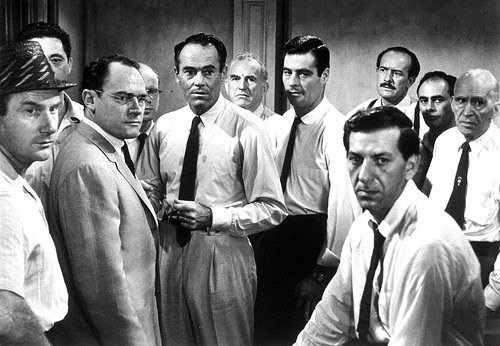 Source
Esta película es interpretada por: Henry Fonda (Actor principal y llamado Miembro 8), Martin Balsam, John Fiedler, Lee J. Cobb, E. G. Marshall, Jack Klugman, Edward Binns, Jack Warden, Joseph Sweeney, Ed Begley, George Voskovec, Robert Webber.
Source
This film is starred by:
Henry Fonda (Leading Actor and named Member 8), Martin Balsam, John Fiedler, Lee J. Cobb, E. G. Marshall, Jack Klugman, Edward Binns, Jack Warden, Joseph Sweeney, Ed Begley, George Voskovec, Robert Webber.Source

Alerta de Spoilers.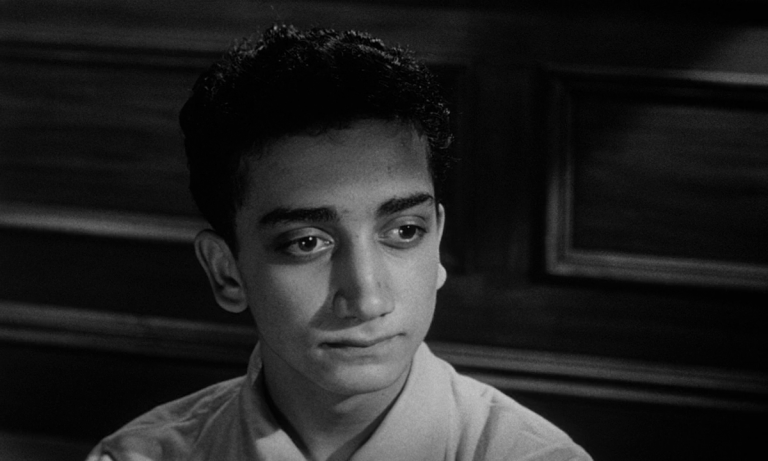 La película comienza dentro de un tribunal en la ciudad de Nueva York en donde un muchacho de 18 años está siendo procesado por el presunto homicidio de su padre. La representación fiscal ha solicitado la pena de muerte, ya que considera que existen elementos plenos de convicción para determinar su autoría en el asesinato de su padre. Dentro de las pruebas se encuentra una navaja extraída del cuerpo del padre (arma homicida), 2 testimonios de 2 testigos presenciales y la propia declaración del imputado, la cual fue incongruente.
Spoiler Alert.

The film begins inside a courtroom in New York City where an 18-year-old boy is on trial for the alleged murder of his father. The prosecution has requested the death penalty, as it believes that there are full elements of conviction to determine his authorship in the murder of his father. Among the evidence is a knife taken from the father's body (murder weapon), 2 testimonies of 2 eyewitnesses and the defendant's own statement, which was inconsistent.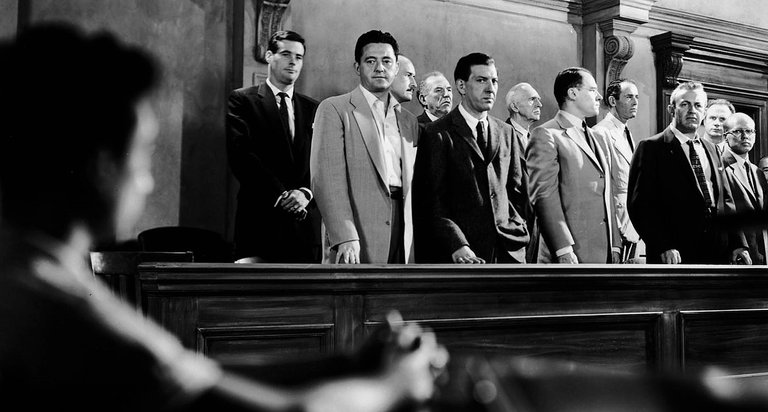 El Juez antes de sentenciar hace referencia al artículo 11 de la declaración universal de los derechos del hombre el cual nos habla del principio de presunción de inocencia, Toda persona a quien se le acuse de un delito, tiene derecho a que se le presuma inocente luego de esto pide un receso para que el juzgado (escabinos) pueda tomar una decisión unánime, Este juzgado está conformado por 12 hombres los cuales tendrán la tarea de volver a evaluar las pruebas presentadas por el fiscal y analizar los argumentos de la defensa del imputado para posteriormente tomar una decisión unánime la cual será deliberar "Inocente o culpable" todo esto en un lapso de 4 horas y Solo cuando tengan la decisión se conocerá el destino de este muchacho, pero si no existe una decisión unánime se deberá debatir entre ellos mismos hasta llegan a la unanimidad.
¿Qué sucederá?
Before sentencing, the judge refers to article 11 of the Universal Declaration of Human Rights which speaks of the principle of the presumption of innocence, Every person accused of a crime has the right to be presumed innocent after this he asks for a recess so that the court (escabinos) can make a unanimous decision, This court is made up of 12 men who will have the task of re-evaluating the evidence presented by the prosecutor and analyze the arguments of the defense of the accused to later make a unanimous decision which will be to deliberate "Innocent or guilty" all this in a period of 4 hours and only when they have the decision will the fate of this boy be known, but if there is not a unanimous decision will be debated among themselves until they reach unanimity. What will happen?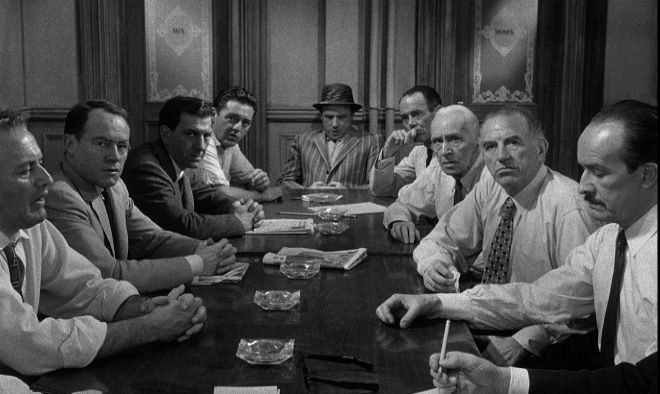 Source
Los hombres 12 pasan a la sala de decisiones, en una calurosa tarde neoyorkina, Cada uno se acomoda en sus asientos por número de identificación, el miembro 1 del juzgado es presidido por el presidente del juzgado hasta llegar al doceavo miembro del juzgado. Mientras transcurre la película podemos ver y conocer a cada uno de nuestros escabinos, permitiéndonos conocer cada una de sus personalidades, sus sentimientos, sus prejuicios sociales y raciales y sobre todo la xenofobia.
The 12th men are ushered into the decision room on a hot New York afternoon. Each is seated by identification number, member 1 of the court is presided over by the presiding judge until we reach the 12th member of the court. As the film unfolds, we get to see and get to know each of our scabinos, allowing us to get to know each of their personalities, their feelings, their social and racial prejudices and above all their xenophobia.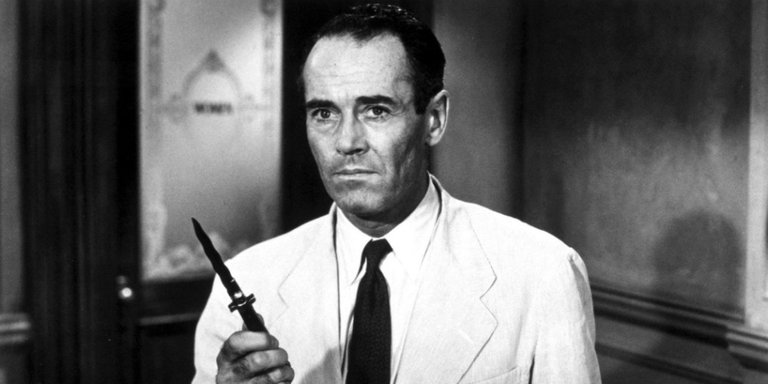 source
Luego de hablar muy superficialmente del fondo del asunto, deciden realizar votación de conteo sobre la inocencia o culpabilidad. El presidente solicita a los miembros que consideren
"CULPABLE"
que levanten la mano. La votación arrojo que 11 de los miembros están convencidos de que el muchacho era culpable de homicidio; sin embargo, el miembro nro. 8 no está convencido de que el muchacho era culpable, por consiguiente, salva su voto y exhorta a los demás miembros del juzgado a re debatir el asunto.
After talking very superficially about the merits of the matter, they decide to take a tally vote on innocence or guilt. The chairman asked the members who felt "GUILTY " to raise their hands. The vote showed that 11 of the members were convinced that the boy was guilty of murder; however, member no. 8 was not convinced that the boy was guilty, therefore, he saved his vote and urged the other members of the court to re-discuss the matter.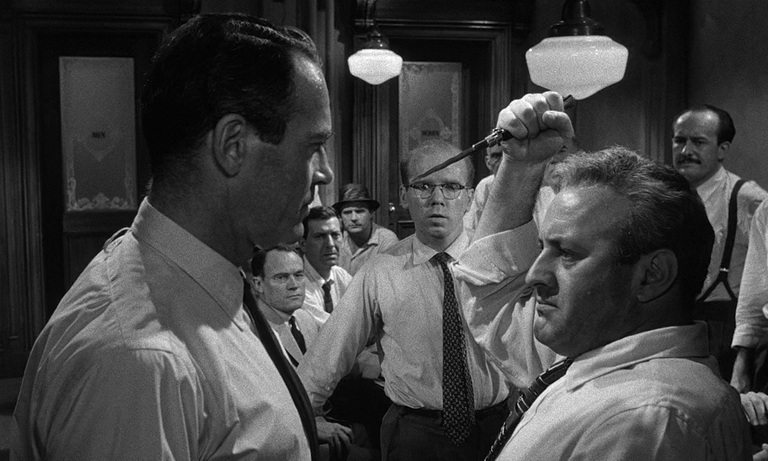 Opinión personal.
Esta película la recomiendo con los ojos cerrados, pues es una película que minuto a minuto puede ir dando giros inesperados, desde el punto de vista del argumento es fantástico, pues desde el punto de vista legal es una película acorde a derecho y a la praxis forense que esta representa, no tiene lagunas interpretativas es meramente narrativa y descriptiva la cual hace que te sientas como un miembro más del jurado en algunos momentos sientes necesidad de expresar tu opinión y análisis al respecto. Puedes ir sintiendo gran empatía pero también enojo.
Personal opinion.

I recommend this film with my eyes closed, because it is a film that minute by minute can give unexpected turns, from the point of view of the plot is fantastic, because from the legal point of view is a film according to law and forensic praxis that this represents, has no interpretive gaps is merely narrative and descriptive which makes you feel like a member of the jury at some points you feel the need to express your opinion and analysis about it. You can feel great empathy but also anger.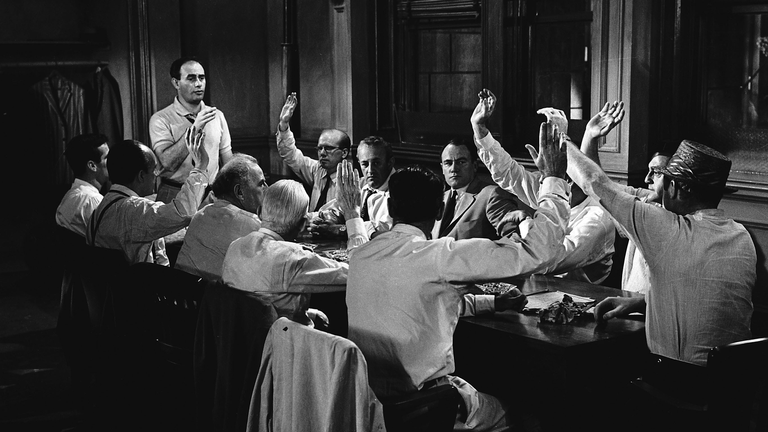 Desde el punto de vista social es una película que te muestra con un mismo hecho varios puntos de vista referentes a prejuicios sociales, clasistas y raciales, los cuales puede irse alejando de la verdad y la justicia, pero también podemos ver como una simple decisión puede llevar a la muerte o a la salvación a otra persona.
From the social point of view it is a film that shows you with the same fact several points of view concerning social, class and racial prejudices, which can go away from the truth and justice, but we can also see how a simple decision can lead to death or salvation to another person.
Es una película que te muestra como funciona el verdadero liderazgo, la motivación y la importancia de nuestras decisiones, como el razonamiento y la sana crítica puede imponerse ante preceptos pre constituidos, pero por sobre todo como un buen argumento puede derrumbar lo que creemos cierto para podernos mostrar una clara verdad en una efectiva realidad.
Y tú que crees? Será culpable o inocente?
It is a film that shows you how true leadership works, motivation and the importance of our decisions, how reasoning and healthy criticism can impose itself before pre-established precepts, but above all how a good argument can demolish what we believe to be true in order to show us a clear truth in an effective reality.

And what do you think? Is he guilty or innocent?
Trailer official
Source
---
Queridos amigos, gracias por leerme.
Dear friends, thank you for reading me.
Do you want to know more about me? I invite you to read My presentation on Hive Blog.
| Author | @apolo1 |
| --- | --- |
| Country | Venezuela |
| CATEGORY | cinetv movies spanish review opinion clasic film drama |
| Editing and banners | Picsart |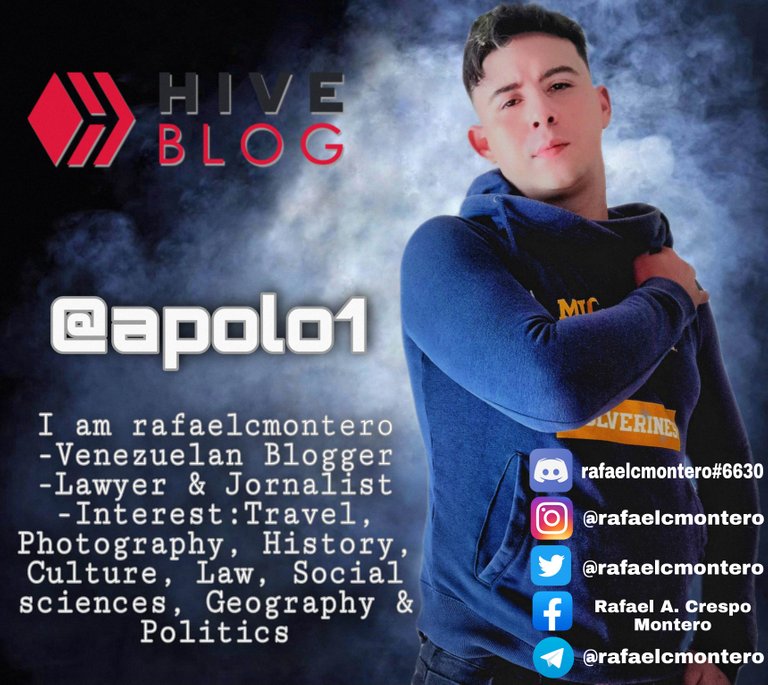 ---
---