Jawan Movie Review [ENG-ESP]
hey, my name is adil and I love to talk about movies and TV way too much with that in mind go ahead and join me. for Jawan if you've seen it now I'm pretty new to Indian Cinema a few years back I saw a Jalakatu at a film festival and then back in 2020 I reviewed three idiots and then last year I saw RRR and I loved it so also if I'm trying to expand my knowledge of Indian Cinema experiences with it let me know some recommendations.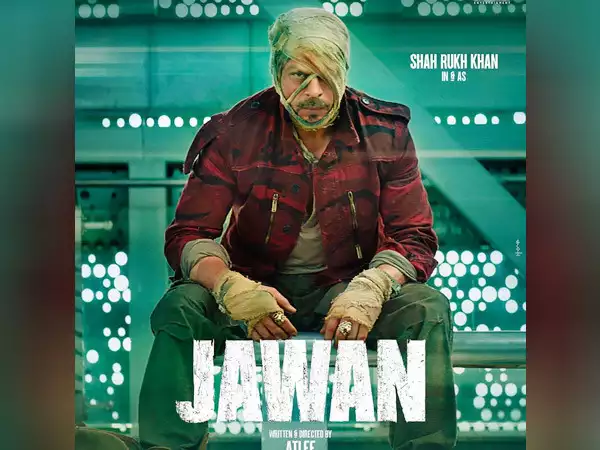 source https://www.indiatoday.in/movies/bollywood/story/jawan-movie-cast-plot-trailer-runtime-all-you-need-to-know-shah-rukh-khan-atlee-2431994-2023-09-06 let's get started and I'll just cut right to the chase I had a lot of fun watching the movie and it was just a fun experience watching it with a packed theater on opening night it was playing on the biggest screen at the theater that I go to and almost every single seat was sold and the the point of reference best point of reference I would have for the experience watching this movie would be like Avengers end game or Spider-Man no way home where the audience just kind of leapt into Applause whenever certain things happened but that was the experience all throughout the entire movie whenever they would do like the Epic intros of the actors characters into a scene and big music would kick in like the audience just started cheering they were whistling I mean it was just such a fun energetic environment to watch a movie and in particular when kind of experiencing a type of Cinema storytelling that's kind of fresh and new for me I have a lot of experience with Indian Cinema that it just creates a nice just environment to kind of join in on the fun and something else that uh so many people love and kind of discovering new actors and things like that it was just a really fun way to watch the movie and my thought almost um once the movie started I got the vibe of the energy in the room it made me go man I wish I would have seen RRR last year opening weekend when it came out that would have been so so cool so as for the movie itself as like with much Indian Cinema it's a film that covers all these different genres where it starts off in this Village and there's kind of some mystery and Intrigue surrounding a character there's all sorts of big gigantic action sequences there's like five or six musical numbers inside of it there's comedy there's romance there's politics there's social messaging it.
It kind of has this encompasses and a whole lot with the movie and that's part of what makes it difficult for me to review the film at the same time is what made it kind of like a refreshing experience whereas so much of the rules that I apply when reviewing a Hollywood movie the way that they're typically designed and fit neater into genres they're intended to have more tonal consistency part of the the appeal is that all those rules that Hollywood uses they just don't apply they work on an entirely different level and there's just such an earnestness too of to them and on the one hand they can be very on the nose with with almost everything whether the introduction of characters they're always so epic and big and in slow-mo and massive music is playing the action sequences are huge and cars flipping over people flying through walls and when it gets to an emotional scene it's very much in your face when it goes to the commentary about Society it's very much stated like you know exactly what they're trying to communicate and on the one hand um it's the sort of thing that if they did in a Hollywood movie I would feel like I'd be critical of it but there's it's so sincere in the way that everything is done that it.
it's intentional it's meant to be designed in this way so it's tough for me to evaluate it because I don't have too many points of reference to compare it to as it's just a different way of telling a story treating the Stars integration of genres into a single film that it's a little bit tricky my two points of reference that I really have are three idiots and then of course RRR from last year more so are our because they're both act action films but even in that context they're still quite different but you know by comparison if I were to like go through between the three movies this would probably be my third favorite and Angela cartoon is kind of something quite different but that would be of the ones I've seen the one that I enjoyed the least this would be the the third on the list um where it had plenty of very cool action sequences I don't think they were quite as memorable and as cool as what was in RRR where it like the bond of friendship with the two characters in RRR was just so cool that when they start fighting together or when they fight each other like you feel all of it and just the way it was choreographed I thought it was better and RRR but there's still a lot here that was very cool and the way that they're just have these over-the-top action sequences the car chase in particular I thought it was very good I thought some of the hand-to-hand fighting was a little bit kind of choppy in the way that it was edited I couldn't see what was going on quite as well and that can frustrate me with the action sequences and then kind of on the level of the social commentary type stuff felt like because three idiots was a little bit more focused and it's messaging and it's story and while it did have tons of genres in it but it really kind of leaned in on a specific idea it did it a little bit more straightforward and worked a little bit better while here we're doing an action thriller and every time one of the I don't know what are these Heist scheme things happen with our lead characters it reaches reaches a point in time where it pauses to have the lead character basically talk to the camera and the audience and say the message that wants to be communicated and some of it was a little bit difficult to follow because it is very culturally specific it's about issues relevant to India right now that I don't know exactly the environment I'm not I've never been to India so I don't know exactly what is being commented on not that I'm confused when it's talking about they're giving breaks to Bankers versus Farmers.
Spanish
Oye, mi nombre es Adil y me encanta hablar de películas y televisión demasiado. Con eso en mente, adelante y únete a mí. Para Jawan, si lo has visto, ahora soy bastante nuevo en el cine indio. Hace unos años vi Jalakatu en un festival de cine y luego en 2020 critiqué Tres Idiotas y luego el año pasado vi RRR y me encantó. Así que también si estoy tratando de expandir mi conocimiento del cine indio experiencias con él házmelo saber algunas recomendaciones.
Comencemos y voy a ir directo al grano. Me lo pasé muy bien viendo la película y fue una experiencia divertida verla con una sala llena en la noche de estreno. Se estaba proyectando en la pantalla más grande del cine al que voy y casi todos los asientos estaban vendidos. El punto de referencia, el mejor punto de referencia que tendría para la experiencia de ver esta película sería como Avengers Endgame o Spider-Man No Way Home, donde el público simplemente aplaudía cuando sucedían ciertas cosas. Pero esa fue la experiencia durante toda la película, cada vez que hacían como las intros épicas de los personajes de los actores en una escena y entraba la música a todo volumen, el público empezaba a animar y silbar. Quiero decir, era un ambiente tan divertido y energético para ver una película, y en particular cuando se experimenta un tipo de narración cinematográfica que es algo fresco y nuevo para mí.
No tengo mucha experiencia con el cine indio, pero eso crea un buen ambiente para unirse a la diversión y otra cosa que tanta gente ama y descubre nuevos actores y cosas así. Fue una forma muy divertida de ver la película y mi pensamiento casi una vez que comenzó la película, sentí la energía en la habitación y me hizo pensar: "Hombre, desearía haber visto RRR el año pasado el fin de semana de estreno cuando salió". Eso hubiera sido tan genial".
En cuanto a la película en sí, como con gran parte del cine indio, es una película que cubre todos estos géneros diferentes, donde comienza en este pueblo y hay algo de misterio e intriga en torno a un personaje, hay todo tipo de grandes secuencias de acción gigantescas, hay como cinco o seis números musicales dentro de ella, hay comedia, hay romance, hay política, hay mensajes sociales.
Es como que abarca y un montón con la película y eso es parte de lo que hace que sea difícil para mí reseñar la película, al mismo tiempo que lo que la hizo una experiencia refrescante es que tantas de las reglas que aplico cuando reseño una película de Hollywood, la forma en que están típicamente diseñadas y encajan más ordenadamente en los géneros, están destinadas a tener más consistencia tonal, parte del atractivo es que todas esas reglas que usa Hollywood simplemente no se aplican, funcionan en un nivel completamente diferente y también hay una gran seriedad en ellas.
Por un lado, pueden ser muy directos con casi todo, ya sea la introducción de personajes que siempre son tan épicos y grandes y en cámara lenta y se reproduce una música masiva, las secuencias de acción son enormes, con autos volcados y personas volando a través de las paredes y cuando se trata de una escena emocional es muy directa cuando se trata del comentario sobre la sociedad, se afirma mucho, como si supieras exactamente lo que están tratando de comunicar y, por un lado, es el tipo de cosa que si hicieran en una película de Hollywood sentiría que sería crítico con ella, pero hay algo tan sincero en la forma en que se hace todo que es intencional, está destinado a ser diseñado de esta manera, por lo que es difícil para mí evaluarlo porque no tengo demasiados puntos de referencia para compararlo, ya que es una forma diferente de contar una historia, tratar las estrellas, la integración de géneros en una sola película, que es un poco complicado.
Mis dos puntos de referencia que realmente tengo son Tres Idiotas y luego, por supuesto, RRR del año pasado. Más aún, son nuestras porque ambas son películas de acción, pero incluso en ese contexto, siguen siendo bastante diferentes. Pero ya sabes, por comparación, si tuviera que ir entre las tres películas, esta probablemente sería mi tercera favorita. Y Angela Cartoon es algo bastante diferente, pero de las que he visto, la que menos disfruté, esta sería la tercera de la lista.
**Donde tenía muchas secuencias de acción muy geniales, no creo que fueran tan memorables y tan geniales como lo que había en RRR, donde el vínculo de amistad con los dos personajes en RRR era tan genial que cuando comienzan a luchar juntos o cuando pelean entre sí, sientes todo y solo la forma en que fue coreografiado pensé que era mejor y RRR, pero todavía hay mucho aquí que fue muy genial y la forma en que simplemente tienen estas secuencias de acción exageradas, la persecución de autos en particular pensé que era muy buena
Thank you for reading the review
---
---