Chaos Walking : Movie review

I came across this movie by accident. My friend and I were exchanging movies and even though I did not ask, it ended up on my flash drive. Initially when I saw the title I expected it to be a zombie movie but it's far from that. I have seen this movie three times now and I enjoyed it each time. Two of the times I watched it, was because my friends and family were watching it and I couldn't resist watching it with them.
---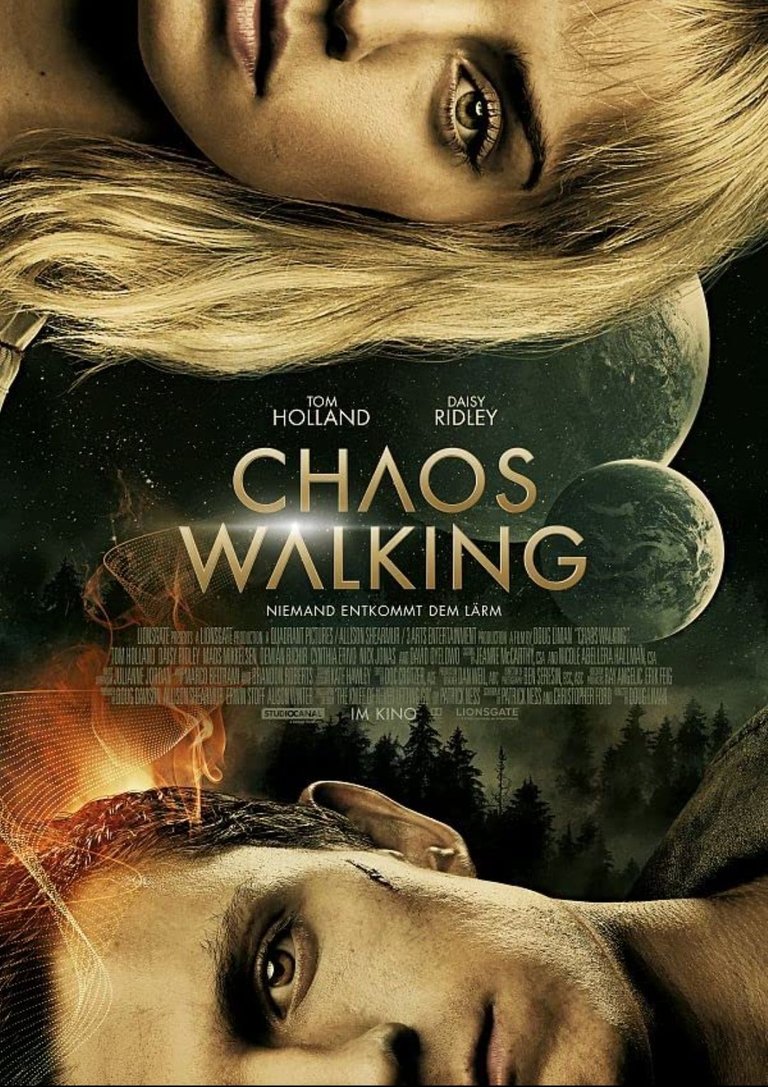 Imdb
---
It Is a 2021 film and airs for about one hour and forty minutes. It has an Imdb rating of 5.7/10 which I disagree with, and it's a movie adaptation from a book.

The plot
We are introduced to Todd Hewitt (Tom Holland) who lives in a civilization of only men on a strange planet. No one can have private thoughts as everyone's thoughts are being displayed above their head in the form of clouds called noise. Some can control it, while some (like Todd) can't.
Todd's life is changed when he spots a thief with no noise on his farm. He later discovers that she's a girl, the first one he's ever seen, and that she's not from that planet.
After she's made a criminal by the mayor of the town, Todd must help her escape to a distant land in order to contact her people.

My opinion
The movie was considered a flop as it did not live up to the expectations that were set by the book. I didn't read the book, so here is my opinion on the movie.
I think everyone's thoughts being on display for all to see is a very interesting concept. And it gave the movie some life. The visual representation of the noise was great, and it had great actors. But even with all of these I can't help but feel there could have been a lot more. At times the story feels a bit rushed. There were a lot of interesting interactions and characters, most of which can't be captured in a movie that's less than 2 hours. The book has two parts, so fitting everything into one movie didn't seem a wise decision.
Also for some reason the ending didn't seem as interesting as the middle and the beginning to me. Usually there'd be some less interesting parts around the middle, then they'd give a big climax at the end, but for me I enjoyed the middle a bit more. I guess it's to enjoy the journey, not the destination kind of movie. This may be different for others, but this was how I saw it.
Despite all of my little complaints I still enjoyed It. Like I said I watched it three times and enjoyed it all three. Just that I feel a lot more could have been gotten from that storyline. Perhaps in the future, someone could make something with a similar concept and make it better, I'd definitely watch that. For now this is all I've got.
Conclusion
I'd say it's a pretty watchable movie. If you enjoy fantasy and think the concept of your mind being visible is interesting I recommend you watch it. Just don't set your expectations too high.
I give it a rating of 6.5/10

---
---