Let's talk about Narnia (eng/spa)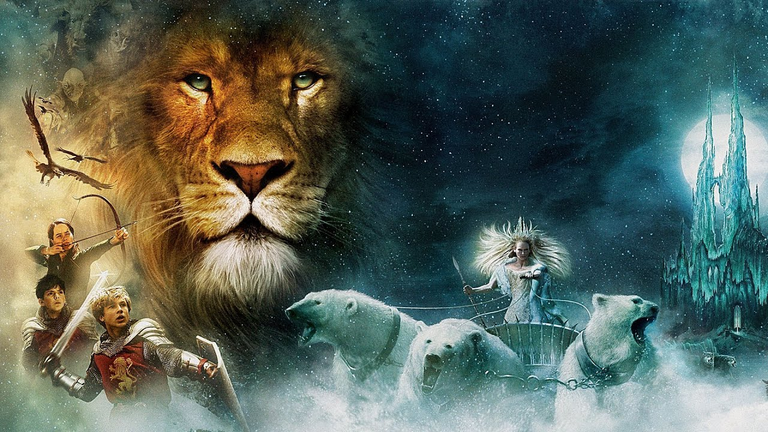 Fuente
Hello, people of the internet, this time I want to talk to you about one of my favourite sagas that started with a good start but step by step was in decline, however we will start from the beginning (at least talking about the films) today we are going to analyse The Lion, the Witch and the Wardrobe.
Hola, gente de internet, en esta ocasión quiero hablarles de una de mis sagas preferidas que inició con buen pie pero poco a poco fue en declive, sin embargo empezaremos desde el inicio (al menos hablando de las películas) hoy nos toca analizar El león, la bruja y el ropero.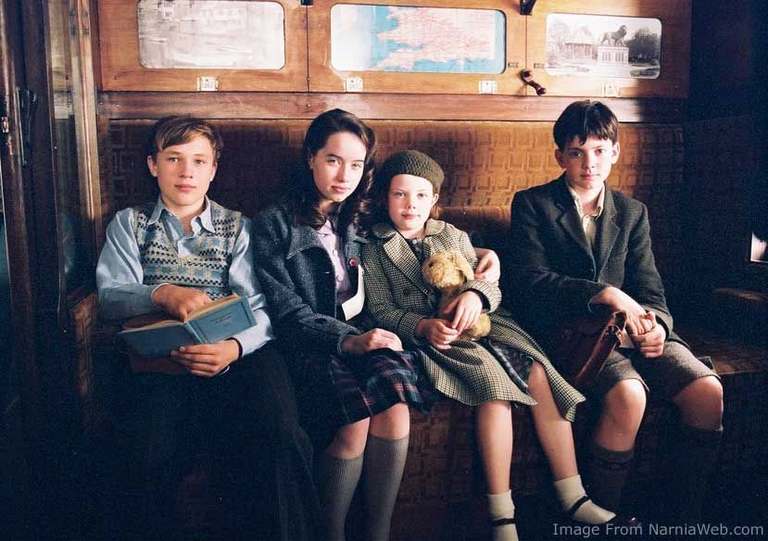 Fuente
The Pevensie children have to say goodbye to their mother and leave London due to the bombing of the city, so they go to a professor's house on the outskirts. Playing a game of hide and seek inside the mansion due to the rain that did not allow them to go out into the gardens, Lucy, the youngest, decides to hide in a mysterious cupboard and without intending to, she arrives in another world.
Los niños Pevensie deben despedirse de su madre e irse de Londres debido a los bombardeos de la ciudad, es así como van a la casa de un profesor a las afueras. Jugando el juego de las escondidas dentro de la mansión debido a la lluvia que no les permitía salir a los jardines, Lucy, la más pequeña, decide esconderse en un armario misterioso y sin proponérselo, llega a otro mundo.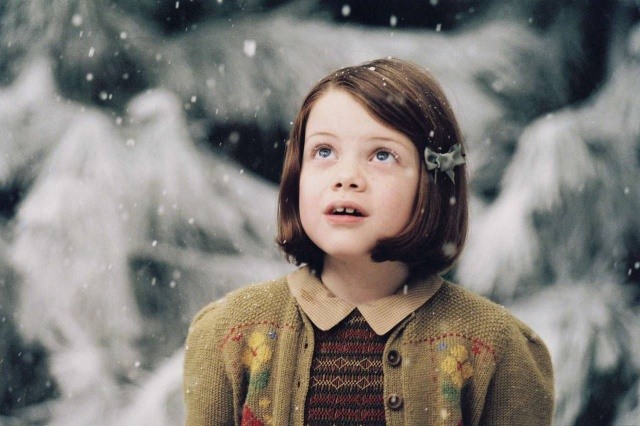 Fuente
The adaptation in general is quite good and one of the things I love the most are the characterisations, they were totally faithful to the original characters, the presentation of each one was as well, so the graphic appreciation that the film has helps us to identify the characters immediately just by appearing on the screen.
La adaptación en general es bastante buena y una de las cosas que más amo son las caracterizaciones, fueron totalmente fieles a los personajes originales, la presentación de cada uno también lo fue, así que la apreciación gráfica que tiene la película nos ayuda a identificar a los personajes de inmediato solo con aparecer en la pantalla.
The cinematography is stunning, the whole mise-en-scene is beautiful. The film has a very varied colour palette, some very interesting camera shots. I like how even though the snow represents the witch and Narina in general feels threatening under this influence, the landscape still looks beautiful.
La fotografía es impresionante, toda la puesta en escena es preciosa. La película cuenta con una paleta de colores muy variada, unos planos de cámara bastante interesantes. me gusta como a pesar de que la nieve representa a la bruja y en general Narina se siente amenazador bajo esta influencia, aún así el paisaje se ve precioso.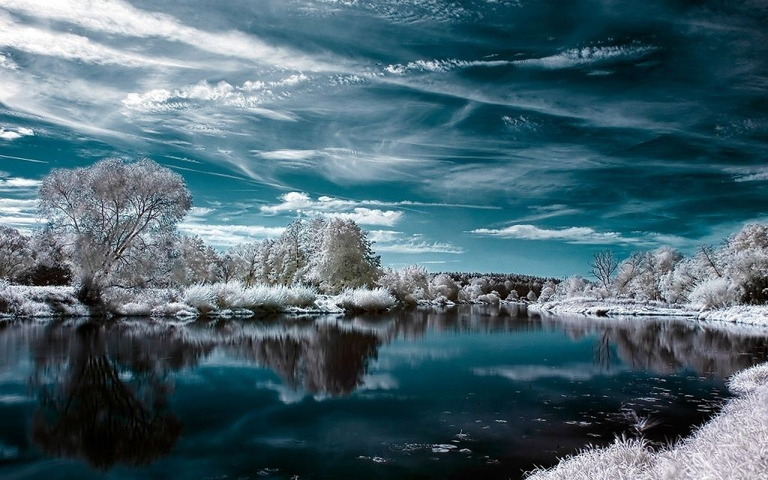 Fuente
The performances were also very good. My favourite characters are the white witch and Edmund and both actors did a phenomenal job, of course being my favourite characters I will talk specifically about both actors and my opinion of their performances:
Las actuaciones también fueron muy buenas. Mis personajes preferidos son la bruja blanca y Edmund, y ambos actores hicieron un trabajo fenomenal, claro que siendo mis personajes preferidos hablaré específicamente de ambos actores y de mi opinión de sus interpretaciones:
Edmun is played by Skandar Kaynes. Edmun is an arrogant, selfish, manipulative and lying child who can't stand not being the centre of attention, is cruel and because he can't bully his older siblings, his focus is on his younger sister Lucy. Not knowing how to deal with his worries (his country is one of the Allied countries in the Second World War, his father is in battle and his mother stayed in London where she could be bombed at any moment), he takes out his frustration in fits of anger and biting remarks on his siblings.
Edmun por su parte fue interpretado por Skandar Kaynes. Edmun es un niño arrogante, egoísta, manipulador y mentiroso que no soporta no ser el centro de atención, además es cruel y dado a que no puede hacerle bullying a sus hermanos mayores, su foco de descarga es su hermana más pequeña, Lucy. Digamos que al no saber como lidiar con sus preocupaciones (su país es uno de los países aliado en la segunda guerra mundial, su padre está en batalla y su madre se quedó en Londres donde puede ser bombardeada en cualquier momento) descarga su frustración en ataques de ira y comentarios mordaces que lanza a sus hermanos.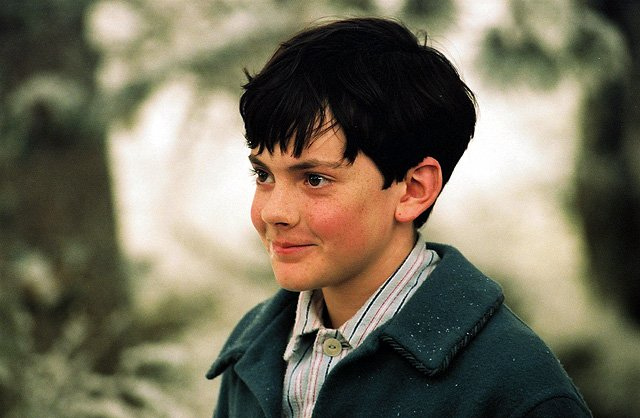 Fuente
He has always thought himself superior to his siblings and is envious of his older brothers, who in a way should be the mother and father figure that Lucy and Edmund do not have at the moment, but as his siblings, Edmund does not respect them as he should. When he meets the White Witch and despite Lucy's warnings about her, Edmund is seduced by the power she promises to give him, even making him imagine his siblings as his servants, so he reveals information that harms Mr. Tummus and later gets him into trouble.
Siempre se creyó superior a sus hermanos y siente envidia de sus hermanos mayores, quienes de cierta manera deben ser la figura materna y paterna que Lucy y Edmund no tienen de momento, pero al ser sus hermanos, Edmund no los respeta como debería. Cuando se encuentra con la Bruja Blanca y a pesar de las advertencias que Lucy le había hecho sobre ella, Edmund se deja seducir por el poder que ella promete darle, incluso haciéndolo imaginar a sus hermanos como sus sirvientes, y es así como él le revela información que perjudica al sr. Tummus, y más tarde lo mete a él en problemas.
Skandar captures the essence of the character and gives us Edmund as he is described in the book, making you feel antipathy for him and later even pity for him. The dialogues help a lot to introduce and get to know the character, so that later on we can see his evolution.
Skandar captura la esencia del personaje y nos entrega a un Edmund tal cual lo describe el libro, logra que sientas antipatía por él y que más tarde incluso sientas pena. Los dialogos ayudan bastante a presentar y conocer al personaje para posteriormente poder ver su evolución.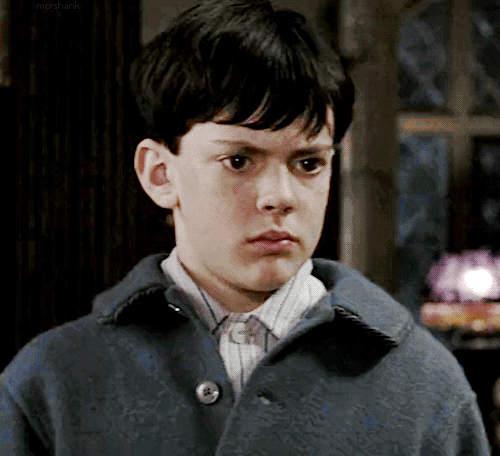 Fuente
On the other hand, Jadis or the White Witch, is a semi-human "woman", reasons for which she used to seize the throne of Narnia, saying that she was an authentic daughter of Eve and that's why she should rule but due to the prophecy dictated by Allende Los Mares "When in Narnia 2 sons of Adam and 2 daughters of Eve on the 4 thrones of Cair Paravel are seated, the bad times will be over" she feels threatened when she finds Edmund in the forest (an attentive son of Adam) and decides to manipulate him to lure his siblings and annihilate them.
Por otro lado, Jadis o la bruja Blanca, es una "mujer" semi humana, razones para las que se valió para hacerse con el trono de Narnia, diciendo que era una autentica hija de Eva y que por eso debía gobernar, pero debido a la profecía dictada por Allende Los Mares "Cuando en Narnia 2 hijos de Adán y 2 hijas de Eva en los 4 tronos de Cair Paravel estén sentados, los malos tiempos habrán pasado" se siente amenazada cuando encuentra a Edmund en el bosque (un atentico hijo de Adán) y decide manipularlo para atraer a sus hermanos y así poder aniquilarlos.
Jadis is described in the book as very tall, with snow-white skin, she is very tall because she is a hybrid between human and giant, she is also cold, calculating, selfish, arrogant, narcissistic, cruel and controlling. In fact, she eradicated Christmas in Narnia and established an eternal winter, and also put incognito trees in the woods to tell her what they hear and catch traitors, which is why everything about her and Narnia at the beginning of the story and in general, despite looking beautiful, is a hostile and sinister environment.
Jadis es descrita en el libro como muy alta, con piel blanca como la nieve, es muy alta por ser hibrida entre humano y gigante, además es fría, calculadora, egoísta, arrogante, narcisista, cruel y controladora. De hecho erradicó la navidad en Narnia e instauró un eterno invierno, además que puso árboles de incógnito en los bosques para que le digan lo que escuchen y atrapar a los traidores, es por eso que todo lo referente a ella y Narnia al principio de la historia y en general, pese a verse hermoso, es un ambiente hostil y siniestro.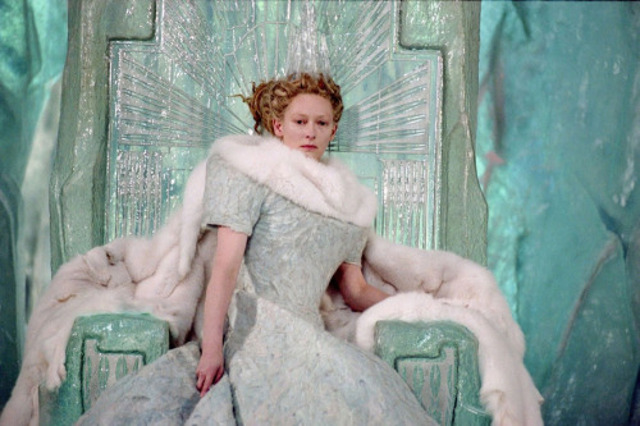 Fuente
Jadis is played by the great Tilda Swinton and she is perfect for the role as her features are quite enigmatic and help to generate that supernatural aura. On the other hand her performance is excellent, she conveys what she must, Jadis is dangerous and she makes it known with just her body expression, even when she speaks softly with Edmund, she lets us see how bad and hypocritical she is, I always enjoy her scenes.
Jadis fue interpretada por la gran Tilda Swinton y es perfecta para el papel ya que sus facciones son bastante enigmáticas y ayudan a generar esa aura sobrenatural. Por otro lado su interpretación es excelsa, transmite lo que debe, Jadis es peligrosa y ella lo hace saber con solo su expresión corporal, incluso cuando habla suavemente con Edmund, deja entrever lo mala e hipócrita que es, siempre disfruto sus escenas.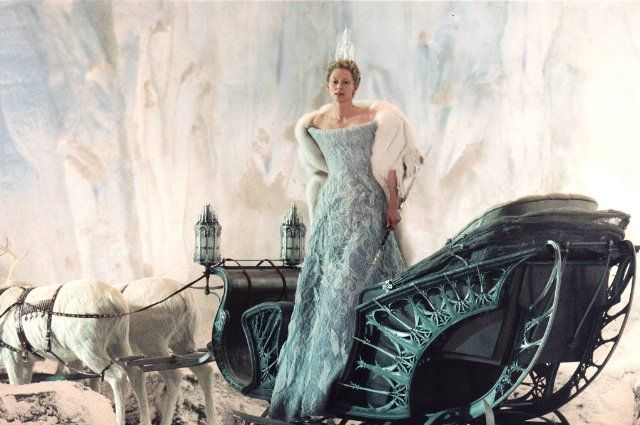 Fuente
In general parameters it is a very good film, far from taking away important scenes, they added them (like that initial scene of the bombing that although it is explained in the book, it is not narrated) the dynamism of the film is very good, the succession of scenes and the structure is balanced so it doesn't feel neither accelerated nor boring. The soundtrack is one of my favourites, the compositions are perfect, my favourites are the following:
En parámetros generales es una muy buena película, lejos de quitarle escenas importantes, le añadieron (como esa escena inicial del bombardeo que aunque se explica en el libro, no esta narrada) el dinamismo de la película es muy bueno, la sucesión de escenas y la estructura esta balanceada por lo que no se siente ni acelerada ni aburrida. El Soundtrack es de mis preferidos, las composiciones son perfectas, mis preferidas son las siguientes:
They are two very different compositions, but they convey too much. Mr. Tummus' composition must sound enigmatic and soothing because his intention in playing this piece for Lucy was to hypnotise her and make her fall asleep in order to hand her over to the witch. On the other hand, the second composition is the piece that represents the beginning of the battle between good and evil, that is why it is extremely imposing and epic. It starts on piano and goes in crescendo with lyrical choruses and is constantly changing although with the same intentionality.
Son dos composiciones muy diferentes entre sí pero que transmiten demasiado. La composición del Sr. Tummus debe sonar enigmática y relajante porque su intención al tocar esa pieza para Lucy era hipnotizarla y hacerla quedar dormida para entregarla a la bruja. Por otro lado la segunda composición es la pieza que representa el inicio de la batalla entre el bien y el mal, es por eso que es sumamente imponente y épica. Empieza piano y va in crescendo, cuenta con coros líricos y va cambiando constantemente aunque con la misma intencionalidad.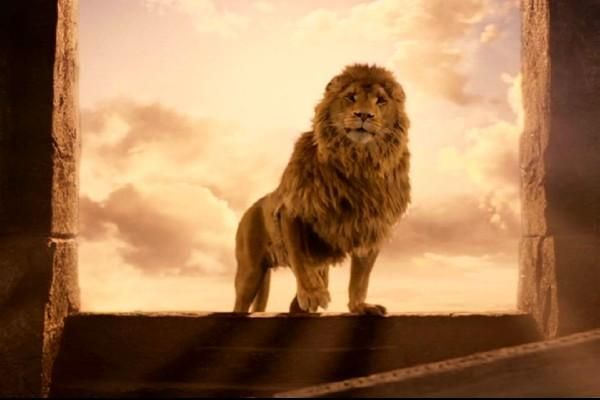 Fuente
The Chronicles of Narnia is one of the most beautiful stories I have ever read, I doubt that anyone makes better stories for children than C.S. Lewis, who by the way, with his stories also teaches adults, that is to say that the story although it is specifically for children, can also be enjoyed by teenagers and adults. He created a parallel universe to ours with which it has a connection in the end, and his biblical analogies also seem to me to be a nice addition by Lewis. This adaptation is too good and highly recommended.
Las Crónicas de Narnia es de las historias más hermosas que he leído, dudo que alguien haga mejores historias para niños que C.S. Lewis, quien dicho sea de paso, con sus historias también alecciona a adultos, es decir que la historia aunque sea para niños específicamente, también puede ser disfrutada por adolescentes y adultos. Creó un universo paralelo al nuestro con el cuál al final tiene una conexión, y sus analogías bíblicas también me parecen un bonito agregado por parte de Lewis. Esta adaptación es demasiado buena y altamente recomendada.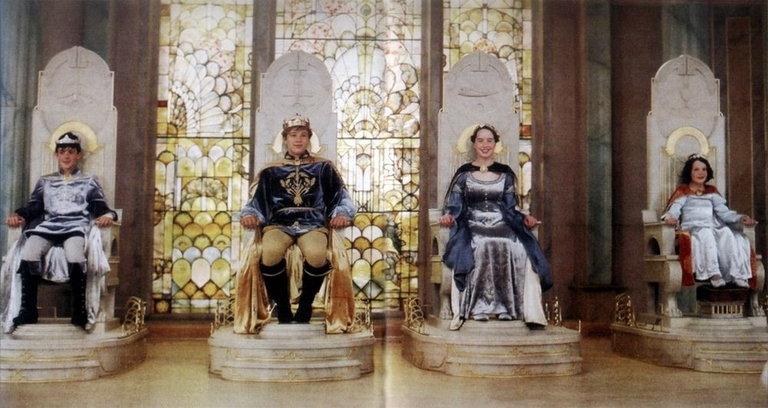 Fuente
And well, people, that's all for today's post, I hope you liked it. Thank you very much as always for supporting my work, I welcome new readers, I love you all very much, I send you a hug and I'll see you in another post.
Y bueno, gente, esto ha sido todo por el post de hoy, espero que les haya gustado. Muchas gracias como siempre por apoyar mi trabajo, le doy la bienvenida a los nuevos lectores, les quiero mucho a todos, les envío un abrazo y ya nos encontraremos en otro post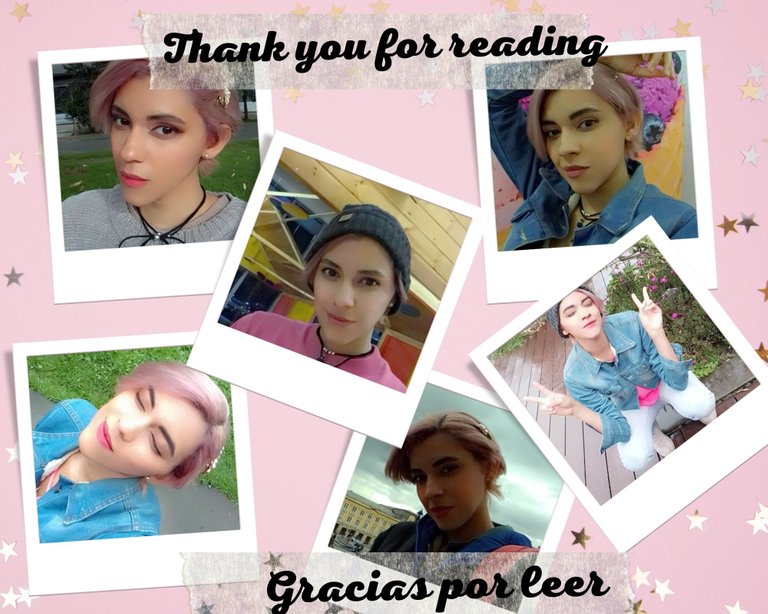 I made the cover and farewell image in Canva
La imagen de despedida la realice en Canva
---
---