What I've Been Watching: It's Been a Minute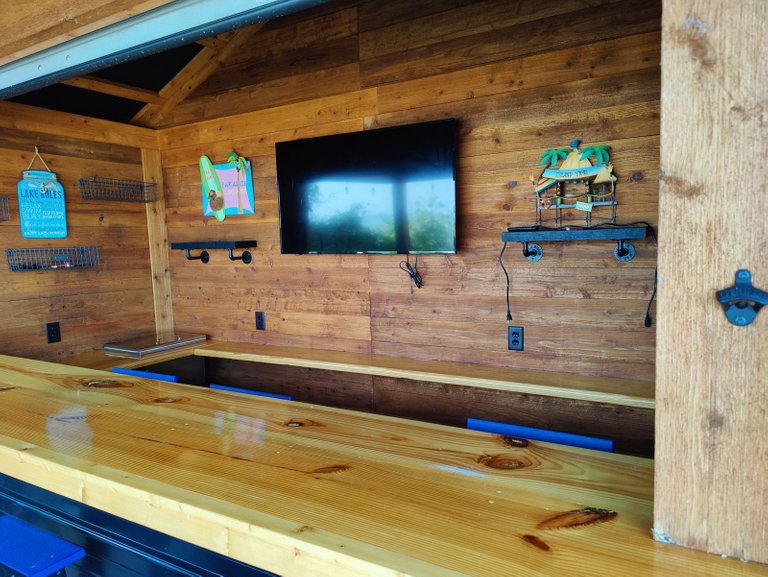 ---
As I said in the title, it's been a hot minute since I have written one of these posts. It's not that I haven't been watching anything on TV lately, but I have been so busy sharing my summer with you that I haven't had time to write about any of them.
Despite the fact that I haven't actually been watching a lot of TV, I have a pretty significant list of stuff to share with you. So much in fact, that I am going to have to split this up into multiple posts. A lot of the shows on streaming services these days have pretty short seasons, so on a rainy weekend, it's pretty easy for me to complete a whole season.
Over the past couple of months, @mrsbozz and I have said goodbye to some of our favorites and welcomed some new shows to our roster. Typically, we get to watch maybe one episode of something together each night after we catch the weather on the local news and she heads off to read. Then before I head to bed I get to watch maybe one or two episodes of something before I call it a night around 8:00 PM.
I know that probably seems early, but that's what happens when you get up at 4:30 AM each day to work out before work.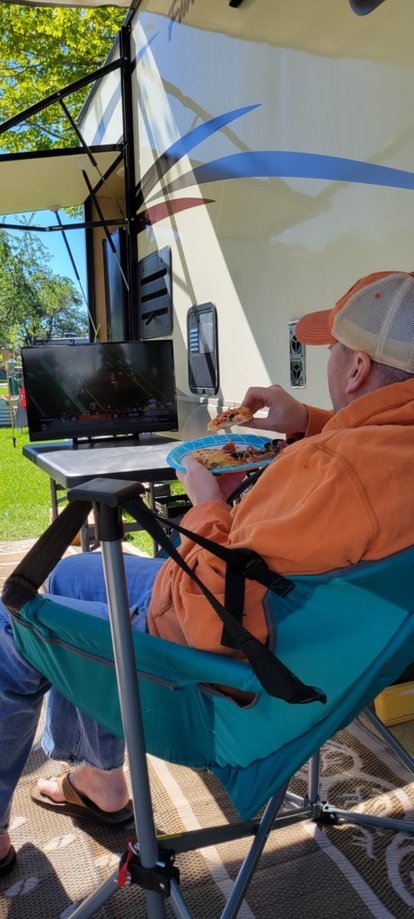 ---
Weekends on the other hand are a different story. If we don't have plans on Friday night we can often binge watch several episodes of something. Typically in the summer that means getting caught up with Big Brother, but we also have some other shows that we enjoy watching if we don't have any BB episodes to watch.
Saturday during the day if we aren't busy, you can usually find me watching college football as you see above. Even camping doesn't stop me. Saturday night, is pretty similar to Friday night if we don't have plans and the Michigan State Spartans aren't playing a night game.
Finally, on Sunday, I am usually watching the Lions during the day, but I will occasionally watch one of my shows while @mrsbozz is taking a nap in the middle of the day. Sunday night is like a weeknight since we have work on Monday.
Anyway, now that I have all of that out of the way. Let's get to some of the shows that we have been watching lately.
Crossroads
A long long time ago, someone had the ingenious idea to bring country music artists and rock/pop music artists together to sing each others songs and share the stage together. Thanks to that great idea, Crossroads was born. Probably one of the greatest collaborations on Crossroads that yielded the most shared success was when Bon Jovi teamed up with Sugarland to sing the song that would later become a country radio hit "Who Says You Can't Go Home". That was season 1 episode 18.
Crossroads is now in it's 22nd or 23rd season and it is still going strong. Some of the pairings haven't been as good or successful as other ones, and we honestly haven't watched it for quite a while, but when I saw that Darius Rucker and The Black Crows were going to do an episode together, I knew we had to watch it. It was pretty fantastic, but a bit short and they didn't play as many songs as I would have liked. Sure, they had all the hits in there, but there was just something off about it.
It's like when something is almost perfect, but you can't put a finger on that one thing that is making it not 100% perfect. That's how this episode was.
There was a actually one a long time ago that was Def Leppard and Taylor Swift. At the time, it was just kind of cringe because Taylor was still just a kid and while she was famous, she still hadn't come into her own yet. It would interesting to see how different that episode would be today now that she has matured so much.
If you want to see a list of all the episodes, you can find it here.
The Bear Season 2
If you haven't seen The Bear season 1, you need to stop what you are doing (yes, even reading this), go subscribe to Hulu, and watch it right now. It is such fantastic television, that I can't even put it into words. Probably one of the best shows on TV right now. If you don't believe me, just read all of the critical acclaim it has gotten in the two short seasons it has been on.
Without giving anything away, season 2 picks up where season 1 left off and gives us a deeper look into many of the main characters that you were first introduced to in season 1. The character development in this show is just fantastic. Probably one of my favorite parts of season 2 is the story arc that revolves around Richie "Cuz".
Sorry, I guess I should have mentioned, if you aren't familiar, the premise of the show is that a classically trained chef, comes back home to take over the sandwich shop owned by his recently deceased brother. Drama, laughter, and craziness ensues from there.
Another standout piece of season 2 is the sixth episode called "Fishes" where they take you into the past for a feast of the Seven Fishes with the Berzatto family. It's a lot, so I am giving you fair warning now.
All of the characters are really great in this show, but Jeremy Allen White from "Shameless" (the US version) fame shines as bright as he did in the first season. It really is must watch TV.
Somebody Somewhere
Somebody Somewhere is a quirky comedy/drama that @mrsbozz and I were turned onto by her sister. We had to purchase a trial subscription to Showtime to be able to view it, but we both ended up really liking it.
I wasn't too sure about it at first. It's just odd. The characters aren't your typical sitcom characters and it doesn't really fit the mold of what you would expect a show like this to be about. I think that is part of what put this show on a lot of people's radar. Bridget Everett is unapologetic in her leading role and I think on some level we can all see ourselves in at least some aspect of her.
Basically, it's about a lady from Kansas who still lives in her hometown, but has never really settled into the traditional roles that most would expect that sort of person to fall into. If that makes sense.
I guess if I had to sum it up, this show is about "finding your people" and making the most of it. The characters are really well played and the humor is quite crude. There is a reason this show is on Showtime and not one of your regular primetime channels.
I liked the show, and if they come out with another season, we will probably find a way to watch it. If offbeat comedies like "It's Always Sunny...", and Schitt's Creek aren't your style, I probably wouldn't pay for Showtime just to watch this show.
On the other hand, if that sort of thing appeals to you and you are looking for something a bit out there, you might want to check this one out.
That's the first three of 13 shows that I have been watching lately. I'll dig into some of the others in the coming weeks. I hope you stick around for it!
---
---

---
All pictures/screenshots taken by myself or @mrsbozz unless otherwise sourced
---
---