Cine TV Contest: The Disaster Artist, humor in the simple. [ENG/ESP]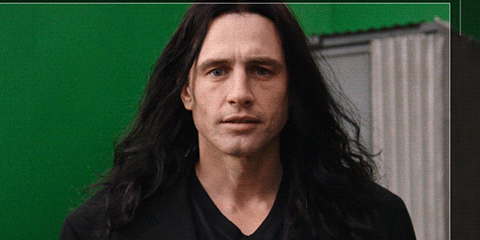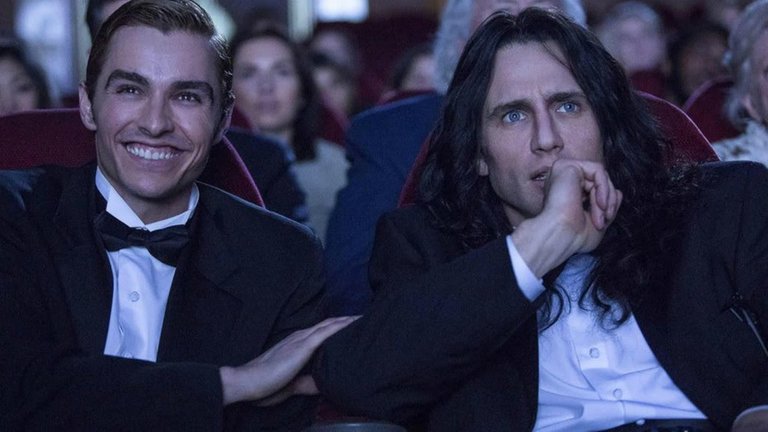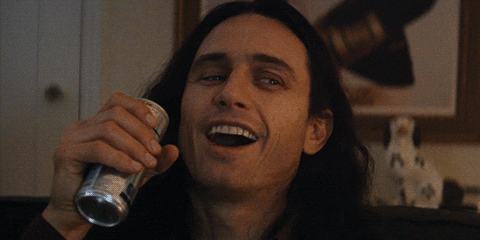 Hello everyone! Today I will be sharing this article as part of my entry and participation in the Cine TV and LOLZ community collaborative contest, under the Best Comedy Movie theme. So without further ado let's get started with it!
I'll start by saying that although I don't clearly remember some comedy movies that have had a significant impact on me, there is one of them that made me die laughing in several or in the entirety of the movie, it's The Disaster Artist. A comedy-drama film directed by James Franco and starring himself as the sterile, multi-faceted and eccentric Tommy Wiseau. The film is based on the novel by Greg Sestero who tells the story of how one of the worst movies of all time, The Room, was made by Tommy Wiseau. It is therefore based on real events and I assure you that the premise of the film does not do justice to what you will see on screen for about 105 minutes of film.
¡Hola a todos! El día de hoy compartiré este artículo como parte de mi entrada y participación en el concurso colaborativo de la comunidad de Cine TV y LOLZ, bajo el lema de Mejor Película de Comedia. Así que sin más preámbulo ¡Empecemos con ello!
Empezaré diciendo que aunque no recuerdo con claridad algunas películas de comedia que hayan tenido un impacto significativo en mi, sí que hay una de ellas que me hizo morir de risa en varias o en la totalidad de la película, se trata pues de The Disaster Artist. Una película de comedia dramática dirigida por James Franco y protagonizada por el mismo al esterilizar al multifacético y excéntrico, Tommy Wiseau. La película está basada en la novela de Greg Sestero quién narra la historia de cómo se filmó una de las peores películas de todos los tiempos, The Room, la misma fue realizada por Tommy Wiseau. Está por tanto basado en hechos reales y te aseguro que la premisa de la película no le hace merito a lo que podrás ver en pantalla durante unos 105 minutos de película.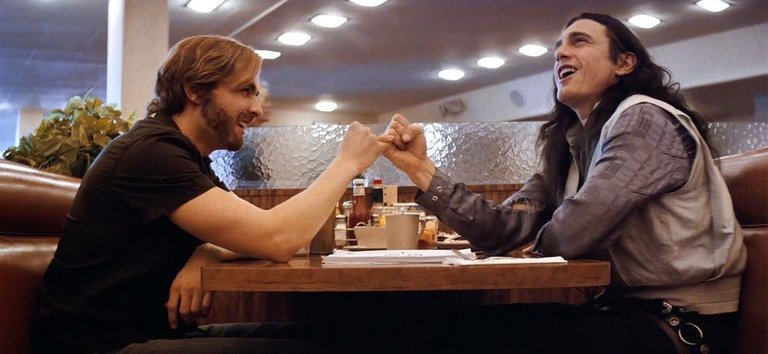 To put us in context, Greg Sestero, who wrote the novel, is none other than Tommy Wiseau's best friend and in the movie, he is played by James Franco's brother. A memorable duo. Sestero wrote this novel to document how he met Tommy and the nightmare that was filming The Room. In the film, The Disaster Artist shows us Greg, a young theater actor who dreams of making it in the big leagues of Los Angeles. But Greg is a bit insecure and doesn't seem to be very happy with his acting performance. So in a theater class he freezes up when he doesn't know what to do during the performance of a role. It's not until a tall man with long black hair and strange clothes emerges from the theater seats and walks onto the stage to improvise as Marlon Brandon (in one of his most spectacular performances, "A Streetcar Named Desire") and begins to exclaim the famous lines "Stella!" It's Tommy Wiseau himself! The class is stunned at such a sultry spectacle but Greg can only feel great admiration for the man.
They soon strike up a close friendship where they pledge their loyalty and support to each other so that they can both achieve their dreams. The issue is that Greg and Tommy have big differences. Tommy is a very reserved man, he doesn't talk about his past and makes it clear many times. While Greg is simple, jovial, a little gullible but good. What makes this union special is that they both have something in common; their love for movies and that they are lousy actors. Really, really lousy. And this they will let us know in several unforgettable scenes.
Para ponernos en contexto, Greg Sestero, quién escribio la novela, es nada más y nada menos que el mejor amigo de Tommy Wiseau y que en la película,es protagonizado por el hermano de James Franco. Un duo memorable. Sestero escribió esta novela para dejar documentado como fue que conoció a Tommy y la pesadilla que fue filmar The Room. En la película, The Disaster Artist nos enseña en un inicio a Greg, un joven actor de teatro que sueña con llegar a estar en las grandes ligas de Los Angeles. Pero Greg es un poco inseguro y parece no estar muy conforme con su desempeño actoral. Por lo que en una clase de teatro se queda congelado al no saber que hacer durante la interpretación de un papel. No es hasta que un hombre alto de cabello largo y negro, con vestimenta extraña, sale de las butacas del teatro y camina hacia la tarima para hacer una improvisación como Marlon Brandon (en una de sus actuaciones más espectaculares, "Un Tranvía Llamado Deseo") y comienza a exclamar las famosas líneas de "¡Stella!" ¡Es el mismísimo Tommy Wiseau! La clase queda atónita ante semejante espectáculo bochornoso pero Greg solo puede sentir una gran admiración por este hombre.
Pronto entablan una relación de amistad muy cercana donde se juran fidelidad y apoyo ante todo con tal de que ambos puedan alcanzar sus sueños. La cuestión está en que Greg y Tommy tienen grandes diferencias. Tommy es un hombre muy reservado, no habla de su pasado y lo deja en claro muchas veces. Mientras que Greg es sencillo, jovial, un poco crédulo pero bueno. Lo que hace especial esta unión es que ambos si que tienen algo en común; su amor por el cine y que son pésimos actores. De verdad, pésimos. Y esto nos los harán saber en varias escenas inolvidables.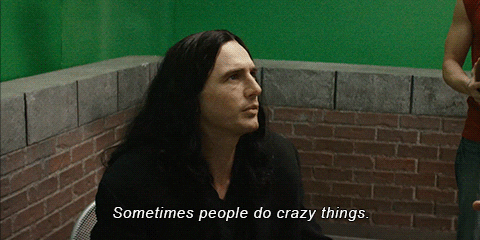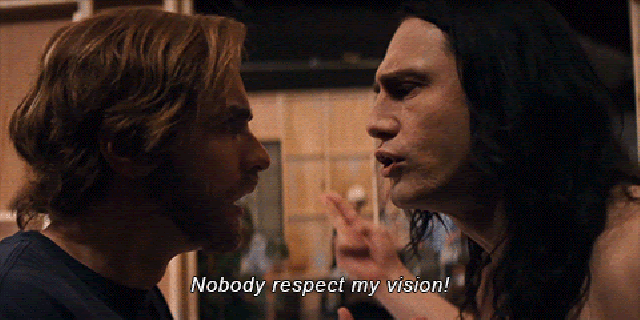 What makes the film comical is Tommy himself. The fact that Tommy claims to be from New Orleans and that he has a thick European accent, has no congruence. He tries to hide his origin. He is childish and nonsensical, innocent, histrionic and unpredictable. Everything about him is a wow factor. The thousands of witticisms are what makes everything about the film funny. But despite that, he firmly believes in his dreams, even though the man doesn't seem to know a damn thing about acting and various things like social relationships. So, having made the decision to travel with Greg to Los Angeles and live together in his apartment in order to have job opportunities, a lot of situations start to happen.
As they are unsuccessful in their acting jobs, Tommy feels it is the ruin of his career. Greg tries to cheer him up and jokingly suggests that he make his own movie. Tommy takes him seriously and it is here that the odyssey to make The Room, a film that Tommy assures will be a world reference in terms of high quality cinema, finally begins.
Lo que hace cómica a la película es el mismísimo Tommy. El hecho de que Tommy afirme que es de New Orleans y que tenga un marcado acento europeo, no tiene congruencia. Trata de ocultar su origen. Es infantil y disparatado, inocente, histriónico e impredecible. Todo sobre él es un factor sorpresa. Las miles de ocurrencias son lo que hace chistoso todo sobre la película. Pero a pesar de ello, cree firmemente en sus sueños, aunque el hombre parece no saber un pepino sobre actuación y sobre varias cosas como las relaciones sociales. Por lo que al haber tomado la decisión de viajar con Greg a Los Ángeles y vivir juntos en su apartamento para poder tener oportunidades laborales, empiezan a suceder por demás de situaciones.
Al estos no tener éxito en sus trabajos como actores, Tommy siente que es la ruina de su carrera. Greg intenta animarlo y sugiere, a modo de broma, que haga su propia película. Tommy lo toma en serio y es aquí donde por fin comienza la odisea para filmar The Room, una película que Tommy asegura será referencia mundial en cuanto a cine de alta calidad.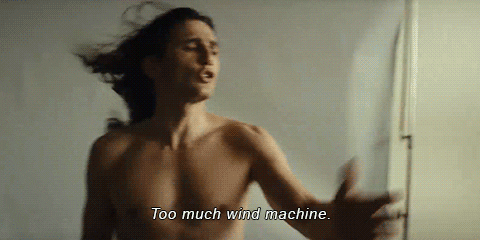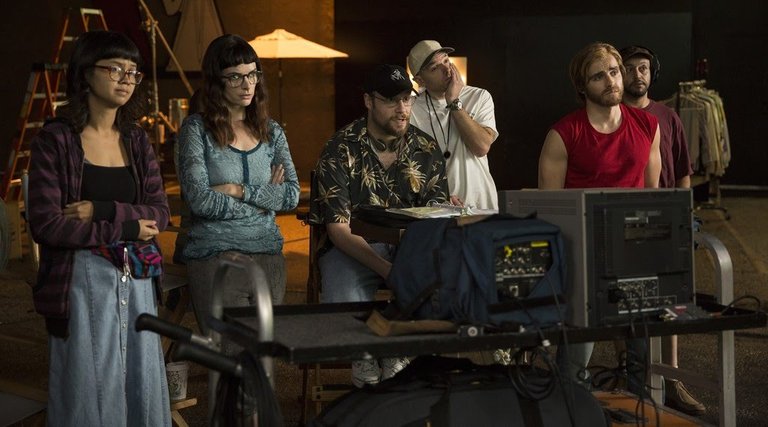 The Room has a simple plot of drama and romance; Johny is a successful businessman who is betrayed by his wife Lisa and little by little falls into madness until he finally commits suicide. So far so good but out of nowhere Tommy includes a lot of scenes and characters without context, which have no relation to the timeline of the story in question. An example of this is the final scene where Johny shoots himself and falls and then gets up and shoots himself again. In addition, Tommy is bent on being the director, cameraman, screenwriter, lead actor and other roles within the direction of the film. A lot of problems arise due to Tommy's own disarray but, finally, the film is finished.
The movie is a total failure at the box office and although Tommy had a very serious approach (the movie is supposed to be a drama), the viewers take it with a lot of humor when they see the crazy and incomprehensible scenes. But rest assured, Tommy did have a happy ending because The Room quickly became a cult movie and every year it is shown in theaters to a large and loyal following. Tommy didn't hit the big time in the way I had hoped but it found it.
I guess at this point I should say that it would be good to see The Room first in order to understand scenes from The Disaster Artist and also Tommy. Even though Tommy had many obstacles against him he never lost the will to do what he wanted. Despite the mockery and a thousand laughs the man can bring out of us, he has great mettle and merit in doing something few do, fulfill his dreams. Tommy is a misunderstood, sensitive, a dreamer but for whom even one can feel a real admiration and respect. So for me this is one of the best dramatic comedy films (even reminiscent of Ed Wood) where behind the laughs we see a man who evolves and realizes himself. So far this article my friends, I do not leave without recommending you to see it and make your own observations. It has been a pleasure. See you next time!
The Disaster Artist plus points:
-James Franco's excellent performance as Tommy Wiseau.
-Tommy's unovildable laugh.
-Let's face it, it's impossible not to love Tommy Wiseau, simply the guy is brilliant and a sweetheart with all the merits.
The Room tiene un argumentó sencillo de drama y romance; Johny es un exitoso hombre de negocios quién es traicionado por su esposa Lisa y poco a poco cae en la locura hasta finalmente suicidarse. Hasta aquí todo parece estar bien pero de la nada Tommy incluye un montón de escenas y personajes sin contexto, que no tienen relación alguna con la línea de tiempo de la historia en cuestión. Ejemplo de ello es la escena final dónde Johny se dispara y cae para luego volver a levantarse y volver a dispararse. Además, Tommy está empeñado en ser el director, camarógrafo, guionista, actor principal y demás roles dentro de la dirección de la película. Surgen muchísimos inconvenientes dadas al desorden del propio Tommy pero, finalmente la película es terminada.
La película es un fracaso total en taquillas y aunque Tommy tenía un enfoque muy serio (se supone que la película es de drama), los espectadores lo toman con muchísimo humor al ver las escenas tan disparatadas e incomprensibles. Pero tranquilos, que Tommy sí que tuvo un final feliz porqué The Room se volvió rápidamente una película de culto y todos los años es presentada en teatros a la espera de una gran cantidad de fieles seguidores. Tommy no llegó al éxito de la forma que esperaba pero lo encontró.
Creo que a este punto debo decir que sería bueno ver The Room primero para poder entender escenas de The Disaster Artist y también a Tommy. A pesar de que Tommy tenía muchos obstáculos en su contra nunca perdió la voluntad de hacer lo que quería. Pese a las burlas y mil risas que el hombre puede hacernos sacar, tiene un gran temple y mérito en hacer algo que pocos hacen, cumplir sus sueños. Tommy es un incomprendido, sensible, un soñador pero por el cual hasta uno puede llegar a sentir una verdadera admiración y respeto. Por lo que para mí está es una de las mejores películas de comedia dramática (recuerda incluso a Ed Wood) dónde detrás de las risas vemos a un hombre que evoluciona y se realiza. Hasta aquí este artículo amigos míos, no me voy sin antes recomendarles que la vean y hagan sus propias observaciones. Ha sido un placer ¡Nos vemos en la próxima!
Puntos a favor The Disaster Artist:
-La excelente actuación de James Franco como Tommy Wiseau.

-La inovildable risa de Tommy.

-Aceptemoslo, es imposible no amar a Tommy Wiseau, simplemente el tipo es brillante y un encanto con todos los méritos.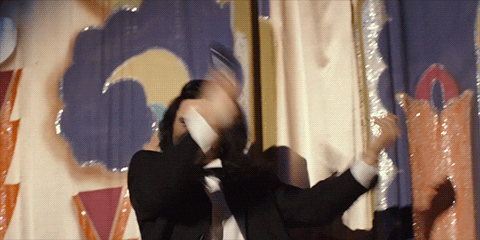 ---
---