Script writing contest for the movie "Prop 232" - Round 1 - Character Development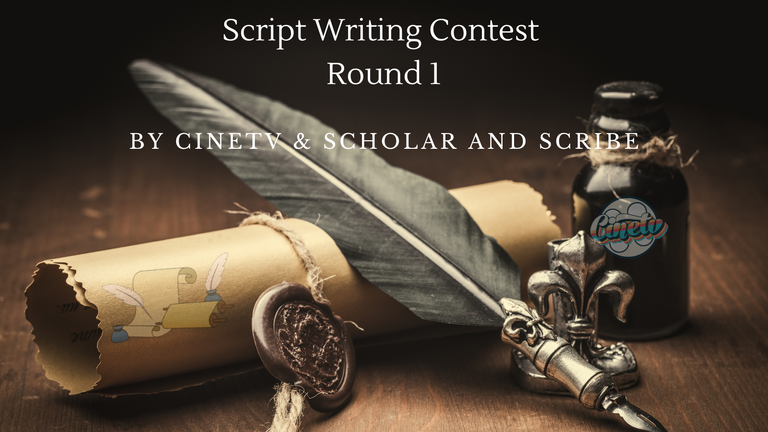 Introduction Prop 232 Contest
As a month has passed since the announcement of the Prop 232 contest by CineTV & Scholar and Scribe community, I will leave the link to the announcement post here for you to read how this contest came to life.
In short, we are going to have a script-writing contest for a movie called "Prop 232" which was a funny joke that we turned into a contest. How this story is going to develop depends on you, dear writers! The movie characters, plot, as well as conflict, and resolution, are unclear at this point, and that's where you come in. Let your mind drift off to a world that needs to be written and take the CineTV and @scholarandscribe community members with you on this journey by submitting your entries in the bi-weekly rounds. Don't worry too much about actual script-writing rules, we are going to be flexible and just hope we are going to have a lot of fun together.
My apologies that it took a month before the contest could start, this was due to health issues on my side. I'm here now, so let's get this first round started and have some fun together with the Scholar & Scribe community, shall we?

The layout of the contest
I should emphasize that this contest is mostly about having fun and challenging the community to create something cool together. We hope that we will read some inspiring entries that show the rest it's ok to come out of your comfort zone and that we aren't holding this contest for professional writers only. Everyone is welcome to join the fun and can end up winning a round (or more!).
What we decided to do is have bi-weekly rounds so each month will have two rounds where we focus on one part, we are going to start with character development in the first two rounds. After that, we focus on plot & conflict & resolution. We know that there is more to script writing, but we want to make sure this contest is appealing for everyone to join and keep it simple to start with. We can always expand our contest later by adding more elements to the contest. Who knows what will come to life once we start writing together?
The first round will have three winners who will get prizes in Cine tokens as well as Scholar & Scribe. Once these three have been announced, we start another round focusing on the same topic of the contest, but now we will use the three winning stories of the three winners and see how we can make these even better together! Again, in the second round, three winners will be chosen as well.
Once the second round regarding a topic is concluded, we will move on to the next element. Everyone can join in whenever they like, you don't need to start from round one, but of course, the more entries, the merrier!

Round 1: Character development
In case you're new to script writing (I admit, I needed to read about it myself), I found a blog post that's written in laymen's terms and quite easy to understand even if you're writing as a hobby. I think it can be a good read before you start writing your entry. You can also see the order that's recommended to start writing a script, as we are now going to be doing for the "Prop 232 movie". You can find the link in the guidelines and rules.
Some background information, which at this point, will be very little info because we want you to unlock your creativity with as little info as possible. Imagine all the variety of entries that could be submitted. What type of movie do you see in front of your eyes when you hear the name "Prop 232"? It can be anything, maybe it's a science fiction movie, maybe a comedy or thriller.
You are in charge of your entry and in this first round, you can start from scratch and let the imagination take over. Depending on the type of movie you chose to write a script for, you are now going to submit an entry that focuses on the characters for the movie. How many characters you're going to write about is up to you. Just make sure to describe as many details as possible, making the character come to life and speak to the readers. Remember that other readers could be writing a new submission based on the 3 winners of round 1, this could be your entry!
If you are unsure about a good entry, browse through the entries that are there already, just make sure you submit your own unique entry. Tell us about the main character in your future "Prop 232" movie, are they male/female, and what age group? Can you share anything about their looks and character? What are they like in their daily life etc? Think about the details you always notice in movies you like and take it from there.

Prizes, Guidelines & Rules
The prizes to be won as following:
First place: 100 CINE & 100 Scholar/Scribe
Second place: 75 CINE & 75 Scholar/Scribe
Third place: 50 CINE & 50 Scholar/scribe
Make sure that you check the rules listed below before you publish your entry. It would be a shame if your entry is not valid due to not following all the rules.
Publish your entry in the CineTV community
Leave a comment with a link to your entry below this post so we will not miss your entry
Use "Prop232Contest" & "ScholarAndScribe" as your first tags
Submit your entries in English only, other languages will not be judged
The minimum word count should be 500 (in case you should choose to publish in two languages, make sure that the English part is 500 words minimum)
Publish your original content only and make sure to add a source to the images used if they aren't your own
If you wish to subscribe to the CineTV & Scholar & Scribe community / upvote / reblog / Share the contest and entries on Twitter, this is appreciated but not mandatory.
Engaging with other community members is highly recommended, you may find inspiration and some new connections by doing so!
A nice blog about script writing can be found here, you're encouraged to read it if you aren't familiar with the topic
Deadline for round 1: Friday, November 25th Midnight (see countdown times above this post in case you're confused with deadlines)
But most of all, we want you to have fun!

Credits & a final note about plagiarism
All images, including the text dividers, are created with Canva Pro. by @thisismylife and are not meant to be used for your entries. Please create your own graphics for your contest entries to make sure your content is recognizable as your own. Canva is very suitable for this, even if you are using the free plan!
That leaves us with a final note where we would like to remind you of the fact that only original content is allowed and that all images should be either yours or come from allowed sources. To make sure there is no misunderstanding about this, always add a source to the images if they aren't your own. You can browse for related images in Canva, as well as Pixabay or Pexels. Again, always add a direct link to the source to avoid misunderstandings.
CineTV as well as @scholarandscribe will reward original content only.
That's all! Now it's time to start thinking about your entries! We can't wait to read them.
---
---