Weekly Writing Prompts by CineTV - #5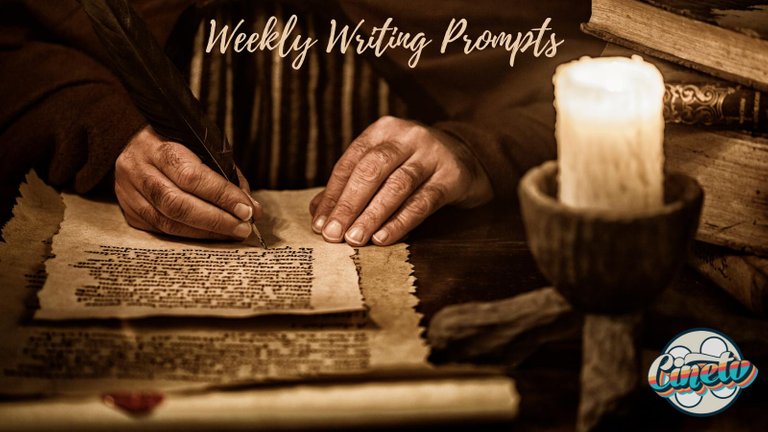 Created in Canva Pro
Another week filled with writing prompts
In fact, I could write two of these posts now, but I will stick to the three shares a week and share the others a week later. This is actually great for a week where there are less prompts for whatever reason in the future. I considered skipping a few of the prompts below (Black Friday & Cyber Monday) but as I will explain below, I decided against that for my own reasons.
After all, these prompts are there to inspire you in different ways and maybe even get you out of a writers block when you're facing one. Let's get to this week's writing prompts from the CineTV Twitter account.
1. Black Friday
Although the black Friday madness is long gone by now, you probably know by now that even an event that belongs to the past can inspire someone when having nothing to write. I could get inspired to write about a certain Friday, or something with the color black. But what about the madness that goes on during (and towards) black Friday, even the psyche of humans in general as some do crazy stuff to score a deal on Black Friday. See? There's so much more you can think about and write about. Even if you're only going to leave a comment on this blog instead of writing about a movie, tv show or documentary, that's perfectly fine!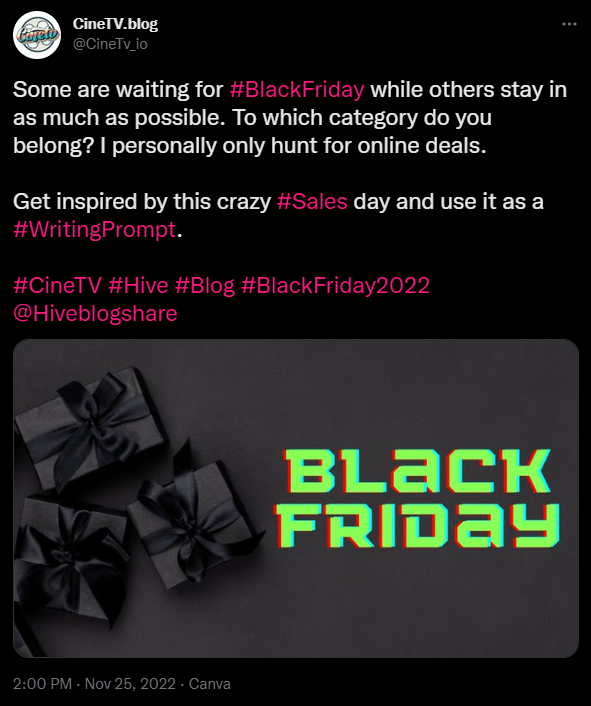 Link To Tweet
2. FIFA World Cup
Although I'm not into football myself at all, in fact, I think it's just annoying to watch, as a social media manager, I will ride the hypes because they are good for inspiration as well as upping the numbers. On top of that, even I could find inspiration to write about football while I'm not a fan. For example, last year (I think it was) I watched the Netflix documentary from Ronaldo's wife "I am Georgina" together with my boyfriend. I can't lie, I was drawn into it and I loved watching it! In fact, I was sad it was over. So there you go, even a non-football fan can get inspired by this writing prompt.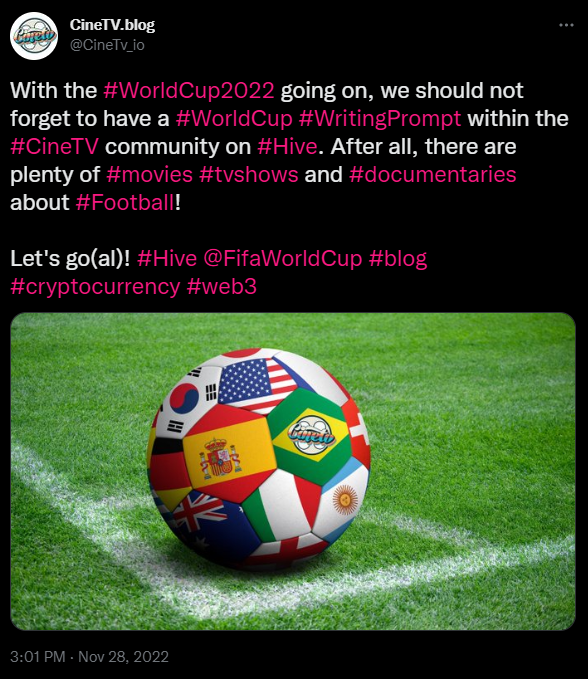 Link To Tweet
3. Cyber Monday
After black Friday, Cyber Monday follows. Some people may spend all their money on Friday and have nothing left, others will keep digging for deals even through the Monday that follows. I personally keep in mind that these days are there, see the prices fluctuate (it happened this year) and stayed put until the biggest price action appeared to fill up some vitamins we needed. For the rest, I truly believe prices are first being upped over a longer course so that they can promote the so called biggest deals (usually electronics) as if they are amazing and super discounted, while in reality, we're just being ripped off. I have to say though, that for ordinary items like clothing and shoes, I made a few good deals buying things we needed anyway.
What about you? Do you have a personal story to tell about (this) cyber Monday or maybe you thought back about another event happening on a Monday. Heck, even the word cyber could inspire you. Let us know, we are curious to read it all!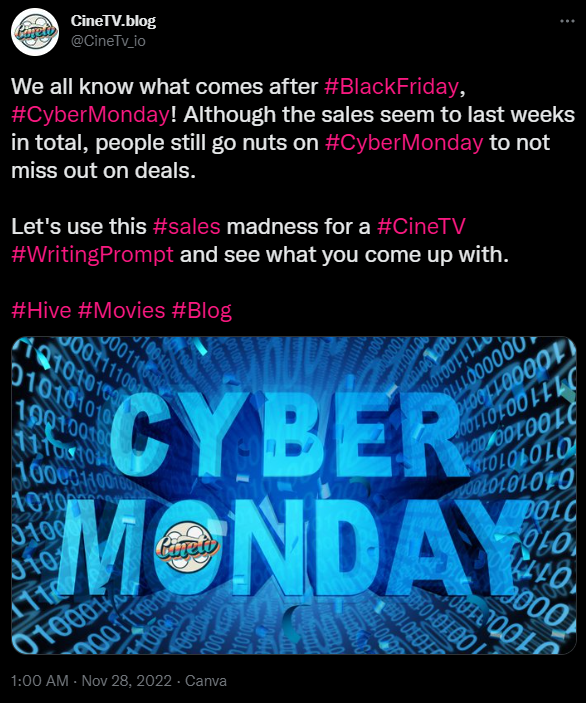 Link To Tweet
That's all for this week folks! I hope to read a few nice comments and/or posts as a response to this blog! Make sure to follow the CineTV Twitter account and join the CineTV Discord to connect with the community even more.
---
---