Tamed: Nollywood movie [review]
Hello guys, I want to review this movie, I watched on youtube, this movie was released on 19, November 2023, it is a new movie and it is romantic in style.
The movie is "Tamed ", it has three main character's consisting of: Chris Okague, Faith Duke, and Queen Ebenechi.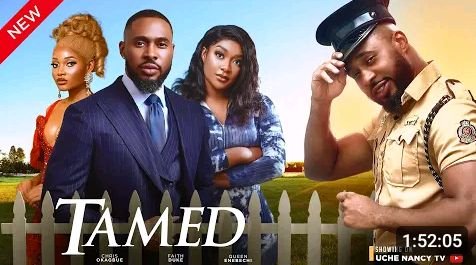 Image is a screenshot from YouTube thumbnail
At first, I didn't like the movie because of how Queen Ebenechi, yelled at her gateman, it was so unfortunate to me, but within some minutes later, I began to get along with the movie.
In the movie the gateman was hot and cute, a guy that any girl would be willing to have, it seems like Queen didn't know of how cute was her gateman, she realized it when her friend came to pay her a visit and from there, it was her friend who enlighten her of how cute was her gateman.
Since from that day, Queen changed her thinking towards her gateman, she was now feeling something for him, and it came to a point, she was not rude anymore to him, like she used to be rude.
The love she feels for him was so intense that her gateman didn't even realize it could be true.
A day came she cook and served him and which I suppose, it was the beginning of the time, her gateman realize she was really having something in mind for him, yet he wasn't really convinced, Queen did it so that her gateman could realized and touched her as a woman, but he didn't notice and rather keep calling her as usual Madam.
Queen got tired of it, and decided to tell him, how much she has loved him, and can't wait to be in his arms, they both were now understanding themselves but, her gateman was proving hard because he was of the view that, he doesn't just kiss or love like that, without him having a feeling for a woman.
Yet Queen didn't gave up on him because what she felt for him was real, and she was ready to throw away everything as long as it would grant her to be with him, but Queen let him knows that, despite that, what she feels for him was different.
Therefore, she is ready to let go of all those things, just to prove to him, that she really wants him in her life.
One day, she exposed everything to her gateman, that it was because of how her own father treat her mother, and she decided that, she would be using men, but since she met him, her thinking has been changed.
Truly Queen wasn't interested in anything else than her gateman, she confronted chief Otumba, who wants her to be pregnant for him, she was ready to give him all he has given to her.
Queen tells chief she doesn't want to be his side girl that she was lying, so she would give back everything he gave to her, but chief Otumba didn't need those things, he told her to continue having the car's and the house he bought for her.
The movie is so outstanding, it ends with a written notes, stating that, Queen and her gateman got married and settle down as a happy couples.
It a good movie to watch, so, go and watch it, it was released just a day ago.
Thank you for reading my post.
---
---