In a Lonely Place (1950): about love, fear and violence | sobre el amor, el miedo y la violencia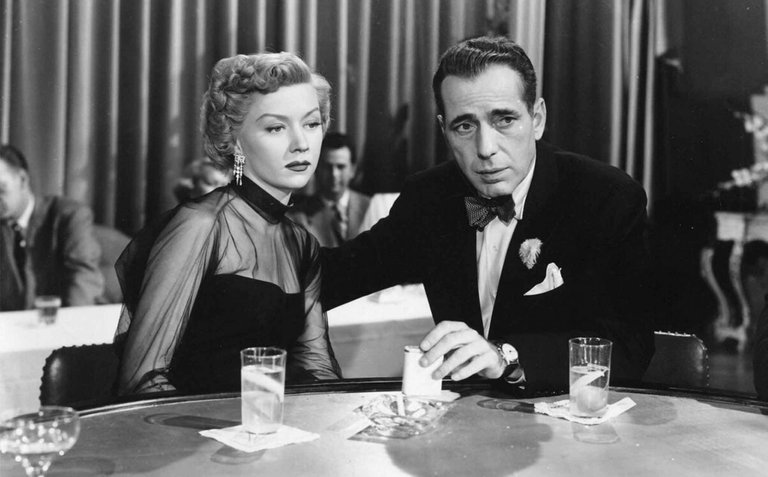 Starring Humphrey Bogart
Protagonizada por Humphrey Bogart
Despite the fact that I love classic Hollywood cinema, those black and white stories from the forties and fifties, and having seen Casablanca about ten times, the truth is that I have seen very few films with Humphrey Bogart. In addition to the iconic story with Ingrid Bergman, I had only seen Sabrina with the eternal Audrey Hepburn and since Bogart is one of the most representative names of the time, I decided to see more of his filmography.
A pesar de que amo el cine del Hollywood clásico, esas historias en blanco y negro de los años cuarenta y cincuenta, y de haber visto Casablanca unas diez veces, la verdad es que he visto muy pocas películas con Humphrey Bogart. Además de la icónica historia junto a Ingrid Bergman sólo había visto Sabrina junto a la eterna Audrey Hepburn y siendo que Bogart es uno de los nombres más representativos de la época decidí ver algo más de su filmografía.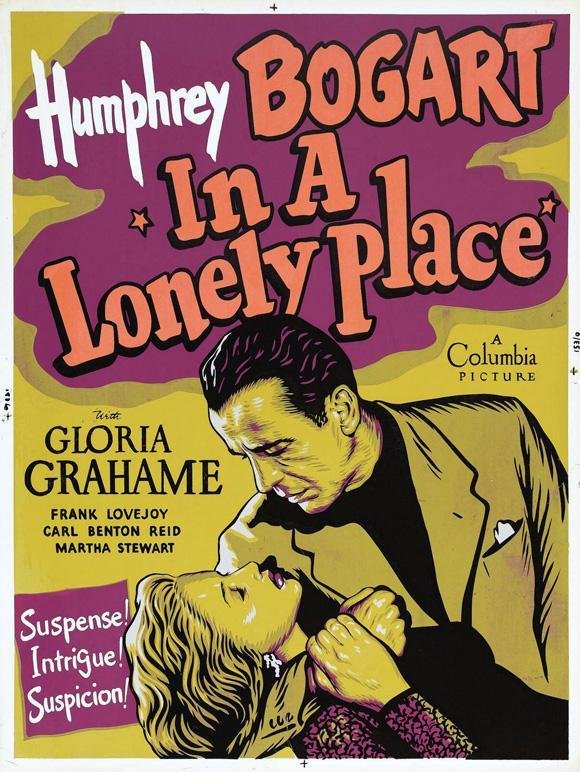 Poster
That's how I came to In a Lonely Place, directed by Nicholas Ray, from a script by Andrew Solt based on a story by Dorothy B. Hughes and starring Gloria Grahame in the lead opposite Bogart.
The film tells the story of Dixon "Dix" Steele (Bogart), a Hollywood writer going through a difficult period in his career. Although his previous works were highly celebrated and helped him gain great fame, after the interruption of his professional life due to the Second World War (in which he participated) he seems unable to find his way back to success and some violent episodes in recent years have earned him a reputation for conflict and violence. In the midst of these circumstances, they offer him the opportunity to adapt a best-seller of questionable literary quality that he doesn't even give himself the task of reading. Rebellious, dissatisfied with life, arrogant and reactionary, Dix would love not to take the job, but it may be his last chance in an industry that increasingly marginalizes him.
Fue así como llegué a In a Lonely Place, dirigida por Nicholas Ray, con guión de Andrew Solt basado en una historia de Dorothy B. Hughes y con la actuación de Gloria Grahame como protagonista junto a Bogart.
La película cuenta la historia de Dixon "Dix" Steele (Bogart), un escritor de Hollywood que pasa por un período difícil en su carrera. Aunque sus trabajos anteriores fueron muy celebrados y le ayudaron a obtener una gran fama, tras la interrupción de su vida profesional a causa de la Segunda Guerra Mundial (en la cual participó) parece no poder reencontrar el rumbo de nuevo al éxito y algunos episodios violentos en los últimos años le han hecho ganar fama de conflictivo y violento. En medio de estas circunstancias le ofrecen la oportunidad de adaptar un best-seller de cuestionable calidad literaria que ni siquiera se da a la tarea de leer. Rebelde, insatisfecho con la vida, arrogante y reaccionario, a Dix le encantaría no aceptar el trabajo, pero puede ser su última oportunidad en una industria que lo margina cada vez más.
Dixon
It's then that he finds out that Mildred, a girl who works at a club he frequents, has indeed read the novel, so he proposes to pay her to tell him the plot so he doesn't have to read the book. So uninterested is he in work. Mildred accepts (because it's the great screenwriter Dixon Steele, even though he's now in disgrace) goes to his house, tells him and leaves in a taxi. The problem begins the next morning: the police have found Mildred's body and Dix is ​​the main suspect.
Es entonces cuando se entera de que Mildred, una chica que trabaja en un club que él frecuenta, sí ha leído la novela, por lo que le propone pagarle para que le cuente el argumento y así no tener que leer el libro. Tan poco interesado está en el trabajo. Mildred acepta (porque se trata del gran guionista Dixon Steele, aunque ahora esté en desgracia) va a su casa, le cuenta y se marcha en un taxi. El problema empieza a la mañana siguiente: la policía ha encontrado el cadáver de Mildred y Dix es el principal sospechoso.

Poster
Dixon was the last person to see Mildred alive and is questioned by the police. Dix's rebellious and defiant attitude, his arrogance, play against him in the interrogation in which he also gives the image of being cynical. And he would have been jailed if it hadn't been for the statement of a neighbor who saw the girl leave Dixon's house and saw that he wasn't with her. It's about Laurel Gray (Grahame) a woman with a great presence who has recently moved into the apartment across from Dixon's (he had only seen her once) and who intrigues him and captures his attention. Dix's courtship then begins. He wants to meet her, invite her to dinner, learn more about this stranger who has saved him from prison. I loved Laurel's attitude throughout this first part. She is so serious, distant, pretending to be cold, contrary to the love-struck, sweet and smiling protagonists we are used to. Also, Gloria Grahame's face, that hairstyle and that penetrating gaze, are a powerful and captivating image.
Dixon fue la última persona que vio a Mildred con vida y la policía lo interroga. La actitud rebelde y desafiante de Dix, su arrogancia, juegan en su contra en el interrogatorio en el cual además brinda la imagen de ser cínico. Y hubiera sido encarcelado de no haber sido por la declaración de una vecina que vio salir a la chica de casa de Dixon y vio que él no la acompañaba. Se trata de Laurel Gray (Grahame) una mujer con una gran presencia que se ha mudado recientemente al departamento frente al de Dixon (él la había visto apenas una vez) y que lo intriga y capta su atención. Comienza entonces el cortejo de Dix. Quiere conocerla, invitarla a cenar, saber más de esta desconocida que lo ha salvado de la prisión. Me encantó la actitud de Laurel durante toda esta primera parte. Es tan seria, distante, fingidamente fría, contrario a las protagonistas enamoradas, dulces y sonrientes a las que estamos acostumbrados. Además, el rostro de Gloria Grahame, ese peinado y esa mirada penetrante, son una imagen poderosa y atrapante.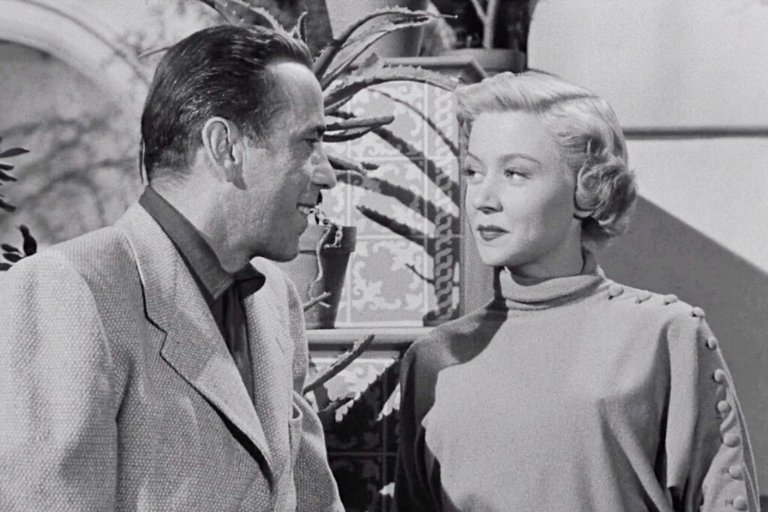 Dixon & Laurel
Love inspires Dixon and he begins to write a really good script while living happy days with Laurel, but then ghosts from the past haunt him. On the one hand, it seems curiously suspicious to the police that he maintains a romantic relationship with the witness whose statement saved him from jail and on the other, a couple of situations occur in which Dix's violent character emerges again. Laurel begins to fear that Dixon might hurt her in a fit and suspicions begin to grow around Dixon: maybe he did kill Mildred. After all Dixon used to write murder mystery movie scripts and with his experience he may well have figured out how to get away with it. This tension grows until it explodes at the end of the film, an unusual ending for the time and one that left me satisfied. The complexity of Dixon's character, Laurel's emotional evolution, the love and tension between them, as well as a beautiful black and white photography, are some of the most attractive features of this story.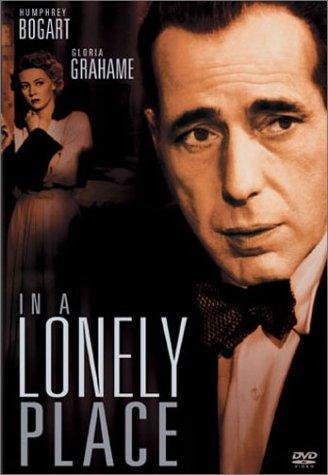 DVD
El amor inspira a Dixon y comienza a escribir un guión verdaderamente bueno mientras vive días felices junto a Laurel, pero entonces los fantasmas del pasado lo acechan. Por un lado, a la policía le parece curiosamete sospechoso que mantenga una relación romántica con la testigo cuya declaración lo salvo de la cárcel y por otro suceden un par de situaciones en las que emerge de nuevo el carácter violento de Dix. Laurel comienza a tener miedo de que en un arrebato Dixon pueda hacerle daño y alrededor de Dixon comienzan a surgir sospechas: quizás sí mató a Mildred. Después de todo Dixon solía escribir guiones de películas de misterio y asesinatos y con su experiencia bien ha podido idear la forma de salirse con la suya. Esta tensión va creciendo hasta estallar en el final de la película, un final no muy común para la época y que me dejó satisfecho. Lo complicado del carácter de Dixon, la evolución emocional de Laurel, el amor y la tensión entre ambos, además de una hermosa fotografía en blanco y negro, son de los rasgos más atractivos de esta historia.
If you love a person, does that love protect you by making us blindly trust the other? Or on the contrary, does it expose you to being hurt? What to do if you are afraid of the person with whom you share your life? and especially, how to do it? These are questions that are as valid today as they were seventy years ago when the film was released and I think that is also one of the attractions of this film that is noir, psychological drama and romantic story all at the same time. Have any of you seen In a Lonely Place? What other Humphrey Bogart movie do you recommend? I read you in the comments.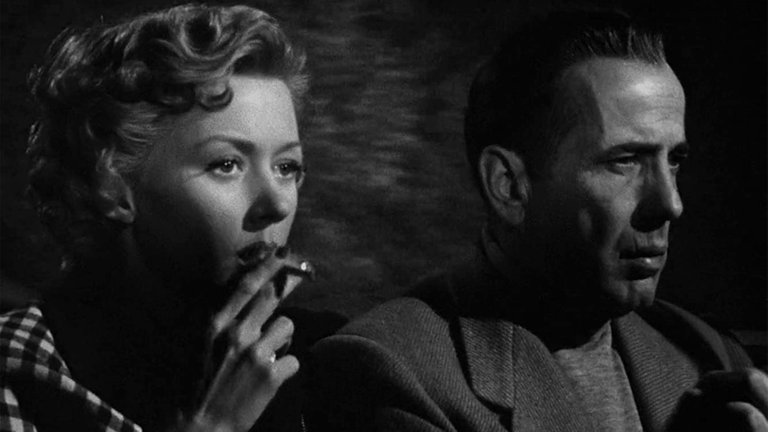 Laurel & Dixon
Si se ama a una persona, ¿ese amor nos protege al hacernos confiar ciegamente en el otro? o al contrario, ¿nos expone a ser lastimados? ¿qué hacer si se tiene miedo de la persona con quien se comparte la vida? y en especial, ¿cómo hacerlo? Son preguntas tan vigentes hoy como hace setenta años cuando la película fue estrenada y creo que ese también es uno de los atractivos de esta película que es cine negro, drama piscológico e historia romántica todo a la vez ¿alguno de ustedes ha visto In a Lonely Place? ¿qué otra película de Humphrey Bogart me recomiendan? Los leo en los comentarios.
---
---
Other posts that may interest you | Otros posts que pueden interesarte:
---
---