Unleashing the Fury: A Review of Piranha
I did not want to pass up this pair of films that, although they are not sufficiently recognized, have at least managed to meet my expectations and that is why I want to share my opinion on these exquisite installments of comic horror films.
No quería dejar pasar este par de película que aunque no son lo suficientemente reconocidas han logrado cumplir por lo menos mis espectativas y por eso quiero compartir mi opinión sobre esta exquisitas entregas del cine de terror cómico.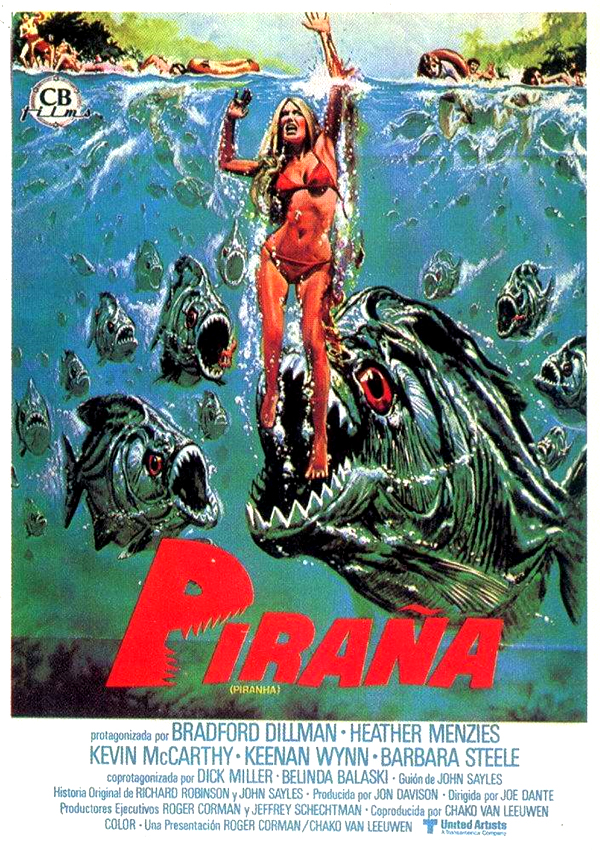 The movies "Piranha 3D" and "Piranha 3DD" are two installments in the horror-comedy genre that focus on the ferocity of piranhas. Both films are sequels to the original 1978 "Piranha," but stand out for their focus on gore and punchy visual effects.
Las películas "Piranha 3D" y "Piranha 3DD" son dos entregas del género de terror y comedia que se centran en la ferocidad de las pirañas. Ambas películas son secuelas de la original "Piranha" de 1978, pero se destacan por su enfoque en el gore y los efectos visuales impactantes.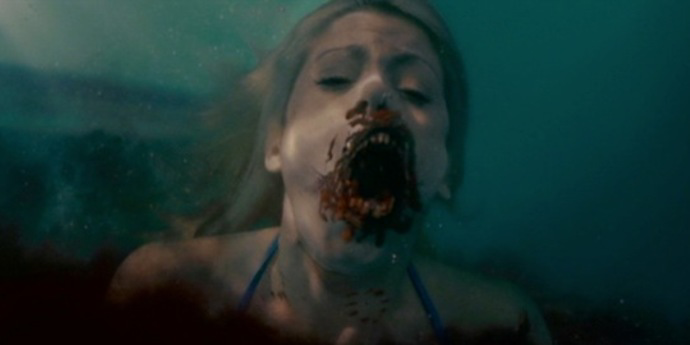 "Piranha 3D", directed by Alexandre Aja, presents us with an idyllic setting on Lake Victoria, where thousands of people gather to enjoy their vacations. However, an earthquake releases a species of prehistoric piranhas that quickly become a deadly threat. The film is characterized by its bloody and violent scenes, with piranhas attacking people in a brutal and ruthless way. The use of 3D special effects further enhances the experience and plunges the viewer into a sea of blood and mayhem.
"Piranha 3D", dirigida por Alexandre Aja, nos presenta un escenario paradisíaco en el Lago Victoria, donde miles de personas se reúnen para disfrutar de sus vacaciones. Sin embargo, un terremoto libera a una especie de pirañas prehistóricas que rápidamente se convierten en una amenaza mortal. La película se caracteriza por sus escenas sangrientas y violentas, con las pirañas atacando a las personas de manera brutal y despiadada. El uso de efectos especiales en 3D realza aún más la experiencia y sumerge al espectador en un mar de sangre y caos.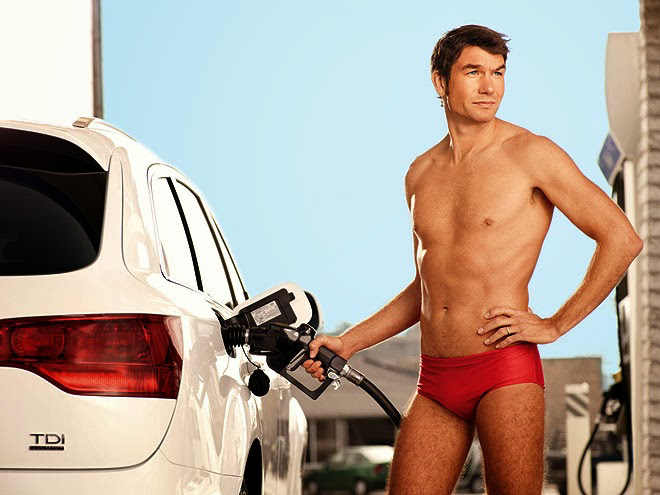 One of the most notable performances in "Piranha 3D" is that of Jerry O'Connell, who plays a character named Derrick Jones. O'Connell brings a touch of humor and charisma to the cast, which helps balance the violence and gore of the film. Her character is a reality show producer who is exploring the local natural wonders to film various strip scenes. Although his role is not very deep, O'Connell manages to stand out and adds an extra element of fun to the movie.
Una de las actuaciones más destacables de "Piranha 3D" es la de Jerry O'Connell, quien interpreta a un personaje llamado Derrick Jones. O'Connell aporta un toque de humor y carisma al elenco, lo que ayuda a equilibrar la violencia y el gore de la película. Su personaje es un productor de reality shows que está explorando las maravillas naturales locales para filmar distintas escenas desnudistas. Aunque su papel no es muy profundo, O'Connell logra destacarse y añade un elemento adicional de diversión a la película.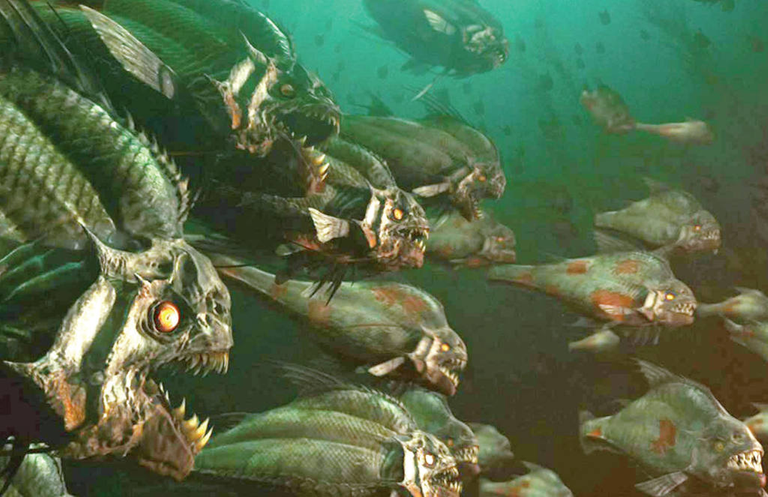 As for the admired scenes, there are several that stand out in "Piranha 3D". One of them is the massive attack of piranhas in the lake, where the water turns red and people fight to survive. This sequence is intense and action-packed, with piranhas leaping and devouring in their wake. The visual effects are stunning and help create shocking moments that keep the viewer on the edge of their seat.
En cuanto a las escenas admiradas, hay varias que se destacan en "Piranha 3D". Una de ellas es el ataque masivo de las pirañas en el lago, donde el agua se tiñe de rojo y las personas luchan por sobrevivir. Esta secuencia es intensa y llena de acción, con las pirañas saltando y devorando a su paso. Los efectos visuales son impresionantes y ayudan a crear momentos impactantes que mantienen al espectador al borde de su asiento.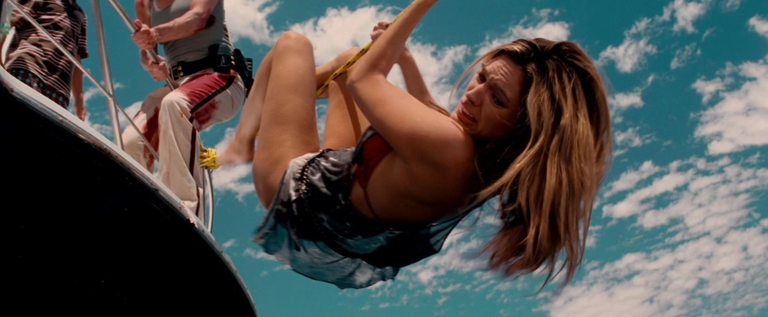 Another memorable scene is when a character is cut in half by a ship's propeller. The graphic violence and abundant gore make this scene shocking and grotesque, but at the same time it is an example of the exaggerated and excessive elements that characterize these films.
Otra escena memorable es cuando un personaje es cortado por la mitad por una hélice de un barco. La violencia gráfica y la sangre abundante hacen que esta escena sea impactante y grotesca, pero al mismo tiempo es un ejemplo de los elementos exagerados y excesivos que caracterizan a estas películas.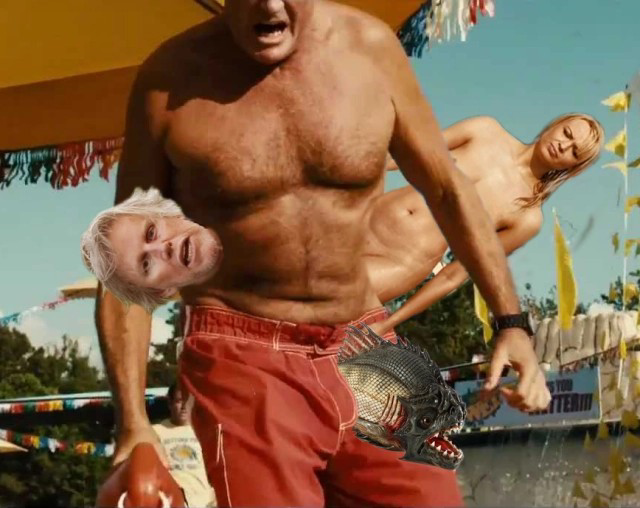 In "Piranha 3DD," directed by John Gulager, the action moves to a water park where bloodthirsty piranhas once again wreak havoc. This installment maintains the gore and exaggerated tone of its predecessor, offering even more shocking and grotesque scenes. The film does not take itself seriously and embraces its absurd nature, making it a fun and entertaining experience for horror movie lovers.
En "Piranha 3DD", dirigida por John Gulager, la acción se traslada a un parque acuático donde las pirañas sedientas de sangre vuelven a hacer estragos. Esta entrega mantiene el tono gore y exagerado de su predecesora, ofreciendo escenas aún más impactantes y grotescas. La película no se toma en serio a sí misma y abraza su naturaleza absurda, lo que la convierte en una experiencia divertida y entretenida para los amantes del cine de terror.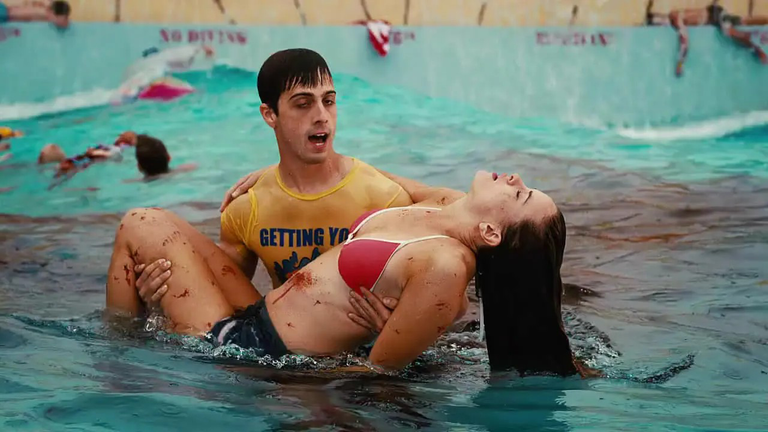 In "Piranha 3DD," Jerry O'Connell does not return as Derrick Jones, but the film features other notable performances. David Hasselhoff plays himself and pokes fun at his fame as a TV star, which adds a comic twist to the film. Also notable is Danielle Panabaker's performance as Maddy, a young woman who tries to save the water park guests from piranhas. Panabaker manages to convey the fear and determination of her character convincingly.
En "Piranha 3DD", Jerry O'Connell no regresa como Derrick Jones, pero la película cuenta con otras actuaciones notables. David Hasselhoff interpreta a sí mismo y se burla de su fama como estrella de televisión, lo que añade un toque cómico a la película. También se destaca la actuación de Danielle Panabaker como Maddy, una joven que intenta salvar a los visitantes del parque acuático de las pirañas. Panabaker logra transmitir el miedo y la determinación de su personaje de manera convincente.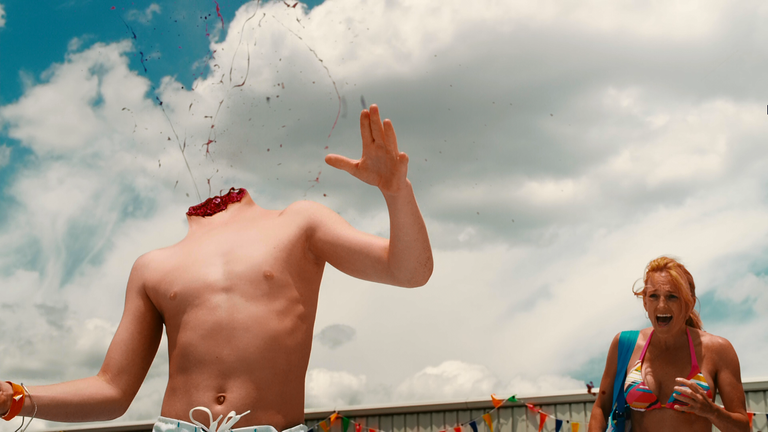 As for the admired scenes in "Piranha 3DD", there is one in particular that is worth mentioning. In this scene, a giant piranha attacks a group of people who are inside an inflatable pool. Violence and gore are taken to the extreme, with the piranha devouring people and leaving a trail of blood and mutilated bodies. This scene is grotesque and exaggerated, but it is an example of how these movies seek to shock the viewer with their visual effects and bloody scenes.
En cuanto a las escenas admiradas en "Piranha 3DD", hay una en particular que es digna de mención. En esta escena, una piraña gigante ataca a un grupo de personas que están dentro de una piscina inflable. La violencia y el gore son llevados al extremo, con la piraña devorando a las personas y dejando un rastro de sangre y cuerpos mutilados. Esta escena es grotesca y exagerada, pero es un ejemplo de cómo estas películas buscan impactar al espectador con sus efectos visuales y escenas sangrientas.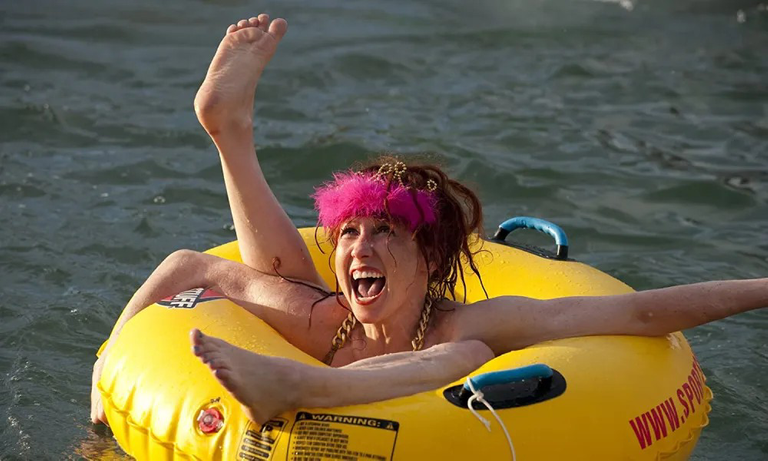 In my opinion, "Piranha 3D" and "Piranha 3DD" are two movies that offer an experience full of gore and violence. Although they are not masterpieces of cinema, they are entertaining and meet the expectations of the genre. Jerry O'Connell's involvement in "Piranha 3D" adds an extra element of fun, and visual effects enhance the experience. The admired scenes, such as the massive attack of the piranhas in the lake and the inflatable pool scene in "Piranha 3DD", are examples of the visual impact that these films seek to achieve. If you like bloody and ruthless horror movies, these installments are definitely recommended.
En mi opinión, "Piranha 3D" y "Piranha 3DD" son dos películas que ofrecen una experiencia llena de gore y violencia. Aunque no son obras maestras del cine, son entretenidas y satisfacen las expectativas del género. La participación de Jerry O'Connell en "Piranha 3D" añade un elemento adicional de diversión, y los efectos visuales realzan la experiencia. Las escenas admiradas, como el ataque masivo de las pirañas en el lago y la escena de la piscina inflable en "Piranha 3DD", son ejemplos del impacto visual que estas películas buscan lograr. Si te gustan las películas de terror sangrientas y despiadadas, estas entregas son definitivamente recomendables.

GOOD KITTEN VIBES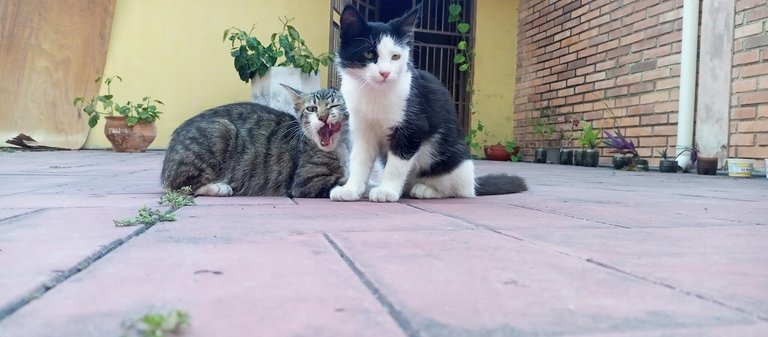 Consider to follow our curation trail on hivevote by doing click on the image below, We thanks all the support.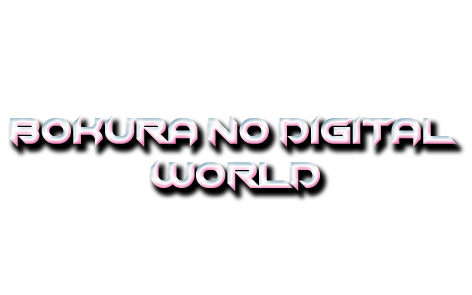 To all of you artists out here at HIVE! If you ever are lost please join Bokura No Digital World at our discord chat


---
---