Film Review: Always (1989)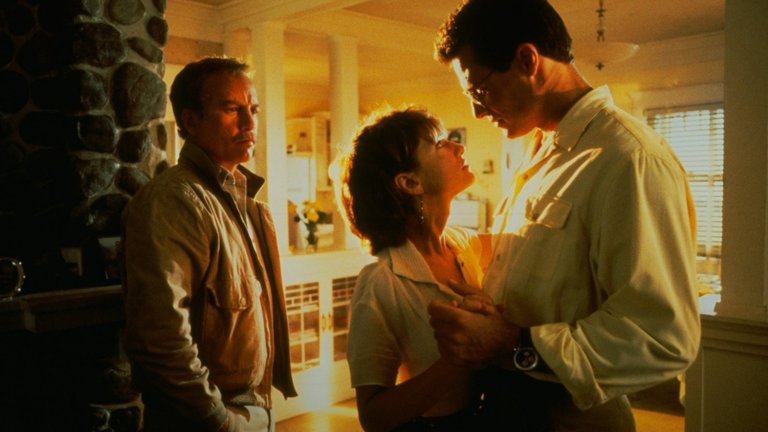 Everyone familiar with Steven Spielberg's filmography, at least its early part, could have noticed his great fondness for WWII era aviation. This trait is most evident in his 1989 fantasy melodrama Always.
The film represent remake of A Guy Named Joe, 1944 film directed by Victor Fleming and starring Spencer Tracy and Irene Dunne. Unlike that film, which had dealt with US Army aviators fighting in still on-going WW II, the new version is set in contemporary Pacific Northwest and deals with pilots specialised in putting out forest fires. The protagonist, played by Richard Dreyfuss, is Pete Sandich, talented but hot-headed and often reckless pilot. His girlfriend is air traffic controller and part time pilot Dorinda Durston (played by Holly Hunter) who becomes increasingly worried over his antics and asks him to take safer job of instructor in Colorado. Pete reluctantly agrees but next day he dies while saving the life of his best friend Al Yackey (played by John Goodman). Soon afterwards Pete meets "Hap" (played by Audrey Hepburn), angel-like being that explains that he was brought back to Earth to serve as "divine breath" or inspiration for people who otherwise wouldn't fulfil their full potentials. He is given the task of inspiring Ted Baker (played by Brad Johnson), young pilot who dreams of putting out forest fires. While he does so, he, much to his displeasure, finds that Ted falls in love with still-grieving Dorinda.
A Guy Named Joe was Spielberg's favourite film while growing up and it actually inspired him to become film director. Fondness for the film, shared by main star Richard Dreyfuss, reflected in Spielberg using large budgets and employing his great skill of directing to stage some spectacular action scenes at the beginning and near the end. Spielberg also used the opportunity to display WWII era aircrafts like Douglas A-26 Invader and PBY Catalina, here converted for civilian use. Yet, despite all of his efforts and talents, Always is surprisingly underwhelming film, at least for a film maker of Spielberg's calibre. The main reason can be found in script by Jerry Belson (finished after the original writer Diane Thomas tragically died in car accident) which didn't take into account that the sentimental story which had worked well in 1940s in the context of war propaganda didn't work in more cynical 1980s. Further issue is pace and it the film has at least half an hour of unnecessary running time. Casting also presents a problem. Richard Dreyfuss is wonderful actor, with a lot of charm, but he is not that effective as romantic lead and he has problems creating chemistry with Holly Hunter, who is much better as spunky, tomboyish and feminist heroine. By making Dreyfuss' character into something of a joker, John Goodman begins to look unnecessary as comic relief. Another casting fiasco is Brad Johnson, former rodeo rider and fashion model who obviously lacks proper acting ability and whose character looks almost comical in his attempts to fill Pete's shoes. Audrey Hepburn is wonderful in her last screen role, but her presence is too short to generally improve impression of this film. Always, despite having solid box office results, represented the worst film in Spielberg's filmography at that point and it isn't surprising that it is also one among the less remembered. Its failure looks even bigger considering that similarly-themed Ghost became big hit next year. Those who want to watch Always should do it because of aerial scenes but they would require a lot of patience and be prepared for disappointment.
RATING: 4/10 (+)
Blog in Croatian https://draxblog.com
Blog in English https://draxreview.wordpress.com/
Leofinance blog https://leofinance.io/@drax.leo
Cent profile https://beta.cent.co/@drax
Minds profile https://www.minds.com/drax_rp_nc
Uptrennd profile https://www.uptrennd.com/user/MTYzNA
Unstoppable Domains: https://unstoppabledomains.com/?ref=3fc23fc42c1b417
Hiveonboard: https://hiveonboard.com?ref=drax
Bitcoin Lightning HIVE donations: https://v4v.app/v1/lnurlp/qrcode/drax
Rising Star game: https://www.risingstargame.com?referrer=drax
1Inch: https://1inch.exchange/#/r/0x83823d8CCB74F828148258BB4457642124b1328e
BTC donations: 1EWxiMiP6iiG9rger3NuUSd6HByaxQWafG
ETH donations: 0xB305F144323b99e6f8b1d66f5D7DE78B498C32A7

---
---