Film Review: Cyborg (1989)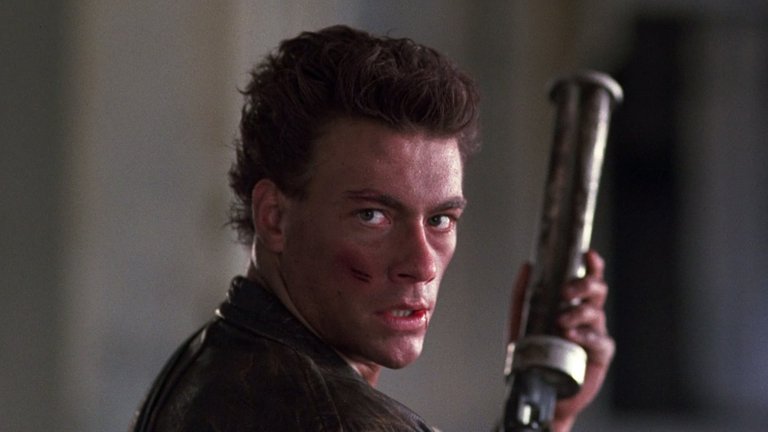 You know your film studio is in trouble when you are forced to turn what was originally supposed to be a spectacular space opera into low budget post-apocalyptic action film. This happened to Cannon Films when their financial woes forced the studio to abandon planned sequel of Masters of the Universe. The decision was made after 2 million US$ had already been spent on costumes and sets. Albert Pyun came with the idea to use them for much less ambitious and cheaper film based on his script and which would ultimately direct. The result was Cyborg, 1989 film which is nowadays known as one of the earliest hits in the career of Jean-Claude Van Damme.
The plot is set on US East Coast, which, like the rest of the world, has been wrecked by vicious plague. One of the last bastions of civilisation is Atlanta where scientists are working on the cure. They turn Pearl Prophet (played by Dayle Haddon) into cyborg and send her to ruins of New York City where she would have to retrieve the necessary data. She gets abducted by gang of "Pirates" led by Fender Tremolo (played by Vincent Klyn) who wants Pearl to lead him to Atlanta and help him get cure for himself, after which he would dominate what was left of humanity. Fender is, however, followed by Gibson Rickenbacker (played by Jean-Claude Van Damme), mercenary or "Slinger", who has some very personal reason to have Fender and his horde killed. Gibson is in his quest reluctantly joined by Nady Simmons (played by Deborah Richter), young woman who tries to convince him to reset his priorities and care more about helping Pearl deliver cure than simple revenge.
Like most films made by Cannon, Cyborg was ravaged by critics. It was quite the different story with the audience; it had very good results at the box office and even better results at home video. This could be explained with Cyborg actually being quite decent film and even surprisingly good if seen with lowered expectations (and expectations usually had to be lowered in case of Albert Pyun's films). Pyun handles his low budget well and puts locations around Wilmington, North Carolina and former De Laurentiiss Entertainment Group sets to good use; natural locations and lot of greenery make Cyborg look much different from most other post-apocalyptic films set in the deserts. Pyun is also very economical with the plot and exposition and puts emphasis on action, which is very impressive and imaginative, even with slow motion used to artificially inflate running time. Some of the scenes also show that Pyun took inspiration from much better films which include classics like Conan the Barbarian and Once Upon a Time in the West.
Cast is also good. Van Damme at the time didn't speak English well and wisely chose to have his character say as little as possible and concentrate on action, displaying both his superb martial arts skills and perfect physique. The fight scenes were quite realistic and in one example too realistic, resulting in Jackson Pinckney, one of the stuntmen, accidentally losing an eye and later winning court settlement from Van Damme. Surfing champion Vincent Klyn is more than adequate as charismatic and near-demonic villain who is introduced through semi-ironic narration at the beginning of film. Former Canadian supermodel Dayle Haddon is adequate in the role of cyborg, while Deborah Richter serves as good contrast with her "girl next door" looks. Pyun is less successful as scriptwriter and the use of flashbacks explaining Gibson's past, especially at the beginning, is confusing. General impression is further worsened by terrible musical score by Kevin Bassinson. In the end, Cyborg, even with its commercial success, failed to save Cannon Films from bankruptcy and it turned out to be that studio's last theatrical release. Two mostly forgettable sequels (Cyborg 2 having Angeline Jolie in her first starring role) were made in 1990s.
RATING: 5/10 (++)
Blog in Croatian https://draxblog.com
Blog in English https://draxreview.wordpress.com/
Leofinance blog https://leofinance.io/@drax.leo
Cent profile https://beta.cent.co/@drax
Minds profile https://www.minds.com/drax_rp_nc
Uptrennd profile https://www.uptrennd.com/user/MTYzNA
Unstoppable Domains: https://unstoppabledomains.com/?ref=3fc23fc42c1b417
Hiveonboard: https://hiveonboard.com?ref=drax
Bitcoin Lightning HIVE donations: https://v4v.app/v1/lnurlp/qrcode/drax
Rising Star game: https://www.risingstargame.com?referrer=drax
1Inch: https://1inch.exchange/#/r/0x83823d8CCB74F828148258BB4457642124b1328e
BTC donations: 1EWxiMiP6iiG9rger3NuUSd6HByaxQWafG
ETH donations: 0xB305F144323b99e6f8b1d66f5D7DE78B498C32A7

---
---