Film Review: Leviathan (1989)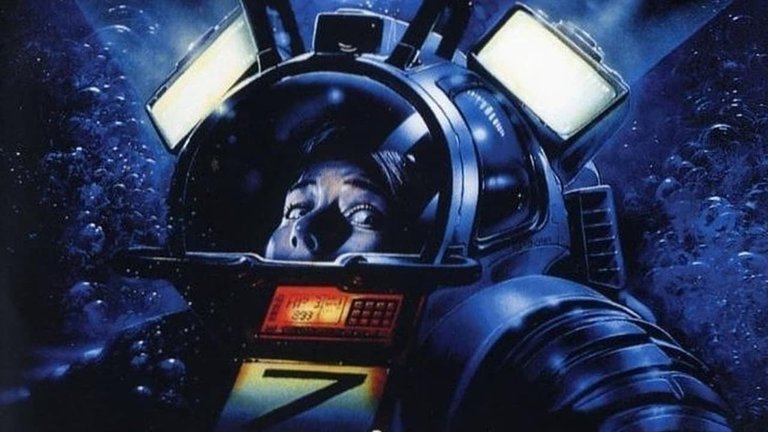 Off all 1989 undersea-themed films made in order to exploit hype created by James Cameron's The Abyss, arguably the most disappointing is Leviathan, directed by George Pan Cosmatos. The film starts promisingly, though, with plot set in deep sea mining facility where the physically and psychologically exhausted crew is just preparing to end its three-month shift and finally get transferred to surface. Buzz "Sixpack" Parrish (played by Daniel Stern) stumbles onto object which is revealed to be the wreck of Soviet ship named Leviathan. Some of the objects are salvaged from the ship, including video tape of the captain complaining about mysterious illness that apparently decimated his crew and bottle of vodka that Sixpack unwisely shares with fellow crew member Bridget Bowman (played by Lisa Eilbacher). Both of them get sick, Sixpack dies after which Bowman kills herself after seeing his strangely deformed body. Steven Beck (played by Peter Weller), geologist in charge of facility, orders both bodies – now mangled into one - to be ejected from the facility but they suddenly come alive. Dr. Glen "Doc" Thompson (played by Richard Crenna) speculates that the crew of Soviet ship was unwittingly exposed to genetic engineering experiment that went wrong and the same thing – monster that absorbs bodies, genetic material and even memories of their victims – threatens them. Beck tries to set up evacuation, but Ms. Martin (played by Meg Foster), corporate executive on the surface, claims that it would be impossible for next few days because of a hurricane.
Leviathan gathered impressive collection of talents behind and in front of camera. Director George Pan Cosmatos, although hardly among the top world's film makers, had some decent films before and afterwards. Screenwriters David Peoples and Jeb Stuart each had 1980s classic in their respective filmographies - Blade Runner and Die Hard. Stan Winston, special effects expert known for creating impressive creatures in various science fiction and horror films, also took part. The music score was written by veteran Jerry Goldsmith who experimented by using whale sounds and electronic motives.
However, despite all those talents and their effort, film failed, with bad box office results and bad reviews. The most obvious explanation for that can be found in utter lack of originality. The basic plot seems like a mix of older and much better films like Alien, Outland and The Thing. As a result of inevitable comparisons, Leviathan can be truly enjoyed only by viewer who didn't see any science fiction horror film before. The plot resolution is quite predictable, including cliches that allow experience audience to know in advance which characters would survive and which would not. The cast, made of Peter Weller as minor star and dependable character actors, tries its best with simple clichéd characters and the best work is done by Daniel Stern whose annoying Sixpack, sadly, disappears too early. Film is best in the first half, when the monster isn't revealed; when it is, Stan Winston's design looks unconvincing and only Cosmatos' quick cuts prevent Leviathan from turning into complete disaster. The biggest disappointment comes at the finale, which is unconvincing and looks like a carbon copy of DeepStar Six released few months earlier. Inventive (and in today's climate "politically incorrect") end scene improves impression a bit, but not enough to make this film recommendable to anyone but the most curious genre aficionados.
RATING: 4/10 (+)
Blog in Croatian https://draxblog.com
Blog in English https://draxreview.wordpress.com/
Leofinance blog https://leofinance.io/@drax.leo
Cent profile https://beta.cent.co/@drax
Minds profile https://www.minds.com/drax_rp_nc
Uptrennd profile https://www.uptrennd.com/user/MTYzNA
Unstoppable Domains: https://unstoppabledomains.com/?ref=3fc23fc42c1b417
Hiveonboard: https://hiveonboard.com?ref=drax
Bitcoin Lightning HIVE donations: https://v4v.app/v1/lnurlp/qrcode/drax
Rising Star game: https://www.risingstargame.com?referrer=drax
1Inch: https://1inch.exchange/#/r/0x83823d8CCB74F828148258BB4457642124b1328e
BTC donations: 1EWxiMiP6iiG9rger3NuUSd6HByaxQWafG
ETH donations: 0xB305F144323b99e6f8b1d66f5D7DE78B498C32A7

---
---