Film Review: The War of the Roses (1989)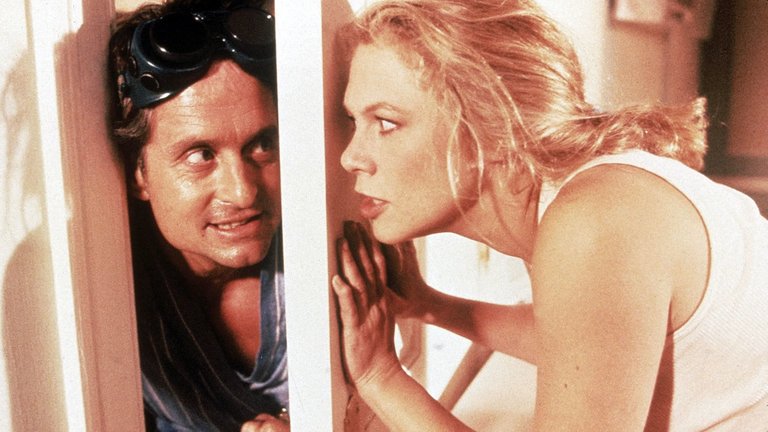 One of the most annoying cliches in romantic comedies is the ending which suggests that the protagonists will live happily ever after. In real life the "after" is the most challenging aspect of the relationship, with happiness and, sometimes even bare life, becoming unachievable. This served as the basis for The War of the Roses, 1989 black comedy directed by Danny DeVito.
The film is based on the eponymous novel by Warren Adler. DeVito appears in the film in the beginning in the role of Gavin D'Amato, Washington, D.C. lawyer specialised for divorce proceedings who tries to warn potential client (played by Dan Castellaneta) what the divorce could result in. He tells a cautionary tale of his friend, colleague and client Oliver Rose (played by Michael Douglas). Plot, through flashbacks, shows how Oliver as Harvard Law student met former gymnast Barbara (played by Kathleen Turner). Two of them immediately fell in love and later married. From the outside, their marriage looks ideal – Oliver becomes successful and wealthy partner in D.C. law firm while Barbara stays at home, taking care of two children and using all the time and Oliver's money to bring their luxurious house to perfection. However, when children go to college, Barbara's purpose in life seems lost and, after witnessing Oliver's condescending attitude towards her business career, begins to realise that she doesn't love her husband. She expresses desire for divorce and Oliver, unpleasantly surprised at first, appears to agree with it. The only point of contention is the house which both Oliver and Barbara want exclusively for themselves. They are nevertheless forced to live under same roof and increasingly bad blood lead to petty pranks that would with time become less petty and escalate into acts of spectacular and vicious destruction and violence.
DeVito has built his stardom as comedic actor, but he is also an accomplished director with dark comedies being his speciality. The War of the Roses is the most successful among his directorial efforts. In many ways its impressive box office success can be explained by perfect casting. Roses are played by actors who were at the top of their stardom – Michael Douglas and Kathleen Turner – and, which is even more important, had excellent chemistry tried and tested in successful adventure hit Romancing the Stone. The same chemistry is put to good use here and the script even references some of their characters' interactions in previous films, but with ironic twist. DeVito shows good directing skills by seamlessly leading the plot through decades; the film begins as standard romantic comedy with all cliches, but afterwards turns into depiction of deterioration and collapse of relationship that would literally turn into war between the spouses. DeVito maintains the same style and the audience, accustomed to conventional Hollywood films, is led to believe that the spouses will see the error of their ways and reconcile in the last third. This doesn't happen and instead The War of the Roses becomes increasingly mean-spirited, making Roses unlikeable and their predictable fate not exactly tragic. DeVito's film was often hailed for going against conventions and, being made at the end of 1980s, often interpreted as iconoclastic satire against brash consumerism that characterised America in that decade.
However, there is a single moment in the film when its dark vision was compromised and what could have been a great film became merely good. In what could have probably been the most memorable scene of 1980s and one of the darkest gags in history of American cinema, DeVito abstained from going all the way and edited annoying shot that watered down its impact according to unwritten conventions of Hollywood. It might have been due to producers' pressure or displeasure among test audiences, but in the end the result was same - War of the Roses was deprived of true greatness and degraded to just another Hollywood comedy. It also allowed some of other flaws to become more visible to critically-minded audience – like script being slightly overlong, Roses' children not appearing enough (Sean Astin is wasted in the role of teenage son) or underwritten role of Roses' housekeeper (played by German comedienne Marianne Sägebrecht). On the other hand, DeVito, who was mostly a third weel in Romancing the Stone, reserves very good role for himself, playing character who, despite not being embodiment of virtue due to his womanising and foot fetish, looks like voice of reason and rock of sanity compared with title characters. The War of the Roses is entertaining film, although it works best for audience that is tired of standard Hollywood romantic comedies and wants something completely different.
RATING: 6/10 (++)
Blog in Croatian https://draxblog.com
Blog in English https://draxreview.wordpress.com/
Leofinance blog https://leofinance.io/@drax.leo
Cent profile https://beta.cent.co/@drax
Minds profile https://www.minds.com/drax_rp_nc
Uptrennd profile https://www.uptrennd.com/user/MTYzNA
Unstoppable Domains: https://unstoppabledomains.com/?ref=3fc23fc42c1b417
Hiveonboard: https://hiveonboard.com?ref=drax
Bitcoin Lightning HIVE donations: https://v4v.app/v1/lnurlp/qrcode/drax
Rising Star game: https://www.risingstargame.com?referrer=drax
1Inch: https://1inch.exchange/#/r/0x83823d8CCB74F828148258BB4457642124b1328e
BTC donations: 1EWxiMiP6iiG9rger3NuUSd6HByaxQWafG
ETH donations: 0xB305F144323b99e6f8b1d66f5D7DE78B498C32A7

---
---