Violent Night Introduces Viking Santa - Movie Review [EN/FR]
Christmas night is not always fun fending off intruders from home alone by a little kid, like you have seen in the movies of "Home Alone" series.
This time it's not a kid but Santa Claus himself sticks into a manor of an acquisitive granny, Beverly D'Angelo, where things get rough on Lightstone family and Santa has to become their uninvited savior.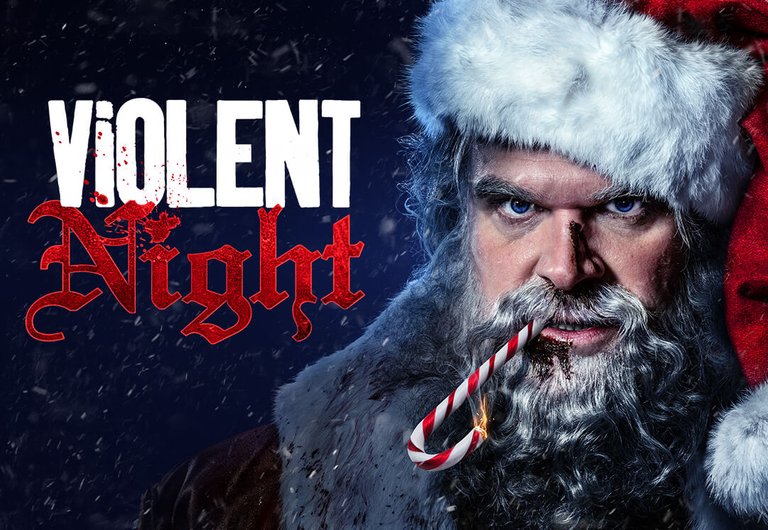 First 20 minutes of the movie, you'll find the story encircling around family members, their smirky chatter can tell you how close they are to each other, I guess you'll enjoy their sarcastic conversation, not that humorous but enjoyable. After that, you'll ride on a rollercoaster of extreme savagery and brutality offered by the movie. The manor turns into warzone giving a dark feeling of violence shown in "The Purge" movie.
Santa Claus, David Harbour, just wants to finish his regular job of distributing gifts to kids, but then a group of Mercenaries lead by Scrooge, John Leguizamo, takes over the control of manor. When Santa loses his sleigh in a scuffle with a goon, he becomes mad at mercenaries and vows to exterminate people on his naughty list.
The gory scenes are extremely detailed and made to perfection, some scenes are not suitable for 18+ old persons. Fight scenes are full of bangs and booms, every fight provides a flavor of ferocity that thrills the viewers. Santa's action scenes are wild and barbaric as he reminisces his past as a Viking warrior.
It feels that the story writers, Pat Casey and Josh Miller, are trying to tell the origins of real Santa Claus connecting his story with the Norse gods. Not even this but it also hints at another character in Santa's life known as Mrs. Claus. Maybe the franchise has a plan to create another story about Santa's past, a prequel, or something about old Christmas fest in Germanic north.
Every character has honestly showed off and tried their best to make their performance dwell in viewer minds. Trudy, Leah Brady, the child star has perfectly delivered a witty and intelligence performance in the movie, I hope we'll see her in other interesting movies also.
Movie had an estimated budget of $20 Million, and grossed around $72 Million from around the world. The movie had a very good opening with $13 Million to bag on its premier day.
Overall, the movie is full of entertainment with butt-cracking action scenes and dark humor. If you are an action movies lover, then this movie should be on your watchlist. You may watch the trailer and tell us about the movie.

Version Français
La nuit de Noël n'est pas toujours amusante à repousser les intrus de la maison seul par un petit enfant, comme vous l'avez vu dans les films de la série « Home Alone ».
Cette fois, ce n'est pas un enfant, mais le Père Noël lui-même reste dans le manoir d'une grand-mère acquisitive, Beverly D'Angelo, où les choses deviennent difficiles pour la famille Lightstone et le Père Noël doit devenir leur sauveur non invité.
Les 20 premières minutes du film, vous trouverez l'histoire qui tourne autour des membres de la famille, leur bavardage narquois peut vous dire à quel point ils sont proches les uns des autres, je suppose que vous apprécierez leur conversation sarcastique, pas si humoristique mais agréable. Après cela, vous monterez sur des montagnes russes de sauvagerie et de brutalité extrêmes offertes par le film. Le manoir se transforme en zone de guerre donnant un sentiment sombre de violence montré dans le film « The Purge ».
Le Père Noël, David Harbour, veut juste terminer son travail habituel de distribution de cadeaux aux enfants, mais un groupe de mercenaires dirigé par Scrooge, John Leguizamo, prend le contrôle du manoir. Lorsque le Père Noël perd son traîneau dans une bagarre avec un homme de main, il devient furieux contre les mercenaires et jure d'exterminer les personnes de sa liste de vilains.
Les scènes sanglantes sont extrêmement détaillées et faites à la perfection, certaines scènes ne conviennent pas aux personnes âgées de 18+. Les scènes de combat sont pleines de bangs et de booms, chaque combat offre une saveur de férocité qui fait vibrer les téléspectateurs. Les scènes d'action du Père Noël sont sauvages et barbares alors qu'il se souvient de son passé de guerrier viking.
On a l'impression que les scénaristes, Pat Casey et Josh Miller, essaient de raconter les origines du vrai Père Noël reliant son histoire aux dieux nordiques. Même pas cela, mais cela fait également allusion à un autre personnage de la vie du Père Noël connu sous le nom de Mme Claus. Peut-être que la franchise a un plan pour créer une autre histoire sur le passé du Père Noël, une préquelle, ou quelque chose à propos de la vieille fête de Noël dans le nord germanique.
Chaque personnage s'est honnêtement montré et a fait de son mieux pour que sa performance demeure dans l'esprit des téléspectateurs. Trudy, Leah Brady, l'enfant star a parfaitement livré une performance spirituelle et intelligente dans le film, j'espère que nous la verrons dans d'autres films intéressants aussi.
Le film avait un budget estimé à 20 millions de dollars et a rapporté environ 72 millions de dollars du monde entier. Le film a eu une très bonne ouverture avec 13 millions de dollars à emporter le premier jour.
Dans l'ensemble, le film est plein de divertissement avec des scènes d'action qui craquent les fesses et de l'humour noir. Si vous êtes un amateur de films d'action, alors ce film devrait être sur votre liste de suivi. Vous pouvez regarder la bande-annonce et nous parler du film.

Movie Website https://www.violentnightmovie.com/
Author: emaxisonline
Translated with Bing
Image: Line Page Divider Pixabay.com
Movie Poster: Universal Pictures
---
---