Chaotic! Renfield (2023) || Movie Review.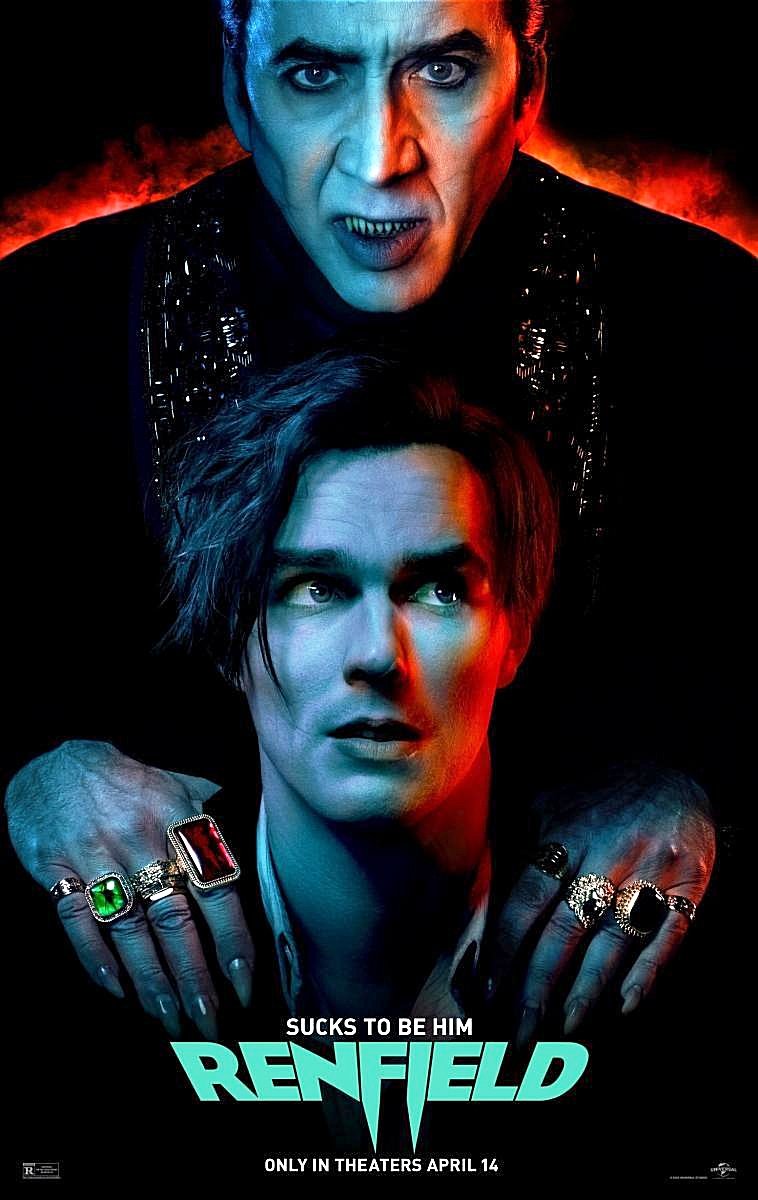 Renfield, oh God Hahaha. I thought this movie was going to be an ordinary movie about vampires, considering the fact that I have seen a lot of vampire movies, but this one hits differently. I didn't want to watch this movie because of the two lead characters, Nicholas Cage and Nicholas Hoult.
They are not among my favorite actors and they both piss me off anytime I see them in movies. But then, the reviews I have read here on this platform and on the internet have been all positive. So I decided to give the movie a chance regardless because I love vampire movies.
So Renfield (2023) was directed and produced by Chris McKay with a thrilling script that was written by Ryan Ridley. Distributed by Universal Pictures, the story of this movie was inspired by characters from the famous 1897 novel Dracula by Bram Stoker which was written by Robert Kirkman. The movie starred Nicholas Cage (Dracula) and Nicholas Hoult (Renfield) as the lead characters with Awkwafina, Ben Schwartz, Adrian Martinez, and Shohreh Aghdashloo.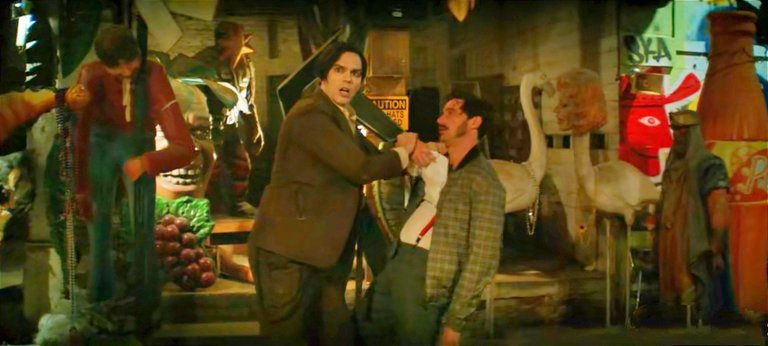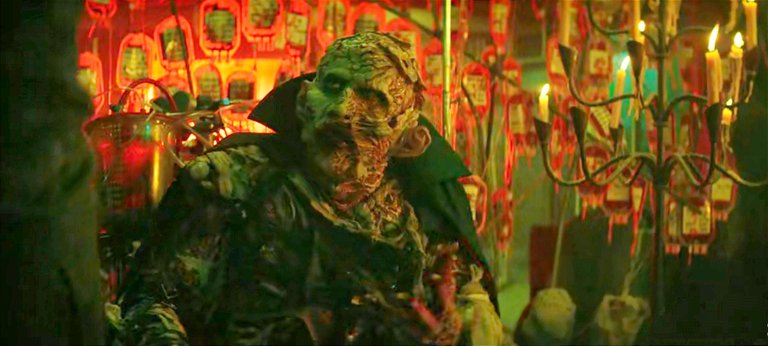 This movie is an American bloody-dark comedy/horror film that revolves around Nicholas Hoult as Renfield who is Dracula's Familiar struggling to get out of a toxic relationship with a narcissist. Renfield encountered Dracula in the early 20th Century when he sought a better life for his family as a broker for lands and estates. During this period, Dracula turned Renfield into his familiar, promising him a good life with immortality. With these juicy promises, Renfield agreed to Dracula's offer.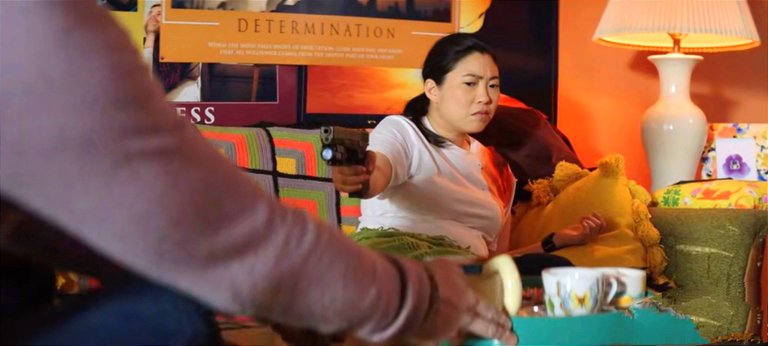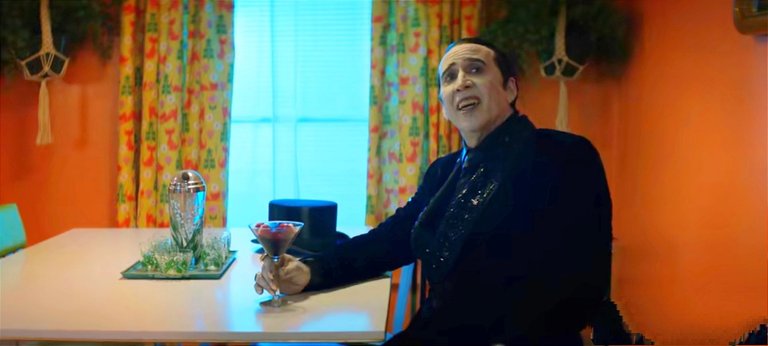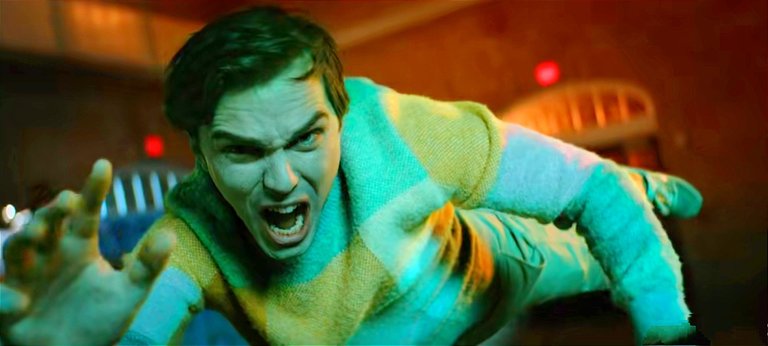 Ninety years later, Renfield discovered a Co-dependent self-help group with the aim to hunt all the members' abusers for Dracula to feast on. It all that changed one night when he encountered a female cop, Rebecca, in a restaurant where he went to abduct commoners for his master. Everything changed for him that night. Will continue to serve his Master? Or will he stand up for himself?
Characters.
Hoult as Renfield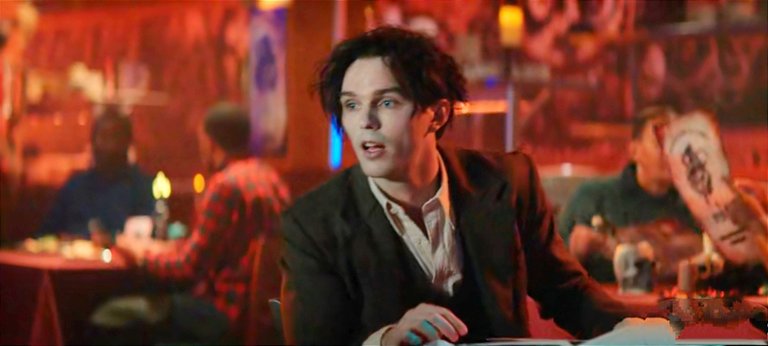 Hoult's performance in this movie was amazing, I must say. He acted his role perfectly well while displaying the perfect behaviors of a servant who is bound to a narcissistic master. Even though I don't like watching his movies, this particular one was impressive to me and he did amazingly well. His chemistry with Nicholas Cage was perfect, a true master and servant relationship was displayed.
Cage as Dracula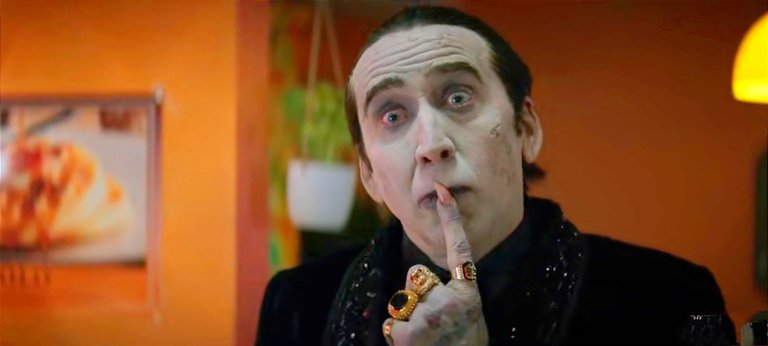 When I discovered that Cage was the Dracula in this movie the first thing that came to my mind was that; I hope the producing crew know what they are doing, but in the end, his performance as Dracula was fantastic and perfect. I enjoyed his performance, he was fun to watch and entertaining. The accent, the mannerism, and the behavior were just another new side of Cage to me which I like. He was a good Dracula, a brute master that cared about himself alone. I enjoyed his appearance in the movie.
Awkwafina As Rebecca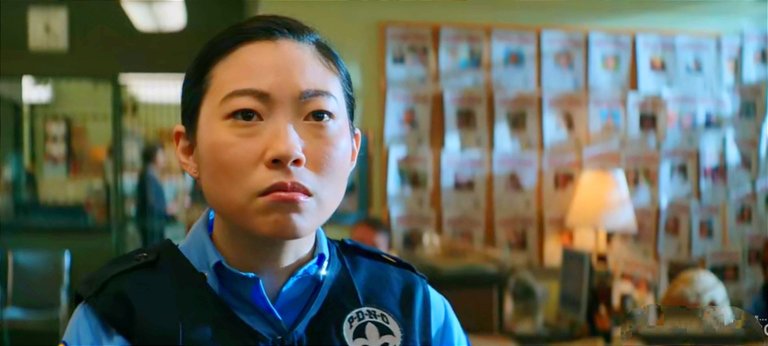 Seeing Awkwafina in this movie was a bonus for me. I started to like her when she starred in the movie 'The Crazy Rich Asians' in 2018. She won my heart then. Awkwafina acted as a traffic cop who then later became Renfield's love interest. Her performance was good though but I felt that her role kind of restricted her talent here, but still she stole the spotlight in an energetic and thrilling way
Schwartz As Teddy Lobo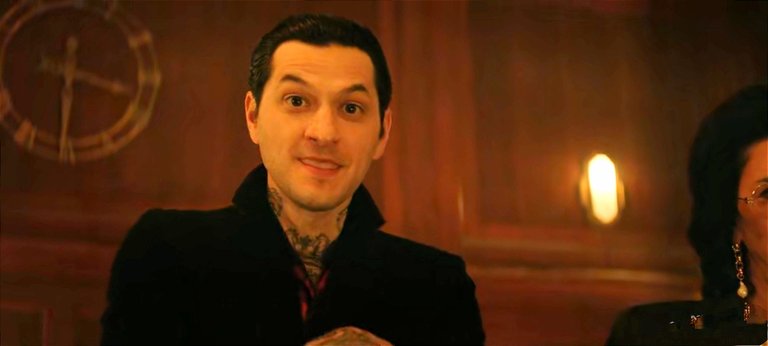 This guy was one hell of a silly character in the movie. I enjoyed his performance and he displayed perfectly well the characteristics of a rich, spoilt, dumb boy from a crime family. Though his character was not at the center of the movie, he still managed to steal the spotlight from the beginning and then towards the ending he came up strong. He did well.
Aghdashloo As Ella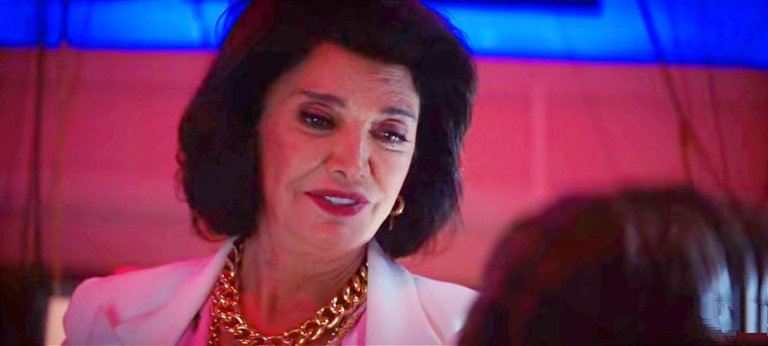 I was actually surprised to see Aghdashloo in this movie. It has been a long time since I have seen her on the screen. She is aging with grace, I must confess. Her performance was enigmatic and amazing. She acted as the supporting antagonist and the head of the Lobo crime family. Her presence in the movie was felt and then my mind darted a little. Is her voice getting deeper or is it just my ears? 🤨
The rest of the supporting characters were amazing and they all handled their roles well and all they did came naturally. The cast of this movie was perfect and excellent.
Major Themes.
This movie was entertaining and exciting. It is an allegory that is rich with thought-provoking themes. Like conflict between good and evil which was in the case of Renfield and Dracula. Overcoming trauma/self discovery which in the case of how Renfield has been traumatized just by being Dracula's Familiar. If he hadn't taken the bull by the horn he wouldn't have stood up for himself. There are other themes that were explored in this movie but the ones I mention are the major ones. I didn't expect the story of this movie to contain such moral lessons but it did and it was woven perfectly to fit the
fast pace of the movie.
My Review And Rating.
This movie was a refreshing and unique twist on a story we all have seen so many times before in different movies. I enjoyed the movie so much. The pacing Is very entertaining and thrilling. The production and art direction are amazing, with special decoration of Dracula, the neon lights and Renfield's apartment.
The plot is really interesting, with excellent pacing and a colorful cast of characters. Also the script was well written, it was interesting and easy to flow. The dialogues were good and funny. The catch phrases, good use of curse words, banter, and babbling. It all made the movie fun to watch with good laughs.
The action scenes were amazing and exciting. The gory was done unexpectedly well, splashy, mashy and above chaotic. At some point the gore was beginning to trigger me a bit but I followed it through. It is not a movie for the faint hearted and children. The CGI was absolutely fantastic, everything seemed real and vibrant. Also, I love the setting between the early 20th Century and the present time.
Rating this movie, I will give it 4.5 out 5 stars. It is a fantastic movie I will recommend it to those who love horror, dark comedy and Vampire movies. Also I won't recommend this movie be watched by teens of age 17 below because of strong use of offensive words. If you have seen Renfield, hurry now, grab your popcorn and watch it.


All images above are from the movie screenshots
Thank you for visiting and supporting my blog 🤗
---
---