The Last Voyage of the Demeter (2023) || Movie Review.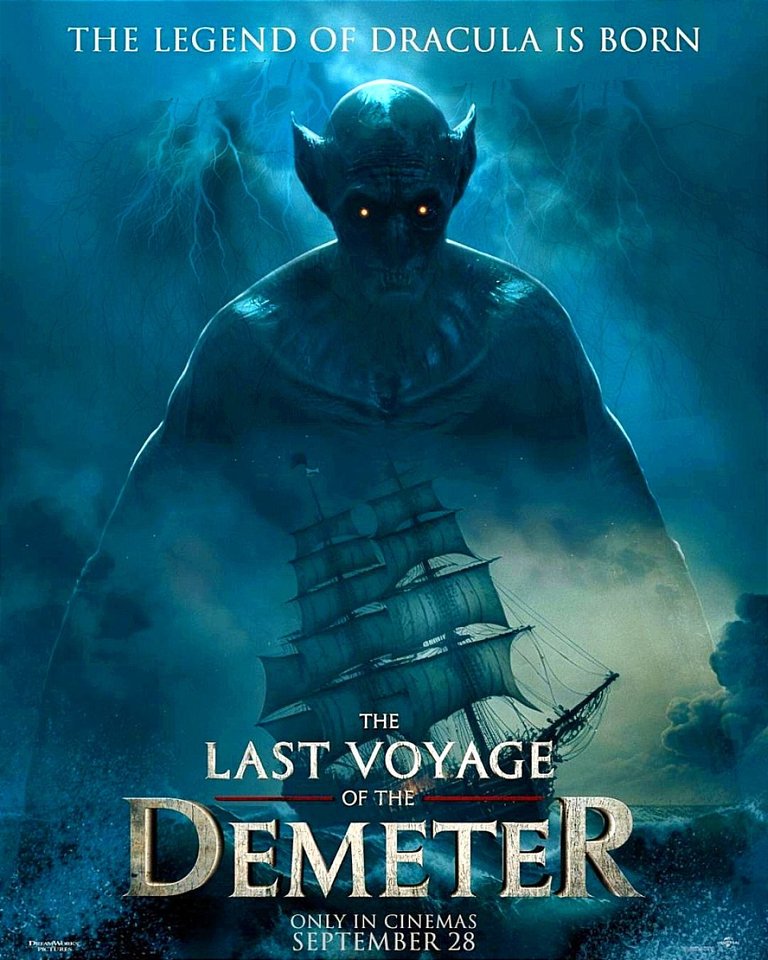 'The Last Voyage of the Demeter' is a unique film addition to the Dracula story universe. The budget of this film, I can't decide whether it's a big budget film or a low budget film because the setting of the movie is on a ship and the sea. Still this movie came out unique. I enjoyed watching this movie no doubt. It was entertaining and fun but I still had some issues with it which I will explain along with the review.
This movie was directed by André Øvredal with Universal Pictures as its distributor. The storyline of the film was written by Bragi F. Schut Jr. and Zak Olkewicz. The movie was based on or let me say adapted from one of the chapters from the 1897 'Dracula' novel by Bram Stoker which is titled 'The Captain's Log'. It starred Corey Hawkins, Aisling Franciosi, Liam Cunningham, Woody Norman, Javier Botet (Dracula) and David Dastmalchian. The story follows how the crew of Demeter ship fought for survival while on board the legendary vampire known as Dracula.
Brief Synopsis.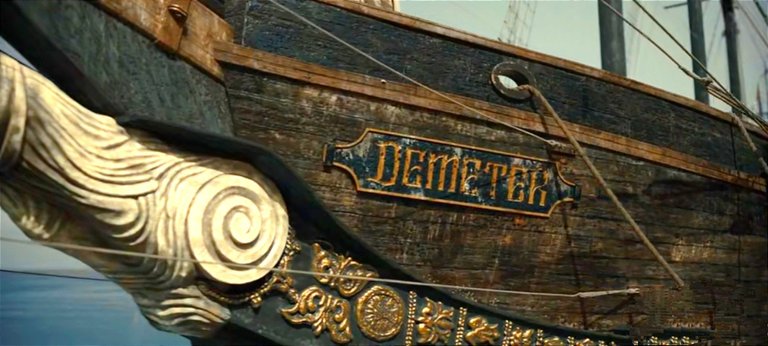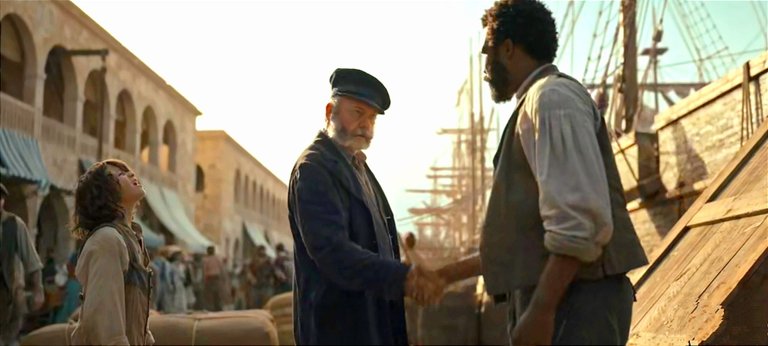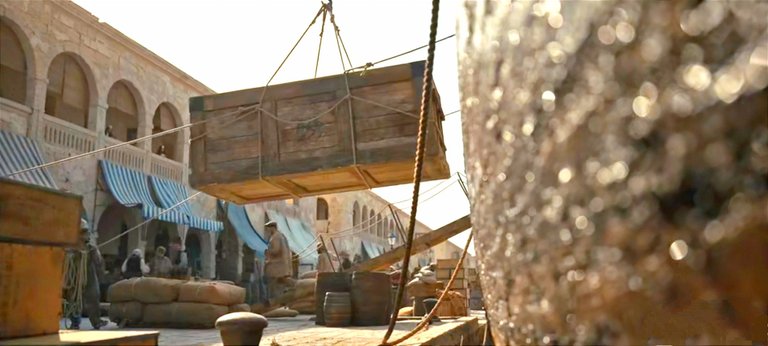 On August 6, 1897, a mysterious merchant ship was found on the shores of England by the local authorities in a terrible wreckage condition. Investigating the wreckage, they discover the captain's log book and the story begins. Then the second act takes us back to four earlier times when this particular ship called Demeter docked in Varna, Bulgaria, to load cargo for London. All the cargo to be loaded consisted of large wooden crates that were marked with dragon symbols. The locals hired to load all these cargo later abandoned their job and revealed that all the wooden crates were bad luck.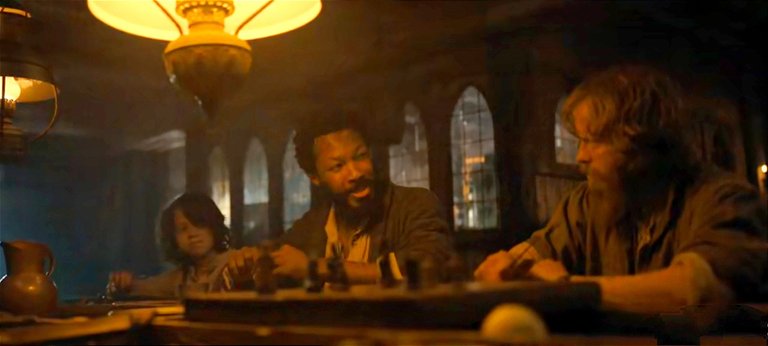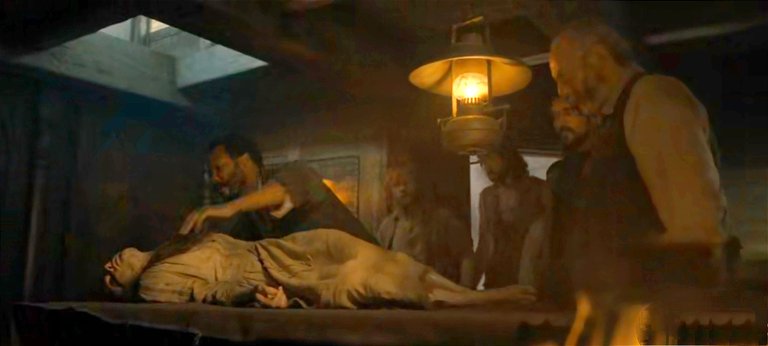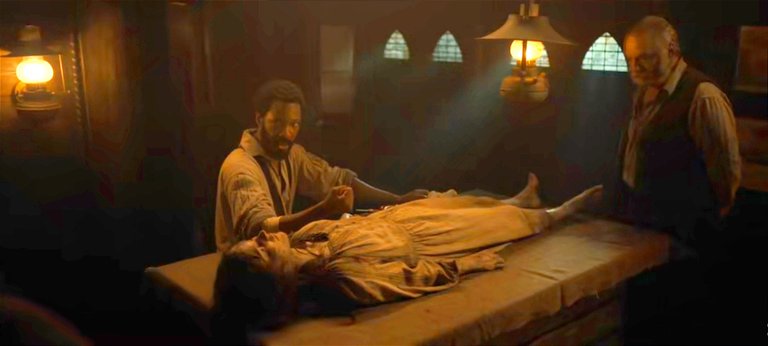 On the other hand, Dr. Clemens, an educated physician with astronomy training from Cambridge, wants to join the crew, citing that his medical skills will be needed on board but was rejected by Wojchek, the right hand man of the captain of Demeter ship. In the end, Dr. Clemens was accepted on board after impressively saving Captain Elliott's grandson, Toby, from a crate disaster. Not long, they are set to start their journey for the shores of England.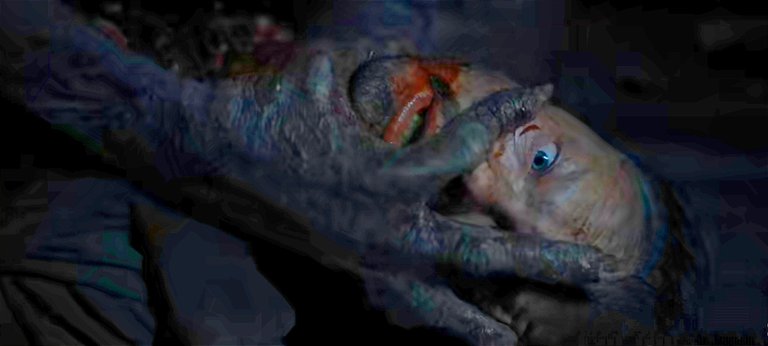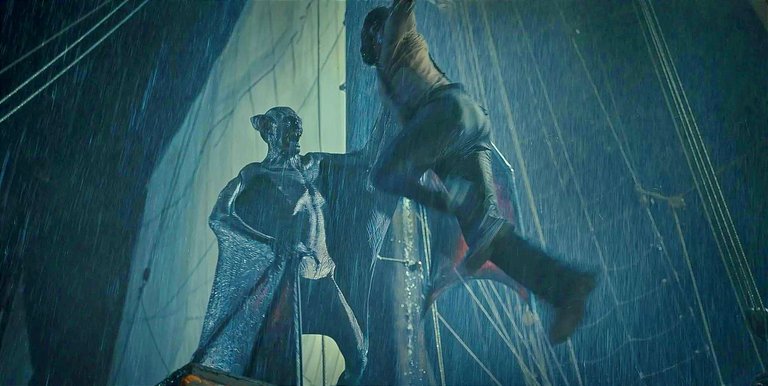 As their trip continues in the Aegean Sea, Dr. Clemens and a crewmate Olgaren spot a mysterious figure in the fog on deck but they were not sure of what they saw, so they ignored their instincts. Other events followed as all the crew began to adjust and settle. However, a crate falls open below the deck, in the cargo hold. Clemens and Toby went to check but they discovered a woman who looked pale and was buried in lots of dirt. After confirming she was alive, Clemens takes her out of the cargo hold for treatment and care. Unfortunately for them, everything escalated quickly when all their livestock were mysteriously killed. Who killed all the livestocks? Who is the pale woman that was discovered below the deck?
The characters I Enjoyed.
Woody Norman as Toby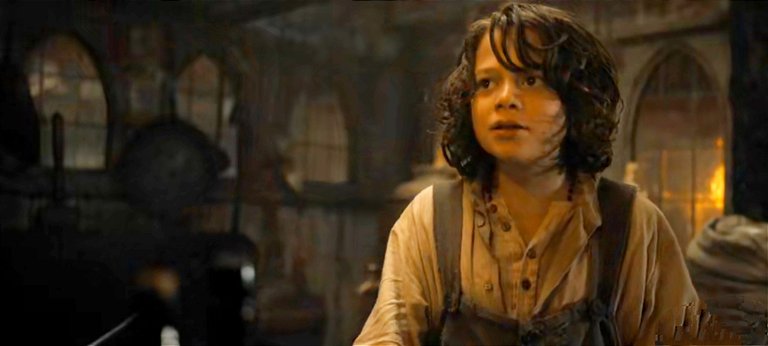 Watching this boy in this movie honestly made me considering how he impressed me in 'Cobweb (2023)' movie. His performance here was super impressive and I see a good future for this boy in Hollywood. To be honest, I want to see more of his works. His performance was fantastic, young, free, natural and very realistic. He acted as a child who loves to sail with his grandfather and his crew with the company of his dog. When his dog was killed, I felt all his emotions, his loss and then finally I felt his fear when he got killed by Dracula. It was a painful scene for me because he wasn't spared by the beast called Dracula.
David Dastmalchian as Wojchek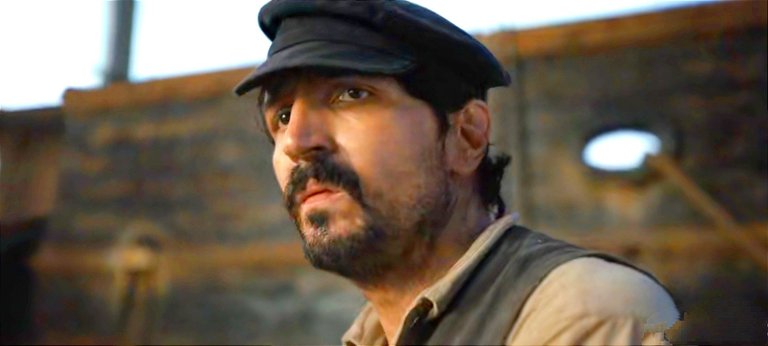 This guy somehow stole a lot of spotlight for himself. I loved the way he handled his role with a rigid personality. If he had taken up Dr. Clemens role, I bet he would have done so well. He is a kind of actor that cannot be typed locked or put in a box. He was amazing to watch and enjoyed his performance.
Liam Cunningham as Captain Elliot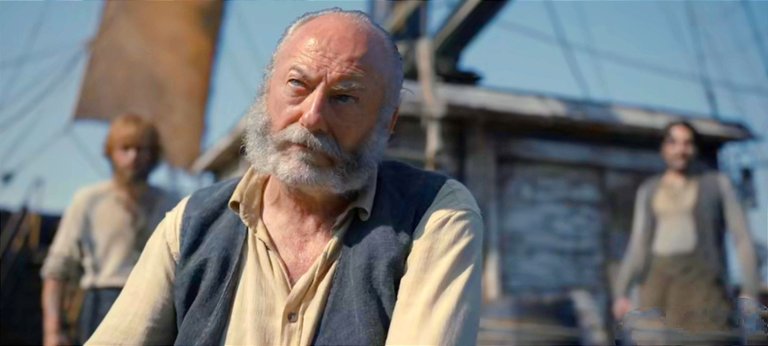 Cunningham's performance was amazing! Regardless of the fact that his dialogues were not much, his presence was felt and he stole spotlight when he lost his grandson, Toby. It was painful scene, a. Scene that was filled with regrets and loss which he excellently portrayed all through. I enjoyed all his scenes!
My Review And Rating.
The director of this movie did a good job with the movie. The scene arrangements were excellently done and the cast were well selected except for Dr. Clemens for me (in my own opinion, he made all die on that ship because he didn't believe in folklores but believe in science. Did the science save them at the end? No it didn't.). The kill scenes were intensely portrayed in a brutal way and it was accompanied with a nice kind of gore and blood splatter.
The setting of the movie was fantastic, the costume perfectly selected, the design of Dracula was amazing and the best thing about this movie. I say so because Dracula's design evolved from a Galum-like looking creature to a full Dracula. Throughout the movie Dracula kept on changing as he feed on the crew members of the ship until the very last of them. So it was interesting and intriguing to see how Dracula kept on changing throughout the movie.
There were a lot of some intense jumpy scenes that I found interesting to watch. The visuals, cinematography and the production design was well done! Though I have a problem with the script and how some the characters were built. Some parts of the scripts were not realistic like for example, the crew are a mess especially Dr. Clemens. Him in particular came and worsen their situation. Dracula's blood slave, Anna was badly written, to me when I was watching the movie, I felt like she had a lot of information about Dracula and withholds the information until the end after Dracula has had his fill.
Also, I don't like this movie was unnecessarily lengthy, it should have been an hour and a half which would have made the movie more intense and fast-paced. That, the audience will find thrilling and exhilarating. At a time when I was watching the movie, I somehow became bored at the middle when the crew began to turn a blind to their devastating situation at hand. I was disappointed with them then.
Rating this movie, I will give 6.5 out of 10 stars. It was okay, enjoyable and entertaining. I like the fact that it is another perspective into the story of Dracula told from crew members of Demeter ship. So it was good and fresh. I would recommend the movie to lovers of paranormals and horror. Have you seen this movie? Did you enjoy it?


All images above are from the movie screenshots
Thank you for visiting and supporting my blog 🤗
---
---