Ambulance (2022) Movie Review [ENG/ESP]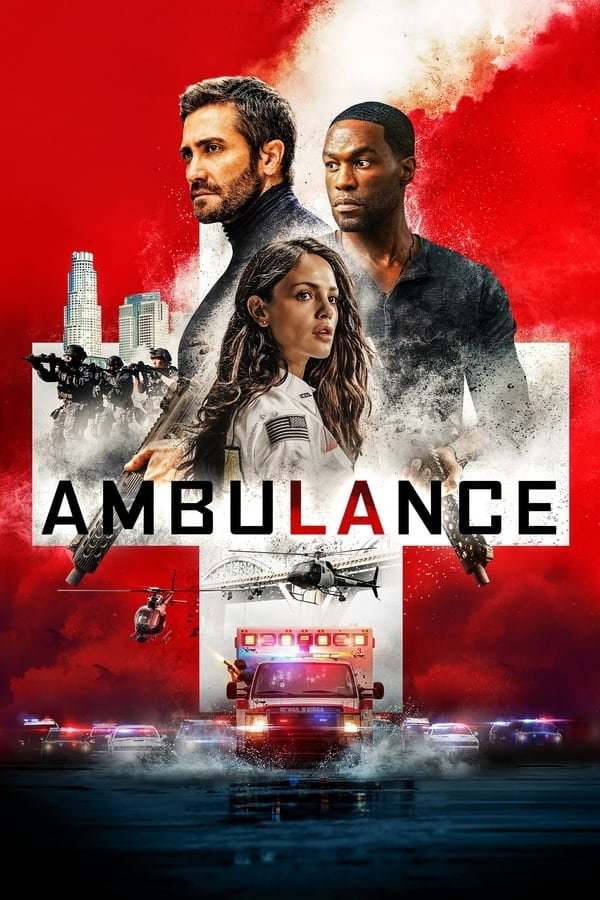 Ambulance is directed by action movie specialist Michael Bay (The Rock,
Armageddon and 13 Hours). Starring Oscar-nominated Jake Gyllenhaal (Brokeback
Mountain), Yahya Abdul-Mateen II (Candyman) and Eiza Gonzalez (Godzilla vs.
Kong). It is a remake of the Danish movie from Laurits Munch-Petersen
'Ambulancen' which was released in 2005.
Ambulance follows two brothers Danny (Gyllenhaal) and Will Sharp (Abdul-Mateen
II) who start their latest bank heist. One Will is reluctant to be part of it, wishing he
could turn his back on the life of crime. When the job goes wrong, the crew find
themselves in a massive shootout around the bank, as the brothers look for another
way out. This sees them injure a police officer, with paramedics arriving to help him.
The brothers hijack the ambulance with paramedic Cam Thompson (Gonzalez) on
board, as they look to escape. This leads to a chase around LA, with Cam trying to
save the police officer, while Captain Monroe (Garret Dillahunt) looks for a solution to
stop the criminals from escaping.
Michael Bay brings the latest toys to the party for Ambulance. This includes drone
shots which add to the chaos created by certain action sequences, from the bank
shootout to the chases around town. By amplifying the action, the audience is given
an edge-of-their-seat action movie, filled with high-octane chase sequences.
When the action does get slowed down, we still are left with a life-or-death situation,
because of the police presence that won't let anyone near the ambulance.
Reminding us of other action greats like 'Speed'. Where the police could halt the
vehicle, but they can't risk the innocent passengers in it.
Jake Gyllenhaal and Yahya Abdul-Mateen II bring the complex brothers to life, as we
see how both men have different motivations. Danny has a debt to clear and enjoys
the bank robber lifestyle.
He has a shorter temper, one that gets him in trouble more,
but he knows how to remain in control of panic situations. On the other hand, Will
has been struggling to find work after his time in the military. His wife's medical bills
are piling up and he doesn't want to see her worrying about them. During the chase,
Will helps keep the police officer alive with his military experience helping Cam
during intense situations. Maintaining that Will has been dragged into this situation,
rather than being someone who doesn't care, like Danny.
The different operations Cam must perform to keep the police officer alive don't hold
back anything. They will often dictate the speed at which the chase is happening.
One of the more difficult ones, seeing everybody involved needing to slow down,
because of the pressure involved.
Ambulance is one of Michael Bay's best movies, proving the popular term 'Bayhem'
can still pull in an audience to his action movies. The movie never holds back and
barely gives you a chance to regroup, with the all-out action sequences we see
unfold.
---
---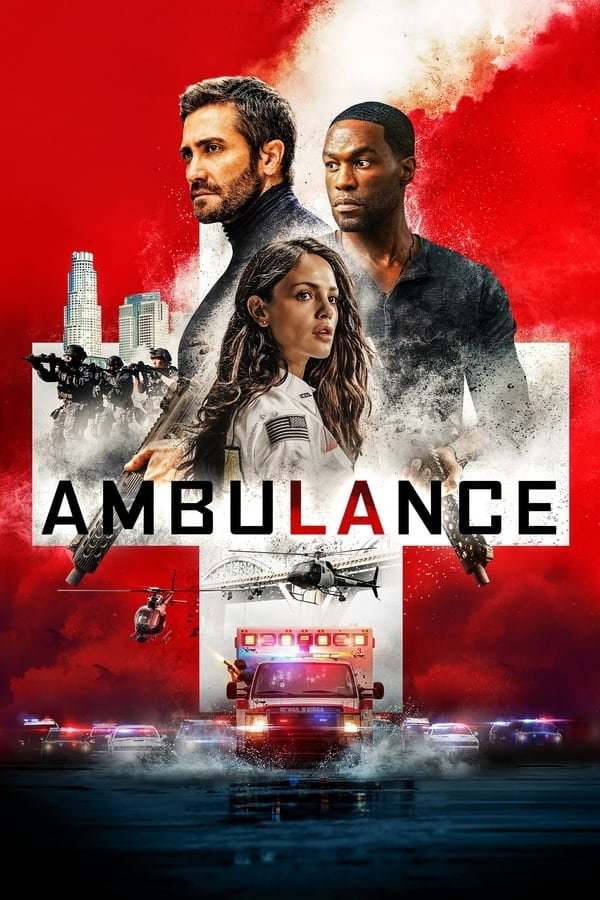 Ambulancia está dirigida por el especialista en películas de acción Michael Bay (La Roca,
Armageddon y 13 horas). Protagonizada por el nominado al Oscar Jake Gyllenhaal (Brokeback
Mountain), Yahya Abdul-Mateen II (Candyman) y Eiza González (Godzilla vs.
Kong). Es un remake de la película danesa de Laurits Munch-Petersen
'Ambulancen' que se estrenó en 2005.
Ambulance sigue a dos hermanos Danny (Gyllenhaal) y Will Sharp (Abdul-Mateen
II) que inician su último atraco a un banco. Uno de ellos, Will, se muestra reacio a participar en él, deseando
poder dar la espalda a la vida del crimen. Cuando el trabajo sale mal, el equipo se encuentra
se encuentran en un tiroteo masivo alrededor del banco, mientras los hermanos buscan otra
de salida. En ese momento, hieren a un agente de policía y los paramédicos llegan para ayudarlo.
Los hermanos secuestran la ambulancia con el paramédico Cam Thompson (González) a bordo.
a bordo, mientras intentan escapar. Esto lleva a una persecución por Los Ángeles, con Cam tratando de
Cam intenta salvar al agente de policía, mientras el capitán Monroe (Garret Dillahunt) busca una solución para
detener la huida de los criminales.
Michael Bay trae los últimos juguetes a la fiesta de Ambulancia. Esto incluye tomas con drones
que se suman al caos creado por ciertas secuencias de acción, desde el tiroteo en el banco
del banco y las persecuciones por la ciudad. Al amplificar la acción, el público recibe
una película de acción al borde del asiento, llena de secuencias de persecución de alto octanaje.
Cuando la acción se ralentiza, seguimos teniendo una situación de vida o muerte,
debido a la presencia policial que no deja que nadie se acerque a la ambulancia.
Nos recuerda a otros grandes de la acción como "Speed". Donde la policía podría detener el
vehículo, pero no pueden arriesgar a los inocentes pasajeros que van en él.
Jake Gyllenhaal y Yahya Abdul-Mateen II dan vida a los complejos hermanos, ya que
vemos como ambos hombres tienen diferentes motivaciones. Danny tiene una deuda que saldar y disfruta
el estilo de vida de ladrón de bancos.
Tiene un temperamento más corto, que lo mete más en problemas,
pero sabe mantener el control de las situaciones de pánico. Por otro lado, Will
ha estado luchando para encontrar trabajo después de su tiempo en el ejército. Las facturas médicas de su esposa
se están acumulando y él no quiere verla preocupada por ellas. Durante la persecución,
Will ayuda a mantener vivo al oficial de policía con su experiencia militar ayudando a Cam
durante situaciones intensas. Manteniendo que Will ha sido arrastrado a esta situación,
en lugar de ser alguien a quien no le importa, como Danny.
Las diferentes operaciones que Cam debe realizar para mantener al policía con vida no retienen
nada. A menudo dictarán la velocidad a la que se desarrolla la persecución.
Una de las más difíciles, ver que todos los involucrados necesitan reducir la velocidad,
debido a la presión involucrada.
Ambulancia es una de las mejores películas de Michael Bay, demostrando que el popular término 'Bayhem'
puede seguir atrayendo al público a sus películas de acción. La película nunca se detiene y
apenas te da la oportunidad de reagruparte, con las secuencias de acción sin cuartel que vemos
que vemos desarrollarse
---
---
---