John Wick 2 ~ An unsolved debt will unleash his thirst for revenge, one more time... ~ [ENG|ESP]
Canva
---
¡Bienvenidos mis panas amantes de las buenas películas y las sagas de acción! ¿Como estan? espero de corazón que muy bien y con ganas de hablar nuevamente de asesino más famoso de los últimos tiempos, John Wick, El Baba Yaga, repite su presencia por mis dominios y lo seguirá haciendo hasta que alcancemos su ultima película, pero todo a su debido tiempo, en esta entrega, volveremos a centrarnos en los cabos sueltos de John Wick, pero no ara darles u destino trágico, si no más bien con intenciones, de salirse definitivamente, de toda esta organización que opera bajo las sombras del mundo civilizado, no obstante, una vieja deuda, cobrara su favor a través de la sangre y la ambición, quemando todo a su paso, dándole motivos de sobra a John Wick, para volver a buscar Venganza otra vez, con esta premisa damas y caballeros, podemos comenzar a explorar John Wick 2.
Welcome my fellow lovers of good movies and action sagas! How are you? I hope from the bottom of my heart that very well and eager to talk again about the most famous killer of recent times, John Wick, The Baba Yaga, repeats his presence in my domain and will continue to do so until we reach his last film, but all in due time, in this installment, we will focus again on the loose ends of John Wick, but not to give them a tragic destiny, but rather with intentions, to get out definitively, of all this organization that operates under the shadows of the civilized world, however, an old debt, will collect its favor through blood and ambition, burning everything in its path, giving John Wick plenty of reasons to return to seek revenge again, with this premise ladies and gentlemen, we can begin to explore John Wick 2.
---
Argumento
Argument
---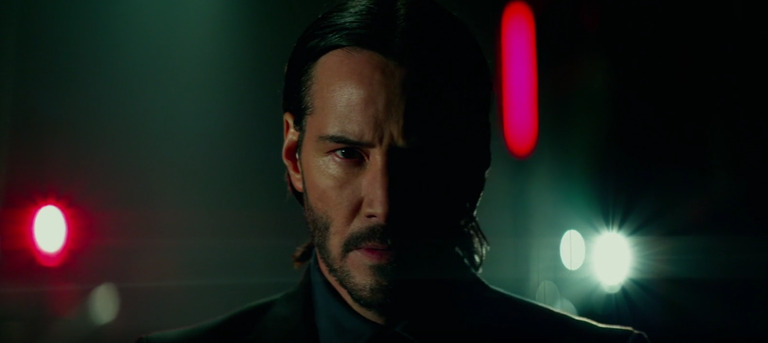 ---
La película comienza justo donde termina al primera, con una vista hermosa por la ciudad, pero esta vez, en dirección a lo que aparece ser una compañía de taxis, en ella encontramos al que descubriremos que es el hermano de Viggo, el antagonista de la anterior película, consternado por tener en posesión el automóvil de John Wick y sabiendas de que este mismo, vendrá a recuperarlo y por su cabeza, y dicho y hecho, justamente cuando comenta la leyenda del asesino implacable, aparece este mismo tomando las vidas de sus hombres y desencadenando persecución y lucha por el automóvil de bueno de John, este evidentemente gana y se dirige a la oficina de regente de la compañía, peor, sorprendentemente , Wick no esta ahí para liquidarlo, en cambio, le ofrece la paz, cosa que el hombre acepta (tampoco es que le hayan dejado opción la verdad) y finalmente brindan con Vodka.
The film begins right where the first one ends, with a beautiful view of the city, but this time, in the direction of what appears to be a cab company, where we find what we discover to be the brother of Viggo, the antagonist of the previous film, dismayed to have in possession of John Wick's car and knowing that this same, will come to recover it and for his head, and said and done, just when he comments on the legend of the relentless killer, he appears, taking the lives of his men and unleashing a chase and fight for John's car, John evidently wins and heads to the company regent's office, but, surprisingly, Wick is not there to liquidate him, instead, he offers him peace, which the man accepts (not that he was left with a choice, to be honest) and finally they toast with Vodka.
---




---
John intenta volver a su vida retirada y es tanta voluntad que vuelve a enterrar todas sus posesiones relacionadas al mundo de los asesinatos, sin embargo, pronto, un misterioso personaje llama a su puerta por la noche y se presenta como Santino, este mismo, es el acreedor del favor que pidió John en el pasado para salirse de esta vida llena asesinatos y sin embargo, esta vez, intentara convencer a Wick para que vuelva a aceptar un ultimo trabajo valiéndose de una ficha conocida como un pacto de sangre que debe ser saldada si o si, según las reglas del mundo en el que maneja John, no obstante, antes de siquiera escuchar la propuesta, John, rechaza cumplir el favor, no si antes rogarle a Santino que por favor no lo arrastre otra vez a esta vida, Santino, consumido en odio y enfado, dejar saber que a enserio con su oferta, quemando hasta lo cimientos la casa en la que habitaba John y donde quedaban los últimos recuerdos de su esposa, arrastrando otra vez al sicario, al camino de la Venganza y desatando los hechos que se verán en esta entrega.
John tries to return to his retired life and is so willing that he buries again all his possessions related to the world of murders, however, soon, a mysterious character knocks at his door at night and introduces himself as Santino, this same one, is the creditor of the favor that John asked in the past to get out of this life full of murders and however, this time, he will try to convince Wick to accept one last job using a token known as a blood pact that must be paid if or if, However, before even listening to the proposal, John refuses to fulfill the favor, but not before begging Santino to please not drag him back to this life, Santino, consumed with hatred and anger, let it be known that he is serious about his offer, burning to the ground the house where John lived and where the last memories of his wife remained, dragging the hitman again, to the path of revenge and unleashing the events that will be seen in this installment.
---
Una secuela decente
A decent sequel
---

---
Ser una secuela que cumpla con las expectativas de la gente se dice fácil, pero la verdad es que hay ejemplos infinitos de como muchas veces, la secuela de alguna que otra película o franquicia termina arruinando por completo las futuras historias que puedan planear hacer sobre alguno que otro protagonista o villano, y de es de agradecer que esto no ocurre con la segunda encarnación del bueno de John, la pecliula cumple las expectativas de los fans que querían una segunda parte y tambien te deja con esta sensación de querer saber que es lo que acontecerá ahora que toda la ciudad estará en contra del sicario, además, para su fans e interesados en el contexto, hay un mayor acercamiento a la estructura y organización de la Orden que maneja a esta cúpula de asesinos mundiales, en general, creo que esta obra satisface tanto a fans como a un publico general más en búsqueda de mucho mas entretenimiento y acción que la anterior, sin embargo, no es una secuela que me parezca una excelencia y he aquí mis argumentos del porque.
Being a sequel that meets the expectations of the people is easy to say, but the truth is that there are endless examples of how many times, the sequel of some movie or franchise ends up completely ruining the future stories that may plan to do on some other protagonist or villain, and it is to be grateful that this does not happen with the second incarnation of good John, the movie meets the expectations of the fans who wanted a second part and also leaves you with this feeling of wanting to know what will happen now that the whole city will be against the hitman, in addition, for fans and those interested in the context, there is a greater approach to the structure and organization of the Order that manages this dome of world assassins, in general, I think this work satisfies both fans and a general public more in search of much more entertainment and action than the previous one, however, it is not a sequel that seems to me an excellence and here are my arguments why.
---
Un Antagonista insípido
A Bland Antagonist
---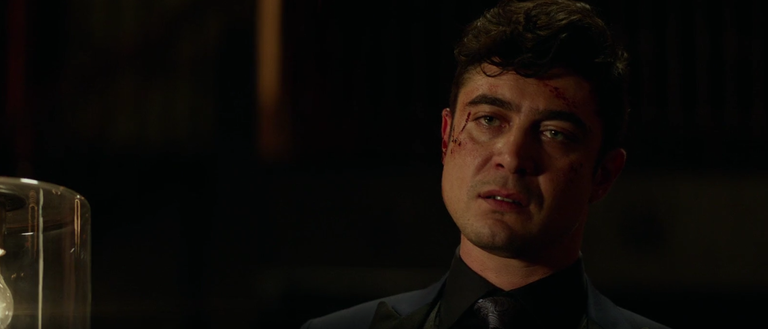 ---
Algo que me gustaba mucho de la primera película, era el como íbamos conociendo distintos que desprendían un aura de autoridad y misterio a lo largo de la cinta, sin embargo, Santino, el antagonista de esta obra, para mi, carece de este tipo de Aura cayendo un poco más en ser ambicioso y arrogante, no se, creo que le falto algo más a este villano para quedarse a la misma altura de Viggo o los villanos de la película previa, lo bueno es que te lo puedes tomar enserio y no se la pasa haciendo chistes ridículos ni nada, solo es alguien ambicioso dispuesto a todo para alcanzar un puesto en la Orden de asesinos, nada más.
Something I really liked about the first film, was how we were getting to know different characters that gave off an aura of authority and mystery throughout the film, however, Santino, the antagonist of this work, for me, lacks this type of Aura falling a little more in being ambitious and arrogant, I don't know, I think this villain lacked something more to stay at the same level of Viggo or the villains of the previous film, the good thing is that you can take him seriously and he is not making ridiculous jokes or anything, he is just someone ambitious and willing to do anything to reach a position in the Order of assassins, nothing more.
---
Dando cátedra a las películas de acción
Giving a class to action movies
---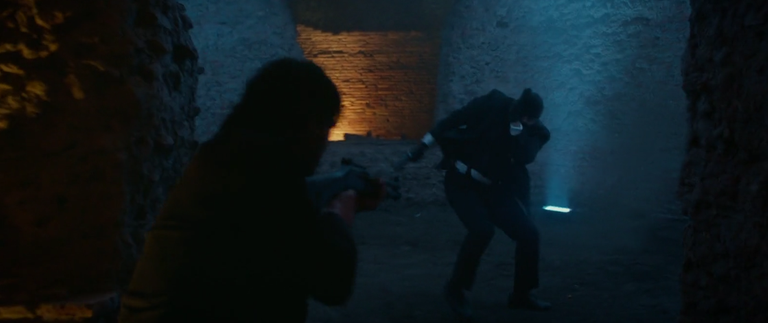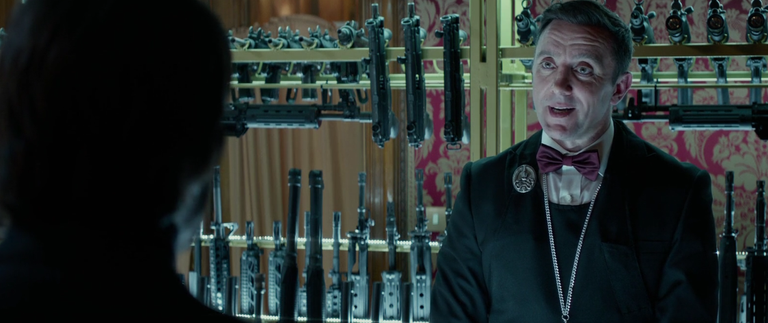 ---
Pero si hay algo que se mantiene y que incluso se potencia en esta segunda entrega, eso es la acción, como ya mencione, esta película cumple satisfactoriamente este apartado, añadiendo ademas una de las escenas más famosas de la saga, que es cuando John Wick esta haciendo un Cata de Armas, antes de proceder a ejecutar a su victima y a desencadenar una masacre, cada escena de combate, desde las que van de usar armas hasta las artes marciales son un deleite de ver, una de la mejores cosas que tuvo la anterior entrega era justamente el poder ver como combatían los personajes sin tener excesivos cortes de cámara, aquí eso también se respeta y a estas alturas, diría que es uno de los sellos de John Wick como franquicia y saga de acción.
But if there is something that is maintained and even enhanced in this second installment, that is the action, as already mentioned, this film satisfactorily fulfills this section, also adding one of the most famous scenes of the saga, which is when John Wick is doing a Weapons Tasting, before proceeding to execute his victim and unleash a massacre, every combat scene, from those that go from using weapons to martial arts are a delight to watch, one of the best things that had the previous installment was just to see how the characters fought without having excessive camera cuts, here that is also respected and at this point, I would say that is one of the hallmarks of John Wick as a franchise and action saga.
---
Opinión Final
Final Opinión
---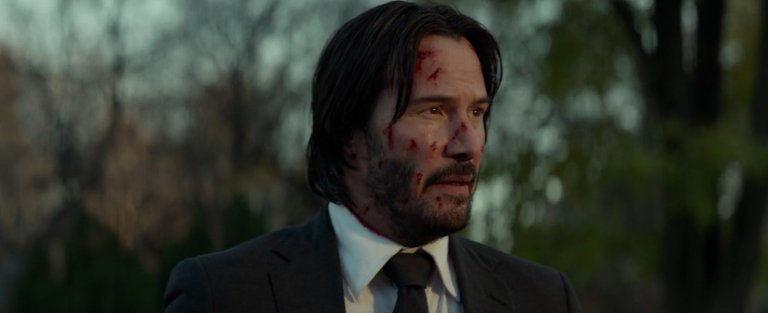 ---
Por si quedan dudas mis panas, creo que John Wick es una buena secuela que entrega lo que publico esperaba y que te deja con la pregunta viva de como es que ahora, este hombre, podrá encarar solo a todo lo que se asoma en el horizonte, si bien tiene sus más y sus menos comparada con la original, diría que ambas están bastante igualadas, en cuanto a calidad y por supuesto, la recomendaría a cualquiera que tenga ganas de seguir la historia del sicario del momento :)
In case there are any doubts my friends, I think John Wick is a good sequel that delivers what the public expected and leaves you with the question of how this man will be able to face alone everything that looms on the horizon, although it has its pluses and minuses compared to the original, I would say that both are pretty equal, in terms of quality and of course, I would recommend it to anyone who wants to follow the story of the hitman of the moment :)
---
Canva
---
¡Muchas gracias mis hermanos! como siempre, es un placer enorme comentar mis opiniones acerca de todo tipo de obras :D adoro hacer reseñas y y adoro que algunos se interesen por lo que tengo decir, un cálido abrazo para todos, se les quiere mucho :)
Thank you so much my brothers! as always, it's a huge pleasure to comment my opinions about all kind of works :D I love doing reviews and and I love that some are interested in what I have to say, a warm hug to all, you are loved very much :)
---
Todas las imágenes son capturas de pantallas tomadas desde la propia película.
All images are screenshots taken from the film itself.
---
---