Full Metal Jacket: A Study of Psychopathy in The Military. Kubrick's Look at Vietnam War [ENG/ESP]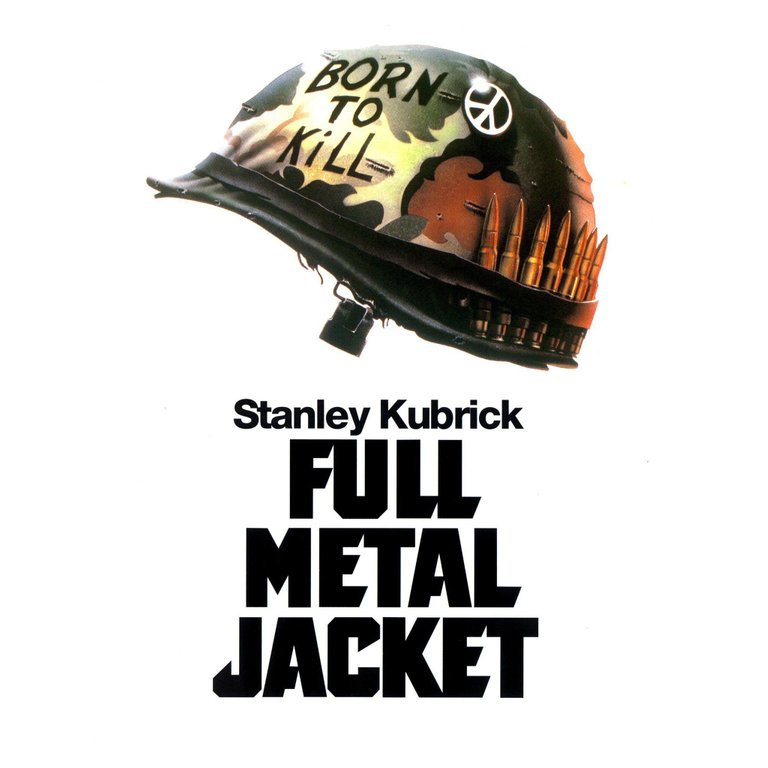 In 1987, Stanley Kubrick presented the world with one of the most interesting films about the Vietnam War. It was not a faithful account of the events leading up to the conflict, or the typical film where the heroism and virtue of the American troops prevailed over the barbarity of the enemy, as we are all used to seeing in Hollywood productions.
En 1987, Stanley Kubrick presentaba al mundo una de las películas más interesantes sobre la Guerra de Vietnam. No era un recuento fiel sobre los sucesos que llevaron al conflicto, o la típica cinta donde el heroísmo y la virtud de las tropas estadounidenses se imponían ante la barbarie del enemigo, como todos estamos acostumbrados a ver en las producciones de Hollywood.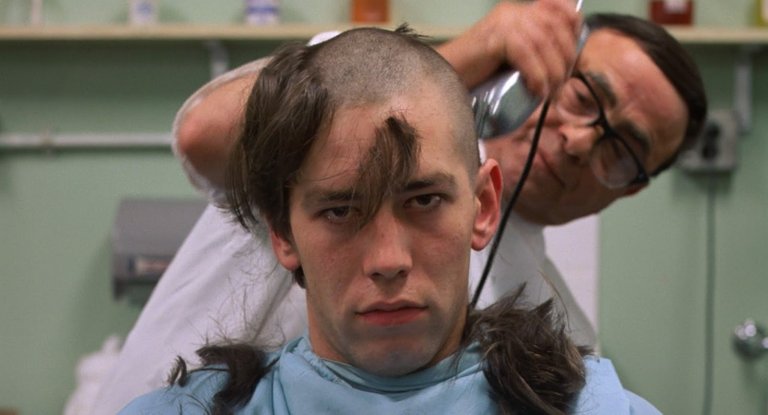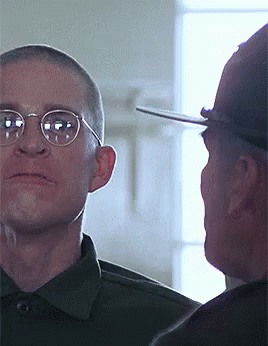 On the contrary, this work concentrates on the view of a group of people who, far from being "super soldiers" simply because of historical situations and moments, find themselves immersed within an institution (US Marines) where they must adapt to the place where they are and little by little acquire the "mentality" and attitude necessary to be able to "survive" within the military and above all to be implacable, ferocious and killing machines.
Hence "Born to Kill". A phrase that is repeated a lot throughout the length of the film and, if that wasn't enough, we see it often in many parts of the film. Also, if there is one thing that makes Full Metal Jacket impressive, it is Kubrick's ability to develop evil as a consequence and not as a kind of "curse", shall I explain?
Todo lo contrario, esta obra se concentra en la mirada de un grupo de personas que lejos de ser "súper soldados" sencillamente por situaciones y momentos históricos se ven inmersos dentro de una institución (Marines estadounidenses) donde deben adaptarse al sitio donde están y poco a poco adquirir la "mentalidad" y actitud necesarias para poder "sobrevivir" dentro de la milicia y sobre todo para ser implacables, feroces y unas máquinas para matar.
De ahí lo de "Born to Kill". Una frase que se repite muchísimo durante toda la duración del largometraje y que, por si fuera poco, vemos a menudo en muchas partes dentro de la película. Asimismo, si hay algo que hace impresionante a Full Metal Jacket, es la capacidad que tiene Kubrick para desarrollar la maldad como una consecuencia y no como una especie de "maldición" ¿Me explico?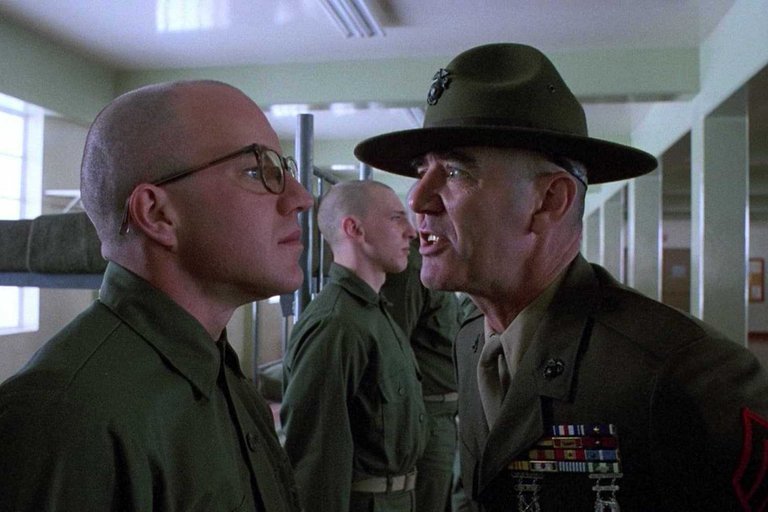 To properly understand the first 40/50 minutes of the film, it is necessary to understand that the director takes all the time in the world to show us how a member of the platoon, the weakest and least physically and psychically adapted, becomes the definition of a full-fledged psychopath. We see the construction of this erratic, vile and, above all, deranged character. All by virtue of the recruitment system and the training the Marines undergo.
Para entender bien los primero 40/50 minutos de la cinta, necesario es comprender que el director se toma todo el tiempo del mundo para mostrarnos cómo un miembro del pelotón, el más débil y menos adaptado desde lo físico y psíquico, se vuelve la definición de un psicópata en toda la regla. Vemos la construcción de ese carácter errático, vil y sobre todo, trastornado. Todo en virtud del sistema de reclutamiento y del entrenamiento que los Marines llevan a cabo.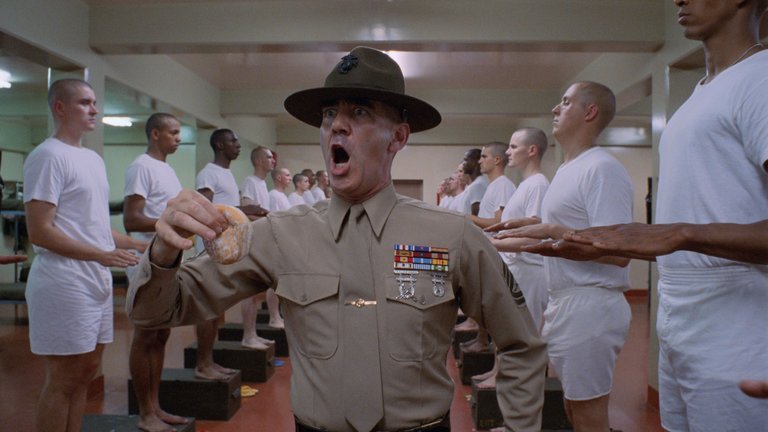 Clearly, it is a subtle critique by the director and creator of this film of the very concept of soldiering, war and violence. From this point of view, everything that ends up happening is much easier to digest and, above all, more in line with what its creator is trying to explain. For me, this anti-war contribution by Kubrick is a pinnacle in his career. Let's not forget that when it was released at the end of the 80's, the United States still had the memory of the lost conflict with Vietnam less than a decade before...
Now, why is this film so transcendental? For many reasons, but for me, the most striking is the aesthetically well staged denunciation that Stanley Kubrick captured for all of us to witness how to make excellent war films. The appearance of the name, the silhouette, and the arrogance that Mickey Mouse represents throughout the film, especially in the final scene, is an indescribable beauty.
Claramente, es una crítica sutil del director y creador de esta película para el concepto mismo de soldado, guerra y violencia. Partiendo de ese punto de vista, todo lo que termina sucediendo es completamente más fácil de digerir pero sobre todo, más acorde con lo que nos trata de explicar su creador. Para mí, este aporte antibelicista de Kubrick es un pináculo en su carrera. No olvidemos, que al ser estrenada a finales de la década de los 80's, Estados Unidos aún tenía fresco el recuerdo del conflicto perdido con Vietnam menos de una década atrás...
Ahora bien, ¿por qué esta película es tan trascendental? Por muchas razones, pero para mí, la más llamativa es la denuncia tan estéticamente bien puesta en escena que Stanley Kubrick plasmó para que todos nosotros seamos testigos de cómo hacer excelente cine bélico. La aparición del nombre, la silueta, y la prepotencia que representa Mickey Mouse durante la película, especialmente en la escena final, es una belleza indescriptible.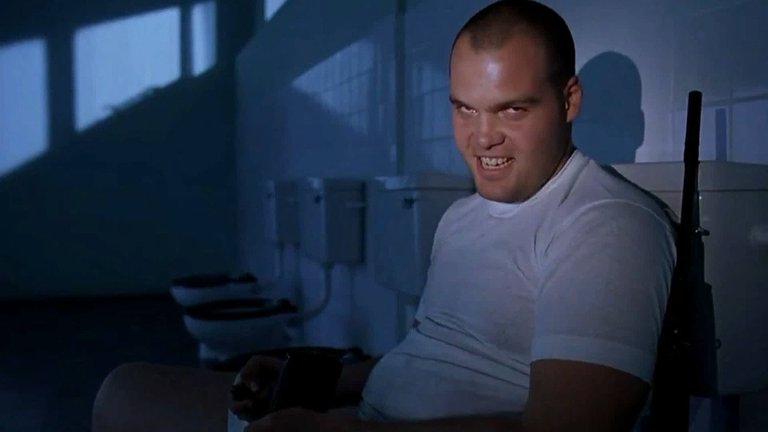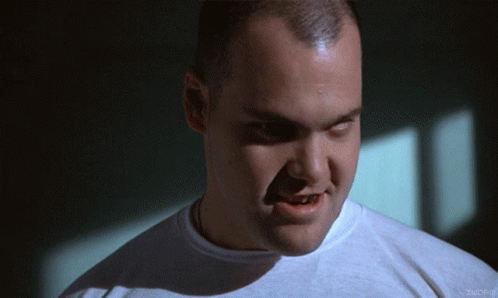 In addition, Full Metal Jacket cuts through a streak of films that enhance American power and that moral and ethical representation of the use of force in remote, weaker-than-themselves places to "bring democracy and justice". Rambo, Apocalypse Now, Chuck Norris himself, were some of the representatives of this kind of cinema; that is, until Kubrick's shocking and revolutionary work came along.
Además, Full Metal Jacket corta con una racha de películas que realzan el poderío estadounidense y esa representación moral y ética del uso de la fuerza en lugares remotos, y más débiles que ellos, para "llevar democracia y justicia". Rambo, Apocalipsis Now, el mismísimo Chuck Norris, eran algunos de los representantes de este tipo de cine; éso sí, hasta que surgió este trabajo impactante y revolucionario de Kubrick.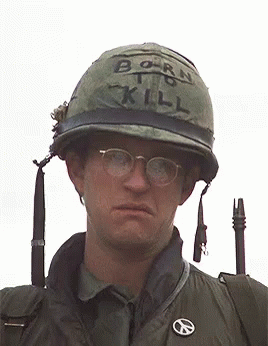 In this sense, the sub-themes that we can see in Full Metal Jacket are extremely important to understand the society in which we live, and above all intangible topics such as: personality, behaviour, psyche, and masculinity. The film deals with brainwashing, psychopathy, cruel and excessive violence and the relativisation of emotions in heterosexual men. Moreover, it uses strong, direct and unempathetic language.
It is one of those works, which, seen from any angle, you always end up finding one more trace to analyse. Rich in structure, plot, photography, symmetry, sound, dialogue, silences, cinematography, direction, script; one of his masterpieces. I have no doubt, that in its time it was not well received. I have already explained that it was the antithesis of what was consumed at the time, but as with good wine, aged it is a thousand times better than just released.
En este sentido, los subtemas que podemos ver dentro de Full Metal Jacket son importantísimos para entender la sociedad en la que vivimos, y sobre todo tópicos intangibles como: personalidad, comportamiento, psique, y masculinidad. La película aborda el tema del lavado de cerebro, la psicopatía, la violencia cruel y desmedida y la relativización de las emociones en los hombres heterosexuales. Además, emplea un lenguaje fuerte, directo y poco empático.
Es una de esas obras, que vistas por donde sea, siempre terminas hallando un nuevo rastro más para analizar. Ricas en estructura, argumento, fotografía, simetría, sonido, diálogos, silencios, cinematografía, dirección, guión; una de sus obras maestras. Yo no tengo duda, que en su tiempo no fue bien recibida. Ya he explicado que era la antítesis de lo que se consumía en su época, pero como sucede con el buen vino, envejecido es mil veces mejor que recién estrenada.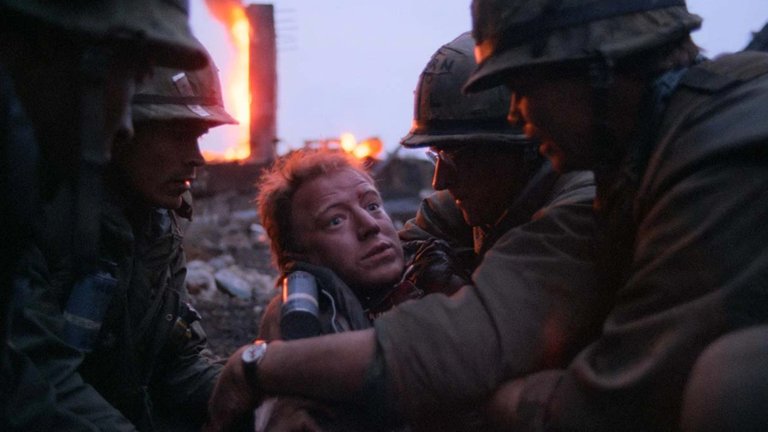 Ultimately, although Full Metal Jacket is an anti-war work, it is neither dense nor impossible to follow. Whether seen in its original language or with dubbing, the power of the script is not diluted and any moderately interested audience will immediately find it shocking but entertaining. That is pure cunning on the part of the director. If there is one thing about this film, it is that it is a classic canon of the director, it is a representation of the values and mentality of a dark period of humanity and above all, it shows us how easy it is to form true psychopathic killing machines in a short time and with little empathy. Brilliant.
Finalmente, aunque Full Metal Jacket es una obra antibelicista, no es densa ni imposible de seguir. Tanto si es vista en su idioma original, como con doblajes, el poder del guión no se diluye y cualquier audiencia, medianamente interesada, inmediatamente la encuentra impactante pero entretenida. Eso es pura astucia por parte del director. Si algo tiene esta cinta es que es un clásico canon del director, es la representación de unos valores y una mentalidad de una época oscura de la humanidad y sobre todo, nos muestra la facilidad de formar verdaderas máquinas psicópatas de matar en poco tiempo y poca empatía. Brillante.
All GIFs used on this post are available in PeakD Platform
---
---