CineTV Contest: My Favorite Animated Movie / The Jungle Book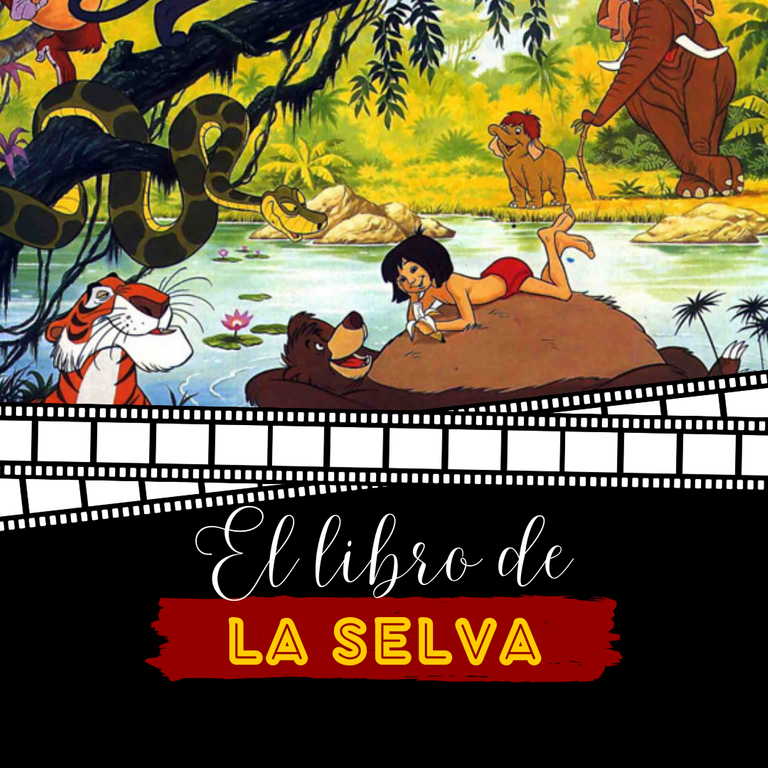 Foto editada en canva Link

---
Un saludo queridos amantes del cine, comunidad de Cine TV, es bueno poder estar aquí y compartir con ustedes una película animada que me gustó mucho y realmente no soy de muchas películas animadas pero es parte de la infancia, está fue para mi una de las mejores y que hoy en día aún sigue en auge y la han realizado ahora en película 🎥.
Greetings dear movie lovers, Cine TV community, it's good to be able to be here and share with you an animated movie that I liked a lot and I'm not really a fan of many animated movies but it's part of childhood, this was for me one of the best and that today is still booming and they have made it now in movie 🎥.
---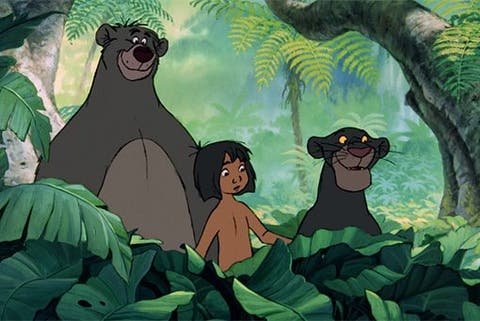 "El libro de la Selva", fue una película animada de la época del año 68 en los Estados Unidos, no fue sino en los años 80 que yo pude verla ya que teníamos un VHS y la teníamos en casa, está fue una de las primeras películas animadas que adquirimos en casa y podíamos repetirla mil veces de ser posible.
Está película me gustaba mucho y me impresionaba como un niño de aproximadamente 7años para mi, pudiera vivir solo en la selva criado por los lobos, ya que para la película hablaban que tenía dos años, algo muy improbable para mi pues por la estatura y las habilidades del niño esa edad no concordaba.
Para mi la afinidad del niño con Baloo fue algo que me gustó mucho ya que el.lo llamaba papá oso, y la canción que Baloo le enseña a Mowgli desde que lo conoce fue algo que siempre quedo en mi memoria "Si buscas lo más especial, para vivir sin batallar, mamá naturaleza te lo da" me la sé completa pues era la película que más veíamos mi hermana y yo.
The Jungle Book ", was an animated movie from the time of 68 in the United States, it was not until the 80's that I could see it since we had a VHS and we had it at home, this was one of the first animated movies that we acquired at home and we could repeat it a thousand times if possible.
I liked this movie very much and I was impressed how a boy of about 7 years old for me, could live alone in the jungle raised by wolves, since for the movie they said he was two years old, something very improbable for me because for the height and skills of the child that age did not match.
For me the affinity of the child with Baloo was something that I liked very much since he called him papa bear, and the song that Baloo teaches Mowgli since he meets him was something that always remained in my memory "If you are looking for the most special thing, to live without struggle, mama nature gives it to you " I know it completely since it was the movie that my sister and I watched the most.
---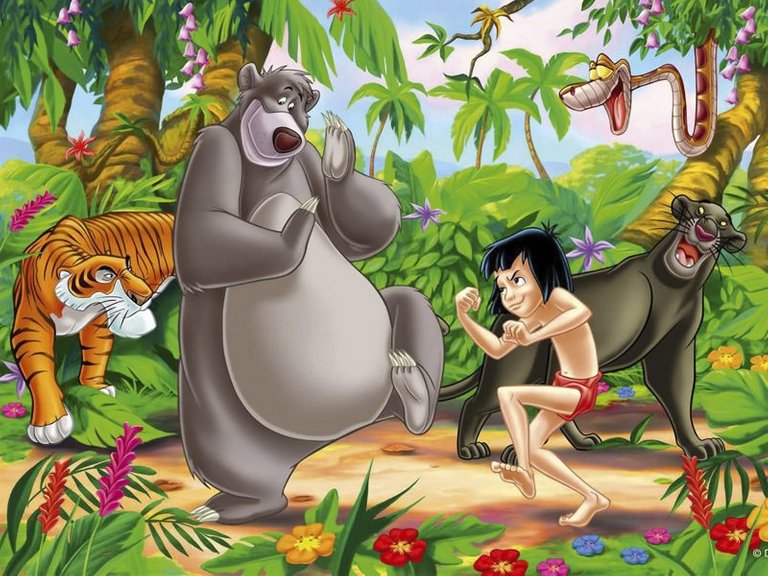 Una de las mejores escenas es cuando los monos se roban a Mowgli y se lo llevan al castillo de los monos y cuando Baloo sale bailando para rescatarlo, esa escena me gustó mucho pues se nota la habilidad y la suspicacia de los personajes tanto Baloo como Bagheera.
Ests película nos influenció a mi hermana y a mi para ser chicos exploradores, allí duramos como un año, pues nos gustaba descubrir cosas en la selva, nos creíamos más que exploradores, duramos como un año.
One of the best scenes is when the monkeys steal Mowgli and take him to the monkey castle and when Baloo comes out dancing to rescue him, I really liked that scene because you can see the ability and suspicion of the characters, both Baloo and Bagheera.
This movie influenced my sister and me to be boy scouts, we lasted about a year there, because we liked to discover things in the jungle, we thought we were more than explorers, we lasted about a year.
---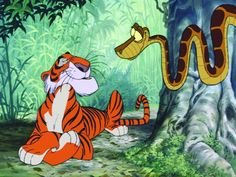 Otra de las escenas que me gustaron mucho fue cunado Mowgli le puso en la cola del tigre la rama con fuego 🔥, fue una escena de valentía que realmente motiva cuando está pequeño a ser valiente.
Y también no se me pueden olvidar a los zamuros argentinos que para mí eran divertidos "Oye che y que vamos hacer" una frase que tampoco nunca olvidaré.
Aunque hoy en día la hicieron película inanimada, sigo prefiriendo la versión clásica animada para mi es la mejor versión.
Another scene that I really liked was when Mowgli put the branch with fire on the tiger's tail 🔥, it was a scene of bravery that really motivates when you are little to be brave.
And also I can not forget the Argentinean zamuros that for me were funny "Hey che and what are we going to do " a phrase that I will never forget.
Although nowadays they made it into an inanimated movie, I still prefer the classic animated version, for me it is the best version.
---

Gracias a todos por el apoyo!
Banner de mi propiedad realizados en Canva derechos reservados.
Texto traducido con https://www.deepl.com/translato
Thank you all for your support!
Banner of my property made in Canva all rights reserved.
Text translated with https://www.deepl.com/translato
---
---