The Undeclared War | Peacock Original Series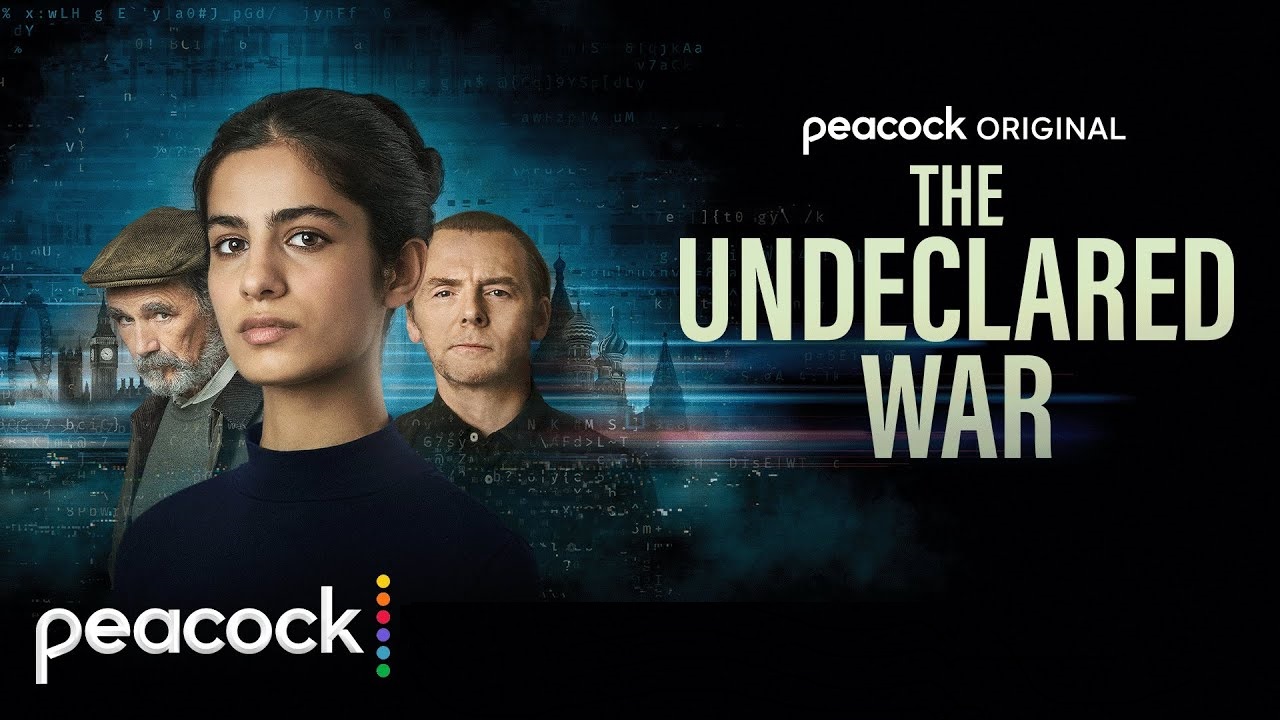 Peacock has been making some decent progress in taking the market share of streaming space. It is definitely a contender in this competition, and it great to see more competition. One of the benefits of streaming competition is these platforms continue bringing new original movies and series that are exclusive to their platforms to attract more viewers and subscribers. Peacock is probably the least known and the newest player in streaming. Yet, they are doing great with attracting new customers. One of the latest original series on Peacock is The Undeclared War. It is British thriller series about cyber wars in near-future between the United Kingdom and Russia.
The series has a great topic and story to build around - cyber attacks and cyber warfare. It starts out great, and first episode is well done. But this great start also sets up high expectation for the rest of the series. Then the story starts falling apart and it turns out to be a disappointment in the end. It may still have some entertainment value, but I wouldn't recommend this series. In my opinion, it fails to deliver great story that is promised in the first episode. I think this was a blunder by writers and missed opportunity on developing on a story that may be of high relevance today.
With the advancement of computer and communications technologies, we live in a world that is highly connected and dependent on computers and digital systems. Many essential systems that make our cities, societies, and countries function are digitized and hacking these systems can break the normal routine of going about our lives and create chaos. Hacking and cyber security has become a norm in our world. Everything something somewhere is hacked. Everyday companies, organizations and governments work on optimizing cyber security and countering any potential attacks.
Cyber security and cyber attacks in governmental levels pose greater risk than ever. Unlike traditional warfare which involves physical actions and easily traceable to the attackers, cyber warfare can be hidden within ever growing digital web, and not always clear where the attack might be coming from. There also might be a strategy to make it look like someone else is attacking to create chaos and confusion. Cyber warfare is a reality and there can be many great stories build around this topic. The Undeclared War attempts to tell us one. However, they fail in delivering a believable and interesting story. I think story writing was poorly done.
Spoiler Alert: If you have seen the series, and still interested in watching, please stop reading here. Paragraphs below may contain spoilers.
The protagonist of the series is Saara Parvin, a young university student who participates in hacking event and earns an opportunity for internship at British government's cyber security agency called Government Communications Headquarters (GCHQ). In her first days as an intern at this agency she finds herself in the middle of Russian cyberattack. The very first day as she starts her internship, GCHQ was conducting cyber security penetration test of British internet and communications systems with British internet providers. In the middle of the test, all of the sudden all systems shut down. They quickly figure out there was an cyber attack and pin the blame on Russia. So there is some kind of virus in the system and all analysts are trying to figure out how the attack happened, reasons, and how to fix things. Out of all the experienced analysts and coders in the agency, Saara, the intern finds something hidden in the code and must be designed as a second attack.
I have so many issues with this story line already. To make a good story, yes I can see some intern being a brilliant hacker and a hero. The problem is while the try to portray her as this brilliant hacker, they also show how she doesn't understand basics when she keeps asking questions about the code. Her mentor and more experience analyst does provide answers, that lead to her finding the hidden code within the code. First time could have been an accident. But throughout the series, she is the only one who keeps figuring things out, and rest of the experts in the agency portrayed as useless in the cyber attack. Doesn't make sense at all. Another thing that doesn't make sense is, how is possible for a new intern to be given access to the topic secret information when there is a major crisis going on. I am sure there are proper vetting and background checking protocols these agencies have and they would provide some sort of access even for new interns. But giving full access to the highest priority issues during a cyber attack doesn't seem real to me. I would even be ok with this is they developed more about this cyber warfare. But instead they choose to spend a lot of time showing the personal life of Saara, who come from a Muslim background, has a complicated relationship with her family and a boyfriend. He father dies in an accident when she starts her internship, and they focus more on her emotional state, rather than the crisis itself.
The second main character in the story is Vadim, a Russian international student who was studying in UK at the same university with Saara. Because of some global political issues, for some reason Vadim now needs to leave UK because he is Russian. Initially, it is not clear if Vadim is a hacker and has coding skills. Later it is revealed that he is good coder and student of Computer Science. However, his passion is in art and wants to become an artist. So, he goes back to Russia. And again the story they try to develop here is so strange and gets worse by every episode, and by every scene. My first question is, if he hated coding so much how is it possible he is a brilliant hacker? This doesn't make sense. But ok.
When he goes back to Russia, he is looking for a job and asks a friend to get him a job. His friend gets him a job in a Twitter Troll Farm, where they create fake stories, fake people and push some propaganda. Vadim is disgusted by what this troll farm does, but continues working there. That's where he meets his girlfriend Marina, who also doesn't like the work troll farm is doing but there as undercover journalist. Anyway, things don't work out there, Vadim is kidnapped, and Russian secret service agency rescues him. Vadim's parent are wealthy, and his father thinks the kidnapping was staged to influence him. As a return for saving Vadim's life Russian secret service offer him a job in their cyber security division. Although, Vadim is not interested, he feels he is forced to work there. So crazy!
Why would Russian government even want a coder who wants to become an artist, a coder who hates coding, a student who hasn't even accomplished anything and hasn't figured out what to do in life? More importantly why would they want to employ someone who doesn't even want that. But anyway, he is given employment in this cyber security division of Russian government where they are planning all these evil cyber war stuff. Just like British agency gave Saara full access to top secret information, Vadim is also given access to the top secret information in Russian government. Makes no sense. Now, out of all the people in this agency, Vadim will be the one who can deceive everybody and add a secret message in the code, so that British cyber security team can see, in the hopes of preventing a war. In the end, Vadim ends up sending massive amount of data to Saara and her team to prevent further attacks at the risk of his own life. Vadim is caught but not clear what happens to him afterwards.
None of the parts of this story are believable. I highly doubt that is how the cyber warfare would take place. It think it would involve a lot more dedicated people in action, and not just two random student who have no clue what they are doing, but somehow they are the key players on both sides. I don't buy it. Just like they story of Saara, they focus too much in Vadim's personal life, his troubled relationship with his parents and his girlfriend. Things get even more not believable when they tell Marina's story, a journalist who runs an anti-government website and believe in reforms, but when offered money and a chance to relocate to UK she happily accepts a job to work at a news station that is funded by Russian government to push Russian propaganda.
I am very disappointed with the series. They could have created a more interesting and believable story about cyberattacks, and cyberwarfare between government agencies. They either lacked an understanding of how cyber threats or wanted to present these government agencies as completely incompetent in cyber affairs. It is more likely the lack of creativity that resulted in producing this disappointing show. Let me know what you think in the comments.
---
---