Bob Iger Returns as Disney CEO, Avatar 2 Final Trailer, Blade New Director, Indiana Jones 5 - New Pictures, Escape from the NY Remake, Gray Anatomy - Ellen Pompeo Is Gone, Hjerson, The White Lotus S3, BoxOffice - BP2, The Menu and Black Adam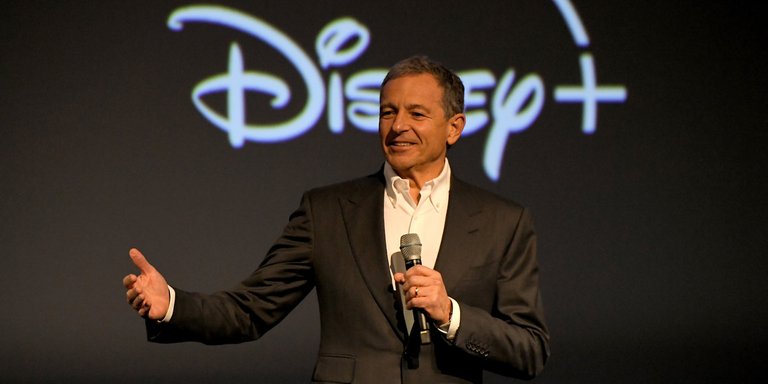 [Bob Iger is back!]
2 years after resigning, Bob Iger returns as company manager. We don't know the details, but I wouldn't be surprised if he returns due to the need to clean up the mess. There are more and more problems at Disney - the ones we see (Marvel) and the ones we don't see. Just as under Iger's rule, greater creativity was visible (I'm not saying that it's outstanding, but compared to what we see, it's a noticeable difference), so from 2 nothing matters - only money and milking people with even more money . Well, now all we have to do is watch the situation at Disney. As far as I'm concerned, I bet that Chapek must have made a big mistake, because until recently he looked like a man who had a fairly stable government ... We'll probably find out soon and it will be a big scandal.
https://www.comingsoon.net/movies/news/1250315-bob-iger-returns-as-disney-ceo-chairman-issues-statement
[avatar]
We got the final Avatar 2 trailer, premiering on December 16.
https://www.comingsoon.net/movies/trailers/1250535-avatar-the-way-of-way-final-trailer
[blade]
As reported by Deadline, we learned the name of the new director of "Blade". Not some famous name, the man responsible for the Lovecraft series for HBO. https://www.comingsoon.net/movies/news/1250567-marvel-blade-director-writer
[Indiana Jones]
We got 2 new photos. On one of them we see Mads Mikkelsen.
https://www.comingsoon.net/movies/news/1250256-indiana-jones-5-first-images-show-harrison-fords-return
[Escape from the NY]
A remake of the 1981 film is reportedly in the works. The director of "The Invincible Man" is about to get on with it - as far as I'm concerned, I'd love to see the original as well as the remake. I like John Carpenter's films and I've never been disappointed with him (although the fact is that I mainly watched the productions that brought him fame), so it will probably be similar here.
https://www.comingsoon.net/movies/news/1250151-scream-directing-team-escape-from-new-york-remake
[Grey Anatomy]
The actress left the series after 19 seasons.
https://www.comingsoon.net/tv/news/1250080-greys-anatomy-ellen-pompeo-exits-series-regular-role
[Red Shirt]
Deadline reports that Channing Tatum is set to star in a new David Leitch movie.
https://www.comingsoon.net/movies/news/1250098-channing-tatum-to-lead-david-leitch-directed-spy-thriller-red-shirt
[Hjerson]
The Swedish streaming platform has prepared a series for fans of Agatha Christy's work.
https://www.comingsoon.net/tv/trailers/1250177-agatha-christies-hjerson-trailer
[The White Lotus S3]
There will be a 3rd season of the series, it got the green light.
https://www.comingsoon.net/tv/news/1250209-the-white-lotus-season-3-statement
[BoxOffice]
We'll start with a new movie starring Anya Taylor-Joy. The film's budget is 35 million, and so far it has earned 15 million. The film debuted on November 18, so it still has a chance to break out. I suspect he'll make $60 million. BP2, on the other hand, has already earned itself, and even if it is missing due to inflation, it is not much - the budget was 250 million, the profits so far (November 21) are 546. BA, in turn, needs to earn 60-80 million more to break even (budget of 200 million, profits to date 366).
[Fast and Furious]
Speaking of money, at the end you will read about probably the most expensive part of F&F. Apparently the budget is so big that it will be one of the 4 most expensive films in the world.
https://www.comingsoon.net/movies/news/1250261-fast-x-on-pace-to-be-one-of-the-most-expensive-movies-ever
[Bob Iger powraca!]2 lata po rezygnacji, Bob Iger powraca na stanowisko zarządcy firmy. Nie poznaliśmy szczegółów, ale nie zdziwiłbym się, gdyby powrócił z powodu konieczności ogarnięcia bałaganu. W Disneyu jest coraz więcej problemów - tych które widzimy (Marvel) i tych, których nie widzimy. Tak jak za rządów Igera widać było większą kreatywność (nie mówię, że jakąś wybitną, ale na tle tego, co widzimy, to jest to zauważalna różnica), tak od 2 nie liczy się totalnie nic - tylko kasa i dojenie ludzi z jeszcze większych pieniędzy. No to teraz pozostaje nam obserwowanie sytuacji w Disneyu. Jeśli o mnie chodzi, obstawiam że Chapek musiał popełnić jakiś duży błąd, bo jeszcze do niedawna wyglądał na człowieka, który miał dość stabilne rządy... Pewnie się dowiemy niedługo i będzie to gruba afera.
https://www.comingsoon.net/movies/news/1250315-bob-iger-returns-as-disney-ceo-chairman-issues-statement
[Avatar]
Dostaliśmy finałowy trailer Avatar 2, premiera 16 grudnia.
https://www.comingsoon.net/movies/trailers/1250535-avatar-the-way-of-way-final-trailer
[Blade]
Jak donosi Deadline, poznaliśmy nazwisko nowego reżysera "Blade'a". Nie jest to jakiś znane nazwisko, człowiek odpowiedzialny za serial o Lovecrafcie dla HBO.
https://www.comingsoon.net/movies/news/1250567-marvel-blade-director-writer
[Indiana Jones]
Dostaliśmy 2 nowe zdjęcia. Na jednym z nich widzimy Madsa Mikkelsena.
https://www.comingsoon.net/movies/news/1250256-indiana-jones-5-first-images-show-harrison-fords-return
[Escape from the NY]
Podobno trwają prace nad remakem filmu z 1981 roku. Ma się za niego zabrać reżyser "The Invincible Man" - jeśli o mnie chodzi, bardzo chętnie zobaczę oryginał, jak i nową wersję. Lubię filmy Johna Carpentera i jeszcze nigdy się na nim nie zawiodłem (choć fakt, oglądałem głównie produkcje, które przyniosły mu sławę), więc tu pewnie będzie podobnie.
https://www.comingsoon.net/movies/news/1250151-scream-directing-team-escape-from-new-york-remake
[Grey Anatomy]
Aktorka zrezygnowała z udziału w serialu, po 19 sezonach.
https://www.comingsoon.net/tv/news/1250080-greys-anatomy-ellen-pompeo-exits-series-regular-role
[Red Shirt]
Jak donosi Deadline, Channing Tatum ma wystąpić w nowym filmie Davida Leitcha.
https://www.comingsoon.net/movies/news/1250098-channing-tatum-to-lead-david-leitch-directed-spy-thriller-red-shirt
[Hjerson]
Szwedzka platforma streamingowa, przygotowała serial dla fanów twórczości Agathy Christy.
https://www.comingsoon.net/tv/trailers/1250177-agatha-christies-hjerson-trailer
[The White Lotus S3]
Będzie 3 sezon serialu, dostał on zielone światło.
https://www.comingsoon.net/tv/news/1250209-the-white-lotus-season-3-statement
[BoxOffice]
Zaczniemy od nowego filmu z Anyą Taylor-Joy. Budżet filmu wynosi 35 milionów, a póki co zarobił 15. Film zadebiutował bodajże 18 listopada, więc ma jeszcze szansę się wybić. Podejrzewam, że zarobi z 60 milionów $. BP2 z kolei zarobił już na siebie, a nawet jeśli przez inflację brakuje, to niewiele - budżet wyniósł 250 milionów, dotychczasowe zyski (21 listopada) to 546. BA z kolei musi zarobić 60-80 milionów dodatkowo, by wyjść na zero (budżet 200 milionów, dotychczasowe zyski 366).
[Fast and Furious]
A skoro mowa o pieniądzach, to na koniec przeczytacie o prawdopodobnie najdroższej części F&F. Podobno budżet jest tak wielki, że będzie jednym z 4 najdroższych filmów świata.https://www.comingsoon.net/movies/news/1250261-fast-x-on-pace-to-be-one-of-the-most-expensive-movies-ever
---
---