CineTV Contest : Favorite Tom Hanks Movie - Philadelphia
---
---
Hello CineTv
Do you know and have you ever watched Tom Hanks act? gosh, what kind of question is that. Who on this earth does not know Tom Hanks? one of the best actors with consistent acting quality. Because of that, when Cine TV community made Cine TV Contest #40 with the topic "Favorite Tom Hanks Movie", I thought I should take part in this contest.
Tom Hanks is one of the most influential Hollywood actors in the world. He has starred in dozens of box office films, and if you want to prove it, Tom Hanks has won two Oscars / Academy Awards from six Oscar nominations. Cool, right? because of that, anyone would have difficulty choosing one favorite film starring Tom Hanks.
There are three Tom Hanks films that impressed me the most, namely Captain Philips (2013), Catch Me if You Can (2002), and Philadephia (1993). I tried to think, and if I have to choose one film, of course I have to find a film that is interesting as a whole, not only about my Tom Hanks, but one complete film. Considering many factors, I chose Philadepia (1993) as my favorite Tom Hanks movie.
---
---
Synopsis Philadelphia (1993)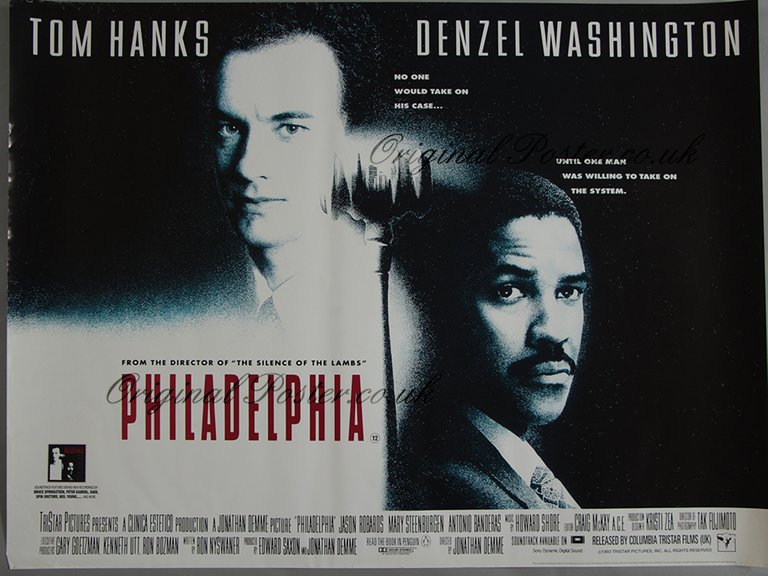 Source Picture
Andrew Backet (played by Tom Hanks), a great lawyer from a well-known law firm in Philadelphia City, lives in the same house with his boyfriend and tries to hide his identity and lifestyle as a homosexual and also a sufferer of HIV/AIDS because of his lifestyle. Some time, Andrew Backet was fired from his law firm for making a mistake.
Andew Backet feels the dismissal was due to his gay background and also HIV sufferers. Andrew Backet tries to file a lawsuit, assisted by a black attorney, Joe Miller (Denzel Washington). At first, Joe Miller had no intention of helping Andrew Backet for fear of contracting AIDS and Andrew's homosexual status, which was against his principles. However, he decided to defend Andrew because according to him not everyone should be subject to discriminatory treatment by others.
---
---
Totality Acting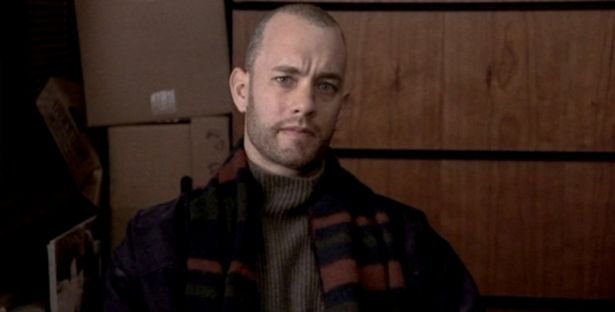 Source Picture
As your friends know, Tom Hanks never disappoints in every film he has starred in. However, Tom Hanks' appearance and acting in Philadelphia makes us feel the bitterness he felt. We will see how Tom Hanks totally plays the character of a man who looks weak because of a disease that is eating away at his body but still wants to fight and face it. We can see all of this from the top quality of the acting, from the movement of the lips, the intonation of the voice, and the way his body perfectly portrays this character.
Apart from Tom Hanks, the appearances of Denzel Washington and Merry Stanburgen strengthen the story and acting of this film. Both of them display different characters but are equally firm and strong. The trial moments in the middle and end of the film also create empathetic situations and critical moments in this film.
---
---
Sensitive Issue
For me personally, Philadelphia is a film that really has an impact on my life. I watched this film in December 2009, when I was celebrating HIV/AIDS Day at my campus. At that time, I was still a sophomore student, and participated in several student activities, one of which was watching movies and discussing them with my discussion group friends.
Anyway, I live in a very conventional and religious country, several community groups in my country really hate homosexuals and people with HIV/AIDS for no reason and discriminate against them, like now. Many people cannot distinguish between a person's rights, such as the right to get a job, the right to get health care, and even the right to get an education. In my country, if you are caught as a homosexual then you are considered despicable and not part of the community.
In principle and in my thoughts, I do not support the LGBT campaign but I do not hate the people. In my opinion, everyone does not have the right to be discriminated against because of different ideological views and principles. Everyone has the right to obtain their rights, such as the right to get a job, the right to health and education services without having to be discriminated against because of their principled choice.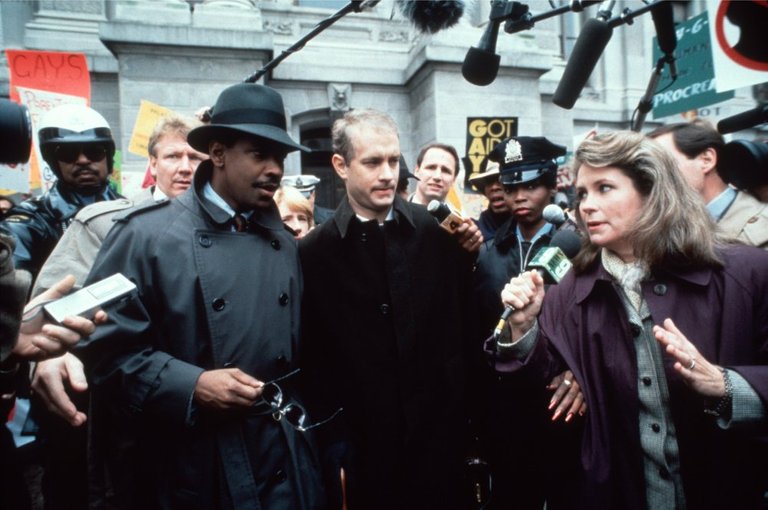 Source Picture
My personal experience, I have a friend who is homosexual. I remember that some of my friends and I once advocated for a friend of ours who was about to be expelled from campus because rumors circulated that he was homosexual. Our advocacy was successful, and the accusers and the campus couldn't get him off campus. He completed his education on campus, and continued his postgraduate studies in Europe. She found her love (of course, a man) and she is happy there.
One more thing about Philadelphia is how it made me understand more about the issues of people living with HIV/AIDS. For sure, there are many people in this world who don't have enough knowledge about this. In fact, it's been almost 20 years since Philadephia was broadcast, many people still think that HIV / AIDS is an anathema and doom. People think, if this disease can be transmitted even just holding hands, even though there are many factors that influence people to get this disease. Apart from lifestyle, health procedural errors can also transmit this disease.
Philadelphia may be the first mainstream film that tells the story of people living with HIV/AIDS and also homosexuals, which is perhaps the most memorable and influential in my life.
---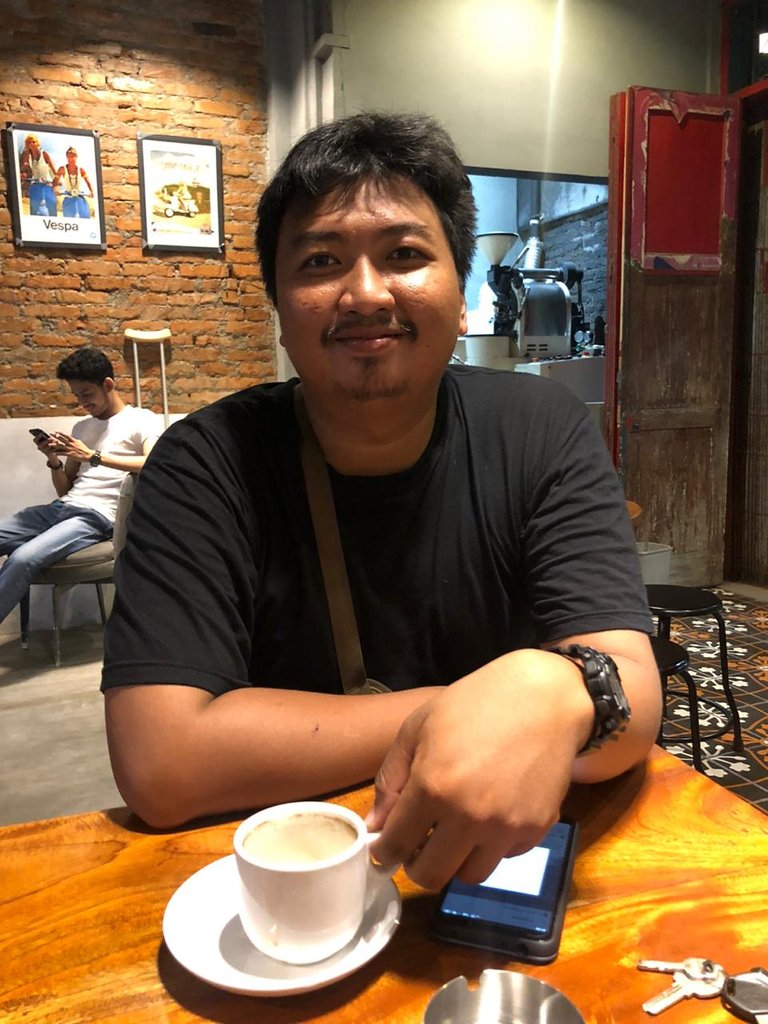 About Author

Call me Isdarmady, because I have a full name that is very long, namely Isdarmady Syahputra Ritonga. I am a head of the family who work as Farmers Vegetables Hydroponic and Consultant Hydroponics, sometimes I also sell coffee from various regions in Indonesia.
I have expertise dispensing coffee with a variety of techniques and tools brewing, because I have the desire to make a coffee shop with hydroponics as centerpieces. Help me realize that dream.
Thanks for read, vote, re-blog and support me in Hive. Maybe god will reward the kindness, let's success together.

---
---