1941: A Review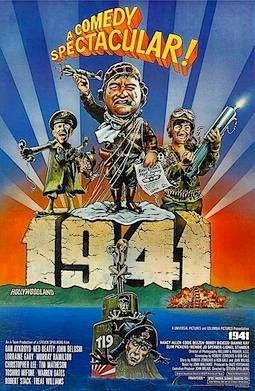 Following Jaws and Close Encounters of the Third Kind, Steven Spielberg decided to try his hand at screwball comedy: 1941. Loosely based on the aftermath of the Pearl Harbor attacks in December of that titular year, we follow the antics of assorted Americans as they live through that tumultuous time between declaration of war and the meatgrinder of combat. Comedy gold, right?
While not technically a flop, it was no blockbuster like Spielberg's prior films. I can see why after finally watching it tonight.

The good stuff
There were many funny scenes, many setups that paid off later, and some great lines of dialogue. Since this was made in 1979, the special effects are also practical effects, and still look pretty darn good as a result. Miniatures and mock-ups with pyrotechnics hold up well compared to CGI even today. The score is excellent, as one expects from John Williams. Casting is without flaw despite the incredible roster of protagonists, antagonists, and ancillary characters.

But I have complaints
This is looooong. 2 hours and 26 minutes is not comedy length, and the pacing is all wrong. This feels more like Gone With the Wind than a Mel Brooks movie. There is way too much wasted film between those jokes. There are so many intertwining stories that feel disjointed as the movie cuts from scene to scene, and yet those scenes are usually too long for punchy comedy.
Also, so much screaming. Screaming isn't inherently funny. I know it's a trope, and more so in the 1970s action and comedy films this parodies, but please make it stop! I'm exaggerating, of course, but not much. The credits roll to a super-cut of screams and yelling.
Lastly, just about every character is incredibly stupid. Stupidity makes good comedy, but it also kills the story when so many scenes are awkwardly watching people be dumb. Most of it might have worked with better pacing, but instead it often felt like padding for time in a movie that had already overstayed its welcome.

Denouement
Note that this was made before the PG-13 rating was added to the MPAA roster. Bear it in mind when deciding whether it's worth your time or suitable for family viewing. There is some not-particularly-explicit nudity at the start when Spielberg parodies his own Jaws opening. Mild profanities and period-accurate racial slurs are uttered. One character's plot arc consists entirely of trying to get laid along with lots of innuendo in the dialogue, and another character's plot arc is largely trying to escape a lecherous lout.
So, should you watch this? Sure, why not. It ain't great, but it has a lot of great moments.

Image credit


HIVE | PeakD | Ecency
If you're not on Hive yet, I invite you to join through PeakD. If you use my referral link, I'll even delegate some Hive Power to help you get started.
---
---