Testing My Raspberry Pi with a New TV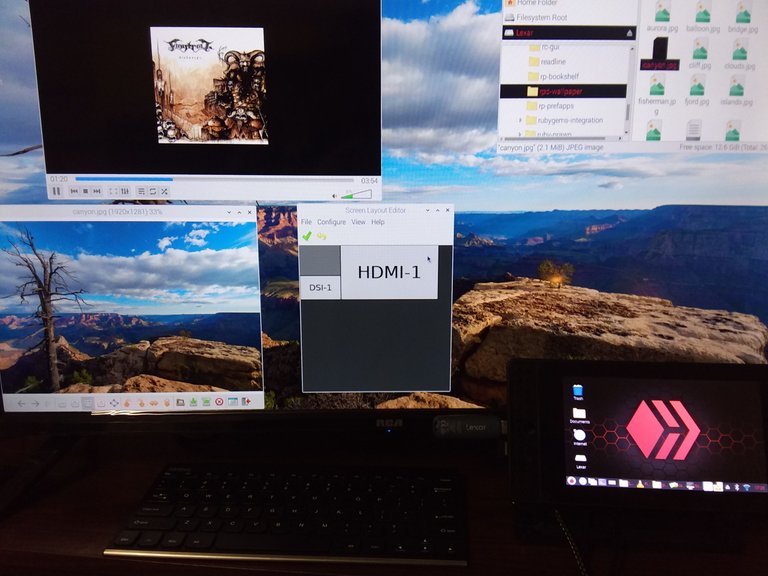 I splurged on a clearance deal for an RCA 32" 1080P HDTV at Bi-Mart. I remember when my future brother-in-law bought a TV like this. It was something like $800 even after a steep Black Friday discount, and that seemed like a great deal for him back then. I just paid $120 because this is not a smart TV in an age when most people want that connectivity. No big deal. In fact, this suits my needs better.
All I want it for is a game screen and computer monitor. If I want a smart TV, a Raspberry Pi works as a media center, right? So I tried a Raspberry Pi Zero W and my Raspberry Pi 4 tablet.
The Zero W doesn't really like 1080P output. On a test video, there were issues. It played, but not smoothly. I will need to experiment further to see if I can make it work better.
The Pi 4 saw the TV as a second monitor despite still using the ribbon cable for the official touchscreen. VLC needs to be told to use the digital output for audio over HDMI. I also used the screen layout editor to adjust how I scroll from one screen to the other. Since the Pi 4 can output dual 4K video, there were no hiccups with 1080P expected and none encountered. The only bottleneck is rural internet.
The TV audio is... passable? It's a cheap TV. There was come popping and crackling from my video test, but it seems to have gone away as I tested things, so I assume there was a bad connection at first. I wouldn't recommend it for music if you have anything better on hand.
I tried my Creative USB-powered speakers with both the Pi 4 and TV 3.5mm analog outputs. I will point out that these speakers have a much more bass-heavy sound by default. They can also run off the USB port on the TV, so they can be used entirely independently of the Pi, or entirely connected to the Pi, as desired. A sound bar or dedicated audio system would be better for the TV, though, since the 3.5mm audio jack is on the bottom, and swapping cables is not fun.
VLC let me switch to HDMI audio output, but I couldn't find the setting to stream YouTube audio that way. Web videos seem to require Pi audio output from the analog jack, at least until I dig deeper into the settings. My semi-permanent extension cable may be interfering with automatic switching. I may need to try unplugging it.
I may try this with my laptop, too,
The component inputs work as well as RCA jacks ever do. I was able to connect my Wii, which lays flat under the TV legs quite nicely to save space, and play Final Fantasy Crystal Chronicles. Cable wrangling is a lot of work.
In summary: for a media player, I suggest at least a Pi 3 model B, and better yet, a Pi 4. Cheap HDTVs are spectacular in a lot of ways, but audio quality is an obvious point of economizing.
---
---