CineTV Contest: My Favorite Mystery Movie is Seven [ENG/SPA]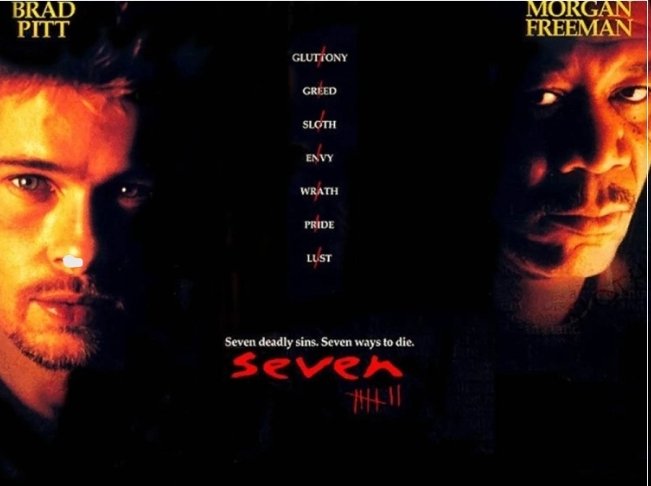 FUENTE A
Welcome to this publication where I will be talking about one of the best movies I have ever seen in my life, I still remember the first time I saw it years ago, although it had been released in 1995, I was not just seeing it as in 2002, a great police and Mystery movie, I'm talking about Seven, all this on the occasion of the CineTV contest.
Bienvenidos a esta publicación donde les estaré hablando sobre una de las mejores películas que yo haya visto en mi vida, aun recuerdo la primera vez que la vi hace años, aunque se había estrenado en el 1995, yo no apenas la fui viendo como en el 2002, una gran película tipo policial y de Misterio, estoy hablando de Seven, todo esto con motivo del concurso de CineTV.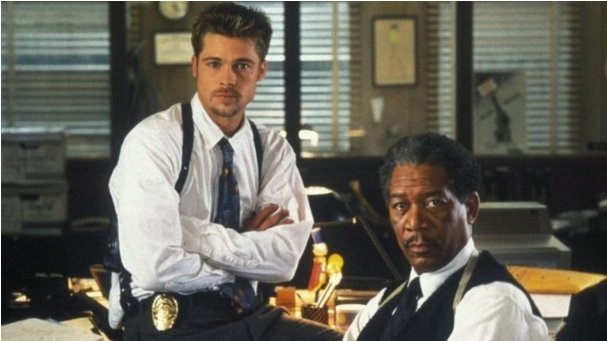 FUENTE B
In my opinion the performances are spectacular, it has a solid and competent leading cast, where Morgan Freeman and Brad Pitt make excellent performances, you can see the chemistry of each other even though they are totally different, and personally you can see how the African American actor is enhanced in his performance, Freeman's character, cunning, intelligent and prudent, generates much more sympathy than the restless and insolent youthful replacement in the police. In addition his performance is quite credible, then almost at the end of the film we are shown the bad guy and it is none other than Kevin Spacey a monstrous performance, despite his short appearance shows us a truly unflappable psychopathic killer, with an attitude at least frightening calm and calculation, cold, really sinister. A true class of acting and interpretative tasting that showed a Spacey in a state of grace. He is an actor who has no trouble taking on low-profile roles that end up becoming decidedly iconic and memorable.
Despite the fact that the script weaves the story of a police investigation, of a serial killer, which is so familiar, so close and so often heard, and actually ends up misleading the viewer, as the plot unravels like no film in the genre has ever done before in my opinion. So, the film is not really about the analysis of a crime and a murderer, but of the murderer's ideals in committing them and how his complex work of divine punishment, so to speak, drags down the law enforcement officers who go after him.
A mi parecer las actuaciones son espectaculares, cuenta con un reparto protagónico sólido y competente, en donde Morgan Freeman y Brad Pitt hacen actuaciones excelentes, se puede ver la química uno del otro a pesar de que son totalmente diferentes, Además a modo personal se puede ver como el actor afroamericano se realza en su actuación el personaje de Freeman, astuto, inteligente y prudente, genera bastante más simpatía que el inquieto y deslenguado recambio juvenil en la policía. Además que su actuación es bastante creíble, Luego casi al final de la película nos muestran al malo y no es más que Kevin Spacey una actuación monstruosa, a pesar de su corta aparición nos muestra un asesino psicópata realmente imperturbable, con una actitud cuanto menos aterradora de tranquilidad y cálculo, frío, realmente siniestro. Una verdadera clase de actuación y degustación interpretativa que demostraba a un Spacey en estado de gracia. Es un actor al que no le cuesta asumir papeles de bajo perfil que terminan por volver decididamente icónicos y memorables.
A pesar de que el guion teje la historia de una investigación policial, de un asesino en serie, que resulta tan familiar, tan cercana y tantas veces oída, y que en realidad acaba engañando al espectador, ya que la trama se desenreda como ningún film del género había hecho anteriormente en mi opinión. Así que, la película no va realmente sobre el análisis de un crimen y un asesino, sino de los ideales del mismo al cometerlos y de cómo su compleja labor de castigo divino, por así decirlo, arrastra a los agentes de la ley que van tras él.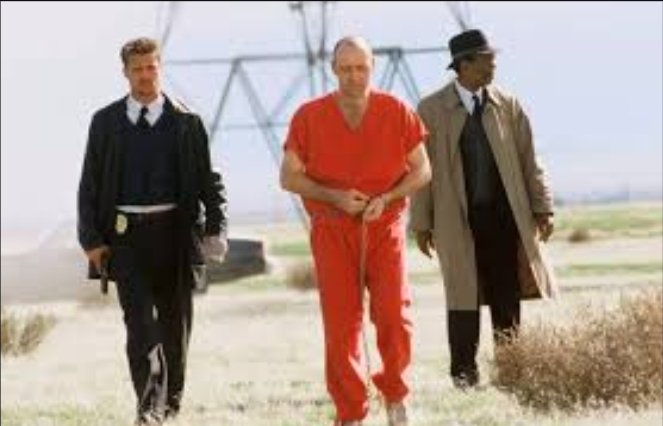 FUENTE C
One of the things I liked the most was The dirty, dark and frighteningly realistic setting that the film shows perfectly matches what is happening with the plot, the ecosystem is very cold and turbulent. A setting that not even the rain manages to clean and that in the film it rains, but the noises, the people, the cars make a truly overwhelming climax. With one of the most incredible endings I've ever seen in my life, which is engraved in my memory, it was something I did not expect. It is so impressive that after a month of watching it, it continued to haunt my mind. Undoubtedly, one of the most shocking and spectacular endings that cinema has ever given. Really a movie that I recommend.
Una de las cosas que más me gusto fue La ambientación sucia, oscura y aterradoramente realista que la película muestra coincide perfectamente con lo que está ocurriendo con la trama, el ecosistema es muy frío y turbulento. Una ambientación que ni siquiera la lluvia logra limpiar y eso que en la película se la pasa lloviendo, pero los ruidos, las personas, los carros hacen un clímax en verdad agobiante. Con uno de los finales más increíbles que yo haya visto en mi vida, que quedo grabado en mi memoria, era algo que no esperaba. Es tan impresionante que después de pasar un mes de haberlo visto, siguió rondando en mi cabeza. Sin duda, de los finales más impactantes y espectaculares que ha dado el Cine. En realidad una película que recomiendo.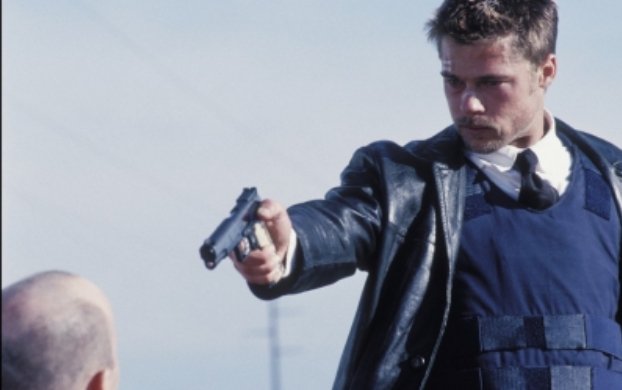 FUENTE D
The link of the contest: https://peakd.com/hive-121744/@cinetv/cine-tv-contest-24-favorite-mystery-movie
---
---