CineTV Contest: My Favorite Party Movie is SuperBad [ENG/SPA]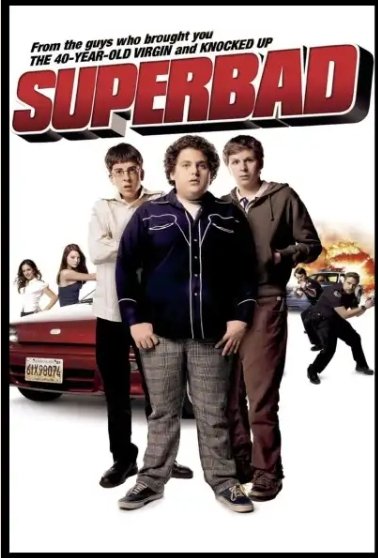 FUENTE A
Welcome to this presentation where we will talk about a movie that is not so popular and did not cause much impact in the cinema, but I really liked the plot, I think it was the most respectable of the film, is none other than SuperBad, this on the occasion of the challenge of CineTv on the best Party movie.
The plot is based on three young men, Evan (Michael Cera), Seth (Jonah Hill) and Fogell "Mclovin" (Christopher Mintz-Plasse), who are just days away from graduating from high school. Before graduating, the boys want to celebrate and lose their virginity, but their plan turns out to be more complicated than expected, when the girl who invites them, asks them to bring alcohol to the party and they accept, the problem is that they are underage so the situations they go through to get alcohol are disastrous.
Bienvenidos a esta presentación donde hablaremos de una película que no es tan popular y tampoco causo mucho impacto en el cine, pero a mí me gusto mucho la trama, creo que fue lo más respetable de la película, no es otra que SuperBad, esto con motivo del reto de CineTv sobre la mejor película de Fiesta.
La trama se basa en que tres jóvenes, Evan (Michael Cera), Seth (Jonah Hill) y Fogell "Mclovin", (Christopher Mintz-Plasse), están a pocos días de graduarse de la preparatoria. Antes de graduarse, los chicos quieren celebrar y perder la virginidad, pero su plan resulta más complicado de lo esperado, cuando la chica que los invita, les pide el favor que lleven alcohol a la fiesta y ellos aceptan, el problema es que ellos son menores de edad así que las situaciones por las que pasan para conseguir alcohol son desastrosas.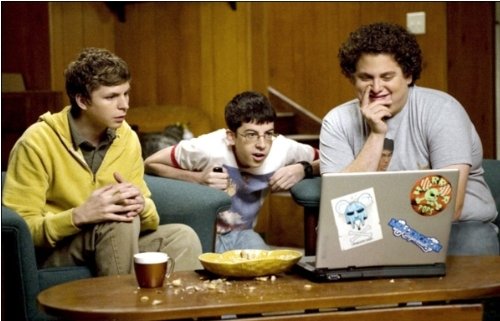 FUENTE B
We have all lived situations like those in the film, so it is easy to identify with the story, we have all had friends and we have noticed girls as do the 3 protagonists, we must highlight the performance of Christopher Mintz-Plasse as McLovin, a Freak who did not believe he was and was sure of it ha, ha, ha, ha..., incredible performance of that guy. It's when the movie enters the absolute rampage that you go from laughing to relating to the dialogue and circumstances these guys go through.
Todos hemos vivido situaciones como las de la película, así que es sencillo identificarte con la historia, todos hemos tenido amigos y nos hemos fijado en chicas como hacen los 3 protagonistas, hay que destacar la actuación de Christopher Mintz-Plasse como McLovin, un Friki que no creía que lo era y estaba seguro de ello ja, ja, ja…, increíble la actuación de ese chico. Cuando la película ya entra en el absoluto desenfreno es cuando pasas de reírte a relacionarte con los diálogos y circunstancias que atraviesan estos chicos.
FUENTE C
From my point of view, cinema has managed to take another small step in the search for perfection, raising the bar in this kind of comedies, with a film that deals with more things than it seems, it is a jewel of contemporary comedy, a real entertainment and certainly a film that everyone should see.
Bajo mi punto de vista, el cine ha conseguido dar otro pequeño pasito en la búsqueda de la perfección, elevando el listón en esta clase de comedias, con una película que trata sobre más cosas de lo que parece, es una joya de la comedia contemporánea, un auténtico entretenimiento y desde luego, una película que todos deberían ver.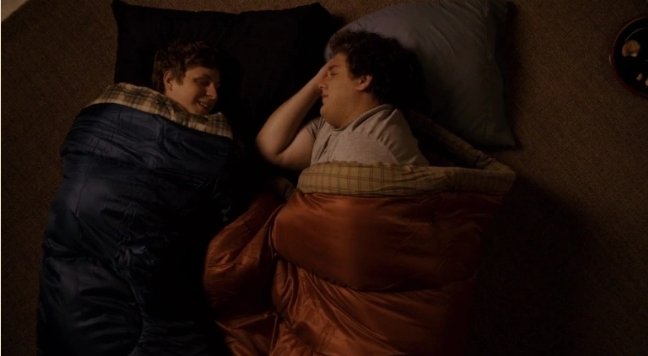 FUENTE D
---
---