[Movie review] [Eng | Esp] The Possessed | Another movie about exorcism
Welcome my dear internet travelers who love the paranormal and thank you very much for having made a temporary stop in my post, as you know I am quite a fan of all films that have horror as their focus although unfortunately it is a genre that has many exponents that are quite disastrous The film that brings us together today is called "The Possessed", the name being quite illustrative of what the film is about. Without further ado, prepare your Bibles because we are about to do several exorcisms.
Bienvenidos mis queridos viajeros del internet amantes de lo paranormal y muchas gracias por haber hecho una parada temporal en mi post, como sabrán soy bastante fanático de todos los filmes que tienen el terror como foco aunque desgraciadamente es un género que tiene muchos exponentes que son bastante nefastos. El filme que hoy nos reúne se llama "The Possessed" siendo el nombre bastante ilustrativo sobre lo que trata el filme. Sin más que agregar preparen sus Biblias porque estamos por hacer varios exorcismos.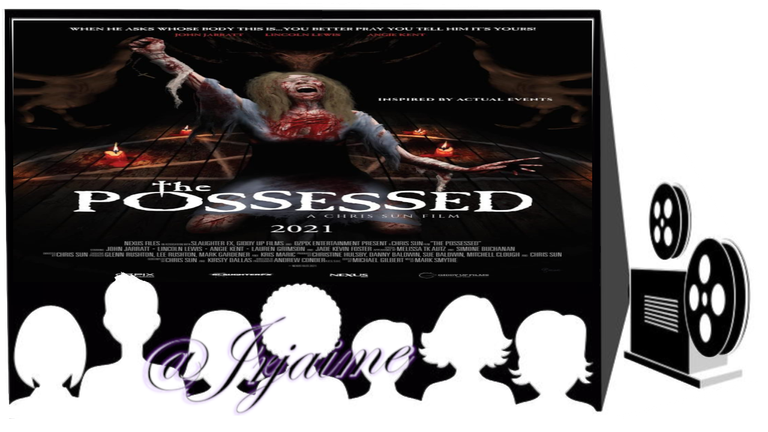 Property by @Jrjaime

Property by @Jrjaime
The Possessed is an Australian film released in 2021, directed by Chris Sun and produced by Pinnacle Studios, it has a duration of 1 hour and 37 minutes. It is a horror and suspense film, the story focuses on Jacob who apparently is a normal and ordinary man, however he has a gift that allows him to perform exorcisms and repel demonic forces, together with his nephew they help the people to purify themselves spiritually and get rid of these evils, this dynamic will begin to change when the demons begin to be present more frequently and become considerably stronger, all of this being the opening mouth of the greater evil that they will have to face.
The Possessed es un filme australiano estrenado en 2021, dirigida por Chris Sun y producida por Pinnacle Studios, cuenta con una duración de 1 hora y 37 minutos. Es una película de terror y suspenso, la historia se centra en Jacob que aparentemente es un hombre normal y corriente, sin embargo este cuenta con un don que le permite realizar exorcismos y repeler a las fuerzas demoníacas, en conjunto con su sobrino ayudan a la gente a purificarse espiritualmente y librarse de estos males, esta dinámica comenzará a cambiar cuando los demonios comiencen a hacerse presentes de forma más frecuente y haciéndose considerablemente más fuertes, todo esto siendo el abre bocas del mal mayor al que deberán enfrentarse.

For more details about the film you can visit the link I leave you from Wikipedia | Para más detalles sobre el filme pueden visitar el link que les dejo de Wikipedia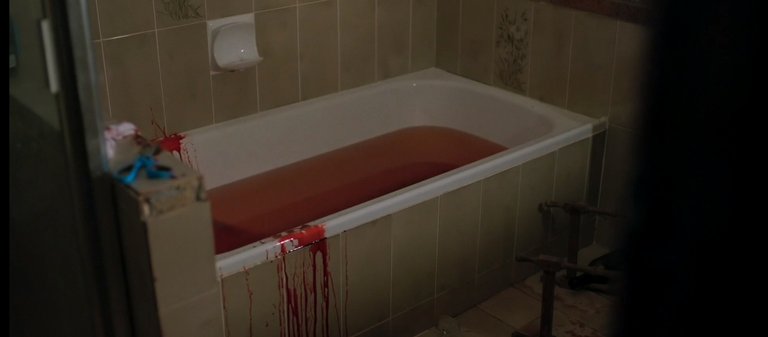 Property by @Jrjaime
The soundtrack is totally non-existent, at no point does it even have a decent moment on the ground, its presence is only fleeting and it lacks any kind of importance within the film, at the same time, it fails to convey that feeling of anguish that It can be felt in other films of the same nature that they know how to use this medium well.
La banda sonora es totalmente inexistente, en ningún punto esta tiene tan siquiera un momento decente en el firme, solo es fugaz su presencia y carece de alguna clase de importancia dentro de la cinta, a su vez, no logra transmitir ese sentimiento de angustia que se puede palpar en otros filmes de la misma índole que si saben utilizar de buena forma este medio.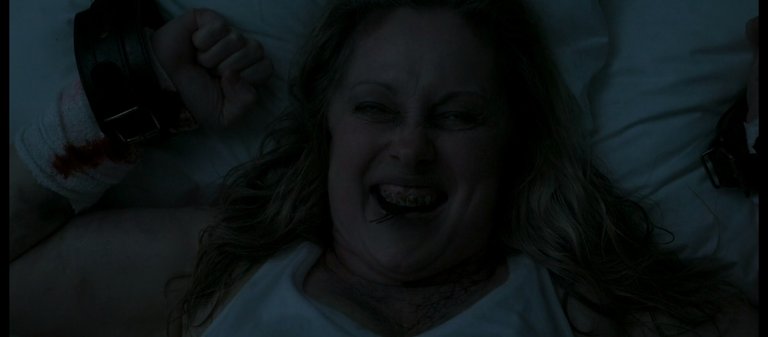 Property by @Jrjaime
The construction of the world is boring to a fault, we are presented with a world in which demons and demonic possessions are supposedly the order of the day, in turn, there are various individuals with the capabilities to confront them; All of the above sounds excellent on paper but the execution is pathetic, it is all because it does not know how to propose a world that is really affected by all these extraordinary elements, on the contrary it is a society that does not show even a hint that this is really true. affect in one way or another. The use of the setting to increase suspense is null, at no time does it do anything with its setting, which nullifies any kind of intrigue that could have been generated through the context.
La construcción del mundo es sosa hasta el hartazgo, se nos presenta un mundo en el que supuestamente los demonios y las posesiones demoníacas están a la orden del día, a su vez, existen diversos individuos con capacidades para hacerles frente; todo lo anterior suena excelente en papel pero la ejecución es patética, todo se debe a que no sabe plantear un mundo que realmente se vea afectado por todos estos elementos extraordinarios, por el contrario es una sociedad que no muestra ni un atisbo de que realmente esto afecte de una u otra forma. El uso del escenario para aumentar el suspenso es nulo, en ningún momento hace nada con su ambientación lo que nulifica cualquier clase de intriga que se pudiese haber generado mediante el contexto.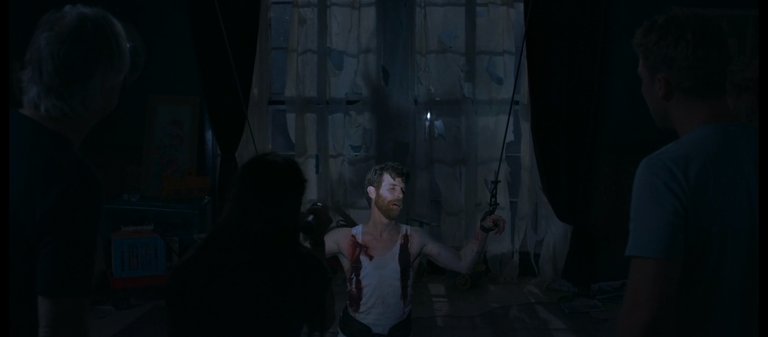 Property by @Jrjaime
The plot is quite tedious and generic, a group of people who perform exorcisms and free people from the control of demons, uses a concept that is overexploited in cinema and does not even make an attempt to have any element that stands out above the rest. which makes it even more boring to watch. As if that were not enough, he insists on repeating the same actions in order to pave the way for a transcendental revelation that never comes and the film only laughs at the viewer by showing him the same thing several times. Although the duration is not relatively short, it still feels like too much screen time when the narrative has nothing good to offer and its plot twists are simply pathetic.
La trama es bastante tediosa y genérica, un grupo de personas que hacen exorcismos y libran a la gente del control de los demonios, utiliza un concepto sobreexplotado en el cine y no hace siquiera un intento por tener algún elemento que la destaque por encima del resto lo que la hace aún más aburrida de ver. Por si no fuera suficiente, se empeña en repetir las mismas acciones a fin de allanar el terreno para una revelación trascendental que nunca llega y el filme solo se ríe del espectador al mostrarle lo mismo varias veces. Si bien la duración no es relativamente corta igual se siente como demasiado tiempo en pantalla cuando la narrativa no tiene nada bueno que ofrecer y sus giros argumentales son sencillamente patéticos.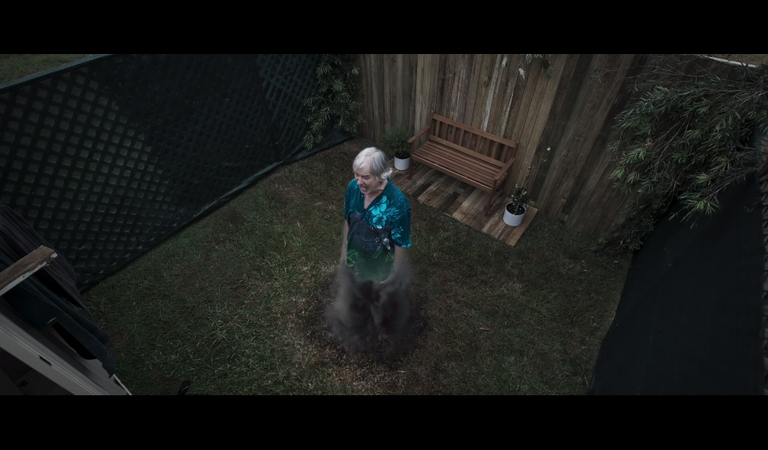 Property by @Jrjaime
The characters are completely forgettable, a stone would have a more notable personality than them, the powers that some have are interesting but they are never delved into so it doesn't matter, I would like to say something more but they are so boring that there is nothing that makes them stand out.
Los personajes son completamente olvidables, una piedra tendría una personalidad más destacable que ellos, los poderes que algunos tienen son interesantes pero nunca se profundiza en ellos así que no importa, me gustaría decir algo más pero son tan aburridos que no hay nada que los haga destacar.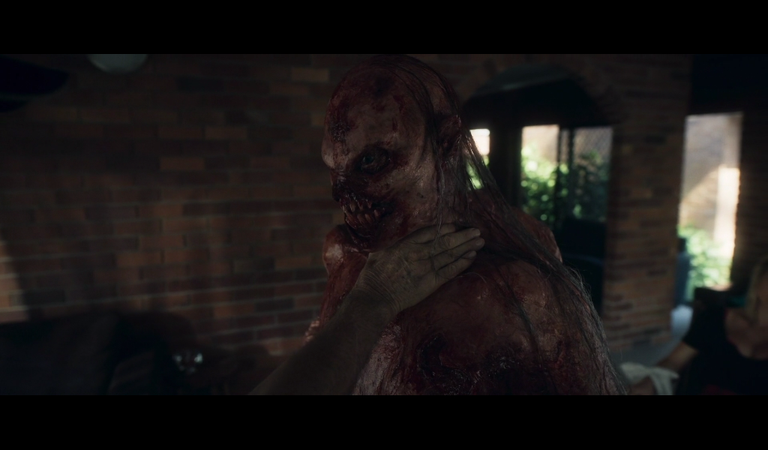 The Possessed is a boring film that is tedious to watch because it feels like a copy and paste of countless films with the same premise, and it also doesn't even take the time to present something that separates it a bit the rest. It is for all the above that it deserves 1.5 stars out of 7, I recommend it just to see some disgusting representations of some demons, it is not enough to make it halfway decent but it is the only thing it has to offer.
The Possessed es un filme aburrido que es tedioso de ver debido a que se siente como una copia y pega del sin número de películas con la misma premisa, siendo además, que ni siquiera se toma algo de tiempo para presentar algo que la separe un poco del resto. Es por todo lo anterior que merece 1.5 estrellas de 7, la recomiendo solo para ver algunas representaciones repugnantes de algunos demonios, no es lo suficiente como para hacerla medianamente decente pero es lo único que tiene para ofrecer.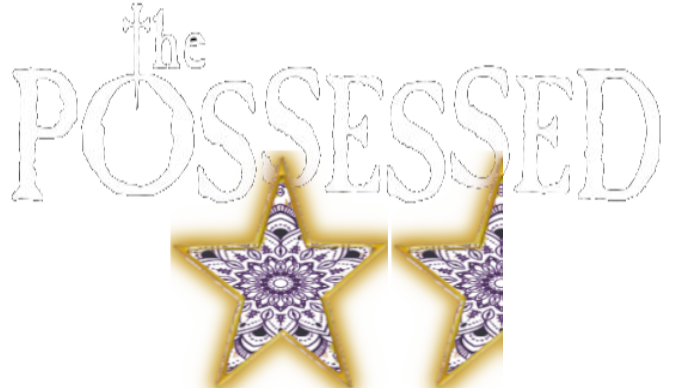 Property by @Jrjaime
My dear exorcist travelers, we have reached the end of another review. If you liked it, I would greatly appreciate it if you left your positive vote and used the reblog button. I upload content regularly, so if you don't want to miss it, I invite you to start following me. so you are aware of all my upcoming updates. If you want me to review something specific, I invite you to leave me a suggestion in the comment box below and I will gladly dedicate a post to it as soon as I can (Especially if they are horror movies). Without further ado, thank you very much for having read, I send you a big hug from a distance and I remind you that you have the strength of your greatness giving you your support, you just have to take the helm and set a course, I hope we meet again when you decide. make another temporary stop in one of my future posts.
Mis queridos viajeros exorcistas hemos llegado al final de otra reseña, si fue de su gusto agradecería mucho que dejasen su voto positivo e hiciesen uso del botón reblog, subo contenido de forma regular por lo que si no desean perdérselo los invito a que comiencen a seguirme para que estén al tanto de todas mis próximas actualizaciones. Si desean que reseñe algo en concreto los invito a que me dejen la sugerencia abajo en la caja de comentarios y con gusto le dedicaré una publicación apenas pueda (Sobre todo si son películas de terror). Sin más que agregar muchas gracias por haber leído, les mando un fuerte abrazo desde la distancia y les recuerdo que tienen la fuerza de su grandeza dándoles su apoyo solo tienen que tomar el timón y fijar un rumbo, espero que nos topemos de nuevo cuando decidan hacer otra parada temporal en uno de mis futuros posts.

Property by @Jrjaime
In case you were wanting more | Por si quedaste con ganas de más

Property by @Jrjaime

All the images used to make this post that have no source are my property being taken, created and / or edited partially or totally by me using the Gimp program, those that are not of my authorship will have their respective source at the end. The screen shots shown in the post were taken by me while watching the series, however, these remain with their respective authors.

Todas las imágenes utilizadas para hacer este post que no tienen fuente son de mi propiedad siendo tomadas, creadas y/o editadas parcial o totalmente por mi utilizando el programa Gimp, aquellas que no son de mi autoría tendrán al final su respectiva fuente. Las capturas de pantalla mostradas en el post fueron tomadas por mi mientras veía la serie sin embargo estas siguen perteneciendo a sus respectivos autores.

Cover photo | Foto de portada, Logo, Crane, Hand with pen, Yugi, Edward chibi, Edward Child, Edward young, Edward bleeding, Naruto chibi, Goku chibi, Jesper, Hand with a tablet, Sound system & Trigun
---
---