Underrated Yet My Favourite Medical Drama: Code Black || Cine TV Contest #28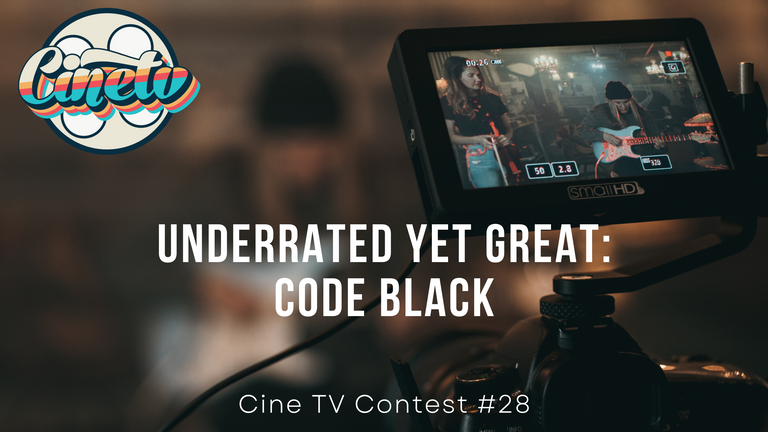 Image designed using Canva's free version gallery
Medical dramas are one of the fascinating genres I love to watch. My special interest in them started when I watched an episode of Grey's Anatomy at a friend's house. It was an eye-opener into the world of doctors, nurses, lab technicians and other hospital staff vis-à-vis the patients.
I was intrigued by the way the doctors attended to patients, especially the emergency cases, the medical/science jargon etc. I feel the adrenaline rush as the hospital staff work fast to save patients' lives. They heave a sigh of relief when the EKG moves in a zigzag rather than flat line. At this point, the doctors become the hero and everyone cheers for the life saved.
After watching the first three seasons of Grey's Anatomy series, I stopped because it was getting boring —same old drama between the doctors (though I admired the good-looking McSteamy and McDreamy) —it was turning out to be a soap opera. Then I found Code Black (2015-2018), a more realistic medical drama with gripping plots and a great cast.
Synopsis
Code Black is an American medical drama series that centers on the emergency department at a fictional hospital, Angels Memorial. The director of the ER is Dr. Leanne Rorish (played by Marcia Gay Harden), referred to as daddy while the head nurse, Jesse Salander (played by Luis Guzmán) is called mama.
Together with other staff, they train the first year residents while treating their patients. Though understaffed and with limited medical resources, the hospital is always crowded and their success rate is commendable. Some days, it gets so chaotic that Dr Rorish would declare the situation code black.
Source: YouTube
Review
After my disappointment in the unending Grey's Anatomy, Code Black was a great improvement. This was a medical series with intriguing plots and twists that were relatable, touching and down to earth. No one goes into a hospital and calls it a fun fair. It's a melancholic place and this series depicted it well. Expressions of joy and hurray would only happen when a patient's life is saved.
The writing is great and the chemistry between the cast is smooth. I admired Marcia Gay Harden's and Rob Lowe's performances as ER doctors, and the way they managed limited medical resources to save lives. The show's focus was like 80 percent on medical cases and 20 percent on the personal lives of the cast. It was fast paced, displaying the good, bad and uglies of life. A viewer would have no choice but to identify with one or more scenarios.
Code Black ran for three seasons of eighteen, sixteen and thirteen episodes respectively and then it was cancelled. I was heartbroken about this and no valid reason was given. But it won't be the first brilliant show with inspiring plots and great cast that was cancelled just like that while we are left with sour, below-average shows that get renewed every year.
This show deserved better attention and promotion than it was given. It was a show that got better with every episode. It keeps you on the edge of your seat and you never know what will happen next. There is barely a dull moment in any episode.
Is this show worth recommending? Certainly! I'll recommend it to anyone who loves touching, relatable films and is ready for a good cry along the way. Every episode will keep you on the edge of your seat and you'll sigh in sweet relief at the end. It's also binge-worthy.
In my opinion, Code Black is far better than the popular Grey's Anatomy, Chicago Med (no offence to Dick Wolf but I prefer Chicago PD and Law And Order amongst his works) and some other medical dramas.
What is your favourite medical drama series?

This is my entry to the Cine TV Contest #28 - Favorite Medical Drama. To participate, just click on the link and it will take you straight to the post. The deadline is 30th August, 2022, 11:59 PM, UTC time.
Thank you for visiting my blog.
---
---