CineTv contest: My favorite work movie.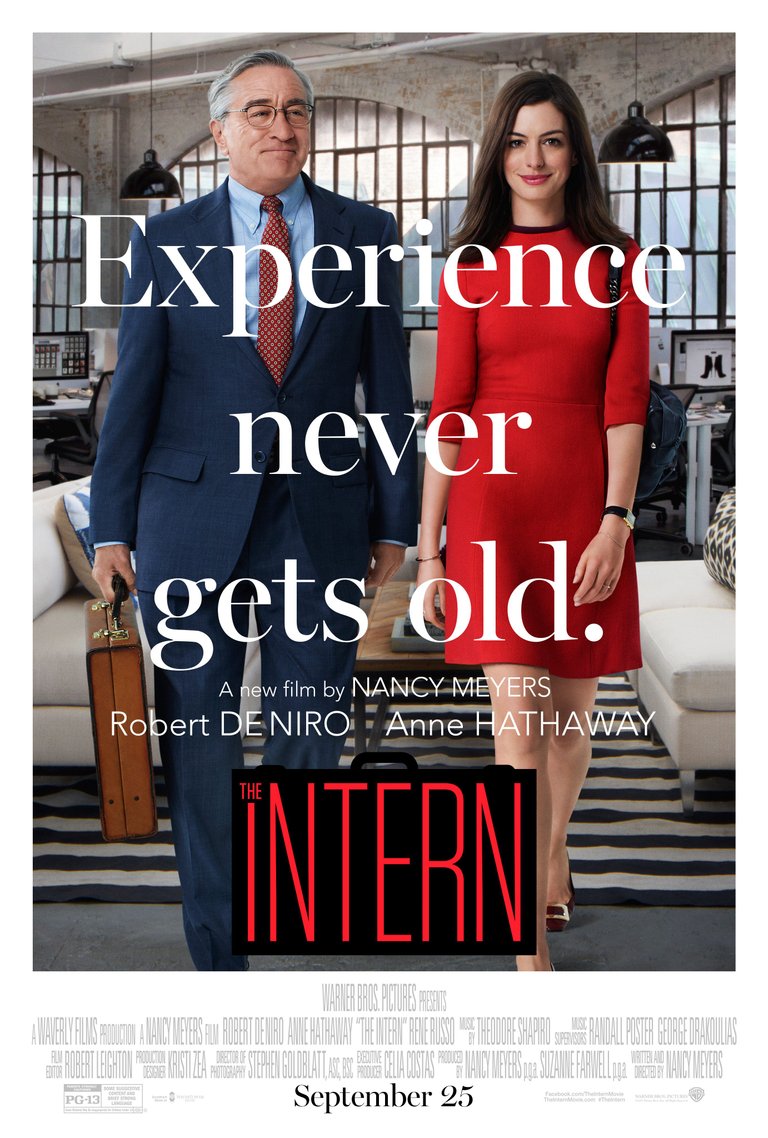 I really can't tell why I had to pick this particular movie as my favorite of the work movie which is this week's contest in CineTV which you can find here.
Hopefully I'll try my best to convince you why the movie is my favorite.
The film The Intern was released in 2015. Nancy Meyers, an award-winning Hollywood filmmaker, wrote, directed, and produced the film. The plot of the film is simple, but it contains many life and work lessons.
The plot
The plot of The Intern is such a beautiful and positive film about a 70-year-old retired widower Ben Whittaker, played by Robert DeNiro, who is trying to make the most of his time by finding something interesting to keep himself busy. To keep himself occupied, he tried everything from tai chi to yoga to Mandarin lessons, and he traveled across the country many times to see his son and his family, but none of it satisfied him. Then, one day, Ben comes across a flier announcing that an e-commerce fashion site is looking for "senior interns" - retirees willing to work as interns - and it seems fate for him to get the job. He makes the decision to take another risk at work. He discovers a pamphlet for an Intern position at a Fashion-based e-commerce startup and accepts the position, reporting to the CEO Jules Ostin, played by the stunning Anne Hathaway!
About the cast
The film's lead actors are Robert De Niro and Anne Hathaway. And they're the two cast members I'll focus on because they dealt with the work and lesson to be learned more in this film. Both actors gave genuine performances in their roles, but Robert De Niro took the lead from the start.
Robert De Niro is well-known for his action films, but in The Intern, we get to see a different side of him. A mellow, calm, and knowledgeable old man with a versatile patt.
Anne Hathaway also stars in this film, and I didn't think this duo would work well together on screen, but they did. Anne portrays a fashionable young entrepreneur (CEO) who is dealing with a personal problem in her family relationship. Anne and Robert had great chemistry, and I liked how their friendship developed gradually throughout the film.
Why is it my favorite work film**
The film attempted to portray some of the real-life challenges that a start-up firm faces. demonstrating how difficult it was to manage such a situation. It also demonstrated how the founder and CEO of any organization can make personal sacrifices in order to remain successful in this competitive world. It was evident in the film with Jules. Not to mention how the Director attempted to take some cinematic liberties in depicting the busy and workaholic life in the e-commerce business.
Aside from that, there are numerous management lessons to be learned from this film, including:
BEING ACCESSIBLE AS A CEO
It is critical for any business owner, particularly an entrepreneur, to be accessible to everyone on the team in order to become aware of issues at the grassroots level. Because Jules does not have an office, this was perfectly portrayed in the film. She shares a community desk on the floor with other employees. Despite her busy schedule, she is always visible and will talk to anyone who approaches her.
LEARNING CAN TAKE PLACE IN ANY PART OF THE WORKPLACE.
Learning occurs everywhere and to everyone involved in the workplace in this film. While Ben was learning about fashion from Jules, the male staff was learning about gentlemanly behavior from Ben.
---
---