Million dollar baby.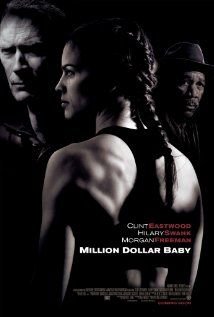 source
Normally, I don't like movies that fall into the sports category, but after seeing "Million Dollar Baby" for the first time, I absolutely changed my mind. It taught me a lot about hardwork.
Pure and simple, profound and honest, Clint Eastwood's "Million Dollar Baby" is a masterpiece. It relates the tale of an elderly fight trainer and a young hillbilly who aspires to be a boxer. A former boxer who is close friends with the trainer serves as the narration. However, it's not a boxing film. It describes a hard-working, tough, and motivated boxer. There is a way where there is a will!
Plot
An elderly boxing trainer devotes his life to developing the next generation while keeping his buddies at a distance. But when he meets Maggie Fitzgerald (Hilary Swank), a female aspiring boxer who is persistent in wanting to compete in professional boxing, a connection is made, and he takes the young, tough girl under his wing and develops her into a brilliant fighter. Thankfully, this propels her to the top of the boxing world. Maggie frequented the gym run by her former trainer Frankie Dunn every day while working as a server in her hometown of Missouri Ozarks (Clint Eastwood). At first, Frankie didn't want to coach a woman, but she kept showing up and wouldn't go until he gave the go-ahead.
Unfortunately, catastrophe strikes, leaving them both forever changed for years to come.
In this film, Morgan Freeman was nothing short of extraordinary.
The movie "Million Dollar Baby" is more than just a sports movie; it's also an emotionally charged drama that hits us with a lot of left hooks. This movie is a must-see due to its stellar cast of performers who excel in their roles.
This film has a lot to say about inspiration, drive, and hard work. Without a doubt, "Million Dollar Baby" has a good chance of being a memorable sports film. It is a fantastic tale of grit and perseverance, yet it is also incredibly moving and heartbreaking. This movie illustrates the magic of giving up everything for a dream that only the dreamer can see.
Maggie had a knack for scoring. a motivated young woman who didn't care about the challenges and understood what she wanted. She put up a valiant fight to succeed.
Lessons gained
Failure is a necessary step to success.
Failure is an illogical concept. Failure is only REALLY defined as inaction.
Starting now is never too late
Maggie began boxing when she was 31 years old. She was too elderly to compete in fights. She lagged behind her rivals in terms of age, experience, and strength since she didn't get going right away. But that is all irrelevant.
Avoid taking a big step back
I quote: "Sometimes the best way to deliver a punch is to step back, but step back too far and you ain't fighting at all," as mentioned by Frankie (Clint Eastwood) in the film. This holds true for all facets of our existence. If you take a step backwards too far, you will no longer be fighting to succeed.
Step back take your stand, strategize, think and throw the punch again so hard this time so that it knocks out your obstacles.
---
---