Index4INDEX Card 344: Hedy Lamarr 2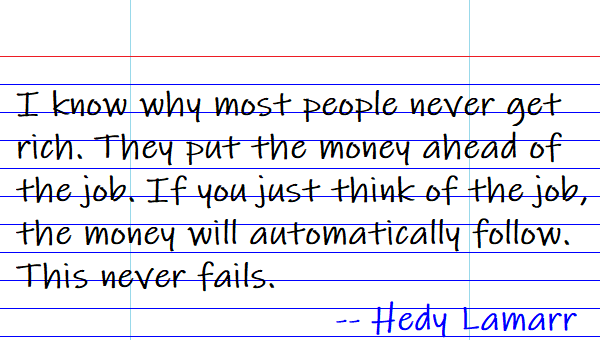 I know why most people never get rich. They put the money ahead of the job. If you just think of the job, the money will automatically follow. This never fails.
-- Hedy Lamarr
For more about Hedy Lamarr, keep reading....
📇📇📇📇📇📇📇📇📇
About the Quote
It's true that money is important. In this world, we can't do much without it. We also can't go far in life without money. However, money isn't everything. In fact, there other more important things than money: health, happiness, faith, love are just a few of them.
Most people think of money as an end in and of itself, which is understandable. However, money isn't an end, it's a byproduct. For an inventor, it's more important to invent a product which makes life easier for people than it is to earn royalties from the patents awared to that invention. When people see the value of the invention and how it makes their lives easier, enough people will buy it that the money takes care of itself.
It's the same whether we are inventors, athletes, artists, laborers, or entrepreneurs. When we focus on giving others what they want, they will reward us accordingly. It's OK to be selfish in the pursuit of wealth and dreams of wealth provided that we help other people along the way. Only by helping others do we gain money and wealth. After all, our best inventions are useless if no one else uses them.
📇📇📇📇📇📇📇📇📇
Some (More) Information about Hedy Lamarr
During the 1940s, Hedy Lamarr was considered t be one of the most exotic and on tof the most gorgeous leading ladies in Hollywood during its Golden Age. Some of her best received films had the leading men to match her leading lady status:
| Year | Movie | Leading Man/Men |
| --- | --- | --- |
| 1939 | Lady of the Tropics | Robert Taylor |
| 1940 | Boom Town | Clark Gable, Spencer Tracy |
| 1942 | Tortilla Flat | Spencer Tracy |
| 1949 | Samson and Delilah | Victor Mature |
According to legend, Hedy Lamarr was the first choice for director Hal Wallis for the 1943 classic Casablanca, starring Humphrey Bogart. The leading lady role ultimately went to Ingrid Bergman. The rest is history.
The 1950s were a different time, and Hedy Lamarr was no longer in as much demand as in the 1940s. Her last movie was The Female Animal (1958) with actress Jane Powell.
In 1966 she published a best-selling autobiographytitled Ecstasy and Me. This title of this steamy autobiography recalls one of her earliest roles in cinema, the 1933 Czech film Ecstasy, which put her on the map of filmgoers. Due to what she considered to be errors and distortions made by the ghostwriter for her autobiography, she sued the autobiography's publisher.
-- Source
📇📇📇📇📇📇📇📇📇
Post Details
Index4INDEX image made by @magnacarta using MS Paint.
Quotes I use for Index4INDEX are stored in an Excel 2007 spreadsheet. Recently I added database functionality for limited searching.
📇📇📇📇📇📇📇📇📇
Other Quotes by Hedy Lamarr
Other Recent Quotes

📇📇📇📇📇📇📇📇📇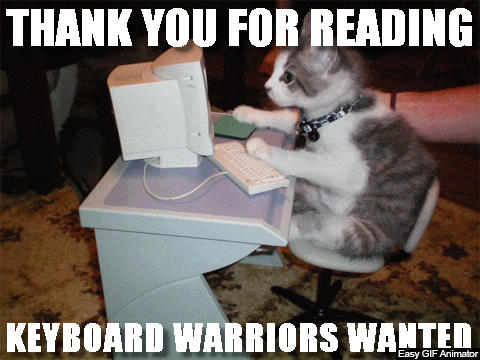 ---
---
Do you like posting short bursts of text? Do it 240-characters at a time at LeoThreads.

---
---