I co-produced the first Professional Italian short-movie about Wheelchair Basketball

This story, starts when me and Steven Alex Renso got to know each other in 2014. I was playing Wheelchair Basketball since a few years, just got back to my home town, Verona, and he asked us for a joint project to produce a documentary about our team.
Steven created this creative firm, in memory of Claudio, a very close friend to Steven that died early for a bad diseases he encountered in his life. And Klodjo was in his memory.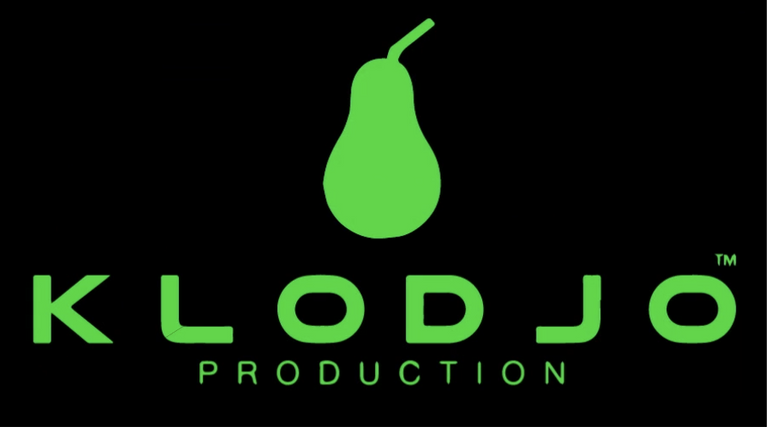 Logo of the Klodjo Production, a brand registered by Steven Renso, owner of all rights.
The first Documentary was made with zero budget, images were nice but audio was often disturbed. Anyway, we used it a lot for our presentations in schools as a way to share with them life-experiences and much more.
The main character was Andrea (Arbez) that shared his story about how he was an Italian Junior BMX Champion of the Under-16 category and he suddenly got an accident, finding himself on the wheelchair, starting playing wheelchair basketball.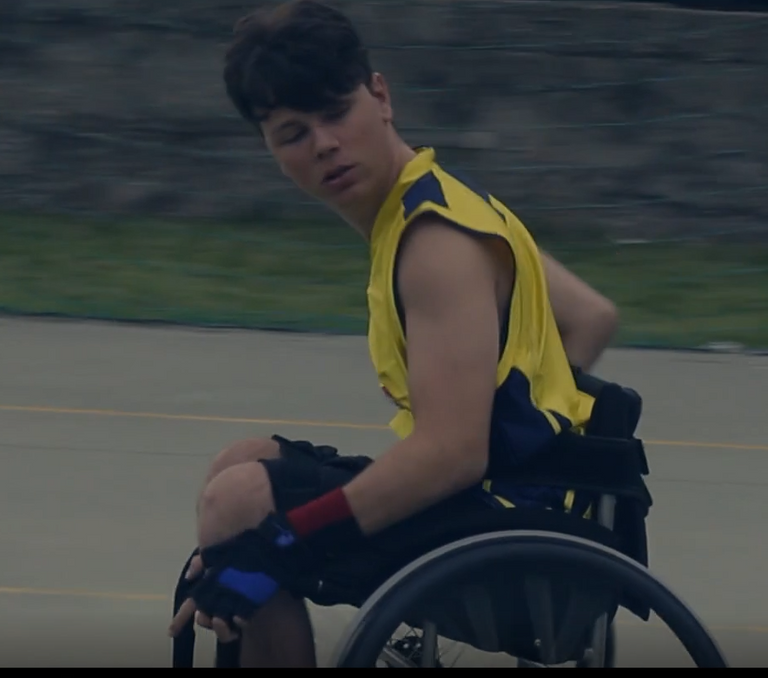 That Documentary, even being quite amatorial, got a huge success and arouse big emotions in many of the watchers.
You can find the Documentary here: it's in Italian, but you can put English subs to understand our speeches.
After careful evaluation, together with the Board of the Directors of the Association, we decided to try to invest some money to issue a more professional one, with dedicated days of recording and professional people as well.
In that case, Steven provided us with a professional sound engineer, a Production Assistant, a professional photographer to catch the best moments from the scenes, professional movie cameras to be able to record in 4K quality and much more.
The main character was still Andrea (Arbez), impersonating himself few years ago, when starting playing wheelchair basketball. His path, in a more romantic way, about how an individual player became a team player, understanding that his personal goals had to be subdued to the Team Goals.
The story starts with Arbez quite bored and sad since he felt alone and with no stimuli in his life.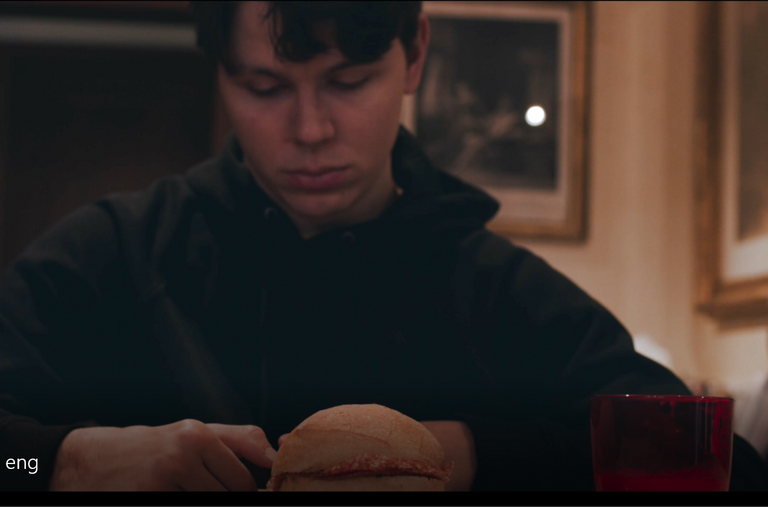 Source: HERE
Here is me, impersonating the Coach, presenting to the newcomers the more experienced players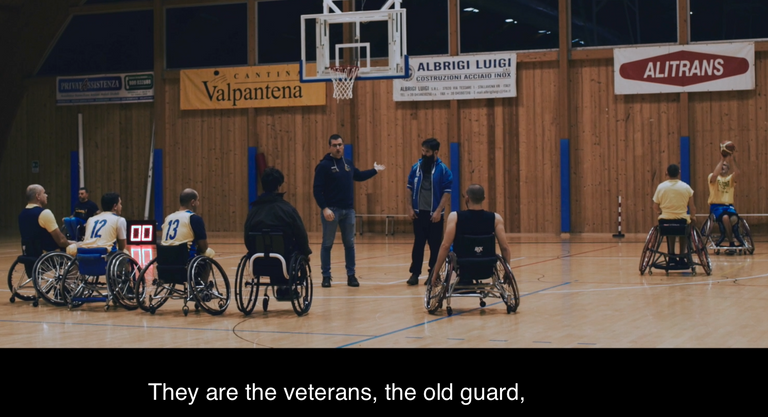 Source: HERE
And here a screen of a training (the so called V, where in two different rows we shoot and we get the rebound)


Source: HERE
And here Arbez, while attempting to shoot


And here following, me, while pushing Arbez in doing his best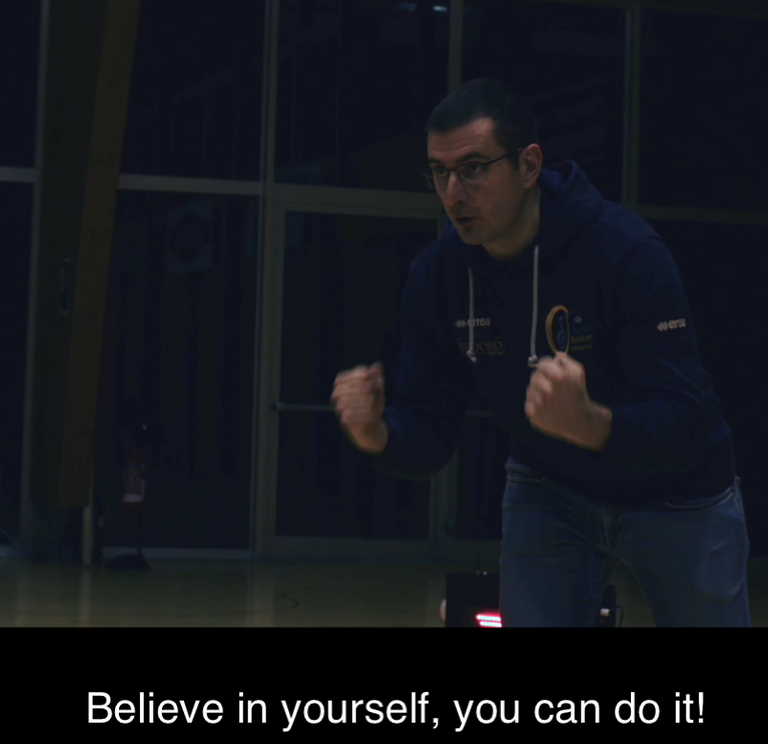 The beginning and motivating scream, how we opened matches (a sort of All Blacks Haka)


And here below in a café, where the Captain (the real Captains of Verona's team) was sharing with Arbez motivational ideas about how to grow as a person and overcome limits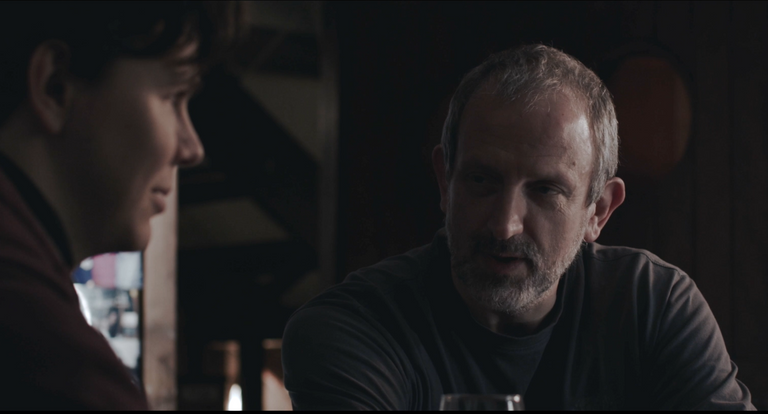 All ending with a good glass of Italian Wine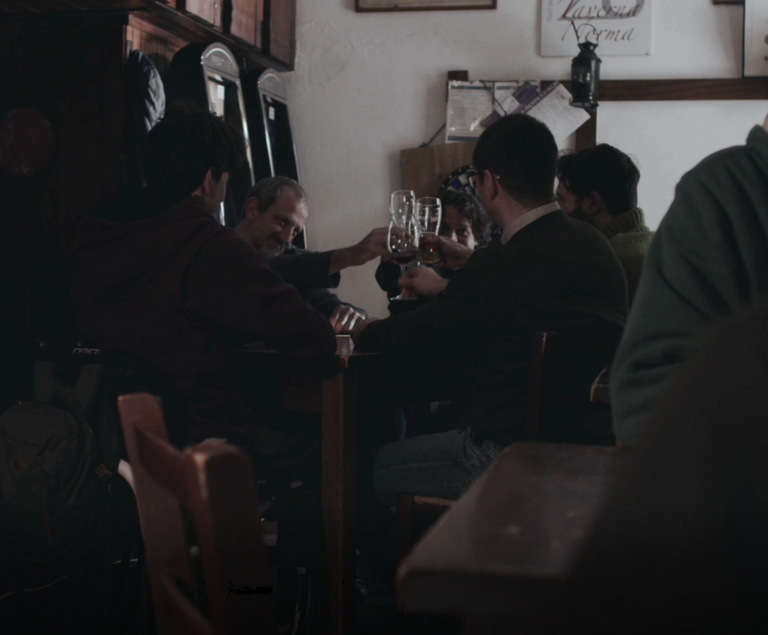 Followed by a sane rush challenge between Lucio, the Motivational Coach and the wheelchair guys!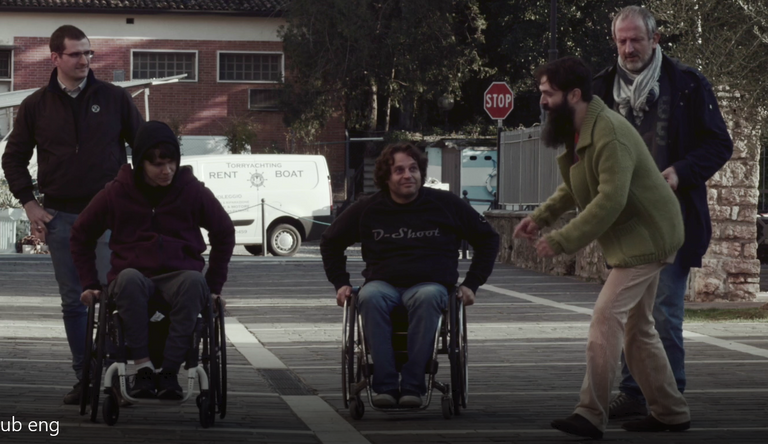 And here, the more expert team-mate sharing with Arbez tips and tricks on how to deal with the team, the competition and much more!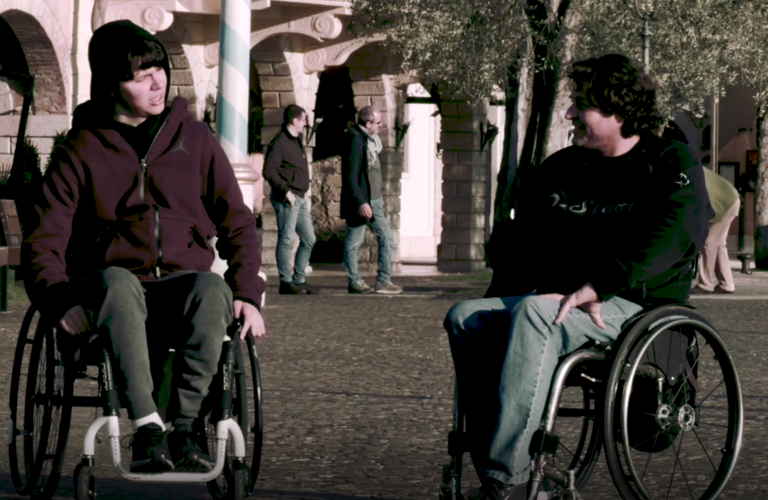 And well, the hot part is what comes after such moments so I suggest you to watch the entire movie from here (with English subs)

What is the message of the Short-Movie is up to you to decide. We tried to include as many input as we could and I hope you will enjoy it.
That movie was also nominated for the Donatello Prize that is one of the most important recognition in Italy for the independent movies.
I hope you will enjoy it and if you feel to share your thoughts in the comments, they will be much appreciated!
---
---