Glass Onion: A Knives Out Mystery (2022)

After two weeks of hectic exam sessions, I got a break for two more weeks and then the exams will resume so this break calls for a movie night. Often I find no suitable movies to pick whereas tons of movies are out there, hehe. Well, this time I preferred to pick a trending one, a movie that was hovering before my eyes over and over again. To be honest, I haven't read any reviews or didn't watch the trailer, I wasn't willing to get biased on someone else's review, I prefer to watch first and have my thoughts and opinion, and only then I would compare with the others. It's also true that user reviews may vary from person to person. So let's get started.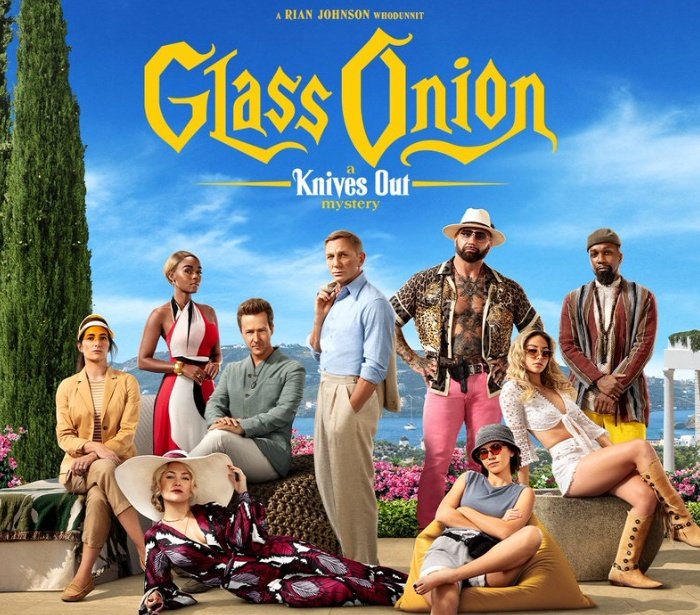 Glass Onion, is a crime mystery film written and directed by Rian Johnson that came out at the end of 2022 on Netflix. He has also written and directed Knives Out (2019) and Glass Onion is introduced as a sequel to that. Apart from Rian Johnson, Daniel Crag, and the phrase in the title 'A Knives Out Mystery', nothing would make you feel like it's a sequel to Knives Out. The story doesn't have any connection to the previous one, just two individual films, one can enjoy one without the other.
The movie starts with mystery boxes delivered to a group of friends by another rich friend Miles Bron where the box asks for puzzles to solve which leads to an invitation to Miles's private island for a murder mystery game. Soon we would find the murder mystery game to turn into a real one, but not as we were told or planned. Layers of story, we might go back to the timeline to see some motifs and events that lead to the present game and chaos. With this group, a private investigator, Daniel Craig as Benoit Blanc joins the tour. He is a detective and that's what he does best and did here.
Won't go much into the plot, to be honest, I was a little late to dive into the story or mystery to hook me with the thrill that I had expected from the beginning. Well, things got exciting in the middle, and were unfolding the mysteries before us step by step. Yeap, you would see some puzzles in the story, a game into another game plotted against the game maker, and a detective works to chase an unknown murderer. Ummmm, things ended decently, not as thrilling as we often see. Those unexpected thrilling endings leave us perplexed in the end, which affects the overall impression of the movie the most.
So my ending thoughts on this movie would be overall good for watching but when we drag Knives Out with this then it would fall below the expectations compared to that. Personally, I would like to rate this 6.5 out of 10. Yeap, this is it, if you are planning to watch then go for it, Happy Watching!!
---
---