New Years Evil (1980) Review + Film
Rating: 4/5
AKA: Falling Down 2: Shut Up Bitch!
Watch Here: https://www.bitchute.com/video/SouA5DF1Kpck/
SOURCES AT THE BOTTOM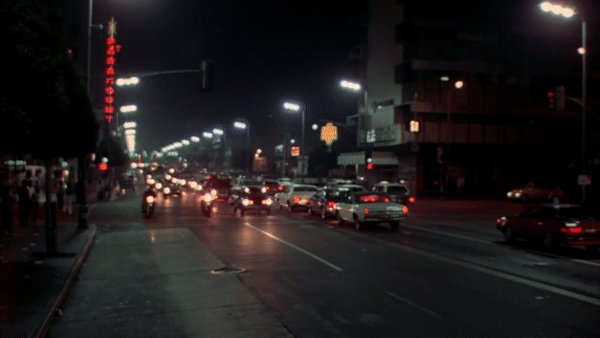 I tell you what fam, sometimes you get surprised by a movie. You know what I mean? That rare treat that comes out of nowhere and says: "Here's a little something for the old horror sweet tooth!"
That's precisely what happened during our viewing of New Years Evil (1980). We totally thought this film was going into Sperg Country, and while it does detour a bit here and there into the obvious/annoying, it more than makes up for it with the main antagonist.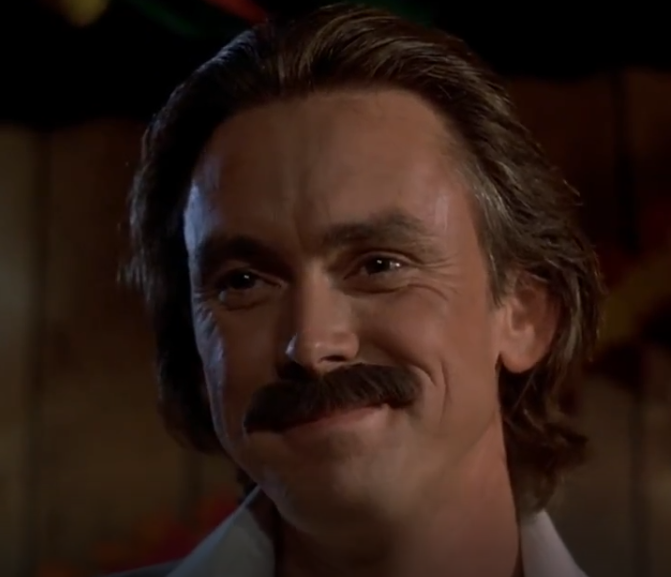 Richard Sullivan Man of the Year (1980)
---
New Year's Evil (1980)
A "New Wave" punk TV show is counting down the new year during an all-night dance party. Host Blaze (or Buhhlayhze) is harassed by a caller proclaiming they are Evil and will kill someone for each New Years Celebration according to time zone.
No, he doesn't travel time zones, he's basically in California and kills at the corresponding time as new years is ushered in Eastern Standard Time, Mountain Time….etc.
Very quickly the po-po realize that this Evil fella is the real deal and begin to make plans on capturing him.
It is revealed that the killer is Blaze's husband, Richard Sullivan who is supposed to be on a sabbatical in Florida, but decides it's time to cut his marriage strings the old fashioned way.
Really can't do the film justice with the synopsis there, it sounds weak as fuck, and honestly it is, but godamn Richard is the man.
Seeing the man work, how he pours his heart out, you not only cheer for him not to get caught, but you're also downright pissed at his decisions in the end.
At first, we thought the film was going to center around this doofus, Blaze's son: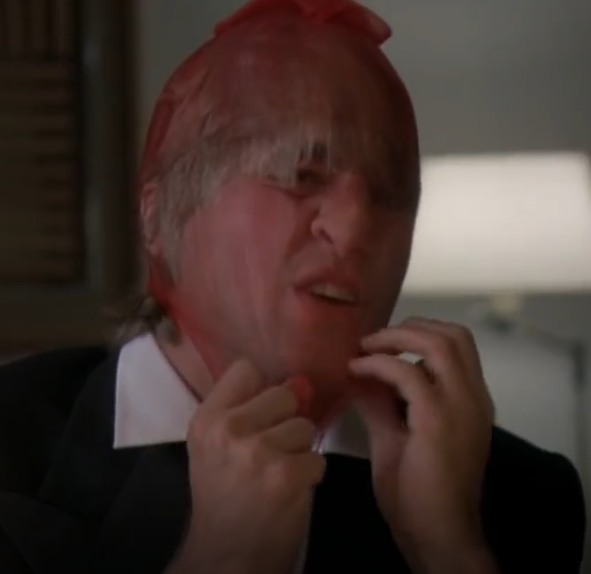 "You think I have a mental disorder!"
That's only a half truth though, he does do this funny bit where he puts on some Geordi LaForge glasses and wears his moms stocking like a burglar as he prowls around the hotel where the show is being broadcast.
Speaking of the TV show, it's called Hollywood Hotline, and it's basically a show where these punks slam jam, or mosh about as you hear some early 80s tunes.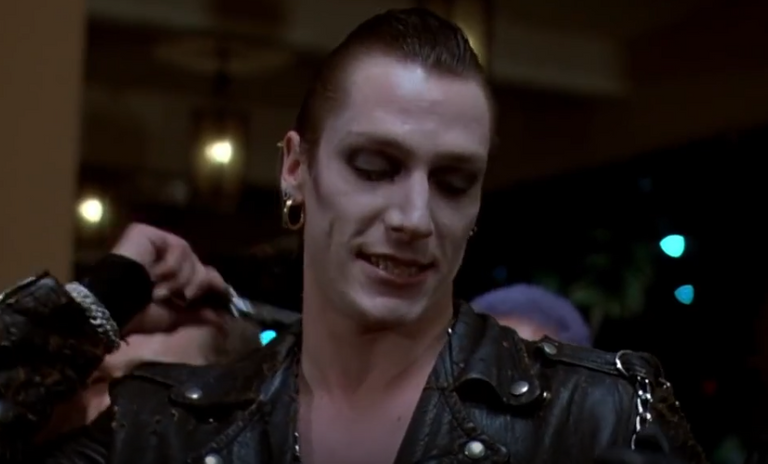 "Relax, we got tickets!"
What we noticed during these dance scenes, was these crazy feet shuffling sounds even during the music.
It was like a bunch of zombies just bebopping about. Either they used the actual sound from staging the dances during the initial recording and filled it in, or they just straight up did some sound foley.
The real meat of his film is watching Richard Sullivan perform his craft. How he woos the various chicks he meets, fucks up a biker and ditches his shitty gang, and even kidnaps the sexiest bitch I've seen in any movie from 1980. I mean fucking look: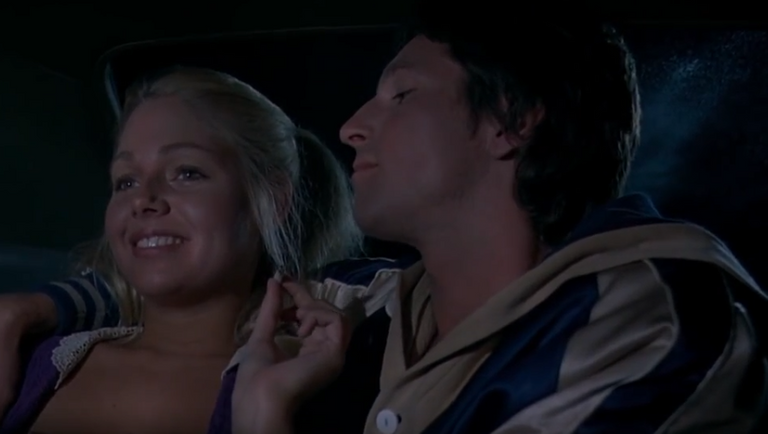 "Pure Sex 1980"
When he finally confronts Blaze in the end and she does the stereotypical "WHY" spiel, our boy comes out: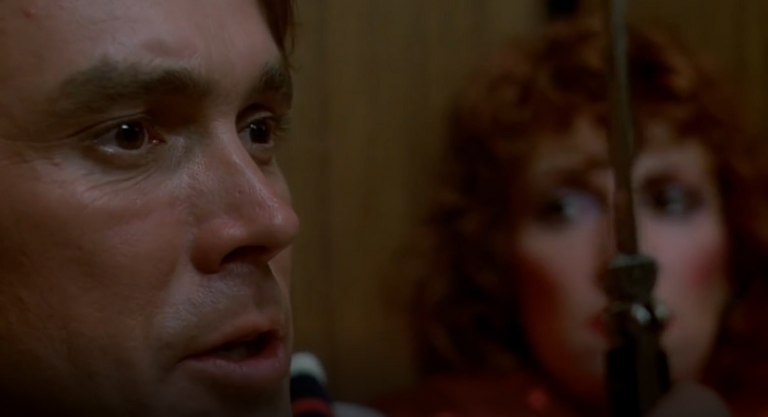 "Because I'm fed up!"
Apparently Blaze hasn't been a good mother or spouse, she is a shitty human by all accounts who only cares about herself. She didn't even notice the good news her son had for her early in the film.
This ending twists things tremendously and you really feel for Richard who is transformed from psycho without a cause to a victim who was pushed too far.
But this is 1980 and we're in full "Save All Women" propaganda, so of course Blaze survives….fucking waste.
-FINAL WORD-
MRHELLBOX – Blaze is a stupid bitch, not even gonna try to sugar coat it.
I can forgive her dumbass son, and I whole heartily support Richards crazy killing spree. MINUS the blonde chick he kidnaps (But thankfully she gets away, almost like the director was like yeah shes too hot to kill)
The only reason I don't give this surprising treat a perfect 5, is because Richard decides to kill himself instead of going out like a champ. – 4/5
DRUNKEN MASTER – I never laughed so hard when Blaze was basically hanging from the bottom of an elevator. Not sure how that stupid ass survived, but it was funny, nonetheless. There's also this cool chase sequence near the end of the film that has straight up The Warriors vibes. I think it's the lighting and music, but was really cool to see the slight similiarities. – 4/5
PRINCE PECTORAL – Richard was what I call stick man fit, not a buff broski, but had that meaty cut physique from not being a fat fuck, and taking care of himself. Sauvé mother fucker man! He's son needs to man the fuck up tho the ending heavily implies this, I want to see it for myself in a sequel made on a cellphone. – 4/5
Sources
All images were clipped by me from https://archive.org/details/1983-12-31-new-years-evil-1980
---
---