The Afterparty - TV Series Review [ESP/ENG]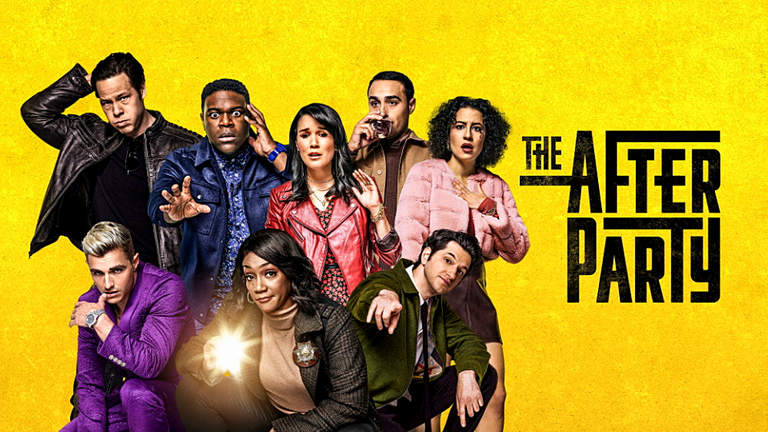 ESPAÑOL
Desde siempre me han gustado las series en dónde sucede un asesinato y se debe descubrir el asesino, una de mis series de TV favoritas es "Murder, She Wrote", en Venezuela conocida como "Reportera del Crimen" protagonizada por Angela Lansbury; siempre he pensado que esa serie dictaminó la existencia de estilo de series en dónde el personaje principal (o uno de ellos) sea un detective o un conocedor de la materia en descubrir una mentira o resolver un crimen, pero aparte de esto creo que también es el uso de la comedia como una característica principal para el relato de cada una de estas historias. Puedo pasar tiempo viendo estás series en dónde se resuelve un crimen en el transcurso de una hora o menos porque a pesar de ser repetitivas, son sumamente entretenidos y justamente esa es la definición de la serie a la cual haré una reseña en esta publicación.
ENGLISH
I have always liked series where a murder happens and the murderer must be discovered, one of my favorite TV series is "Murder, She Wrote", in Venezuela known as "Reportera del Crimen" starring Angela Lansbury; I have always thought that this series dictated the existence of a style of series where the main character (or one of them) is a detective or a connoisseur of the matter in discovering a lie or solving a crime, but apart from this I think it is also the use of comedy as a main characteristic for the narration of each of these stories. I can spend time watching these series where a crime is solved in the course of an hour or less because despite being repetitive, they are highly entertaining and that is precisely the definition of the series that I will review in this publication.

"Pay attention... We're solving a murder."


"The Afterparty" se estrenó en enero de este año por el servicio de streaming "Apple TV+", esta serie en su primera temporada cuenta con tan solo 8 episodios con una duración entre 30 a 40 minutos; en esta serie relata la historia de la investigación del asesinato de un famoso cantante y actor que después de aparecer en un reencuentro con sus compañeros de preparatoria, decide hacer una fiesta en su gran casa cerca de la playa en dónde finalmente encuentra a la muerte. Un grupo de "amigos" será los señalados cómo sospechosos y tal vez el relato de cada una de sus historias puedan convertirlos en inocentes o culpables.


"The Afterparty" premiered in January of this year on the streaming service "Apple TV+", this series in its first season has only 8 episodes with a duration between 30 to 40 minutes; in this series tells the story of the investigation of the murder of a famous singer and actor who after appearing in a reunion with his high school classmates, decides to have a party at his big house near the beach where he finally meets his death. A group of "friends" will be the ones pointed out as suspects and perhaps the story of each of their stories can make them innocent or guilty.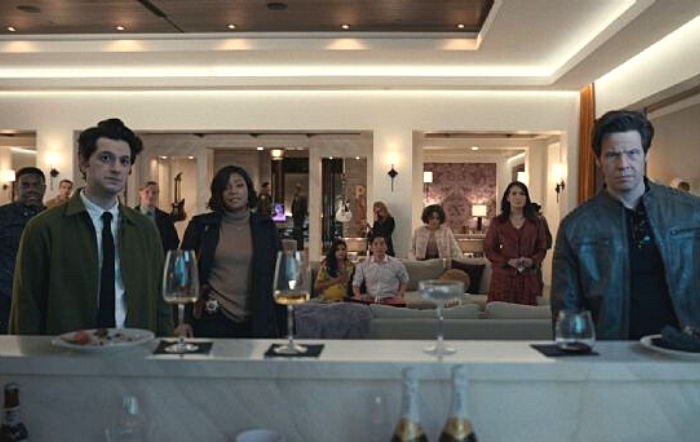 Fuente / Source

Por un buen tiempo quería ver esta serie porque como dije al principio de esta publicación, este estilo de series de TV me gustan mucho y más que nada cuando en vez de resolver un crimen en un episodio, se da la posibilidad de desarrollar mejor una historia en dónde veremos muchos puntos de vista de lo que sucedió en una sola noche, con esto creo que es una buena idea porque a pesar de que está serie no es original, pienso que se rompe la monotonía en mostrar diferentes formar de relatar una historia. Esta serie fue creada, dirigida y co-escrita por Christopher Miller, me sorprende cuántos proyectos, sea como director, guionista o productor, he visto en dónde Miller este envuelto y me han gustado, creo que tiene buenas ideas y sabe desarrollarlas muy bien y justamente en esta serie se nota el gran control en la narrativa y en el desarrollo en cada uno de los episodios; me parece genial que cree una marca que de alguna forma representa lo que es cada personaje que aparece en esta serie y eso la hace cómica y muy entretenida.


For a long time I wanted to watch this series because as I said at the beginning of this publication, I really like this style of TV series and more than anything when instead of solving a crime in one episode, it gives the possibility to develop a better story where we will see many points of view of what happened in one night, with this I think it is a good idea because although this series is not original, I think it breaks the monotony in showing different ways of telling a story. This series was created, directed and co-written by Christopher Miller, it surprises me how many projects, either as director, screenwriter or producer, I have seen where Miller is involved and I have liked them, I think he has good ideas and knows how to develop them very well and precisely in this series you can notice the great control in the narrative and in the development in each of the episodes; I think it's great that he creates a brand that somehow represents what each character that appears in this series is and that makes it funny and very entertaining.

Cómo he dicho la historia es de menos original, muchas veces hemos visto producciones en dónde el tema principal es justamente una reunión de una promoción de la preparatoria en dónde está la presión por demostrar que las metas que se fijaron a una temprana edad, al pasar el tiempo se han alcanzado o superado y eso hace que con satisfacción se llegue a este tipo de reuniones para que las demás personas que no ves desde hace tiempo te consideren exitoso, considero que para cualquiera está historia pudiera ser el origen de un villano y por eso es perfecta para el crimen a resolver en esta primera temporada. Me gusta que también se use este tema de un reencuentro porque a pesar de estar lleno de personas con más de 30 años, al llegar nuevamente a la escuela, se deba regresar a esa etapa de total inmadurez que nos hace comportar de una forma sumamente tonta y hasta vulnerable, por eso cada uno de los personajes que aparecen en estos ocho episodios son perfectos sospechosos del asesinato de alguien que tal vez se mereció un castigo, pero no mortal.


As I said the story is less original, many times we have seen productions where the main theme is precisely a reunion of a high school graduating class where there is the pressure to demonstrate that the goals that were set at a young age, over time have been achieved or exceeded and that makes that with satisfaction you get to this kind of meetings so that other people you have not seen for a long time consider you successful, I think that for anyone this story could be the origin of a villain and that is why it is perfect for the crime to be solved in this first season. I like that it also uses this theme of a reunion because despite being full of people with more than 30 years, when arriving back to school, you must return to that stage of total immaturity that makes us behave in a very silly and even vulnerable way, so each of the characters that appear in these eight episodes are perfect suspects for the murder of someone who perhaps deserved a punishment, but not a deadly one.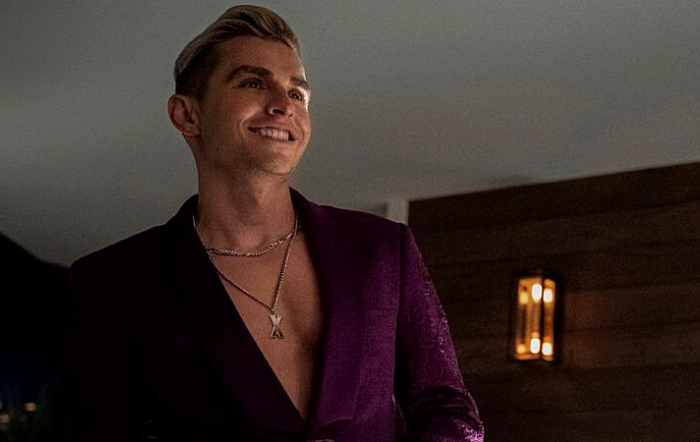 Fuente / Source

El relato de un mismo hecho, pero con diferentes puntos de vista es lo importante de esta serie porque transforma a esta historia en una comedia romántica, de acción, suspenso, musical, un "Coming-of-Age", historia de aceptación o crecer o hasta una historia infantil, diferentes puntos de vista en ocho episodios y cada uno podrá dar las pista para resolver este homicidio, pero esto en el guion está bien escrito y para que sea mucho mejor se deberá encontrar a los actores que desarrollen está historia, que la hagan entretenida y cómica; el trabajo de por ejemplo Tiffany Haddish como la "Detective Danner" es perfecto, es un gran personaje, una mujer muy inteligente, divertida, profesional y cómica, es una de las mejores; también puedo nombrar a Dave Franco como "Xavier", un famoso actor y cantante, pero con muy poco talento, siempre apoyado por la fortuna monetaria de su padre que le ayudo a alcanzar una gran fama, es molesto, poco humilde, engreído, mentiroso, no es la mejor persona, pero la actuación de Franco es excelente; otro quien hace un buen papel es Ike Barinholtz como "Brett", el anteriormente famoso de la escuela, el popular, atleta y bully; la actuación de Ike es muy buena, gran personaje, cómico, creo que todos conocimos a alguien como Brett, hablador, se cree más que los demás, pero la manera en que este actor representa a este personaje me parece perfecta aunque por momentos pensaba que su interpretación está basada en como lo haría Jim Carrey, creo que por eso lo vi muy cómico; no puedo olvidar el hablar de Jamie Demetriou como "Walt" el mejor personaje de esta serie, en casa representación o punto de vista que muestran en sus diferentes relatos, estoy seguro de que Walt es sumamente importante, como dije, él es el mejor. Los demás actores hacen un excelente trabajo desde un punto de vista más protagónico, pero en esta oportunidad me refiero a quienes más me han gustado desde su trabajo y por supuesto de los personajes que interpretaron.


The story of the same fact, but with different points of view is the important of this series because it transforms this story into a romantic comedy, action, suspense, musical, a "Coming-of-Age", a story of acceptance or growing up or even a children's story, different points of view in eight episodes and each one can give the clue to solve this murder, but this in the script is well written and to make it much better we must find the actors to develop this story, to make it entertaining and funny; the work of for example Tiffany Haddish as "Detective Danner" is perfect, she is a great character, a very intelligent, funny, professional and comic woman, she is one of the best; I can also name Dave Franco as "Xavier", a famous actor and singer, but with very little talent, always supported by the monetary fortune of his father who helped him to achieve great fame, he is annoying, not very humble, conceited, liar, he is not the best person, but the performance of Franco is excellent; another one who plays a good role is Ike Barinholtz as "Brett", the previously famous of the school, the popular, athlete and bully; the performance of Ike is very good, great character, comic, I think we all knew someone like Brett, talkative, he thinks he is more than the others, but the way this actor represents this character seems perfect to me although at times I thought his interpretation is based on how Jim Carrey would do it, I think that's why I saw him very funny; I can't forget to talk about Jamie Demetriou as "Walt" the best character of this series, at home representation or point of view that they show in their different stories, I'm sure that Walt is extremely important, as I said, he is the best. The other actors do an excellent job from a more protagonic point of view, but in this opportunity I refer to those who I liked the most from their work and of course from the characters they played.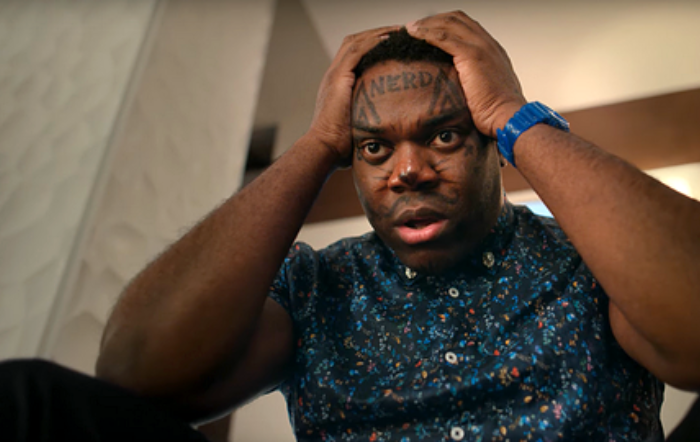 Fuente / Source

The Afterparty es sumamente entretenida, es cómica y lo mejor es que están consientes de no querer cambiar nada sobre este género de historias misteriosas en dónde se debe resolver un crimen, siguen todas las características, cumplen con los muchos clichés y siendo sincero, pienso que eso la hace mejor, rompe el molde por el uso de diferentes maneras de relatar lo que sucedió antes y después de un crimen, mostrando como fue que cada personaje vivió ese momento mientras sucedía un asesinato; ahora, está historia no es perfecta porque para ser sincero es predecible desde su tercer y cuarto episodio, es fácil descubrir quien comete el horrible crimen, pero a pesar de eso, nunca deja de ser entretenida porque siendo una historia corta, con grandes ideas en cada episodio, cumple con ser muy divertida y eso sucede hasta los momentos finales y ojalá que cuando estrenen la segunda temporada, algunos de estos personajes puedan regresar, aunque ya se hq dicho que en cada nueva temporada se deberá resolver un nuevo crimen. Espero que puedan darle oportunidad a esta historia y disfruten de una entretenida serie, cómica, estrenada en este año.


The Afterparty is highly entertaining, it is funny and the best thing is that they are conscious of not wanting to change anything about this genre of mysterious stories where a crime must be solved, they follow all the characteristics, they comply with the many clichés and to be honest, I think that makes it better, it breaks the mold by the use of different ways of telling what happened before and after a crime, showing how each character lived that moment while a murder was happening; now, this story is not perfect because to be honest it is predictable from its third and fourth episode, it is easy to find out who commits the horrible crime, but despite that, it never stops being entertaining because being a short story, with great ideas in each episode, it fulfills to be very funny and that happens until the final moments and hopefully when they release the second season, some of these characters can return, although it has already been said that in each new season a new crime must be solved. I hope you can give this story a chance and enjoy an entertaining series, funny, released this year.

The Afterparty| Official Trailer

Cover image edited in canva; the image was taken from the following source


---
---