[ENG/ESP]Thirteen Lives: when the world unites for a cause there is hope/Trece Vidas: cuando el mundo se une por una causa hay esperanza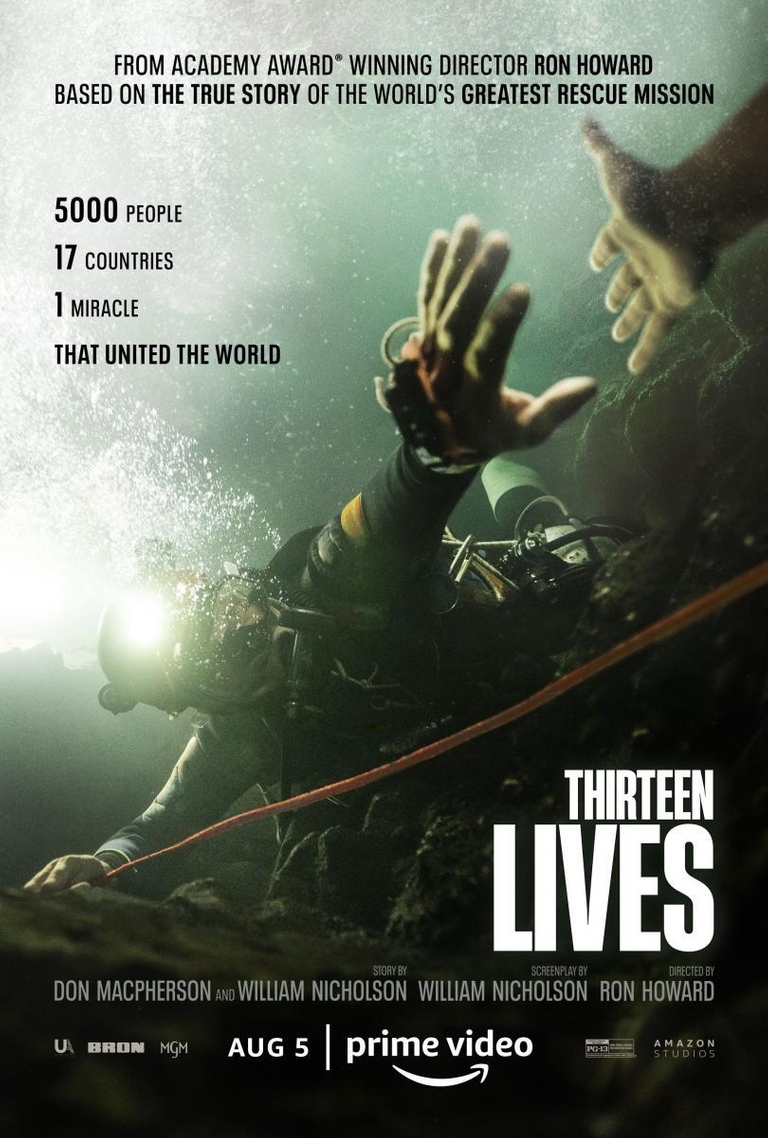 Source
English
Hello friends, welcome to my blog, this weekend I saw a movie that reminded me that despite the hatred of color, gender, ideologies and absurd wars, there is still hope, when the world unites to help in human tragedies . This film based on real events shows us how in 2018, a youth soccer team and their coach were trapped in a cave called Tham Luang (Great Cave of the Sleeping Lady), when an unexpected rain flooded the cave while they were walking in it. For 18 days, one of the largest rescues in the world was carried out, with the participation of more than 10 countries, led by the United Kingdom, the USA, Australia, China, Russia and Germany.
Spanish
Hola amigos, bienvenidos a mi blog, este fin de semana vi una película que me recordó que ha pesar de los odios por el color, los géneros, ideologías y guerras absurdas, aún hay esperanza, cuando el mundo se une para ayudar en tragedias humanas. Esta cinta basada en hechos reales nos muestra como en 2018, un equipo de fútbol juvenil junto a su entrenador quedó atrapados en una cueva llamada Tham Luang (Gran Cueva de la Dama Dormida), cuando una lluvia inesperada inundó la cueva mientras paseaban en ella. Durante 18 días se llevó a cabo uno de los mayores rescates del mundo, con la participación de más de 10 países, liderados por el Reino Unido, USA, Australia, China, Rusia y Alemania.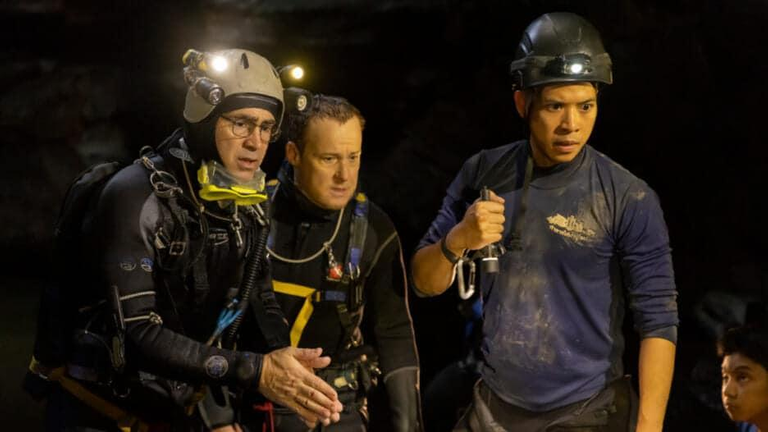 Source
Thirteen Lives, caught my attention not only for telling an extraordinary real event, but also for being directed by one of the directors that I like the most, Ron Haward, accompanied by a cast of actors such as: Colin Farrell, Viggo Mortensen, Joel Edgerton , Tom Bateman, Lewis Fitzgerald, Vithaya Pansringarm, Paul Gleeson, Teeradon Supapunpinyo, Peter Phan, Sahajak Boonthanakit, Bernard Sam, Kirsty Sturgess, Nitipoom Khachatphai, among others. He brings us this tape that, for 142 minutes, narrates the odyssey that Thailand put in all the news media in the world. The province of Chiang Rai, was during the time that the rescue lasted the epicenter of one of the largest rescues by the Thai government and the countries that came to lend their help to rescue these children and their coach alive.
Trece Vidas, me llamo la atención no solo por contar un hecho real extraordinario, sino también por ser dirigida por uno de los directores que más me agrada, Ron Haward, acompañado de un elenco de actores como: Colin Farrell, Viggo Mortensen, Joel Edgerton, Tom Bateman, Lewis Fitzgerald, Vithaya Pansringarm, Paul Gleeson, Teeradon Supapunpinyo, Peter Phan, Sahajak Boonthanakit, Bernard Sam, Kirsty Sturgess, Nitipoom Khachatphai, entre otros. Nos trae esta cinta que, durante 142 minutos, nos narra la odisea que puso Tailandia, en todos los medios noticiosos del mundo. La provincia de Chiang Rai, fue durante el tiempo que duró el rescate el epicentro de uno de los mayores rescates por parte del gobierno tailandés y los países que acudieron a prestar su ayuda para rescatar con vida a estos niños y su entrenador.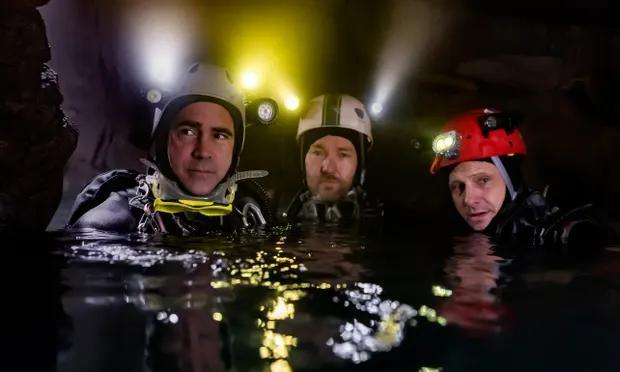 Source
From the first moment the film catches you, the rhythm is constant and there is no opportunity to get bored, we see how the events unfold and how it is handled by the local authorities from the first moment. The attention that begins to be generated after the first week of his disappearance in the international media and the country, makes elite teams of international divers and countries around the world offer their help to try to save these children aged between ages 11 to 16, along with their 25-year-old coach. John Volanthen (Colin Farrell), a specialist cave rescue diver, upon seeing the news, volunteers and becomes the leader to recruit a group of expert cave divers for the mission of locating and rescuing the missing.
Desde el primer momento la película te atrapa, el ritmo es constante y no hay oportunidad para aburrirse, vemos como suceden los hechos y como es manejado por las autoridades locales desde el primer momento. La atención que se comienza a generar luego de la primera semana de su desaparición en los medios internacionales y el país, hace que equipos elites de buzos internacionales y países del todo el mundo ofrezca su ayuda para tratar de salvar a estos niños de edades comprendidas entre los 11 a 16 años, junto a su entrenador de 25 años. John Volanthen (Colin Farrell), un buzo especialista en rescate en cuevas, al ver las noticias se ofrece de voluntario y se convierte en el líder para reclutar a un grupo de buzos expertos en cuevas para la misión de localizar y rescatar a los desaparecidos.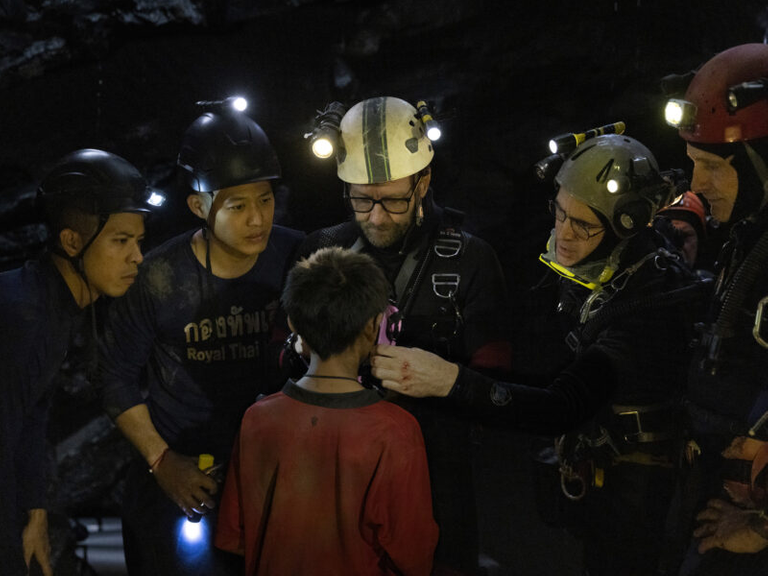 Source
The team that accompanies John (Colin), will be in charge of devising one of the most dangerous rescues in diving to get these boys out alive, many of whom do not know how to swim. He will turn to his friends, all over the world, to carry out the mission. Meanwhile, the people, engineers, farmers will climb the mountain to try to divert the waters that fall into the cave from the mountain. It's amazing to see how a country and the world came together to save these kids. The film is moving because of the solidarity of all without selfishness, the sacrifice of a people to help, letting the waters destroy their crops, the union of a nation and the help of all the countries that collaborated in the rescue and lent their technical support and logistic.
El equipo que acompaña a John (Colin), se encargará de idear uno de los rescates más peligrosos en el buceo para sacar con vidas a estos chicos, muchos de los cuales no saben nadar. Él recurrirá a sus amigos, en todo el mundo, para llevar a cabo la misión. Mientras, el pueblo, ingenieros, agricultores subirán a la montaña para tratar de desviar las aguas que caen a la cueva desde la montaña. Es increíble ver como un país y el mundo se unió para salvar a estos chicos. La cinta conmueve por la solidaridad de todos sin egoísmo, el sacrificio de un pueblo para ayudar, dejando que las aguas destruyan sus cosechas, la unión de una nación y la ayuda de todos los países que colaboraron en el rescate y prestaron su apoyo técnico y logístico.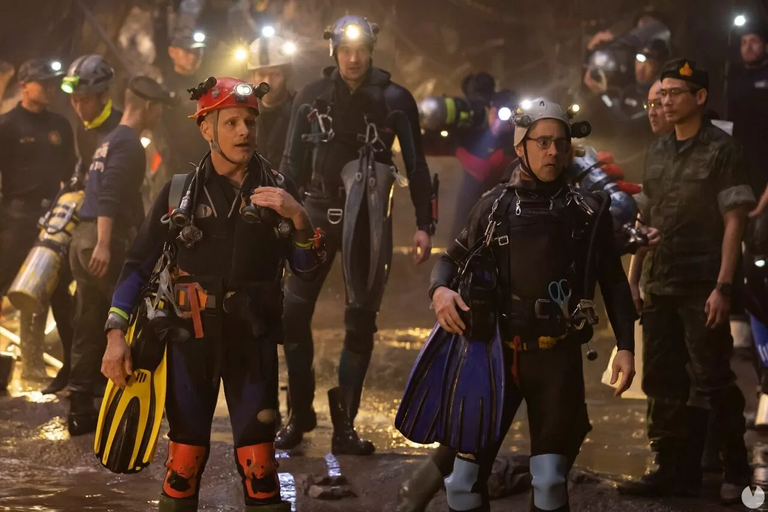 Source
Finally, I must say that I expected nothing less from a film by Ron Haward, who always has interesting stories to tell and highlights it in each scene, in photography and in how he narrates them. The performances are extraordinary, the characters with their fears and doubts during the rescue feel real and take us into what those who carried out the rescue experienced. He showed us the culture of Buddhism in Thailand, how the coach being a former monk taught the children to meditate, which allowed them to survive the first week of his disappearance. It is a movie full of moments that are worth seeing, so if you haven't seen them, I invite you to do so.
Finalmente, debo decir que no esperaba menos de una película de Ron Haward, quien siempre tiene historias interesantes que contar y lo resalta en cada escena, en la fotografía y en como las narra. Las actuaciones son extraordinarias, los personajes con sus temores y dudas durante el salvamento se sienten reales y nos adentran a lo que vivieron quienes realizaron el rescate. Nos mostró la cultura del budismo en Thailandia, como el entrenador al ser un ex monje enseño a los niños a meditar, lo que les permitió sobrevivir la primera semana de su desaparición. Es una película llena de momentos que vale la pena ver, así que si no las ha visto te invito hacerlo.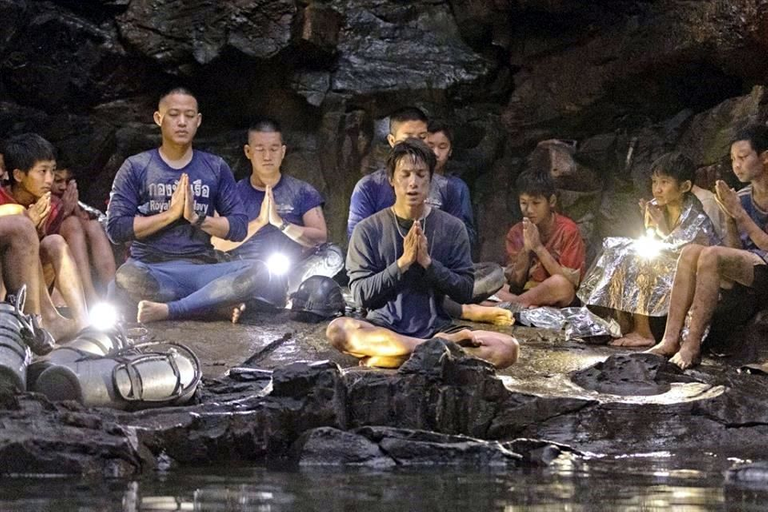 Source
Official Trailer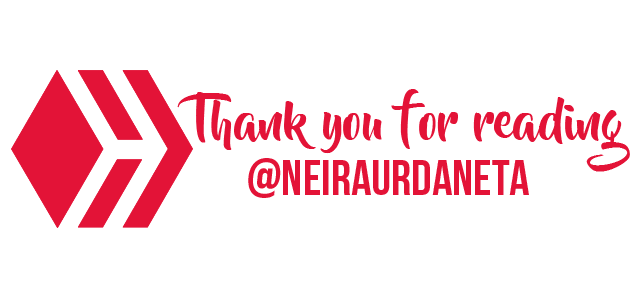 ---
---