Loser (film): Filled with terrible acting but funny because of it
Films were a bit strange in the 90's and early 2000s. I don't really know how to describe it but it took 20 years before we could look back on those times and say that wow, our fashion and everything about that time period just looks a bit silly now. Jason Biggs was at the pinnacle of his career back in those days thanks largely to the success of the American Pie franchise and I'm gonna look real fast to make sure I am not wrong about this... Ok i wasn't wrong :) Loser came out shortly after the first American Pie film and I think we can all safely say that it likely wouldn't have been released if it were for the success of the Stiffler ones.
Loser is a decent film but loaded with terrible actors that border on me not being able to believe that they actually got paid to be in this but that is also part of the reason why I enjoyed it a lot more than I thought I was going to.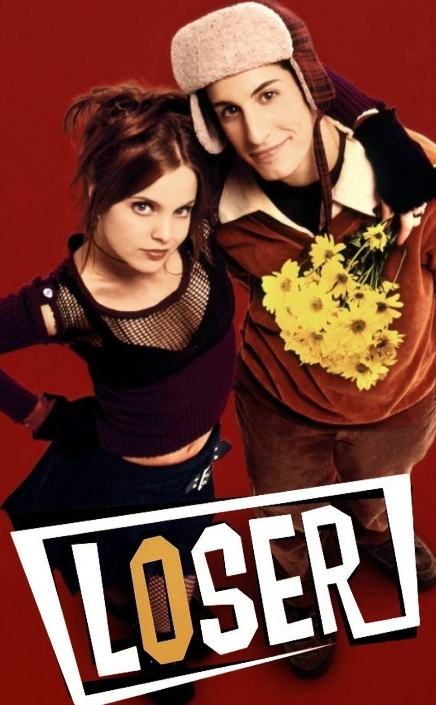 src
The concept behind the film certainly isn't unique: A small town kid gets a scholarship to a New York City college and he doesn't know how to handle the big city. All of his attempt to fit in fail and everyone is mean to him including his really horrible roommates.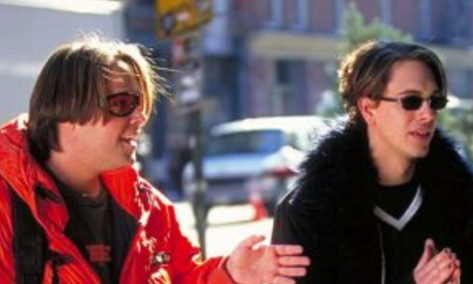 src
Paul (Biggs) roommates are always picking on him and indicating that the way he dresses isn't cool and make fun of his hat and other such things that definitely wouldn't fly with anyone who actually was living with someone but the funny thing about this is that the roommates' outfits are absurd as are their matching colored wrap around Oakleys. I like this portrayal because I knew people in the 90's and early 2000's that would don this style and they really thought they looked fantastic. Thankfully, I was too poor to ever engage in the fashion wars that have existed at that period of time, or really any other time-period.
All of the actors playing the roommates and the quite-obvious-love-interest that is "Dora" are all absolutely terrible actors and actresses. Mena Suvari, who I don't really recall being in much else, is particularly bad and I don't know if she was just new to the scene or what but man oh man is she absolutely awful in this.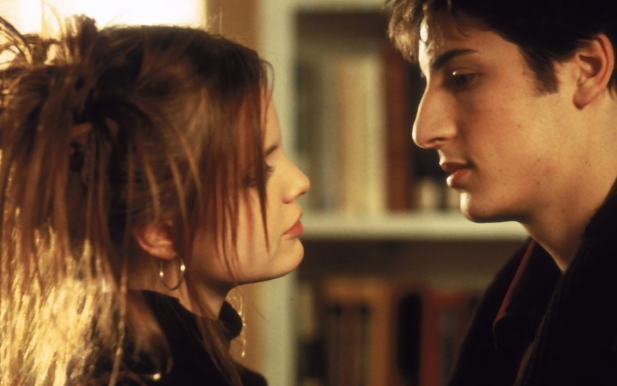 src
I guess they were going for an Avril Lavigne type look with whoever they were going to cast and there weren't that many people to choose from? I suppose she is good-looking but all I can say is that I hope she went on to get some acting lessons or something because I think one would actually have to work pretty hard to be considered the "bad actor" in a movie that already had Jason Biggs in it.
I think there is only one person in the entire film that could actually be considered good and that was Greg Kinnear.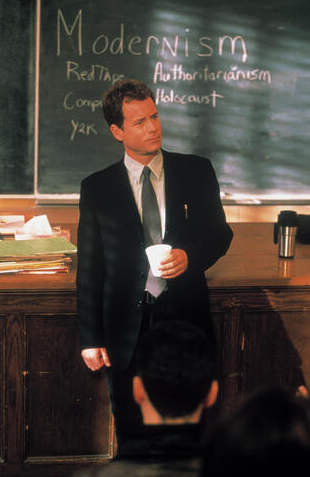 src
Kinnear plays the role of a professor that is secretly dating and messing around with students, one of which happens to be Paul (again, Jason Biggs') love interest. Although Kinnear plays a minor role it is really humorous whenever he is in a scene because he is leaps and bounds better than anyone else that is in this movie. Maybe the casting was done intentionally poorly so that Biggs wouldn't get overshadowed. It's difficult to say but there is one thing that you are definitely not going to think when the credits role at the end of this film and that is "how many awards was that nominated for?"
Should I watch it?
Despite the mostly negative things I have said above I think this movie is still good enough to be entertaining and also is quite representative of a style of movie that was on the way out in the late 90's and early 00's because they had overkilled it already at that point. I think that there were many aspects of this movie that they didn't really care about and just pushed it out to market very quickly in order to take advantage of Jason Biggs' fame that would quickly fade. Think about it for a second ok? Name any Jason Biggs film that isn't this one or the American Pie ones? I bet you can't without cheating!
This film is decent to have on the background because nothing surprising happens. The script isn't that bad actually in that the lines are pretty good, they are just delivered by ridiculous characters that can't act. That's more funny than the intentional comedy in this one.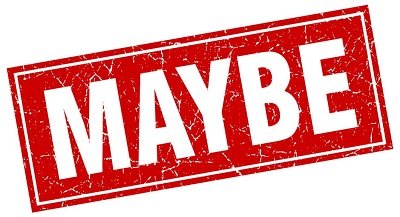 ---
---