CineTV Contest: Movies to Watch at Least Once in Your Life

Hello!
How are y'all? Have you seen or heard of CineTV's contest? If you haven't yet, all you have to do is just click here to see and participate in this enjoyable contest with very simple rules. There will also be prizes for 3 winners, yay!
I believe that, regardless of your age, some movies should be watched at least once in your life. That's why I've always loved reading articles about movie reviews or browsing watching lists. I also enjoy watching movies by myself; but one of my favorite things is to watch something with my friends or family and then discuss about it. Luckily, my older brother used to enjoy watching movies just as much as I did, and we spent most of our childhood watching cartoons together. As we got older, cartoons turned into movies watched together.
Now I'm going to share with you some of the movies that really impressed me as a child. Even though I've watched some of them more than once already, I can never say no to watching them again.
1. The Lion King
Young or old, I'm sure everyone has watched The Lion King, the story of little Simba reclaiming leadership of the throne. No doubt it's one of Disney's best works. I used to watch its cartoon and a live-action version was also made recently, but i think the animated version still is the best one.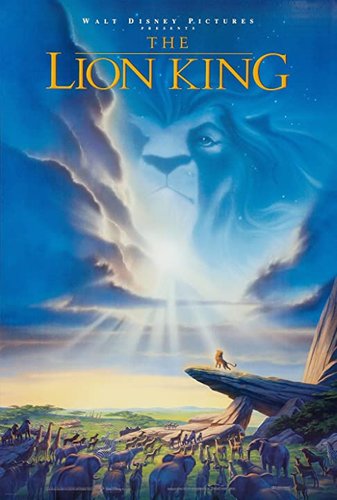 When I was seven years old and still a primary school student, the school took us this movie. I can still remember how excited I was until movie day. Also, The Lion King is the first movie that I can remember watching in the cinema, which explains -except for its remarkable story- why it has such a place in my memory.
Baby Simba's born (Rafiki holds up Simba) is surely one of the most iconic and memorable scene in Disney history but if you ask the scene that still pops into my mind, my answer would be Mufasa's Death. Long live the King! I think death and sibling betrayal is too much for a seven year old. Even today, the scene of Simba finding and crying over Mufasa lying motionless on the ground to get up and asking for help brings tears to my eyes. Simba, what have you done? Run away Simba, run away and never return! I couldn't believe how bad Scar was and I felt very sorry for Simba who had to run away. Sooner or later justice has been done and Simba reclaimed the kingdom.
And I can never forget the three hyenas, they were the only funny characters I can remember from the movie. Despite the uncanny expression on their faces... (Cactus-butt, lol.)
2. A.I. Artificial Intelligence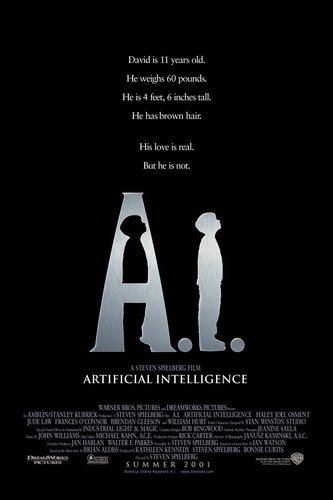 Ok... I think movie poster says it al!
I don't know exactly why I love Artificial Intelligence so much. Maybe it's because the lead actors are pretty good or the story of the movie is so familiar.
Those who watched the movie know very well that the story of little David is similar to Pinocchio and the movie contains other inspirations from Pinocchio, such as the blue fairy and even the book itself, but for those who haven't watched it yet, the movie tells the story of an 11-year-old robotic boy, David, who searches for the blue fairy to become a real boy. The only reason he wants to be real is to regain love of his adoptive human mother, Monica. He believes that if he becomes a real boy, Monica will accept and love him back again. So he embarks on a drama-filled adventure to find the blue fairy mentioned in the Pinocchio story. Although he finally finds a figure resembling the blue fairy, he never turns into a real boy.
I know we're not talking about a real boy, stil... I think the movie is successful in activating emotions. From the first scene I met David to the last, there wasn't a single moment that I didn't thought he was a real boy. I empathized with him, felt how desperately he desired to be loved, and I was saddened by the injustices he faced. For me, David was already a real boy, an innocent one. That's why I was deeply saddened by the mistreatment not only of him, but of all other robots as well. In the end, I wanted his wish to come true and him to be reunited with the mother he wanted so much.
There are two scenes from the movie that I remember especially. The first of these is the scene where the Nanny Mecha was destroyed for the amusement of humans. She still had a smile on her face just because David was watching her. Despite the short time they spent together, Nanny cared for him. Not long after they met, the movie managed to touch my heart once again, with the song Nanny sang to David not to be afraid when they were caught at Flesh Fair. And to see after thousands of years that David's wish had finally come true was the second one.
I know it's not suitable for a small child because of some of the things in the movie. I was thirteen or fourteen years old when I watched the movie, but I wanted to tell you about two movies that had a great impact on me in two different periods of my childhood.
Basketball Diaries, My Left Foot, Sleepers,The Wizard of Oz... For me, there are many movies that should be watched at least once in our life, but I will only mention their names in order not to make the post longer. (as if it's not.)
Some parts may be confusing as English is not my mother language. I'm sorry for that. But I hope you have a good time reading my entry. Until the next contest...

---
---