Cloverfield Paradox (netflix movie review)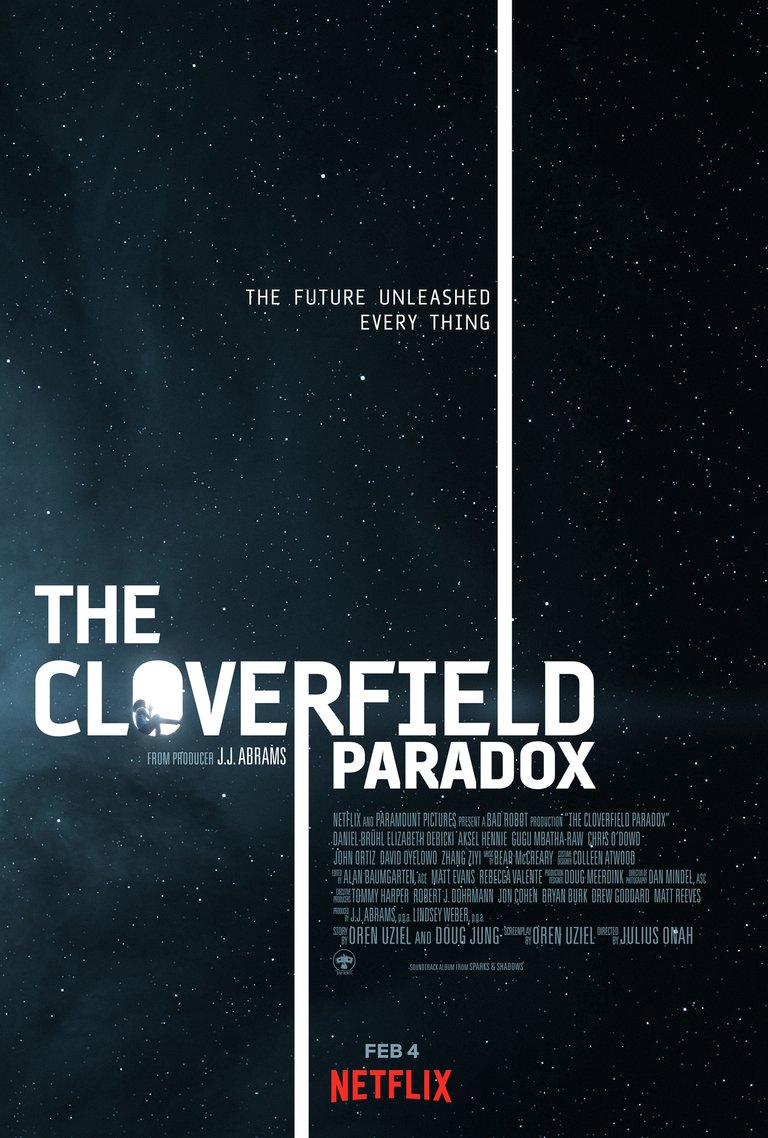 Saludos chicos, feliz inicio de semana para todos, espero que estén bien y tengan una fructífera semana. Hoy os vengo a traer algo más de Sci-fi que últimamente esta resonando mucho en mis gustos.
Greetings guys, happy start of the week to all, I hope you are well and have a fruitful week. Today I come to bring you some more Sci-fi that lately is resonating a lot in my tastes.
La semana pasada quedé con el sabor amargo de la película en el espacio interpretado por Brad Pitt, dado a como les dije en ese post, fue muy confuso, lento y poco interesante. Creo que cuando se trata de un tema de universo se le puede sacar más provecho que solo ofrecernos una vista hermosa de la tierra desde las alturas.
Last week I was left with the bitter taste of the movie in space played by Brad Pitt, since as I told you in that post, it was very confusing, slow and uninteresting. I think that when it comes to a universe theme you can get more out of it than just giving us a beautiful view of the earth from high above.
Quise por eso intentar nuevamente ver una trama parecida a esta y me conseguí con "The Cloverfield Paradox", un nombre para mi bastante extraña que me hizo solo pensar en paradojas así que eso avivó un poco mi interés, además que ya antes había escuchado el nombre del productor en otra trama interesante.
I wanted to try again to see a plot similar to this one and I got "The Cloverfield Paradox", a name for me quite strange that made me only think of paradoxes so that stoked my interest a little, plus I had already heard the name of the producer in another interesting plot.
No entiendo la razón por la cual siempre esperamos el final de todo, en este punto me refiero a que la tierra se ha quedado sin recurso eléctrico, es decir, no tiene energía de ningún tipo por lo que un grupo de físicos, científicos y personas expertas buscan alguna forma de producir energía inagotable fuera de la tierra.
I do not understand the reason why we always wait for the end of everything, at this point I mean that the earth has run out of electrical resources, that is, it has no energy of any kind so a group of physicists, scientists and experts are looking for a way to produce inexhaustible energy outside the earth.
Claro hay que tomar en cuenta que estos expertos tienen una decisión difícil que tomar porque primero es muy riesgoso y segundo que tienen familia que están dejando atrás porque no es un proyecto que se lleve a cabo de la noche a la mañana.
Of course, we have to take into account that these experts have a difficult decision to make because first, it is very risky and second, they have families that they are leaving behind because it is not a project that will be carried out overnight.
No quiero imaginar la desesperación de la personas y países en guerra viendo lo insostenible que se vuelve el mundo, mucho menos a esas personas cuyo conocimiento se vuelven dependientes también de la efectividad del proyecto.
I do not want to imagine the desperation of the people and countries at war seeing how unsustainable the world is becoming, much less those people whose knowledge also becomes dependent on the effectiveness of the project.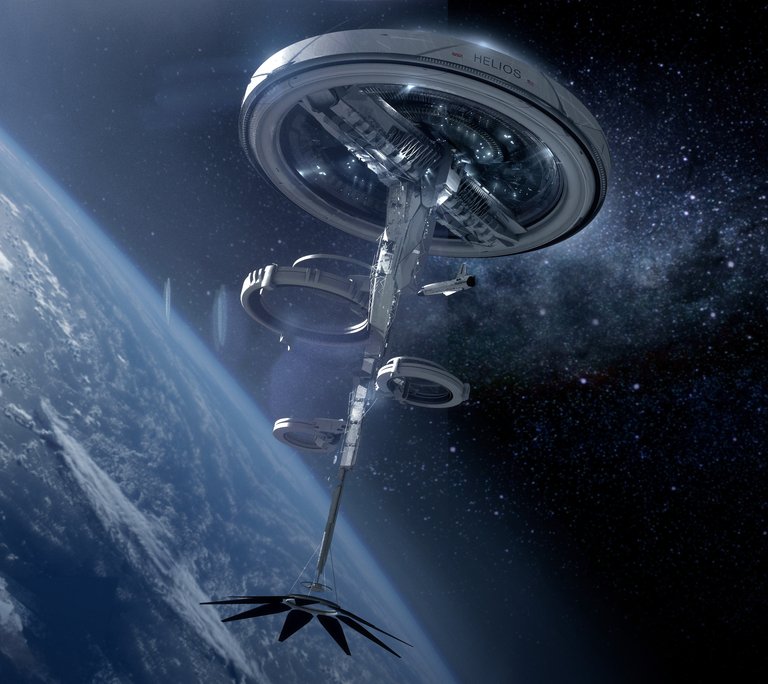 No se nada sobre ciencia, pero debo confesar que construir una nave espacial o incluso algo más sencillo que ello como un avión en realmente fascinante, me hace pensar en el poder que tiene la humanidad y la creatividad para llevar a cabo cosas antes no pensadas.
I don't know anything about science, but I must confess that building a spaceship or even something simpler than that like an airplane is really fascinating, it makes me think about the power of humanity and creativity to carry out things previously unthought of.
El elemento que más llama la atención aquí es la creación de energía inagotable con un acelerador de partículas, algo que por si solo mencionar da como miedo por las consecuencias que esto puede acarrear en su uso.
The most striking element here is the creation of inexhaustible energy with a particle accelerator, something that by itself to mention is kind of scary because of the consequences that this can bring in its use.
Sin embargo, vemos que estas personas están confiadas en el uso del mismo solo que cada prueba los ha hecho perder la fe. Lo que tal vez se suponía que iba a lograrse en poco tiempo les ha llevado ya 2 años y con una posibilidad reducida en 3 intentos.
However, we see that these people are confident in the use of it only that each test has made them lose faith. What perhaps was supposed to be achieved in a short time has taken them 2 years and with a reduced possibility in 3 attempts.
Por supuesto las cosas en la tierra cada vez de mal en peor por la escasez, la incertidumbre e incluso la guerra, cosa que me parece insólito cuando se ve reflejado un problema mundial que puede acabar con la humanidad entera.
Of course things on earth are getting worse and worse due to scarcity, uncertainty and even war, which seems unusual to me when you see a global problem that can end the whole of humanity.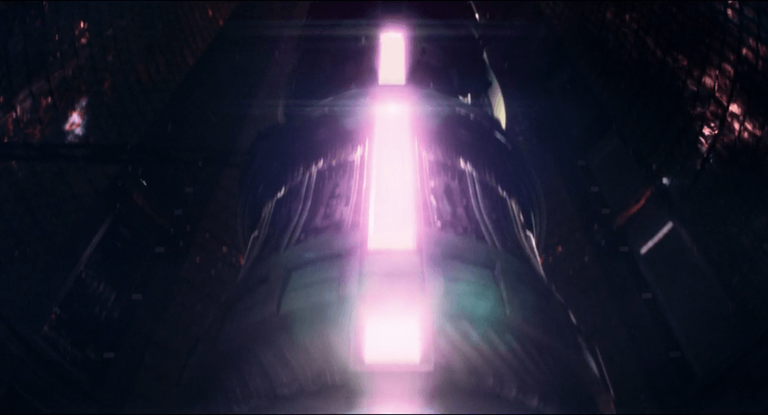 Ante la posibilidad de una prueba más, salen personas en la tierra hablando sobre las consecuencias que cada repetición de activación de partículas puede traer a la tierra y al universo tal y como lo conocen. Sin embargo las pruebas siguen y con ello lo que se suponía era un mito, se hace realidad.
With the possibility of one more test, people on earth are coming out talking about the consequences that each repetition of particle activation can bring to the earth and the universe as they know it. However the tests go on and with that what was supposed to be a myth, becomes reality.
Me hizo recordar un poco a Doctor Strange porque se hable de dimensiones, donde puedes existir en cada una de ellas pero bajo circunstancias distintas que al saberlas te puede llevar a querer estancarte en la misma.
It reminded me a bit of Doctor Strange because there is talk of dimensions, where you can exist in each one but under different circumstances that knowing them can lead you to want to stagnate in the same one.
El problema es que estar tanto tiempo en una dimensión cuyo cuerpo o partículas no corresponde a la misma conlleva mucho más problemas. Tal vez lo lógico se vuelve contrario. Y lo que menos piensas se vuelve una amenaza para la supervivencia.
The problem is that being so long in a dimension whose body or particles don't correspond to it leads to much more problems. Perhaps the logical becomes the opposite. And what you least think about becomes a threat to survival.
El agregado aquí es la actividad de otros seres desconocidos que pudiéramos llamarles extraterrestres por no decir que son monstruos de otros mundos y que como consecuencia ahora están mezclados y habitan en la tierra de la dimensión correcta.
The addition here is the activity of other unknown beings that we could call them extraterrestrials not to say that they are monsters from other worlds and that as a consequence are now mixed and inhabit the earth of the right dimension.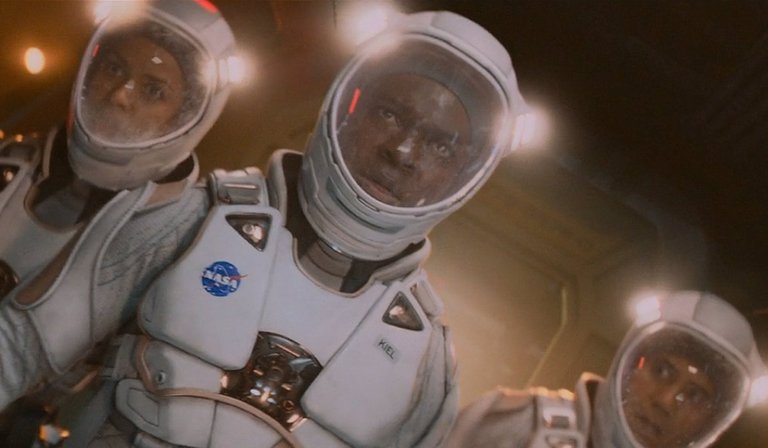 Otra de las cosas que tomaron en cuenta y que me gusto mucho en esta trama es el hecho de que cuando se viaja de esa forma entre dimensiones y partículas, las probabilidades de mezclarse con cualquier cosa existente es bastante. Gusanos entre el cuerpo, cuerpos dentro de la nave, todo es posible.
Another thing that they took into account and that I liked a lot in this plot is the fact that when you travel in this way between dimensions and particles, the probabilities of mixing with anything that exists is quite high. Worms between the body, bodies inside the ship, anything is possible.
Esto me hizo recordar las advertencias en Harry Potter sobre ir de un lugar a otro con cualquier tipo de aparición que requería la transferencia del cuerpo en partículas. Lo que sucedió por ejemplo con Ron, que fue halado del brazo antes de poder su cuerpo completamente trasportarse hacia el sitio indicado.
This reminded me of the warnings in Harry Potter about going from one place to another with any kind of apparition that required transferring the body into particles. What happened for example with Ron, who was pulled by the arm before his body could fully transport to the right place.
Aquí ocurre lo mismo y no se si sea parte verídica sobre lo que es la ciencia de las partículas.
The same thing happens here and I don't know if it is a true part of the particle science.
Lo que si es que la película da un vuelco entero, lo que es solo sci-fi se convierte también en una trama de terror bastante interesante.
What is true is that the movie turns around, what is just sci-fi turns into a very interesting horror plot.
Al final cuando piensan que ya todo esta normal, es cuando menos oportunidad tiene ahora la raza humana de sobrevivir.
At the end when they think that everything is normal, is when the human race has the least chance to survive.
---
---