Ambulance always plays ‍as an important role
We have to live in the world constantly fighting with different kinds of environment and situations in our daily life. Every person in the world has different types of problems, big or small. In normal life, if people do not try their best to solve the real life problems in general, they are forced to try to solve the problems through criminal acts, whether they are in danger or not. As a result, it can be seen that even if people want to, they cannot be honest in some difficult moments of life.
The point is that when a person seeks help from someone in times of danger, the capable person wants to exploit the vulnerable or vulnerable person to save his own interests. Greedy, dishonest and selfish people are more common in today's world. But even after that, seeing that there are honest and selfless people in the world, maybe different classes of people are still able to survive. All people should selflessly help people in times of danger.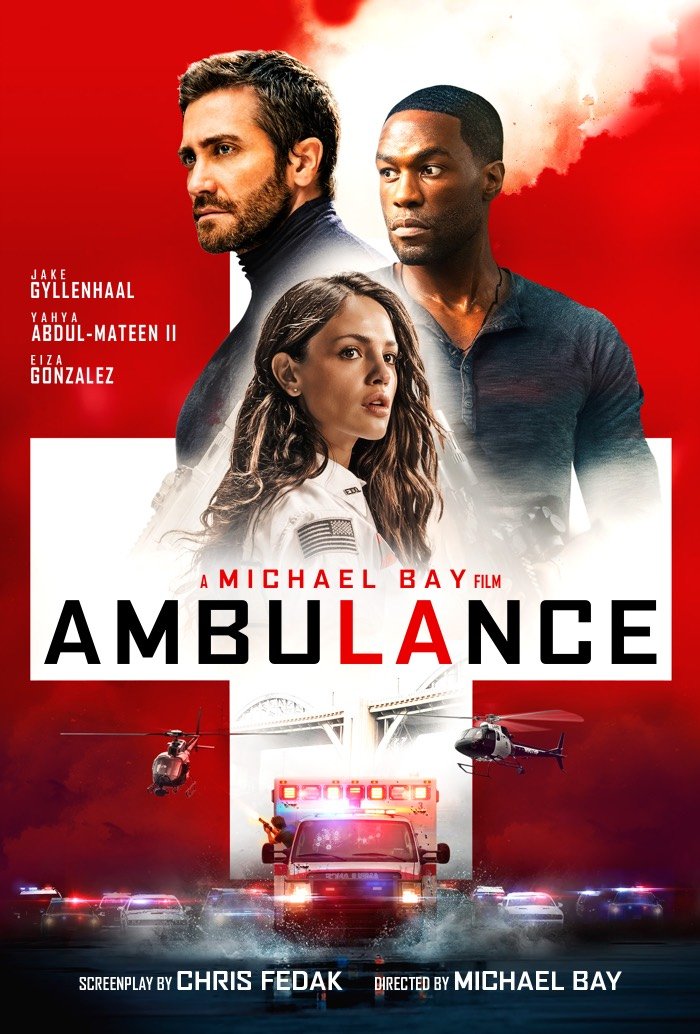 IMAGE
There are many professions around us, where money is exchanged for service. For example, there are hospital services, emergency ambulance services, legal services, transportation services and many more. Which is being managed by the need of people to live well. But even after that, most people are not able to live well. The reason is that when people work and see the hardships of life, they lose their natural feelings and become selfish people. As a result of which the service work has become a very important work, but it has started to be done by humans like robots. And if there is no sense of humanity in man, he can never do good to any man and never cares.
In our daily life, ambulance service is an important service work between human life and death. As ambulances come in handy to save many lives, so many lives take their last breath in ambulances. Such experiences are a constant in the lives of those who provide emergency ambulance services. Even after seeing the scene of life saving and dying every day, many people do not even feel any compassion, as if people are turning into emotionless robots.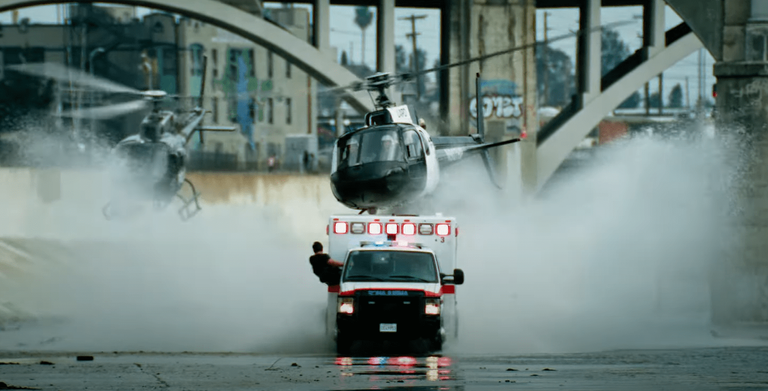 IMAGE
Ambulance:
Director Michael Bay made an excellent thriller action movie Ambulance in 2022. Where some of the important scenes of the society have been shown and also shown the excellent upside down action based car racing through the ambulance. Along with that, the skillful director has managed to show the life needs of honest and dishonest brothers and their fate and the scenes of the ambulance at the important moment of life beautifully.
Name of the main characters of the movie:
Yahya Abdul Mateen II [Will Sharp]

Moses Ingram [Amy Sharp]

Jack Gyllenhaal [Danny Sharp]

Eiza Gonzalez [Cam Yhompson], including many others.
At the beginning of the movie, Will, an ex-soldier, has no job and is trying to find work over the phone. Will's wife needs a lot of money to get medical treatment, so Will turns to his adoptive brother Denny. Denny will pay after hearing about his brother's problem, but Will has to help him with a task first. With no other choice, Will agrees to help Denny rob the bank. On the one hand, the wife needs a lot of money for treatment, on the other hand, brother Danny will not give money if he does not help her in her work.
When brothers want to help selfishly in times of danger, it is really a matter of concern how common people will help people in times of danger. As a result, even honest people are forced to commit crimes. For which our incongruous living system is responsible. But we should be more conscious and hearty people.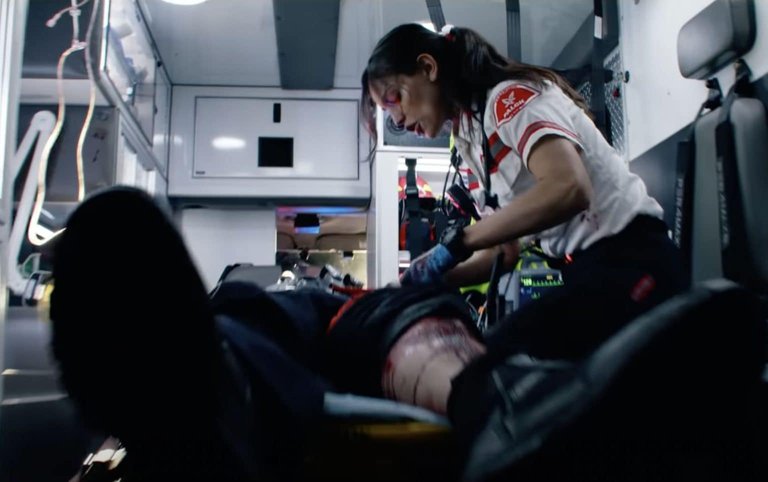 IMAGE
In another scene, the beautiful Cam goes to a car accident in an ambulance and rescues the injured baby girl stuck in the car by talking to her and making her cry. After that he finished all his duties keeping the girl in the hospital. But it turns out Cam's kid doesn't care about the girl anymore and doesn't feel the need to take her. The man who rescued the injured little girl in a time of danger, Cam had no pity for the little girl. Cam comes off as a really stoic character most of the time, but by the end of the movie he does have some concern for the little girl and visits the hospital.
And on the other hand two brothers appeared in the bank with their team and were quietly doing their work inside. But a lover cop takes his friend in front of the bank and the lover sir will propose to his banker lover today. That's when Denny takes her hostage and quickly finishes them off. However, the SIS soldiers informed about their robbery before, they also took position outside to catch the robbers. When the policeman outside saw his friend using him as a trap, he started shooting from outside. And then the SIS soldiers also opened fire, killing all but the two brothers. As the two brothers try to escape through the parking lot with the police boyfriend at gunpoint, the boyfriend attacks Denny and, unaware of the situation, Will's gun fires, injuring the policeman. And that's when calls Sundari Cam for emergency ambulance service and the two brothers try to escape, taking the wounded policeman with them.
But as it happens, the two brothers get into action with the police through excellent car racing and at one point they have to be caught. When Will is found shot, brother Denny rushes him to the hospital to save him. But Danny will kill Cam to punish him for shooting his brother Will. But here it is seen that Will shoots Denny dead and saves Cam. For which Cam also now saves Will cause of a good man.
Finally, this is how beautiful Cam is also seen to have a normal human feeling and money is arranged for the treatment of Will's wife and the wonderful movie ends. Hope you will also like Yahya Abdul Mateen star's Ambulance movie.
Thank you .
---
---