Cine TV Contest #25: Before sunrise, an ode to letting yourself go. (ENG-ESP)

Love, escape, travels through a romantic Europe full of places to be found, so begins the journey of Jesse and Céline. I bring you for contest #25 "Favorite Getaway/Vacation Movie", Before Sunrise by Richard Linklater, I hope you like it.
Amor, escape, travesías por una Europa romántica y repleta de lugares que encontrarse, así comienza el viaje de Jesse y Céline. Les traigo para el concurso número #25 "Favorite Getaway/Vacation Movie", Before Sunrise de Richard Linklater, espero les guste.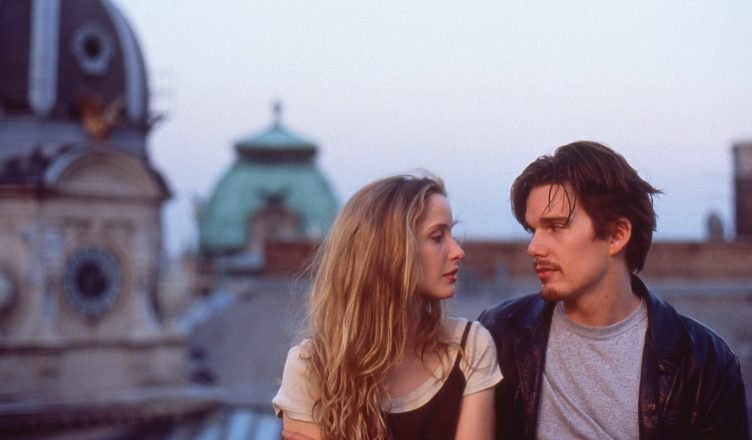 Have you ever dreamed of taking your things and go aimlessly, let yourself be carried away by events and let them form your adventure without a script, so begins this love affair that comprises a beautiful trilogy in which they talk about different types of love and its evolution, today I will focus on his first film which is the one that has more this side of adventure, and escape.
¿Alguna vez has soñado con tomar tus cosas e irte sin rumbo?, dejarte llevar por los acontecimientos y que vayan formando tu aventura sin guion, así comienza este amorío que comprende una trilogía hermosa en la que se hablan de distintos tipos de amor y su evolución, hoy me enfocaré en su primera película que es la que más tiene este lado de aventura, y de escape.
The film begins with Jesse and Céline on a train in Europe, both go to a specific place and begin to know each other, from one moment to another both decide to launch into adventure and discovery, deciding to disembark in Vienna, a place where neither of them had planned, together they unwind and get to know each other in this short journey, both know that this idyllic moment of madness will last only a day, because they must take the train the next day to return to the destinations established in the beginning. This imaginary of the beginning that the director presents us, is a fantasy in which the protagonists are untied from this established path of life and let themselves be completely carried away by the emotional, both characters travel through the city through simple dialogues, but very intimate and natural, you can feel how the love of both is developing in these lapses of interaction.
La película comienza con Jesse y Céline en un tren en Europa, ambos van a un lugar específico y comienzan a conocerse, de un momento a otro ambos deciden lanzarte a la aventura y el descubrimiento, decidiendo desembarcar en Viena, un lugar en el cual ninguno de los dos tenía planeado, juntos se desenvuelven y se conocen en esta corta travesía, ambos saben que este idílico momento de locura durará sólo un día, porque deben tomar el tren del siguiente día para volver a los destinos establecidos en un principio. Este imaginario del principio que nos presenta el director, es una fantasía en la que los protagonistas se desatan de este recorrido establecido de vida y se dejan llevar completamente por lo emocional, ambos personajes recorren la ciudad a través de diálogos simples, pero muy íntimos y naturales, puedes sentir como el amor de ambos se va desarrollando en estos lapsos de interacción.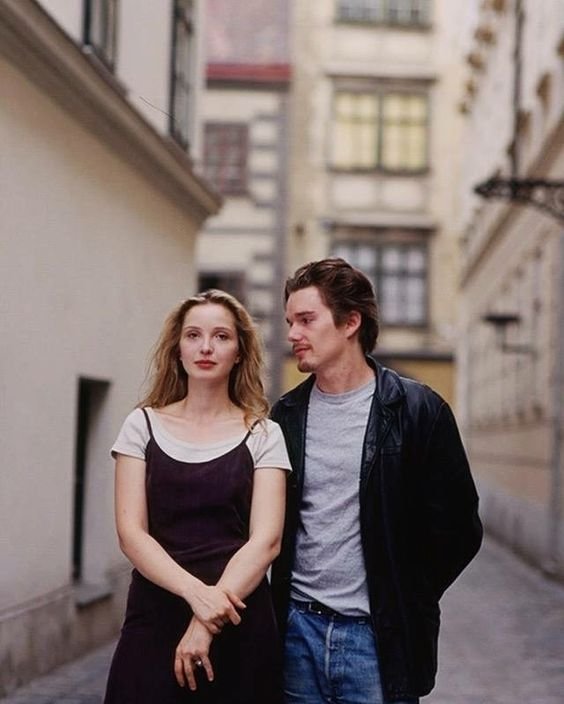 The high points of the film without spoilers are undoubtedly their dialogues and their walks through the beautiful Vienna, they meet different characters along the way, from poets to tarotists, each small encounter in Vienna, solidifies this express love affair and the music is another high point, a combination of classical music and American trova. One of the moments that I will never forget and touched my soul was the scene in which both are in a booth listening to a vinyl record, more specifically to Kath Bloom, a troubadour who even today with her advanced age is still making music, in the scene there is silence, looks, smiles and expels love, that love you were looking for when you were a teenager, that voracious and dreamy love, envelops you and makes you want to live an encounter of that style.
Los puntos altos de la película sin spoilear son sin duda sus diálogos y sus caminatas por la bella Viena, conocen diferentes personajes en el camino, desde poetas hasta tarotistas, cada pequeño encuentro en Viena, solidifica este amorío express y la música es otros de los puntos altos una combinación de música clásica y trova americana. Uno de los momentos que nunca olvidaré y tocó mi alma fue la escena en la que ambos están en una cabina escuchando un disco vinilo, más específico a Kath Bloom, una trovadora que aún el día de hoy con su avanzada edad sigue haciendo música, en la escena hay silencio, miradas, sonrisas y expele amor, aquel amor que buscabas cuando eras adolescente, ese amor voraz y soñador, te envuelve y te hacen querer vivir un encuentro de ese estilo.
This film besides love, fulfills a premise that according to me is primordial, and that is to "let yourself go", by the moment, by the circumstances, to live concretely, life has so many edges and each one of them can be an unimaginable journey, a decision to take the wrong station, be guided by your instincts in Vienna and finally meet what may possibly be the love of your life, maybe today is a good time to flow with instincts and emotions.
Está película además de amor, cumple una premisa que según yo es primordial, y es el "dejarse llevar", por el momento, por las circunstancias, vivir concretamente, la vida tiene tantas aristas y cada una de ellas puede ser un viaje inimaginable, una decisión de tomar la estación equivocada, guiarte por tus instintos en Viena y finalmente conocer a lo que posiblemente sea el amor de tu vida, tal vez hoy sea un buen momento para fluir con los instintos y emociones.
---

Trailer Official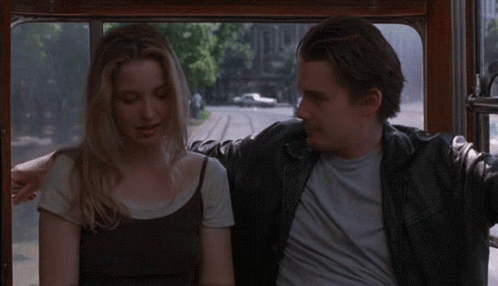 I hope you liked this little review about one of the movies that attracts me the most in all its forms, plus I feel it fits very well with the concept of "getaway", although from a perspective of adventure and freedom. ❤️ / This post was made for participation in the contest of the community of @cinetv Link here to participate
Espero les haya gustado está pequeña reseña sobre unas de las películas que más me atrae en todas sus formas, además de que siento que calza muy bien con el concepto de "escape y tomarse un tiempo para uno", aunque desde una perspectiva de aventuras y libertad. ❤️
---
---