CineTV Contest:Mickey, Donald, Goofy: The Three Musketeers
This week on CineTV, the contest revolves around favorite animated movie, so I sat down with my Bonnie Bride and watched, once again, Mickey, Donald, Goofy: The Three Musketeers. This is a favorite of mine, and if you have never seen it, please consider checking it out as it is a real fun film. Check the contest out at https://peakd.com/hive-121744/@cinetv/cinetv-contest-18-your-favorite-animated-feature-film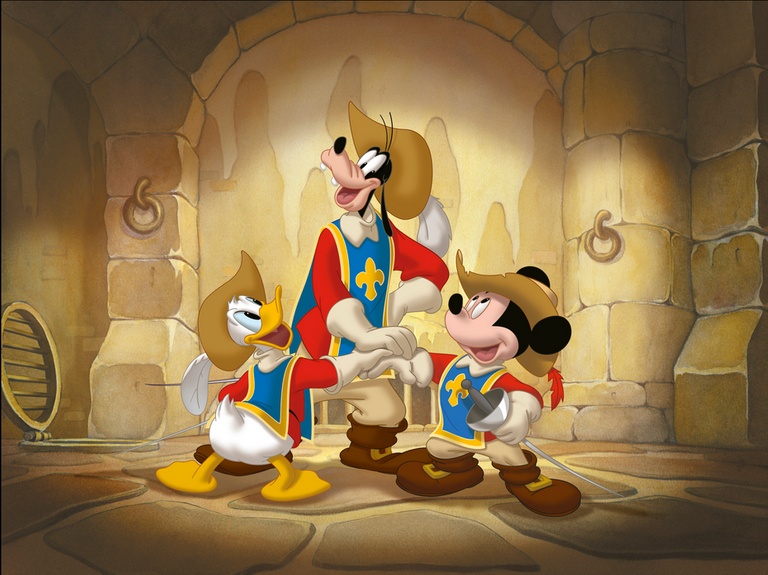 source - IMDB
I first learned about this film quite by accident, running across film clips of the songs on youtube. Some of the songs were a lot of fun, so, me being me, and having a daughter who is into Disney films, I ordered a copy on DVD. Darn glad I did. I ma not sure how many times we've watched it, but it is such a fun film, full of great songs with familiar tunes, a story that is well put together, and great art (not surprising there...it is Disney after all). Sadly, Little Miss chose not to join us in our viewing of this film last night. She's a teenager now, so I guess I shouldn't be surprised by that.
One of the songs that has a great appeal is the one with Pete, the Bad Guy, singing "The Bad Guy Song". While Troubadour, the narrator of the story, plays tuba. My Bonnie Bride has said this is her favorite song in the film. And it is quite a fun tune.
"Pete's King of France" -
youtube.com
As for me, I really like the duet between Clarabelle (Pete's main henchman) and Goofy, "Chains of Love". Such a fun duet.
"Chains of Love" -
youtube.com
The story itself, despite the name, is not an adaptation of the novel The Three Musketeers by Alexander Dumas (an excellent novel, by the way), however, it draws its inspiration from the novel, and the credits acknowledge this.
The film is full of adventure, deceit, love, romance, friendship, courage, redemption, and, of course, Bad Guys. It is also the kind of movie that one can imagine that the entire team making this film, from artists and animators, to actors and scriptwriters, and everyone else involved, must have had a bloody great time making it.
The nice thing about writing about The Three Musketeers is that it gave me a reason to watch it again. And yes, "Chains of Love" is still my favorite song in this film. I know I said this in the opening paragraph, but I have to say it again, if you haven't seen Mickey's Three Musketeers, please consider watching it.
Thanks for stopping by.
---
---