Extraction 2 | Never Allow Revenge To Overcome Your Sense Of Reasoning
Another movie that is actually growing fast on the net is the long wait Extraction movie which is part 2 and the funniest part was that this movie really didn't allow Fast X to really shine much since many were curiously waiting to see the end of Tyler Rake (Chris Hemsworth) who is the main cast and the one engaging in the difficult part of the mission, in part one he had to rescue a mafia child who was kidnap and on his way back from the mission after extracting the child, he was shot in the neck on the bridge and the last thing we saw was he fell into the river, I was having mix feeling that he will actually die because the part where he got hit (neck region) is very vital and normally there isn't a way he could be saved and even feeling inside the river will worsen it because he wont be able to breathe and the other part of me told me it is just a movie and since it is obvious there will be another part, there is high probability that he will survive it.
Boom, the second part arrived and that was the first scene we saw, how he was been rescued and flied to Dubai for proper treatment after they discovered he was still breathing, I really give them kudos for that scene making use believed he received adequate treatment and also showed there are adequate equipment to actually save lives. He was in the hospital for month and they almost give up on him by pulling the plug but after a while he opened his eyes and had to use more months to recovered before been transferred to his new home. I actually knew that wont be the end of him and I sensed there a new mission but I couldn't imagine the mission will be that hard, one a norms, he wont accept the mission after what he went through in the first one but when he heard the mission is about his ex-wife sister been hold down in prison because her husband (a Negazi leader) is also in prison, he had to go just to find favour in his ex-wife due to the fact He wasn't available when they lost their child.
Rescuing that lady and her children from that prison is really hard I must say, killing the husband was easy though since that isn't the main focus but the fact that he was able to handle the prison break scenario and also the part where some hit is head with a block and he was able to still focus on the lady cry for help amazed me, then the part where he handled the Negazi men when they were chasing them up to the train crash was top notch, like those were amazing content we were looking for. But what really marvelled me is how the trio were able to handle those men and still overcome them, but the boy also fucked up at some point by casting their location though but like tyler said, he was confused.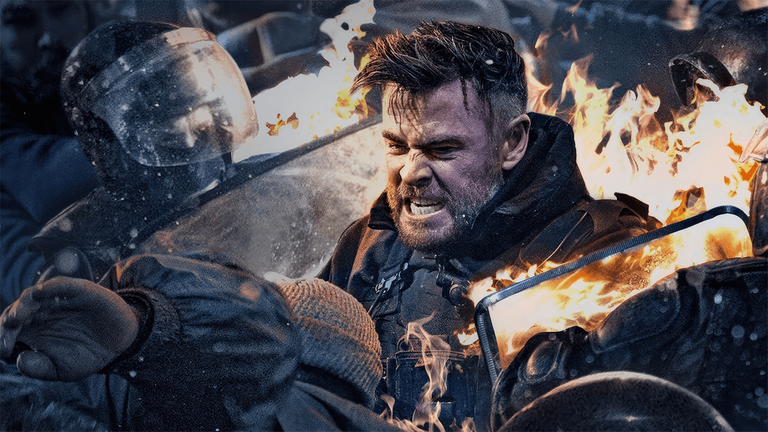 The other Negazi brother who want to revenge his brother by dealing with tyler and his group made lot of mistakes, he allow the revenge and anger to overcome him, someone came to your territory, rescue and beat your mens hand down and you yet you think you can overcome him in his own territory, just a group of 3 destroy your whole army and yet you still decide not to retreat even after the man from his army warned him to, I don't want to narrate the full movie here but at things we shouldn't allow revenge to overcome out sense of reasoning, the last battle was well calculated, tyler made sure it is a battle of no escape by first making sure he destroyed the plane and the cars available and also taking out the major men before facing the real man. But the part where there will be another part 3 is what I don't really like because we have to wait till next year or two probably before the part will be out. Curiously waiting to know the next mission
---
---