Glamour Girls: What's The Actual Story?

Glamour Girls premiered on Netflix on 24th June and it was a big deal as with all Nollywood Netflix premieres. It's a remake of the 1994 film of same name which is a Nigerian classic.
It stars Sharon Ooja, Nse Ikpe-Etim, Taymesan, Toke Makinwa, Joselyn Dumas, and a few other familiar Nollywood faces.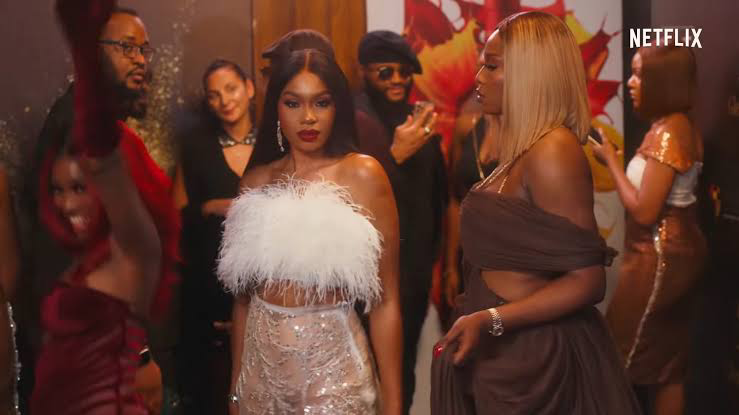 Source
It's gotten a lot of backlash on social media and I actually knew about the film because it was trending for being so bad. Curiosity made me want to watch it, I needed to know why most people thought it was so bad.
Some minutes in and I began to understand what all the fuss was about. The story wasn't really leading anywhere! In fact, it looked like there was no story at all. I'd have called it an improv show but even that carves out a story as it goes.
The Plot
It's so hard to write a synopsis when I don't really understand what's going on but I'll say what I think was going on. So Emma, played by Sharon Ooja, is a sex worker from the streets who goes in search for a better life and then gets employed in a corporate sex work company.
It turns out there's more than meets the eye with her boss and the company. It's like a big sex work/money laundering ring and Emma gets all caught up in their wars just when life starts looking good for her. Will Emma stick it out and catch her big break? Or will she run away from the fire?
My Thoughts
I wish it was as easy as I make it seem. I don't know what the heck was going on in this movie. There was just a lot going on with each character and their stories barely scratched the surface. It was like we were supposed to summon them from the screen and beg them to shed more light on their stories.
Then it was hard to understand how all the characters linked and where they were driving at with the entire story. I didn't even know who the main character was because it wasn't clear. At first, I thought Sharon Ooja was the lead, then it looked like it was Nse Ikpe-Etim, it trailed back to Sharon, and then they lost me.
Favourite Character & Scenes
I liked Sharon Ooja, it looked like she decided she was going to act her role to the fullest even if the story was dull and I loved that for her. There's only so much an actor can do when there's no solid story to work with.
I liked the part where she was at her Sugar daddy's house and she said she 'had arrived' and she did a switch with her accent. That was funny. Her character seems to be the most consistent throughout the movie.
I don't understand why her character, Emma had to do what she did with Zeribe though. Their relationship didn't make any sense and they didn't have to do each other like that.
When her sugar daddy was linking her up for a job, I liked how he suggested she be given a manager or assistant manager role for a start, 'start from somewhere'. It's crazy how that might be happening in the real world, now that's good reward for sex work.
Wtf Scenes
I didn't understand what was going on with Lynxx and Joselyn Dumas, their scenes felt like another movie and it took a while before their part connected with the rest of the movie.
Everybody had their own story but we never got in deep into any of them. Not even Nse's character was clear which was quite sad for such a strong persona that the character seemed to have.
Next thing we know someone died, the body was disposed of and they started talking about some missing money. They even got hackers involved and then there was shooting and a horrid back and forth about who took what money.
It was a lot of confusion and I think focusing on Emma's story as a sex worker trying to make it would have been just okay. The rest of the movie was confusing and unnecessary, little wonder people dislike it.
There was a club scene where a "you're my honeybunch sugarplum" baby song was played. I'm trying to rationalize it. What was the reason? Why are you playing a toddler's song in a club??
Anyway, I can't even rate it against the original because I never watched it but I'm pretty sure it doesn't come close seeing how bad this turned out. Someone should tell Nollywood, enough with the remakes already!
Have you seen Glamour Girls? What do you think?
Rating - 2/10 thanks to Sharon Ooja for even letting this get past 0 rating.
Thanks for reading!
---
---