Movie Review: Father of the Bride🥂
English
Hello movie lovers! I'm here again with the review of another wonderful movie. The movie is an English /Spanish movie and a very nice movie to watch.The title of the movie is ….."Father of the Bride". First thought was, it's definitely not my type of movie. Most people know that I am into horror and thriller movies and that terrifies them.
They go like, "you're a girl and you're supposed to be into k-dramas or those lovey dovey movies. say no more😅. I do the lovey dovey movies once in a blue moon and most times I regret but I didn't regret this time around.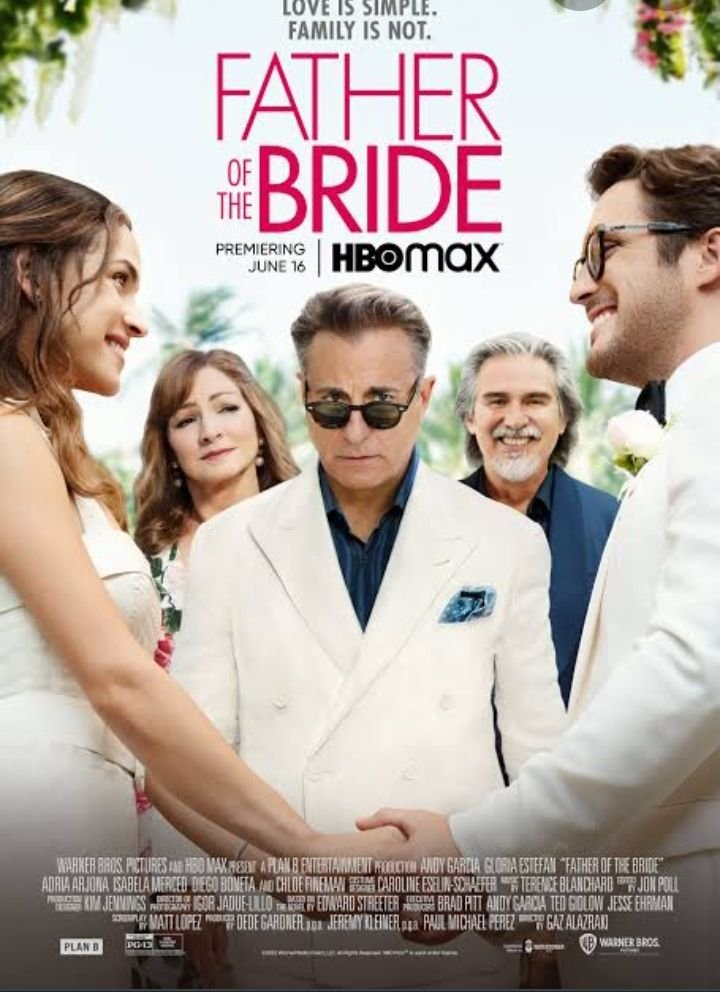 This movie had many ups and downs. The part that threw me off was when Billy's golden daughter, Sofia,said that she proposed to a man from work. Now don't get me wrong, I don't have any issue with a girl proposing but Billy didn't see it as right.
It's a known fact that men are always proposing but this gir!!l??? She made a genius move. She thought the guy was the perfect one and decided to ask him to marry her. Of course he accepted.
The wedding had to be scheduled in a month as they had their life and jobs ahead of them. Everything was rushed and in that light they got a wedding planner who was a scam! She didn't run away with the money but (spoiler alert) she wasn't actually a wedding planner.
Everything went well until things fell apart. Every single person had a downside and that almost interfered with the wedding… maybe it did or maybe it did not, why don't you be the judge of that?.
Amidst all the drama, my favourite character had to be Cora, Sofia's younger sister. I related with her role so well. Her sister was obviously the golden fish. The first daughter who went to school, got a degree and was living the life. Cora on the other hand was the opposite of the golden daughter. She didn't want to go to college, she just wanted to be a fashion designer but her dad didn't seem to agree with her. She eventually got to achieve her dream and that's just sheer perseverance and consistency. A trait many people lack.
Here is a link to the movie
This is a movie about love, partnership, perseverance, weddings, personal growth, money, wardrobes and inferiority complexes.
At one point, the bride's dad and the groom's dad were competing for who was the richest. The bride's dad was a loud mouth and never hesitated to tell anyone who cared to listen that he built his riches from scratch but the groom's dad was actually the richer one, the irony of life.
The cast
Andy Garcia as Billy Herrera
Adria Ariona as Sofia Herrera
Gloria Estefan as Ingrid
Isabela Merced as Cora
Diego Bonera as Adan Castillo.
The scene I liked the most was when there was peace in the household. Billy, the loud mouth, finally realized his mistakes publicly and was ready to change for the best. His mistakes almost cost him everything he loved; his wife, his daughters and his home.
But this is similar to today's life. Most people are so in love with their jobs that they sideline their family and by the time they realise their mistakes,it's already too late.
I will actually recommend this movie for anyone. If you want to have a fine dose of motivation and If you want to have a different look at life, you should really see this movie.
The photo is a screenshot from Google.
With love, wongi ✨
Español
¡Hola amantes de las películas! Estoy aquí de nuevo con la revisión de otra película maravillosa. La película es una película en inglés / español y una película muy bonita para ver. El título de la película es ... ** "Padre de la novia" **. El primer pensamiento fue que definitivamente no es mi tipo de película. La mayoría de la gente sabe que me gustan las películas de terror y suspenso y eso las aterroriza.
Van como, "eres una chica y se supone que debes estar en k-dramas o esas películas amorosas. no digas más. Hago las películas cariñosas una vez en una luna azul y la mayoría de las veces me arrepiento, pero esta vez no me arrepiento.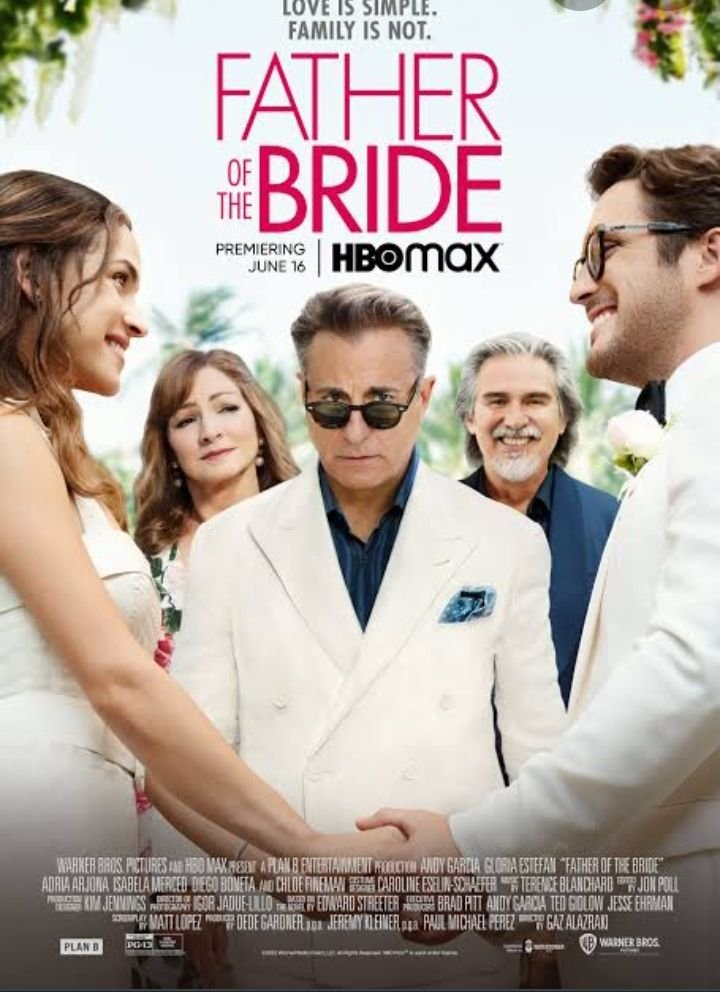 Esta película tenía muchos altibajos. La parte que me despidió fue cuando la hija dorada de Billy, Sofía, dijo que le propuso matrimonio a un hombre del trabajo. Ahora no me malinterpretes, no tengo ningún problema con una chica proponiendo pero Billy no lo vio bien.
Es un hecho conocido que los hombres siempre proponen, pero esta chica!! l??? Hizo un movimiento genio. Pensó que el tipo era el perfecto y decidió pedirle que se casara con ella. Por supuesto que aceptó.
La boda tenía que programarse en un mes, ya que tenían su vida y trabajos por delante. ¡Todo fue apresurado y, a la luz de eso, obtuvieron un planificador de bodas que era una estafa! Ella no se escapó con el dinero, pero * (alerta de spoiler) * en realidad no era un planificador de bodas.
Todo salió bien hasta que las cosas se desmoronaron. Cada persona tenía un inconveniente y eso casi interfirió con la boda ... tal vez lo hizo o tal vez no lo hizo, ¿por qué no eres el juez de eso ?.
En medio de todo el drama, mi personaje favorito tenía que ser Cora, la hermana menor de Sofía. Me relacioné con su papel tan bien. Su hermana era obviamente el pez dorado. La primera hija que fue a la escuela, obtuvo un título y estaba viviendo la vida. Cora, por otro lado, era lo contrario de la hija dorada. No quería ir a la universidad, solo quería ser diseñadora de moda, pero su padre no parecía estar de acuerdo con ella. Finalmente llegó a lograr su sueño y eso es pura perseverancia y coherencia. Un rasgo que mucha gente carece.
aquí hay un enlace a la película
Esta es una película sobre el amor, la asociación, la perseverancia, las bodas, el crecimiento personal, el dinero, las guerras y los complejos de inferioridad.
En un momento, el padre de la novia y el padre del novio estaban compitiendo por quién era el más rico. El padre de la novia era una boca fuerte y nunca dudó en decirle a nadie que se preocupara de escuchar que construyó sus riquezas de cero, pero el padre del novio era en realidad el más rico, la ironía de la vida.
** El elenco **
Andy García como Billy Herrera
Adria Ariona como Sofia Herrera
Gloria Estefan como Ingrid
Isabela Merced como Cora
Diego Bonera como Adan Castillo.
La escena que más me gustó fue cuando había paz en el hogar. Billy, la boca fuerte, finalmente se dio cuenta de sus errores públicamente y estaba listo para cambiar para mejor. Sus errores casi le cuestan todo lo que amaba; su esposa, sus hijas y su hogar.
Pero esto es similar a la vida de hoy. La mayoría de la gente está tan enamorada de sus trabajos que marginan a su familia y para cuando se dan cuenta de sus errores, ya es demasiado tarde.
De hecho, recomendaré esta película para cualquiera. Si quieres tener una buena dosis de motivación y si quieres echar un vistazo diferente a la vida, realmente deberías ver esta película.
La foto es una captura de pantalla de Google.
Con amor, wongi ✨
---
---